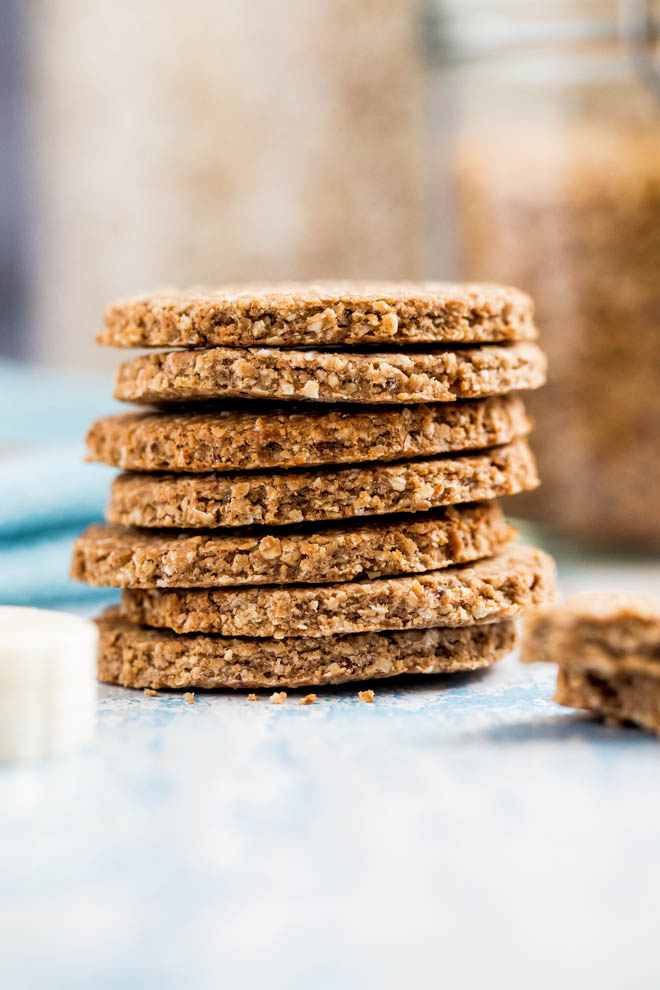 Posted in Recipes on 05.12.2019
Grain Free Dog Treats
prep: 10 mins / cook: 15 mins / inactive: 0 mins / total: 25 mins / quantity: approx 25 biscuits Print recipe?
Just 5 ingredients are needed to make these super easy and healthy homemade grain free dog treats that your pup will love!
I can't begin to tell you how bittersweet it is for me to write this. Every year I make something special for Meg's birthday in December.  So I started developing this grain free dog treats recipe back in October so I would have time to get it right and of course make more for her actual birthday.
Naturally, life is life though and things never really work out the way you expect (hope) and our baby girl left us on 13th November, just 3 weeks before her 15th birthday.  We'd had her since she was 18 months old and apart from a couple of holidays (where I missed her like crazy) I'd hardly spent a single day away from her.  She was my constant companion, my tiny shadow.  The heartbeat at my feet.
The worst thing about any death is that life just goes on.  Doesn't matter that you might need it to stand still, even for a moment.  The world still turns and other people go about their day like it's just another day.
Coming home the house didn't just feel empty or quiet.  It felt wrong.  Such a tiny little life can have such a huge presence.  Even as I'm writing this now, it still feels surreal.  Like it happened to someone else.
We managed a whole 3 hours at home before deciding the wrongness of our house wasn't sustainable and we got back in the car and drove to the local rescue kennels where we met Nooch (formerly Cluffy) – a six year old staffy who'd also had a tough time in and out of kennels courtesy of his previous owner.
He's about as different to Meg as is humanly (dogly?) possible.  He doesn't require daily medication or constant worry.  For the last few weeks of Meg's life I was on perpetual high alert, terrified of what was coming.  I started grieving for her while she was still here.
And while it was exhausting I wouldn't swap those extra couple of months for anything in the world.  She's taken a piece of me with her and life will never be the same.  Adversity doesn't care about your plans.  Or how you don't know how to exist in a world without her.  Life really does go on and if anything good can come from this it's that now we have the opportunity to give another dog in need a good home.
With homemade dog treats.  Obvs.
Nooch is THE sweetest, most gentle little boy.  He will cuddle you, lick you, chew your ears (and hair bun).  He's finally starting to settle now that Phil is back at work and routines are being established.  And his adorable character and personality are starting to properly come out.
His presence is cathartic and we're already head over heels in love with him.  He's not a replacement for Meg but he's NEEDED.  His companionship, his love, his sweet smile.  All are needed.
And in return I happily bake him Meg approved homemade dog biscuits.  I hope she doesn't mind sharing.
Happy Birthday Ms Meg ❤
If you make this recipe or any of the recipes from The Cook & Him we'd LOVE to see! Just snap a picture and share it on Instagram using #thecookandhim and tagging @thecookandhim in the photo itself (as this guarantees we'll see your picture!
)
And don't forget to follow us on Instagram , Facebook or Twitter for even more recipe inspiration and chat, competitions, behind the scenes and so much more!
Grain Free Dog Treats
prep: 10 mins / cook: 15 mins / inactive: 0 mins / total: 25 mins / quantity: approx 25 biscuits
Ingredients
1 + 1/2 cups (170g) rolled oats
1 medium banana
1/3 cup (100g) smooth peanut butter
1 tblsp ground flax seeds
1/2 tsp ground cinnamon
Food processor – I used this Magimix
Cookie cutters
Instructions
Preheat your oven to 160 Fan / 180 C / 350 F / Gas 4 and line a couple of large trays with parchment or silicon mats
Put the oats into a food processor and whizz until fairly powdery
Peel the banana, break into chunks and add to the oats in the food processor along with the remaining ingredients
Whizz everything together until it starts to form a dough
Tip the dough out onto a piece of baking parchment, lay another piece over the top and roll the dough out between the two sheets until roughly 1/4 inch (1/2 cm) thick
Use whatever cutters you prefer to cut shapes out of the dough and lay them onto your prepared trays. Re-roll the trimmings and repeat until you've used up all the dough
How many biscuits you get wil depend on how big your cutters are!
Bake for 15 minutes then allow to cool on the tray for 5 minutes before transferring to a wire rack to cool completely
Store in a lidded container for a few days or freeze in batches
Notes
If you don't have any cookie cutters just cut the rolled dough into strips before baking - the dogs really don't care what shape these dog biscuits are! ;)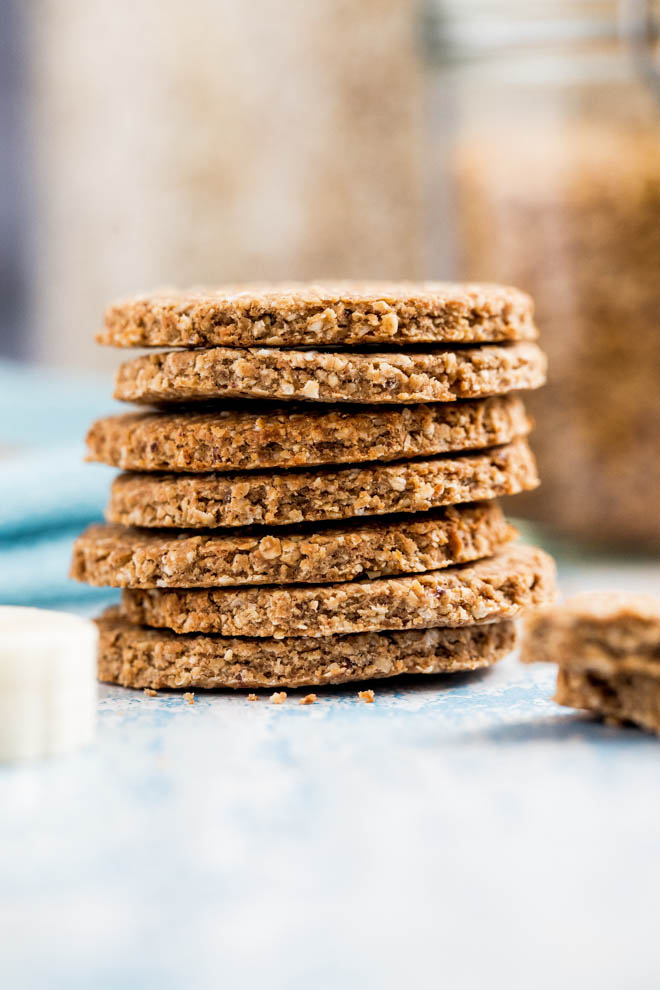 Some products I used in today's post...
Some of the links above are affiliate links, which pay us a small commission for our referral at no extra cost to you! Thank you for supporting The Cook & Him.
Hello and welcome to The Cook & Him.
We are Sam (The Cook), Phil (Him) and our little dog Nooch. What started with a plan to shed a few pounds back in 2016, soon became obvious that eating healthy doesn't have to be bland and boring.
So, combining Sam's 15 years of experience working within Michelin starred restaurants and our love for deliciously healthy food, we're creating recipes for you to make and enjoy. We've added our own unique spin on traditional and contemporary vegetarian and vegan recipes that keep you (and your pets!) healthy and full.  And we make sure they just work.
All things autumn - warming soups, savoury bakes and delicious sweet treats!
and I would like to see...
Or search for a recipe or post by keyword