Posted in Recipes on 01.02.2021
Homemade Chocolate and Peanut Larabars
prep: 15 mins / cook: 0 mins / inactive: 60 mins / total: 1 hour 15 mins / quantity: approx 18 bars (more if you cut into squares) Print recipe?
These refined sugar free homemade Larabars are the perfect healthier snack! Full of dried fruit, nuts, chocolate and a dash of sea salt, they are sticky, delicious, nutritious and very moreish!
How was your January?  Did you stick to any resolutions?  Did you try Veganuary?  Are you carrying on with Veganuary after trying it?  I need to know!  I don't tend to make resolutions, but after a particularly unhealthy Christmas that started some time in October I'm currently trying to eat a lot better.  By better I mean healthier.  Less processed/convenience food, more fresh, more raw, more, well, unadulterated.  And of course healthier snacks like these homemade Larabars!
I LOVE Larabars.  They're probably my favourite bought snack bar.  The sticky texture, the nutty, chocolatey taste.  But like so many of these kind of snacks, I think they're disproportionately expensive.  And still taste a little mass produced (which they are of course).
Are you a sweet or savoury snacker?  For me it's all dependent on mood or day.  But a lovely healthier snack with a hot cuppa tea in the afternoon when I'm usually in front of my pc (like now!) and starting to flag in energy is the perfect little pick me up!  Phil is much more of a morning person than I am, and I'm finding I'm really struggling to get out of bed at the moment.  Phil's off on his commute across the landing while I'm still browsing Pinterest and catching up with social media.  Having two extraordinary cuddly dogs who don't really want to get out of bed either doesn't help.  Then by the afternoon I could curl up on the floor with the dogs (which I have done on many occasions, Meg was THE BEST napping partner).  And by bed time I'm wide awake and can't switch my mind off.  Rinse and repeat tomorrow.
How do you break habits?  Do you find your body goes through cycles of having more energy at different times of the day?  How do you cope with having different awake/sleep schedules to other members of your house?  HUGE kudos to all the parents out there who don't get a choice.  And add to that all the home schooling.  Sheesh.
However …
Healthy snacks.
Deliciously sticky, naturally sweet and full of nutty flavour snacks in particular.  And easy AF.  Because life's too short to spend hours making a snack.
How to make these healthier vegan snacks:
Toast some of the peanuts.  This gives extra nutty flavour to your finished Larabars.  You can roast them in the oven or dry fry them in a small pan.
Put everything except the toasted peanuts into a food processor.  Whizz until everything is very well mixed together and starting to form a sticky lump.  Then chuck in the toasted nuts and whizz just until chopped and incorporated.
Tip into a square tin.  Line the tin first to make it easier to lift the set bars out.  Flatten the mix evenly into the tin and smooth the surface.  If you don't have a square tin, use any shape you have.  This mix makes sort of thickish bars so feel free to use a non-square tin and spread thinner.
Chill.  This means both you and the bars 😉  Put them in the fridge for at least an hour, preferably overnight if you can stand the wait!
Cut into bars, squares, triangles, horseshoes, pineapples, whatever takes your fancy!!
Looking for more healthy snack ideas?  Try some of our favourites, both sweet and savour and all thoroughly taste tested!
Kid Friendly Pina Colada Ice Lollies
I'd love to hear from you if you make these Homemade Vegan Larabars! Just leave a comment as it's so helpful and I love to hear how the recipe worked out for you! Thank you so much!
Don't forget to follow us on YouTube, Facebook or Pinterest for even more recipe inspiration and chat, competitions, behind the scenes and so much more!
Homemade Chocolate and Peanut Larabars
prep: 15 mins / cook: 0 mins / inactive: 60 mins / total: 1 hour 15 mins / quantity: approx 18 bars (more if you cut into squares)
Ingredients
1/4 cup (40g) toasted unsalted peanuts (see method)
2 cups (310g) dates – pitted weight
1/2 cup (90g) unstalted peanuts
3 tblsp raw cacao powder
1/4 cup (50g) dark chocolate chips
1/2 cup (110g) dried apricots
large pinch sea salt
2 tblsp oat milk
8 x 8 inch square tin
Instructions
To make the toasted peanuts put 1/4 cup (40g) raw unsalted nuts into a dry frying pan and cook over a low/medium heat until golden and a little charred on the outside. Don't step away from them for too long as they can go from lovely and golden to black and acrid in a heart beat! Toss the pan a few times to shake the nuts round
Once they're done set aside to cool down while you prepare the other ingredients
Put the dates, the uncooked nuts, cacao powder, chocolate chips, apricots, salt and milk into a food processor
Whizz until very well chopped and it starts to come together into a sticky ball
Toss in the toasted nuts and whizz until they're just mixed in
Line an 8 x 8 inch (20 x 20 cm) square tin with clingfilm or parchment
Tip the mixture into the tin and spread/smooth out to fill the tin. I also use damp hands to push into the corners as it's quite a stiff mix!
Put in the fridge for at least an hour then cut into bars and store in an airtight container in the fridge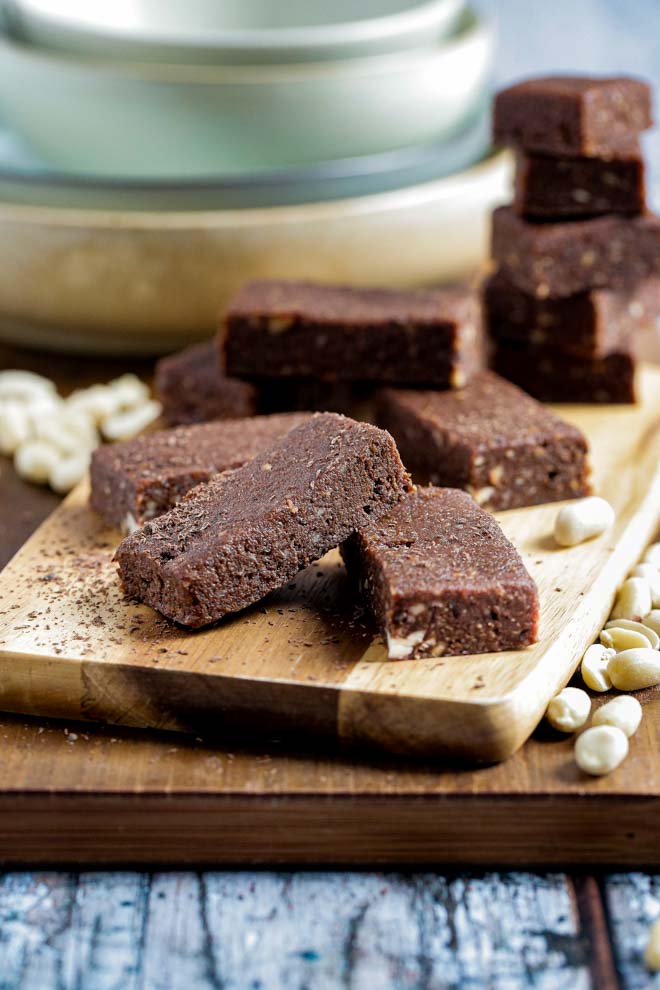 Hello and welcome to The Cook & Him.
We are Sam (The Cook), Phil (Him) and our little dog Nooch. What started with a plan to shed a few pounds back in 2016, soon became obvious that eating healthy doesn't have to be bland and boring.
So, combining Sam's 15 years of experience working within Michelin starred restaurants and our love for deliciously healthy food, we're creating recipes for you to make and enjoy. We've added our own unique spin on traditional and contemporary vegetarian and vegan recipes that keep you (and your pets!) healthy and full.  And we make sure they just work.
All things autumn - warming soups, savoury bakes and delicious sweet treats!
and I would like to see...
Or search for a recipe or post by keyword