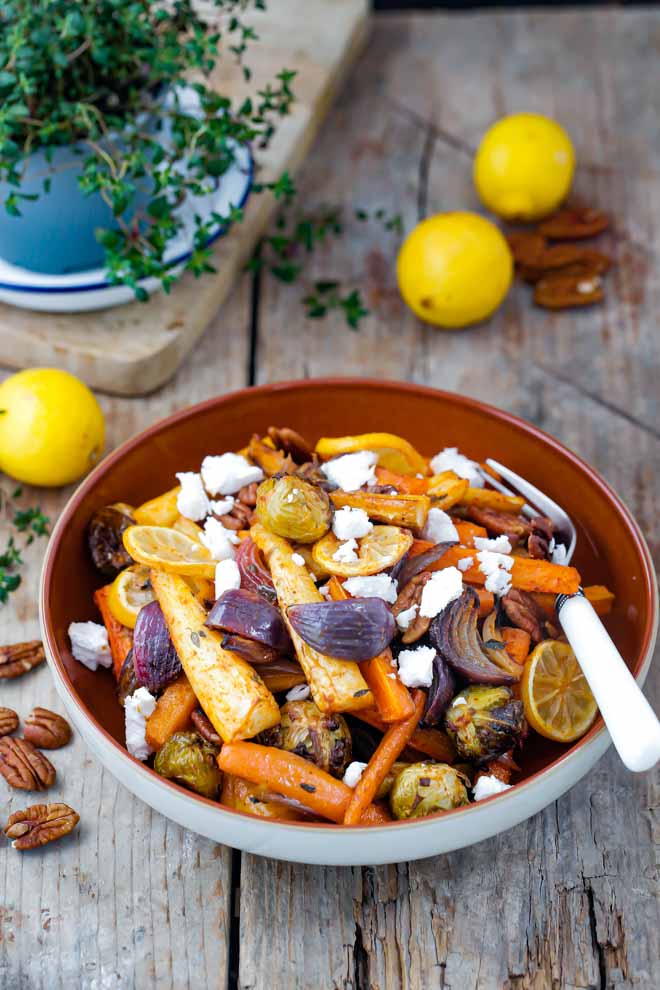 Posted in Recipes on 12.04.2021
Honey Roast Root Veggies with Lemon and Thyme
prep: 10 mins / cook: 40 mins / inactive: 0 mins / total: 50 mins / quantity: 2 as a main dish or 4 as a side Print recipe?
Vegan honey flavouring, caramelised lemon slices and fresh thyme give these roasted root veggies a delicious zesty tang!  Top with crunchy pecans and vegan feta cheese and this dish becomes so much more than just a side!
If you're vegan, still eating honey can be quite controversial.  Numerous groups and forums are full of arguments why we shouldn't be exploiting these wonderful little creatures.  And while vegan honey flavouring is never going to have the (purported) health benefits of actual honey, if you're missing that unique flavour only honey can provide – to things like roasted root veggies – then you're going to love Foodie Flavours all natural, all vegan honey flavouring!
All the fresh herbs, spices and caramelised lemon slices really ramp up the flavour of these vegetables.  Adding some vegan feta and crunchy pecan nuts takes the humble roast root veggies from a side to a meal all on its own.  What a great way of getting in your 5 a day in one meal!  I can eat roast root veggies by the bucket load.  I meal prep a tonne of them at the beginning of the week and have them as a quick weekday lunch with some hummus, lettuce leaves, cherry tomatoes, grapes and walnuts.  Or I'll stir them through some cooked quinoa with a peanut, sesame and soy dressing.  And I'm so happy I can add that unique honey flavour to them now.  Totes delish.
How to turn roast veggies into more than just a side dish:
Prep all the veg.  Peel, chop, dice, slice.  However you prefer to eat your veggies is how you should cut them.  I like long strips of parsnip and carrot, wedges of onion and whole sprouts.
Toss the veggies with all the flavours.  Foodie Flavours Honey, oil, lemon slices, fresh thyme (or dried if you have it), smoked paprika (a truly magical ingredient) and garlic powder, salt and pepper.
Tip everything onto a roasting tray.   And cook at 180 Fan for 30 minutes.
Remove from the oven and add a few dots of butter.  This is not an absolute necessity but a thoroughly recommended one from a flavour perspective!  Scatter over the pecans and return to the oven for a further 10 minutes or until everything is gorgeously golden.  You may need to cook your vegetables a little more as there's so many variables – the size of the pieces of veg, your oven, how firm or tender you prefer everything cooked and so on.  Just check occasionally, you want crisp but not burnt!
Toss the veg over on the tray.  This is so the melted butter coats everything.
Tip everything into a serving dish and top with some crumbled vegan feta.  It was the first time I'd tried vegan feta  and it was a lovely cold, creamy contrast to the sticky sweetness of the warm roast veg.
These low maintenance but healthy recipes are my favourite.  We've been sliding (well running actually) back into eating unhealthy.  Healthy went out the window a couple of weeks ago when life got even more hectic.  We sold our house and will be moving in a few weeks – not to another house but to big American Fifth Wheel RV.  It's enormous but it's not the size of the 4 bedroom house we currently have.  More like a one bedroom bedsit.  The downsizing has been both cathartic and quite sad.  I have a lot of my parents stuff that will need to go into storage and it's been really hard deciding what we absolutely want to keep and really no longer need.  I've no idea how long the new adventure will last but we're also very tired of just being surrounded by "stuff".  Stuff that's supposed to make life easier but just ends up needing to be maintained/dusted/tidied.  So this is helping us minimise a LOT.  And because we've been SO freaking busy, something I can spend 10 minutes preparing then throw in the oven, that's pretty healthy and doesn't involve a telephone and a delivery man, is winning at the moment.
Excuse me while I wipe my dusty, sweaty brow and go and prepare a quick and healthy dinner 😉
Looking for more easy, healthy meal ideas that make the most of veggies?
Vegan Enchiladas with Spinach and Lentils
We'd also love to hear from you if you make these Honey Roast Root Vegetables! Just leave a comment as it's so helpful and I love to hear how the recipe worked out for you! Thank you so much!
Don't forget to follow us on YouTube, Facebook or Pinterest for even more recipe inspiration and chat, competitions, behind the scenes and so much more!
Honey Roast Root Veggies with Lemon and Thyme
prep: 10 mins / cook: 40 mins / inactive: 0 mins / total: 50 mins / quantity: 2 as a main dish or 4 as a side
Ingredients
1 tblsp oil
30 drops Foodie Flavours Honey Flavouring
few springs fresh thyme – or sub with 1 tsp dried thyme
1 heaped tsp smoked paprika
1 heaped tsp garlic powder
pinch each of salt and pepper
3 parsnips – peeled and cut into thick chunks (remove the woody core)
3 large carrots – peeled and cut into thick chunks
2 cups (200g) Brussels sprouts
3 red onions – peeled and cut into wedges
1 lemon – cut into slices
1/2 cup (60g) pecan nuts
2 tblsp (30g) vegan butter
To serve:
Instructions
Preheat your oven to 180 Fan / 200 C / 400 F / Gas 6
Into a large bowl put the oil, Foodie Flavours honey, thyme, paprika, garlic powder, salt and pepper and stir or whisk together
Add all the prepared vegetables and toss well to coat in the seasonings
Tip onto a large baking tray (big enough to hold the veg in a single layer) then nestle in the lemon slices
Roast for 30 minutes then remove from the oven, dot over the butter, scatter over the pecans and return to the oven for a further 10 minutes. The veggies should be soft inside, lightly crisp, sticky and golden on the outside
Tip into a serving bowl, scatter over some crumbled feta and serve immediately
Notes
If you end up with any leftovers the cold veggies are delicious as a healthy snack with some hummus!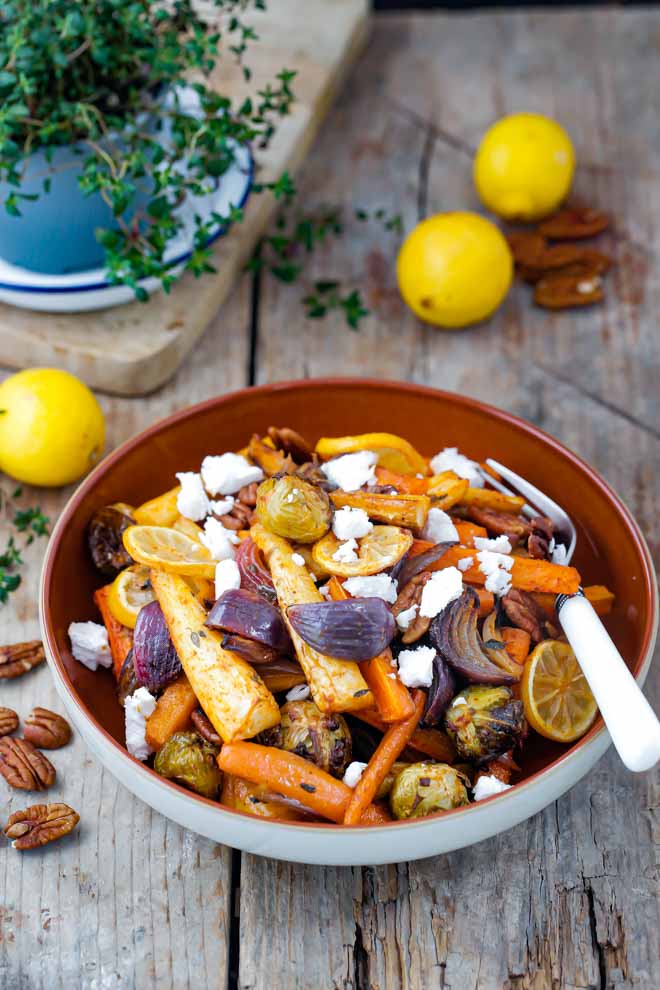 Hello and welcome to The Cook & Him.
We are Sam (The Cook), Phil (Him) and our little dog Nooch. What started with a plan to shed a few pounds back in 2016, soon became obvious that eating healthy doesn't have to be bland and boring.
So, combining Sam's 15 years of experience working within Michelin starred restaurants and our love for deliciously healthy food, we're creating recipes for you to make and enjoy. We've added our own unique spin on traditional and contemporary vegetarian and vegan recipes that keep you (and your pets!) healthy and full.  And we make sure they just work.
All things autumn - warming soups, savoury bakes and delicious sweet treats!
and I would like to see...
Or search for a recipe or post by keyword