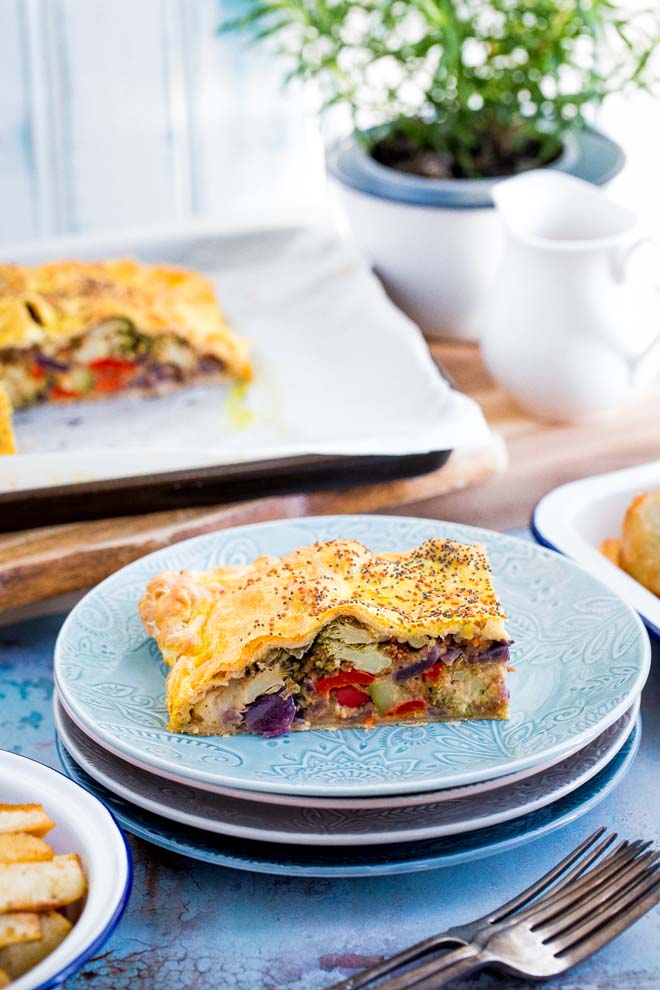 Posted in Recipes on 14.12.2019
Hummus and Roasted Vegetable Pie
prep: 15 mins / cook: 1 hour 10 mins / inactive: 0 mins / total: 1 hour 25 mins / quantity: 4 portions Print recipe?
Super tasty vegan roast or Christmas alternative, this vegetable pie is packed full of roast veggies and hummus all wrapped up in crisp puff pastry!
A certain Chief Taste Tester wrinkled his nose a bit when I said this is what I was making.  Hummus and vegetable pie??  Hummus and vegetables.  Together?  In a pie?
He enjoys cooking from time to time but only as long as it's in his comfort zone.  He'll help 'stress test' some of my recipes, making sure I've not written them to be too complicated.  But if he's cooking dinner and I'm not involved it has to be within certain parameters – namely he's made it before.  So he's not adventurous with ingredients.
He's a lot better when it comes to eating than he was for a very long time.  When we first met he lived on toad in the hole and chips.  Literally.  Freezer full of them.  And he'd make his mind up he didn't like something before he'd even tried it and there was NO persuading him otherwise.
Now he'll actually try something and more often than not he ends up enjoying it.  Thankfully the same happened with this hummus and vegetable pie.
I mean, look at all that lovely veg.  Is it really sooo weird to mix it with hummus and stick it in pastry?
I'm so glad I didn't listen to the wrinkled nose because this is just delish!  Like I could eat the whole pie.  On my own.  DE-lish.  The hummus makes everything creamy and binds the veg together perfectly.  And the addition of camilina seeds gives a lovely, mild nutty crunch.  You can leave them off or sub with sesame seeds if you can't get hold of them though.
This is such an easy pie to make for a truly delicious dinner time treat.  Or lunchtime.  This thing is even good cold packed up into a lunch box with a crisp salad!
And if you use bought puff pastry (because life is busy enough right?) making this creamy vegetable pie is just a few simple steps:
Roast the veg first to give it that lovely caramelised flavour
Leave it to cool for just a few minutes before mixing it with the hummus
Unfurl your pastry, divide in half and roll out a little thinner.  Because that means bigger pie and more veg and what's not to get excited by about that?
Lay one half onto your prepared tray (don't try lifting the whole pie onto the tray, you need to build it ON the tray <– learnt that the hard way).  You also need to roll the top slightly bigger than the bottom too
Spoon on your lovely hummusy veg, leaving a small gap round the edge – this is so you have something to attach the pastry top to!
Cover with the second piece of pastry, 'egg' wash the whole lot, sprinkle with your seeds (or not) and bake until golden and crispy
I've called it egg wash because after much digging and asking on Instagram the best vegan pastry glaze I've found is a combo of almond milk and turmeric.  You're using such a tiny amount of turmeric that it's flavourless and perfect for sweet or savoury golden pastry goodness!
We actually had this vegan vegetable pie for our Christmas dinner last year – because it can be made in advance and because it's SO tasty.  It's the perfect winter warmer.  And goes with so many different sides:
If you make this recipe or any of the recipes from The Cook & Him we'd LOVE to see! Just snap a picture and share it on Instagram using #thecookandhim and tagging @thecookandhim in the photo itself (as this guarantees we'll see your picture!
)
And don't forget to follow us on Instagram , Facebook or Twitter for even more recipe inspiration and chat, competitions, behind the scenes and so much more!
Hummus and Roasted Vegetable Pie
prep: 15 mins / cook: 1 hour 10 mins / inactive: 0 mins / total: 1 hour 25 mins / quantity: 4 portions
Ingredients
1 red onion – peeled and roughly diced
1/2 head of broccoli – broken into small(ish) florets
1 pepper – yellow or red as they're sweeter – stalk and seeds removed and flesh roughly diced
1 large courgette – roughly diced
1 carrot – peeled or scrubbed clean and roughly diced
1/4 cup Hodmedods Camelina Seeds
1 tblsp olive oil
2 tsp garlic powder
1 tsp ground cumin
4 sprigs fresh thyme – leaves only
salt and pepper
200g hummus – the flavour is up to you or you could use this caramelised onion hummus
375g pack ready rolled puff pastry – lots of own supermarket brands and Jus Rol are vegan
Glaze:
1-2 tblsp unsweetened almond milk
pinch turmeric
poppy, sesame and/or camelina seeds
Instructions
Heat your oven to 180 Fan / 200 C / 400 F / Gas 6.  Line a large baking sheet with greaseproof or a silicon mat
Put all the prepared veg into a large bowl along with the olive oil, garlic powder, cumin, thyme leaves and plenty of seasoning.  Give everything a good stir till the veg is coated then tip onto your tray and roast for 30 minutes
Remove from the oven and leave to cool for 10 minutes then stir in the hummus and camelina seeds
Unroll your puff pastry sheet then cut in half.  Using a rolling pin, roll out one half of the pastry to just a little bit bigger.  Lay this onto your baking sheet
Spoon the veg mixture onto your pastry base, flattening the top so it's all an even layer, but leaving a 1 inch border all the way round the edge
Stir or whisk together the almond milk and turmeric and brush round the border
Take the other half of pastry and roll that so it's a little bit bigger than the base then carefully lay over the top of the veg.  
You can crimp, fork or fold to seal the edges then brush some more milk/turmeric over the whole of the top before cutting  2-3 slashes in the top of the pastry
Optional: sprinkle with seeds of choice - I used poppy and some more camelina seeds
Bake in the oven (same temperature) for around 40 minutes until the pastry is crisp and golden
Serve immediately or cool and chill in the fridge
Notes
Once you've built your pie and glazed it, keep it chilled in the fridge for 4-5 days
When you've cooked it or have leftovers you can chill in the fridge for 4-5 days then reheat at 180 Fan / 200 C / 400 F / Gas 6 for 35-40 minutes - just check that it's piping hot in the centre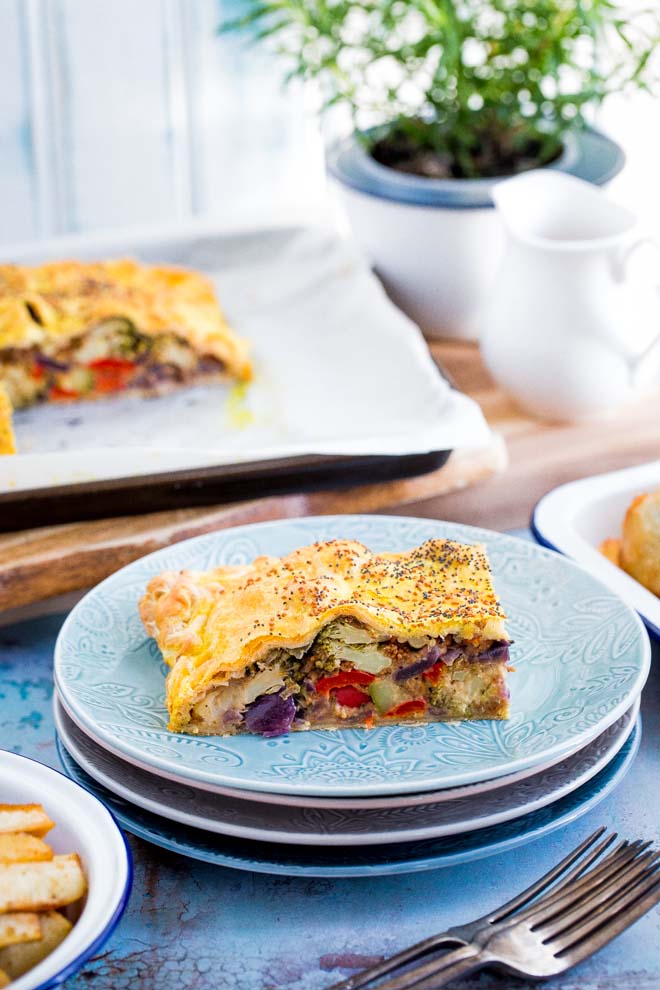 Some products I used in today's post...
Some of the links above are affiliate links, which pay us a small commission for our referral at no extra cost to you! Thank you for supporting The Cook & Him.
Hello and welcome to The Cook & Him.
We are Sam (The Cook), Phil (Him) and our little dog Nooch. What started with a plan to shed a few pounds back in 2016, soon became obvious that eating healthy doesn't have to be bland and boring.
So, combining Sam's 15 years of experience working within Michelin starred restaurants and our love for deliciously healthy food, we're creating recipes for you to make and enjoy. We've added our own unique spin on traditional and contemporary vegetarian and vegan recipes that keep you (and your pets!) healthy and full.  And we make sure they just work.
All things autumn - warming soups, savoury bakes and delicious sweet treats!
and I would like to see...
Or search for a recipe or post by keyword