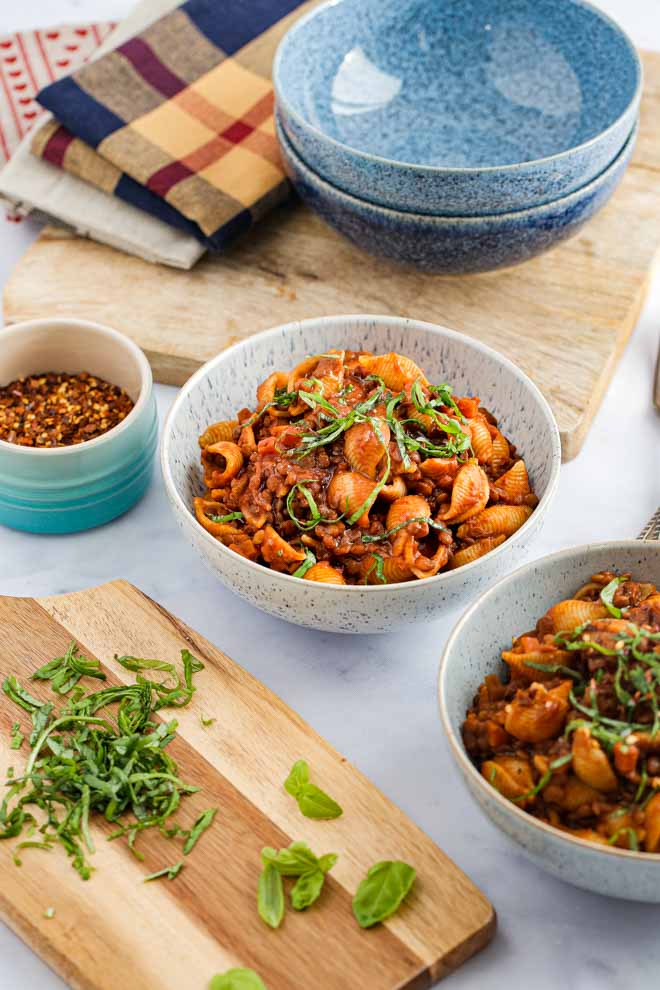 Posted in Recipes on 08.02.2021
Instant Pot Lentil Bolognese
prep: 10 mins / cook: 30 mins / inactive: 0 mins / total: 40 mins / quantity: 4 servings Print recipe?
This easy lentil Bolognese sauce is a great weeknight meal that's both vegan and gluten free! It's full of rich flavour, comes together in around 30 minutes and can be served with pasta, rice, veggie noodles or even polenta. The perfect plant based dinner!
So while it's still pretty cold round these parts (snow, snow, ice, snow, frost, slush, mud, squelch) our Instant Pot is getting a full on workout right now.  It takes the 'involved' factor out of most, if not all, of the cooking.  There may be a bit of chopping and prepping, then it's literally dump it all in the pot, seal the lid and let it work its magic.  Do you find that in winter you want all the cosy, comforting, one bowl and a fork type food?  Some weekends I barely get out of my pyjamas so it helps to have something so easy that doesn't involve a phone call and a delivery person.  And as this lentil bolognese is only full of the good stuff, it sort of helps justify my weekend laziness not being compounded by junk food.
This is a really rich, hearty, almost meaty sauce.  The lentils help thicken it and give it body at the same time.  There's some veggies packed in – secret veggies that no-one needs to know about if you have 'one of those' eaters in the house.  We've got a little red wine, some herbs, lots of garlic and an absolute tonne of flavour.
How to make this easy, comforting, any night of the week, vegan sauce:
Prep your veggies.  Nothing more complicated than peeling and chopping, but they get cooked first so get them done first.
Measure out your liquid ingredients.  Along with the herbs and spices.  I do this all into one jug so I can just pour it in when I'm ready.
Set your Instant Pot to sauté.  Add a drizzle of oil and a dot of butter then sauté the prepared veggies – carrot, onion, celery and garlic – for a couple of minutes.  Give them a stir a couple of times then turn the sauté function off when they're softened and just starting to caramelise.
Pour in your measured out liquid and spices.  Then add the lentils, give it all a good stir together and put on the lid
Set the vent to sealing and pressure cook on manual for 20 minutes.  Because we're using dried lentils they take a little longer to cook, but the Instant Pot cooks pulses, beans and peas perfectly in a fraction of the time to cook them on the stove.  This is seriously one of the best features of any pressure cooker or crock pot.
Once it's finished cooking allow it to naturally vent for 10 minutes.  This allows the pot to decompress slowly rather than manually turning the vent and allows everything to cook a little longer, giving the perfect rich, thickened Bolognese sauce!
Cook your accompaniment while it's venting.  Here I've used conchiglie pasta but this lentil Bolognese also goes really well with rice, noodles, veggie noodles and even polenta.
A sprinkle of fresh basil and an even bigger sprinkle of vegan parmesan and I promise you, you'll be making this for years to come!   This sauce also freezes really well so don't worry about what to do with any leftovers!
Looking for some more Instant Pot inspo?  These are all thoroughly tried and tested – all vegan too!
I'd love to hear from you if you make this Lentil Bolognese recipe.  Just leave a comment as it's so helpful and I love to hear how the recipe worked out for you!  Thank you so much!
Don't forget to follow us on YouTube, Facebook or Pinterest for even more recipe inspiration and chat, competitions, behind the scenes and so much more!
Instant Pot Lentil Bolognese
prep: 10 mins / cook: 30 mins / inactive: 0 mins / total: 40 mins / quantity: 4 servings
Ingredients
Bolognese Sauce:
1 tblsp oil
1 tblsp vegan butter
1 onion – peeled and finely diced
2 sticks celery – finely diced
1 large carrot – finely diced
4 large cloves garlic
2 cups (500ml) passata or crushed tomatoes
1 cup (250ml) red wine
1/2 cup (125ml) vegetable stock or broth
1 tblsp tomato puree
1 tsp miso paste
1/2 tsp dried rosemary
1/2 tsp dried thyme
1 tsp smoked paprika
1 cup (220g) dried green lentils
good pinch each of salt and pepper
To serve:
Cooked pasta, noodles, veggie noodles, rice or polenta
Fresh basil to garnish
2 tblsp grated vegan parmesan
Instructions
Prepare all the vegetables. Peel or scrub the carrot before chopping if necessary
Measure the passata, wine, stock, tomato puree, miso paste, herbs and paprika into a large jug
Set the Instant Pot to saute and add the oil and butter to melt. Then stir in the chopped veggies and cook for a few minutes, stirring from time to time until the vegetables are just starting to soften and caramelise
Turn the saute funtion off
Pour in the jug of measured ingredients and the lentils, stir everything together and fasten the lid
Set the vent to sealing and pressure cook for 20 minutes
When the 20 minute timer beeps allow to vent naturally release for 10 minutes - this means you leave the vent to sealed and wait for Instant Pot to decompress itself. After 10 minutes release any remaining pressure and remove the lid
During this 10 minutes you can cook your accompaniment
After 10 minutes release any remaining pressure in the Instant Pot and remove the lid
Serve immediately or chill completely and store in the fridge or freezer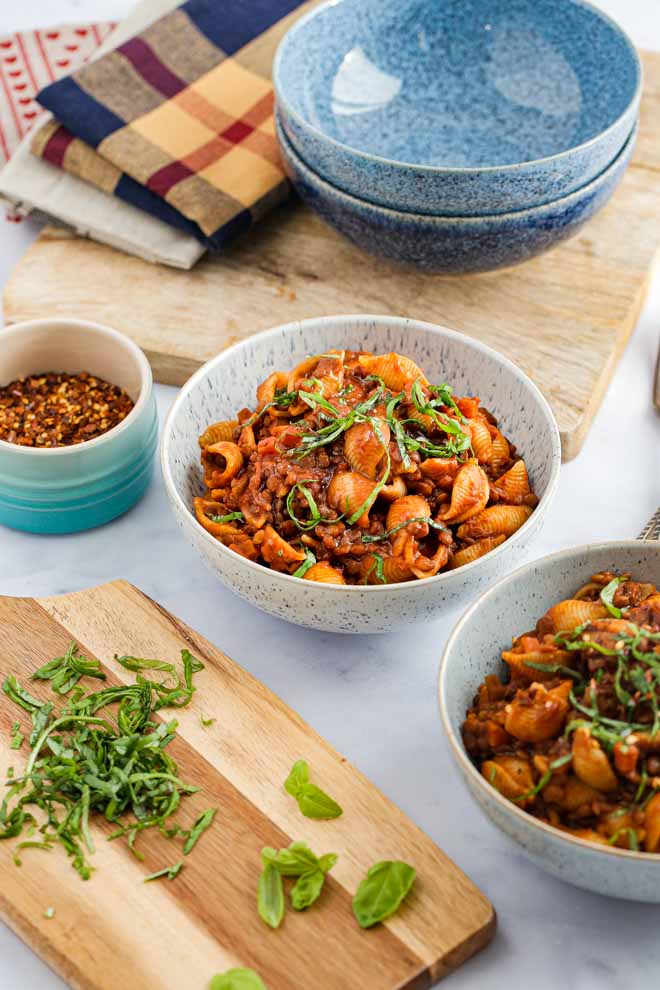 Hello and welcome to The Cook & Him.
We are Sam (The Cook), Phil (Him) and our little dog Nooch. What started with a plan to shed a few pounds back in 2016, soon became obvious that eating healthy doesn't have to be bland and boring.
So, combining Sam's 15 years of experience working within Michelin starred restaurants and our love for deliciously healthy food, we're creating recipes for you to make and enjoy. We've added our own unique spin on traditional and contemporary vegetarian and vegan recipes that keep you (and your pets!) healthy and full.  And we make sure they just work.
All things autumn - warming soups, savoury bakes and delicious sweet treats!
and I would like to see...
Or search for a recipe or post by keyword