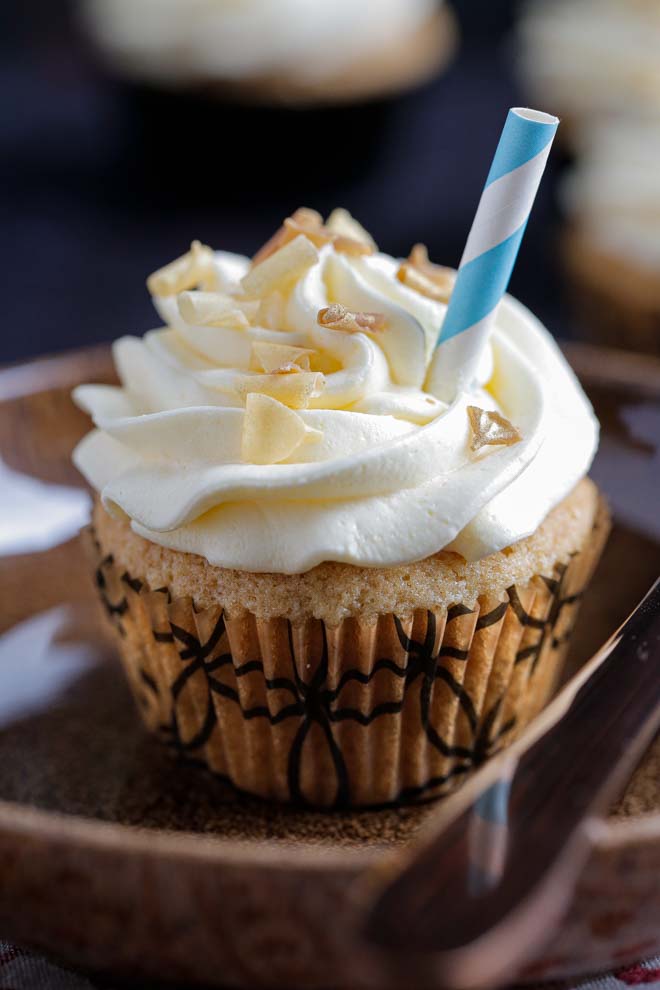 Posted in Recipes on 21.09.2020
Jack Daniels and Cola Cupcakes
prep: 20 mins / cook: 25 mins / inactive: 60 mins / total: 1 hour 45 mins / quantity: 12 cupcakes Print recipe?
Soft, rich and boozy Jack Daniels cupcakes with a swirl of cola flavoured buttercream frosting. Vegan, easy and deliciously decadent!
I made these Jack Daniels and  Cola Cupcakes for two reasons.  First because I'd been given a bottle of cola flavouring from Foodie Flavours to play around with and second because Phil is a whiskyophile.  If that's even a word.  What it means is he LOVES his whisky.  One day I'll show photographic proof of a particular New Year party he REALLY loved his whisky.  Says he can't remember much of it though.
The cola flavour from Foodie Flavours is really interesting.  It smells like those chewy cola bottles you got as kids – one sniff and I was taken back 40 years.  How to use it in a recipe though?  Well what goes together better with coke than whisky?  I've never used a cola flavouring in cooking before, or even cooked with a bottle of actual cola.  I wasn't sure if it would taste 'odd'.
24 cupcakes scoffed between us later I can absolutely confirm it doesn't taste odd in the absolute slightest.  It has a delicately spiced, citrusy flavour that sits so well with the sweet and boozy cupcakes.  As with all Foodie Flavours essences and flavourings you can add as little or as much as you like.  Especially with something like frosting where it's easy to taste as you go and adjust quantities.
How to make Jack and Cola Cupcakes
Mix the milk with the vinegar.  This makes a sort of vegan buttermilk, giving the finished cupcakes a lovely, richer flavour.
Stir together your dry ingredients.  All you need is flour, sugar, baking powder and baking soda.
Add the oil and whisky to the milk.  Then add to the bowl of dry ingredients, stirring it all together.  The secret to any good cupcake is not to over-mix.  Stir together until it's just combined.  Over-mixing can lead to a tougher finished texture once baked.
Don't like whisky?  Swap for something like rum or brandy!
Spoon into your cases and bake.  They take between 20-25 minutes.  Mine took exactly 24 minutes.  I checked after 20 minutes and they still felt a little soft to the touch but another 4 minutes was perfect.  Test your cupcakes after 20 minutes by using a toothpick inserted in the centre.  If it comes out clean your cupcakes are ready.  If it still has raw cake mix clinging to the toothpick put the cupcakes back in the oven for a few more minutes.
Leave to cool completely before icing.  Make the icing while they're cooling.  Really whip that butter before adding the icing sugar.  I use a stand mixer to make buttercream frosting but you can use a whisk if you use softened butter.  I also prefer to use the block style butter over tub margarine as I've found it just too soft when you have a few cupcakes to ice.  It warms up too easily in your hands as you're piping and by the end it's starting to turn a little sloppy.  The block butter also holds better storing the cupcakes at room temperature.
Add the cola flavouring – I started with 20 drops and ended up adding another 10 as the flavour was there but quite not enough.  Taste as you go.  As my mum always used to say "you can add to, but you can't take away".  Dear old mum.  Miss you.
These cupcakes are sweet, unctuous, rich and thoroughly decadent.  I also don't think you'd know they were vegan.  These days everyone I take food to knows what they're getting is vegan so there's no real "ta-da they're vegan!" moment.  Everyone loved these cupcakes though, especially the whiskyophile 😉
Some of our other favourite (and most popular!) Foodie Flavours recipes (all vegan too!):
I'd love to hear from you if you give this Vegan Jack Daniels and Cola recipe a try!  Just leave a comment as it's so helpful and I love to hear how the recipe worked out for you!  Thank you so much 🙂
Don't forget to follow us on YouTube, Facebook or Pinterest for even more recipe inspiration and chat, competitions, behind the scenes and so much more!
Jack Daniels and Cola Cupcakes
prep: 20 mins / cook: 25 mins / inactive: 60 mins / total: 1 hour 45 mins / quantity: 12 cupcakes
Ingredients
Cupcakes:
1/2 cup (100ml) non-dairy milk (unsweetened)
1 tblsp apple cider vinegar
1 cup (200g) golden caster sugar
2 + 1/2 cups (200g) self raising flour
1/4 tsp baking powder
1/2 tsp bicarbonate of soda
1/2 cup (100ml) Jack Daniels
1/3 cup (80ml) light vegetable oil
Frosting:
Equipment:
Muffin cases
Piping bag and nozzle
Instructions
Preheat your oven to 180 Fan / 200 C / 400 F / Gas 6 and put 12 large cupcake (or muffin) cases into your muffin tin
Put the milk into a small bowl or jug, whisk in the vinegar and set aside while you weigh the remaining ingredients
In a large bowl put the sugar, flour, baking powder and bicarbonate of soda and stir together
Whisk the oil and whisky into the milk then pour into the bowl of dry ingredients. Use a large whisk or rubber spatula to mix everything together. Mix until it's all just combined, try not to over-mix
Divide the mixture equally between the muffin cases then bake for 20-25 minutes until springy to the touch or a toothpick inserted into the centre of one of the cupcakes comes out clean with no raw cake mix clinging to it
Cool in the tin for 5 minutes before transferring to a cooling rack to cool completely
While the cupcakes are cooling make the frosting - beat the butter until it's pale and creamy. I use a stand mixer but you can use an electric whisk if you soften the butter first. Then beat in the icing sugar and a little milk to make a fluffy buttercream
Add 20 drops of the cola flavouring and beat in then taste. Add a few drops more if you think it needs to be a little stronger in flavour
Spoon into a piping bag fitted with a star nozzle and set aside until the cupcakes are cooled
Once the cupcakes are completely cool pipe on the frosting in fluffy swirls and devour in lip licking satisfaction!
Store in an airtight container
Notes
The Jack Daniels can be substituted for any other whisky or even rum or brandy if you'd prefer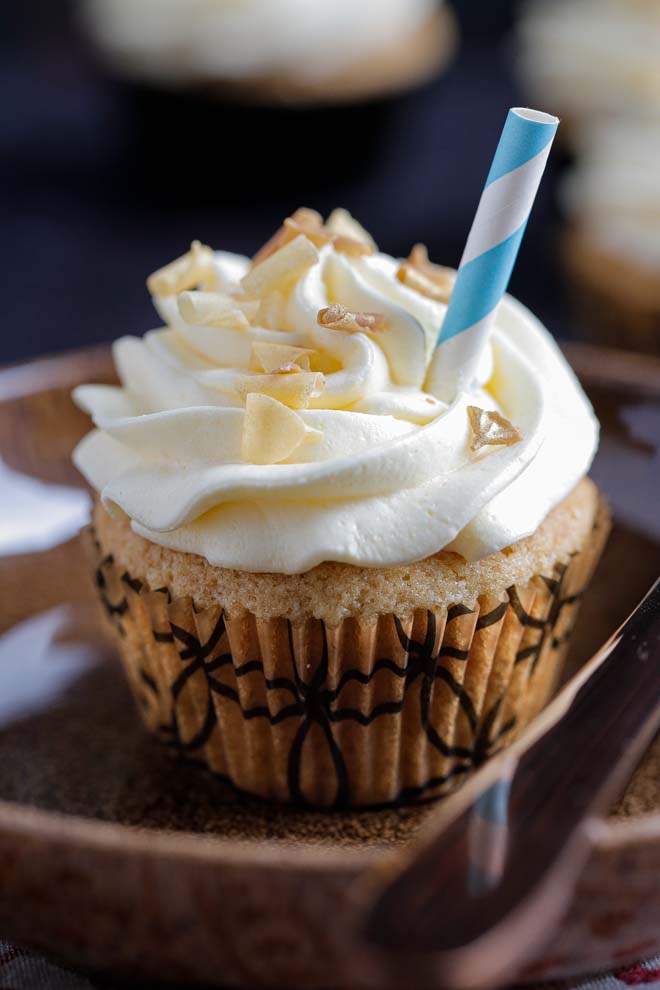 Hello and welcome to The Cook & Him.
We are Sam (The Cook), Phil (Him) and our little dog Nooch. What started with a plan to shed a few pounds back in 2016, soon became obvious that eating healthy doesn't have to be bland and boring.
So, combining Sam's 15 years of experience working within Michelin starred restaurants and our love for deliciously healthy food, we're creating recipes for you to make and enjoy. We've added our own unique spin on traditional and contemporary vegetarian and vegan recipes that keep you (and your pets!) healthy and full.  And we make sure they just work.
All things autumn - warming soups, savoury bakes and delicious sweet treats!
and I would like to see...
Or search for a recipe or post by keyword