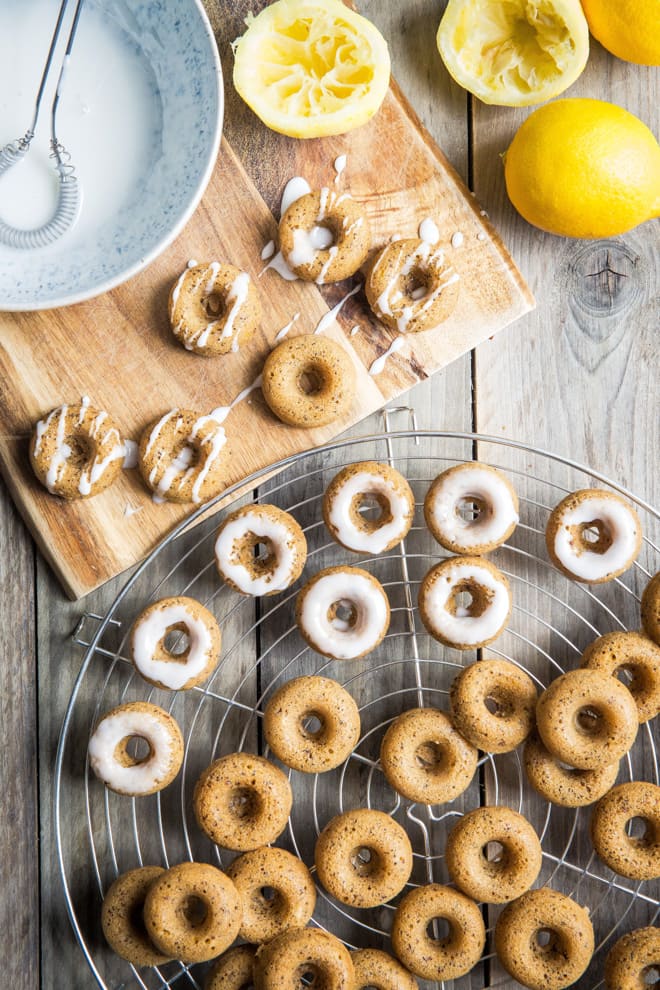 Posted in Recipes on 01.06.2018
Lemon and Poppy Seed Mini Donuts
prep: 10 mins / cook: 10 mins / inactive: 0 mins / total: 20 mins / quantity: 24 mini donuts Print recipe?
These little nibbly lemony bites are dangerous.  Seriously dangerous.  Just 10 minutes to make and 10 minutes to cook.  And the first time I made them I was a little over ambitious with how much of the mix my brand new mini donut pan could hold.  So I ended up with around 40 of the little buggers!  They ARE teeny tiny though.  AND they're baked.  AND vegan.  So that makes them sorta healthyish right?
These are also super light, super lemony and super cute!   There were some squeals when I tapped the first batch out of their tins.  This was after I'd freaked a bit at having filled the tin and appeared to have used none of the mix as my piping bag was still SO FULL.  What am I going to do with a gajillion mini donuts?!
In hindsight I probably should have tried freezing them but I was so excited to share the mini donut love I packed Phil off to the gym with them.  For healthy bods they sure all do have a sweet tooth!
Don't worry though, I've rejigged the original recipe so now you only end up with 24 donuts.  Oh dear I had to make more donuts to make sure halving the recipe still worked – I'm THAT dedicated to the cause ?  But that still seems like a lot right?  I need to stress just how teeny tiny they are.  They feel more like candy and they're just SO easy to keep popping one in.
Oh just ONE more.
Oh that was so small I barely tasted it so I'll just have one last one.
There's so many, no-one will notice ?
If you make this recipe or any of the recipes from The Cook & Him we'd LOVE to see! Just snap a picture and share it on Instagram using #thecookandhim and tagging @thecookandhim in the photo itself (as this guarantees we'll see your picture!
)
And don't forget to follow us on Instagram , Facebook or Twitter for even more recipe inspiration and chat, competitions, behind the scenes and so much more!
Lemon and Poppy Seed Mini Donuts
prep: 10 mins / cook: 10 mins / inactive: 0 mins / total: 20 mins / quantity: 24 mini donuts
Ingredients
1/2 tblsp ground flax seeds
1/2 cup plain flour
1/2 tsp baking powder
1/4 tsp bicarbonate of soda
1/2 tblsp poppy seeds
1/4 cup coconut sugar
1/4 cup unsweetened almond milk
1/4 cup coconut yoghurt
1/2 lemon – squeezed juice and grated zest
1 tblsp oil – I've used olive and avocado oil and they both taste great!  If you use coconut you'll need to melt it before adding
Optional glaze
2-4 tblsp icing sugar
1-2 tsp lemon juice
Instructions
Preheat the oven to 160 Fan / 180 C / 350 F / Gas 4 and with a little coconut oil or spray oil very lightly grease your mini donut pan (see note)
Put the ground flax seeds into a small bowl or mug and add 1 + 1/2 tblsp cold water and stir to mix together.  Set to one side while you prepare the other ingredients
In a medium bowl add the flour, baking powder, soda, poppy seeds and sugar
In a small bowl or jug mix together the almond milk, yoghurt, lemon zest and juice and the oil.  Give a quick whisk then pour into the dry mixture, folding gently together gently with a rubber spatula
The mixture is quite wet.  Don't worry!
Spoon into a piping bag - no nozzle necessary or into a sandwich bag.  For ease put the piping bag or sandwich bag over a jug or large mug while you scrape in the mixture
Snip the end off the piping bag or corner of a sandwich bag and carefully pipe the mixture into the tin - you want to roughly half fill the cups
Bake for 10 minutes then leave to cool in the tin for 5
Invert the tray and gently tap it over a wire cooling rack so that the donuts fall out.  If they need some persuasion GENTLY use the end of a tsp to loosen the edges before lifting or re-tapping out
Cool completely before glazing - mix 2 tblsp icing sugar with 1 tsp lemon juice, adding more icing sugar if you'd like it a little thicker
Drizzle, spread or spoon the glaze over the donuts
Store in an airtight container (if they last that long!)
Notes
I experimented with greasing and not greasing the donut tin - using a non-stick coated tin the donuts eventually popped out when I didn't grease the tin but they needed MUCH more persuasion than with a greased tin!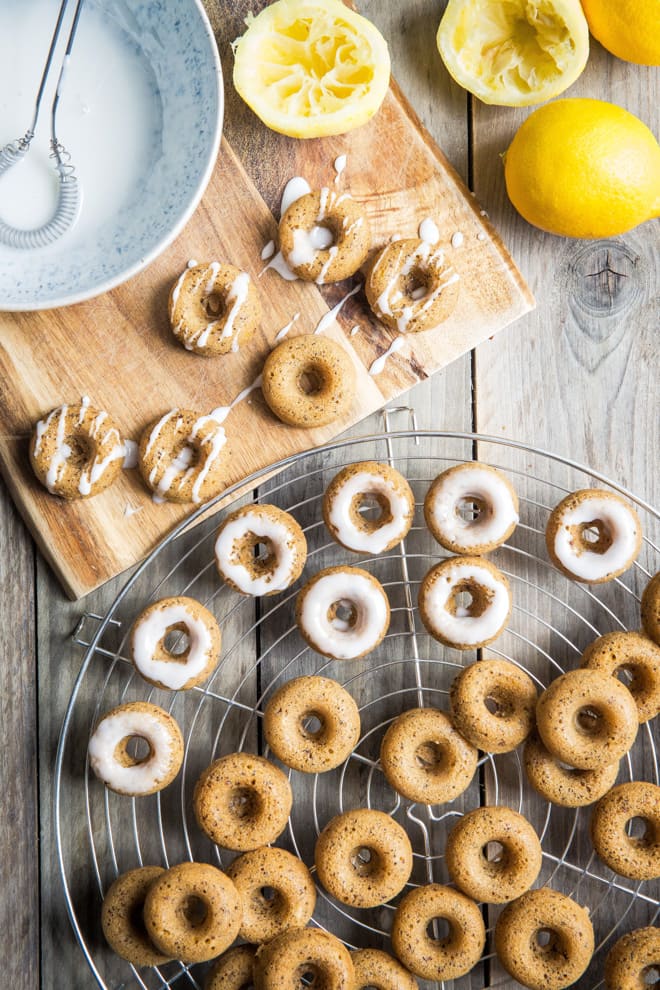 Some products I used in today's post...
Some of the links above are affiliate links, which pay us a small commission for our referral at no extra cost to you! Thank you for supporting The Cook & Him.
Hello and welcome to The Cook & Him.
We are Sam (The Cook), Phil (Him) and our little dog Nooch. What started with a plan to shed a few pounds back in 2016, soon became obvious that eating healthy doesn't have to be bland and boring.
So, combining Sam's 15 years of experience working within Michelin starred restaurants and our love for deliciously healthy food, we're creating recipes for you to make and enjoy. We've added our own unique spin on traditional and contemporary vegetarian and vegan recipes that keep you (and your pets!) healthy and full.  And we make sure they just work.
All things autumn - warming soups, savoury bakes and delicious sweet treats!
and I would like to see...
Or search for a recipe or post by keyword