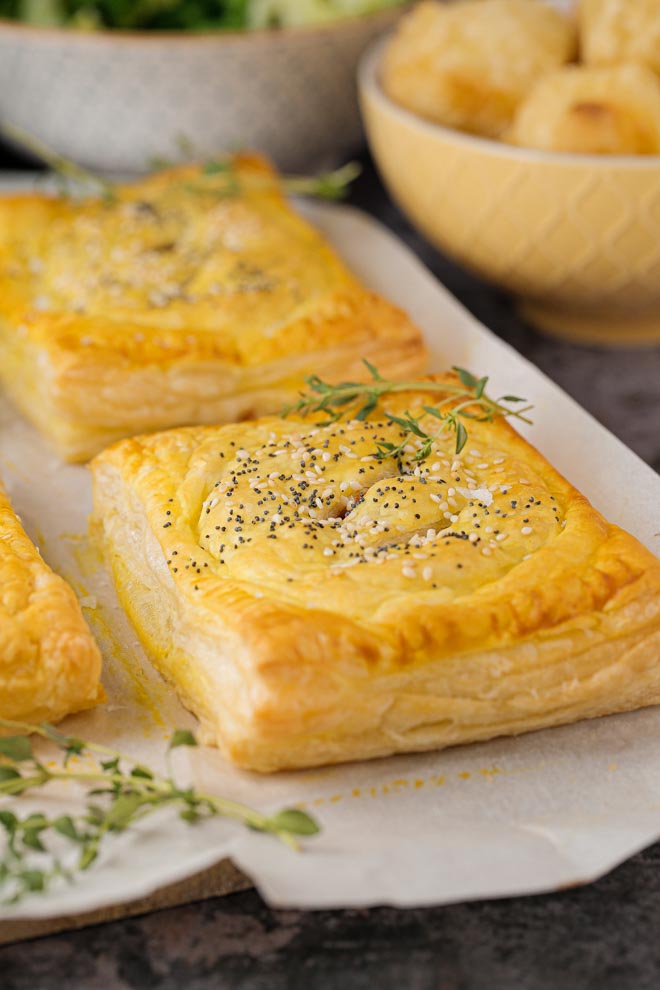 Posted in Recipes on 12.10.2020
Lentil and Chestnut Pies
prep: 30 mins / cook: 60 mins / inactive: 0 mins / total: 1 hour 30 mins / quantity: 6 individual pies Print recipe?
For a delicious vegan Christmas or Sunday roast alternative try these lentil and chestnut pies. They're easy to make and can be prepared ahead of time too!
Is it too early to mention the C word?  It's been such a ground-breaking and downright weird year that maybe we're all looking forward to Christmas as much as I do on a regular year.  Or are  you?  There's still so much uncertainty, more talk of further lockdowns here in the UK.  Numbers rising everywhere, and not in any good way.  I've learnt that I can sorta cope with it all – the prospect of once again not being able to see family, even at Christmas – by cooking.  And baking pies.  Lots and lots of pies.  Specifically today these lentil and chestnut pies.
Crisp fluffy puff pastry.  Filled to brimming with all this season's treats – sweet potato, turnip, aromatic herbs and of course lentils and chestnuts.
Using bought puff pastry and lentils and cooked chestnuts seriously cuts down on the cooking time.  Leaving you with all the accolade and a bit less of the work.  And using lentils means these vegan pies are full of fibre, protein and iron.  In case you want a little bit of health at your Christmas table.  Wrapping it all up in puff pastry makes it seem less healthy and more comfort food though.
Especially as lots of puff pastry is (intentionally or otherwise) vegan, including a shop's own brand and the named brands like Jus Rol.
The recipe for these lentil pies makes 6 good sized pies.  Which between the two of us meant a couple of meals worth and a cold one each for lunch.  And they're pretty good cold which is perfect for lunch boxes.  If you know how to eat anything puff pastry without ending up wearing most of those flaky little bits though.
But warm and crusty with generous amounts of veg and maybe even a dash of gravy is what the current autumn season is all about for me.  Plus I'm always down for a roast potato, any time of the year.  What is it about those crispy jackets and fluffy insides that's so appealing?
Follow it up with a slice of warm blackberry crumble bar topped with vegan vanilla ice cream and that's me done.  Like roll me off the chair onto the sofa done.
How to make these lentil and chestnut puff pastry pies:
Roast the sweet potatoes and turnip.  Though first I shake them with a bit of oil, paprika, thyme and rosemary and a good pinch of salt and pepper before putting in the oven.
Fry the onion and garlic.  This softens them in texture and flavour so you don't find slightly raw bits of onion or overpowering garlic in your delicate little pies.  I also add a little bit of miso paste for some umami oomph.
Mix everything together in a large bowl.  This is your cooked veg, lentils, chestnuts, extra seasoning and a spoon or two of something like hummus or cream cheese to bind it all together.  If you don't use something to bind the mixture it will be very dry and not make easy to mould the 'pockets' for your puff pastry parcels.
Unroll your puff pastry.  I buy the ready rolled stuff as it can be a faff to roll a perfect rectangle of pastry.  Cut into 6 equal size pieces – measure if you need to.  Then lay the pieces onto your prepared tray(s).  Leave a little bit of room between them but they tend to rise up not out.
Brush the edges of the pastry squares with 'egg' wash.  Since these Vegan Sausage Rolls I always use a mix of milk and turmeric to get that lovely golden colour on savoury pastry baking now.  You don't need much turmeric, just a pinch in a spoonful of milk.
Add the filling.  Place a large spoonful of lentil mixture in the middle of the pastry squares and lightly flatten so it's not too domed.
Unroll your second sheet of puff pastry.  You'll need to roll it out so it's a little bigger all round.  It doesn't need to be much bigger, about an inch all round.  This is because it needs to fit over the filling so each top square needs to be slightly bigger than the bottom square.  Again measure into 6 equal pieces and cut.
Lay the top pieces over the filling and press to seal.  The 'egg' wash helps the two pieces of pastry to stick together and you can further aid it by crimping the edges.  I just use a fork, it's quick and gives a fairly nice baked finish on the risen puff pastry pies.
Brush the lids with little more 'egg' wash.  I also cut a couple of slashes into the lids to help release the steam inside the pie and ensure even cooking.  Leave plain or sprinkle with a few sesame seeds and/or poppy seeds.
Bake until risen, crispy and golden.  This takes about 25 minutes at 180 Fan.
I can't resist puff pastry.  Sweet or savoury I don't care.  There's something about all those flaky, buttery layers cooked to crisp perfection.  And filled with something as delicious as these lentil and chestnut pies, I'd feel VERY honoured indeed if they graced your Christmas table 🙂
Looking for some other great vegan Christmas recipes?  Here's some of our tried and tested favourites …
I'd love to hear from you if you give these Lentil and Chestnut Pies recipe a try! Just leave a comment as it's so helpful and I love to hear how the recipe worked out for you! Thank you so much 🙂
Don't forget to follow us on YouTube, Facebook or Pinterest for even more recipe inspiration and chat, competitions, behind the scenes and so much more!
Lentil and Chestnut Pies
prep: 30 mins / cook: 60 mins / inactive: 0 mins / total: 1 hour 30 mins / quantity: 6 individual pies
Ingredients
2 tsp oil
1 large sweet potato – peeled and cut into smallish chunks
1/2 turnip – peeled and cut into smallish chunks
1/2 tsp dried thyme
1/2 tsp dried rosemary
1 tsp smoked paprika
salt and pepper
1 red onion – peeled and finely chopped
4 cloves garlic – peeled and crushed
1 tsp miso paste (optional or use a veggie stock cube)
1 tin lentils – drained weight 1 cup (230g)
1/2 cup (100g) cooked chestnuts – roughly chopped
2-3 tblsp vegan cream cheese or hummus
2 packs of ready rolled vegan puff pastry
1 tblsp non-dairy milk
large pinch turmeric
sesame and poppy seeds (optional)
Instructions
Preheat your oven to 180 Fan / 200 C / 400 F / Gas 6
Toss the diced potato and turnip with 1 tsp oil, the thyme, rosemary and paprika and a good pinch each of salt and pepper and spread onto a baking tray
Roast for 35 minutes
While they're roasting saute the chopped onion and crushed garlic in the other tsp of oil until the onion is just starting to turn translucent then stir in the miso paste or crumbled stock cube
Put the roasted veg and the cooked onions and garlic into a large bowl and add the drained lentils and chestnuts
Stir in the cream cheese or hummus and another pinch of salt and pepper and mix everything together well
Line one large or two smaller baking trays with parchment or silicon mats
Unroll one of the sheets of puff pastry and cut into 6 equal rectangles then place them on your prepared tray(s). They don't spread much so you can put them reasonably close together on the tray
Mix the milk with the turmeric and brush all the way round each of the sqaures
Place mounds of the lentil mix in the middle of each of the squares diving the mix evenly between them. Lightly flatten the tops so the mounds aren't too domed
Unroll the other sheet of puff pastry and on a lightly floured surface roll out so it's about an inch bigger on both sides. Cut this into another 6 equal rectangles
Gently lift the rectangles onto the bases, covering the filling and sitting on the pastry underneath. Gently push down to press the 2 pieces of pastry together and shape the tops of the domes
Crimp the edges of the pastry with a fork to help seal them then brush all over the pies with more of the golden milk.
Cut 2 slashes in the top of each pie and sprinkle with seeds if using
At this point you can chill the pies and cook another time or put in the oven and bake for 25 minutes until puffed, golden and crispy
Serve immediatley or chill any leftovers and eat cold or reheat, ensuring the filling is piping hot. Store in the fridge
Notes
Swap the sweet potato and turnip for any of your favourite seasonal root veg - parsnips, swede and squash would also be lovely in these pies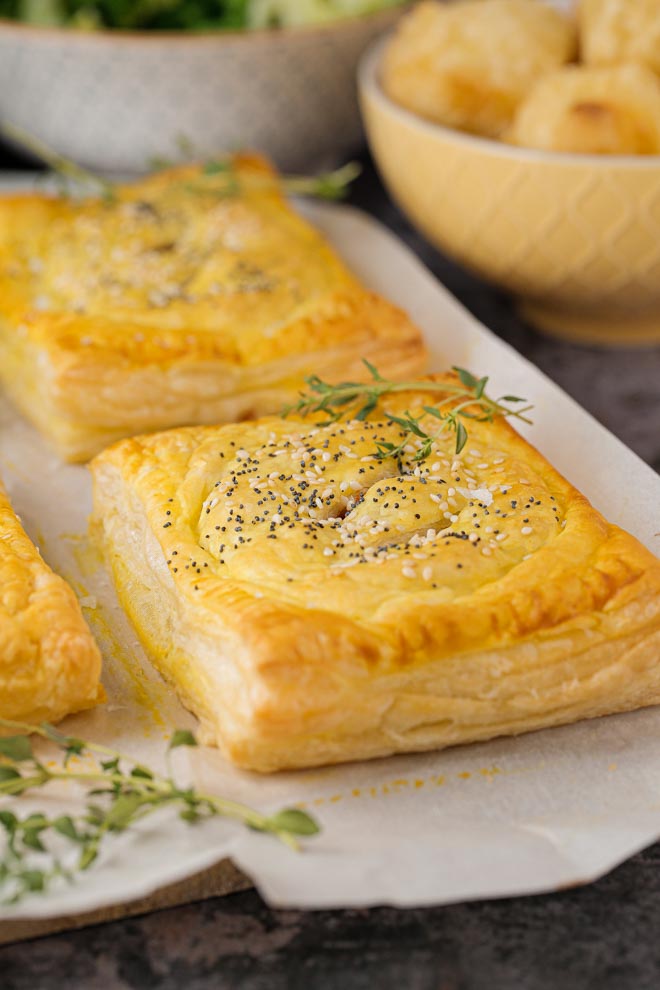 Hello and welcome to The Cook & Him.
We are Sam (The Cook), Phil (Him) and our little dog Nooch. What started with a plan to shed a few pounds back in 2016, soon became obvious that eating healthy doesn't have to be bland and boring.
So, combining Sam's 15 years of experience working within Michelin starred restaurants and our love for deliciously healthy food, we're creating recipes for you to make and enjoy. We've added our own unique spin on traditional and contemporary vegetarian and vegan recipes that keep you (and your pets!) healthy and full.  And we make sure they just work.
All things autumn - warming soups, savoury bakes and delicious sweet treats!
and I would like to see...
Or search for a recipe or post by keyword