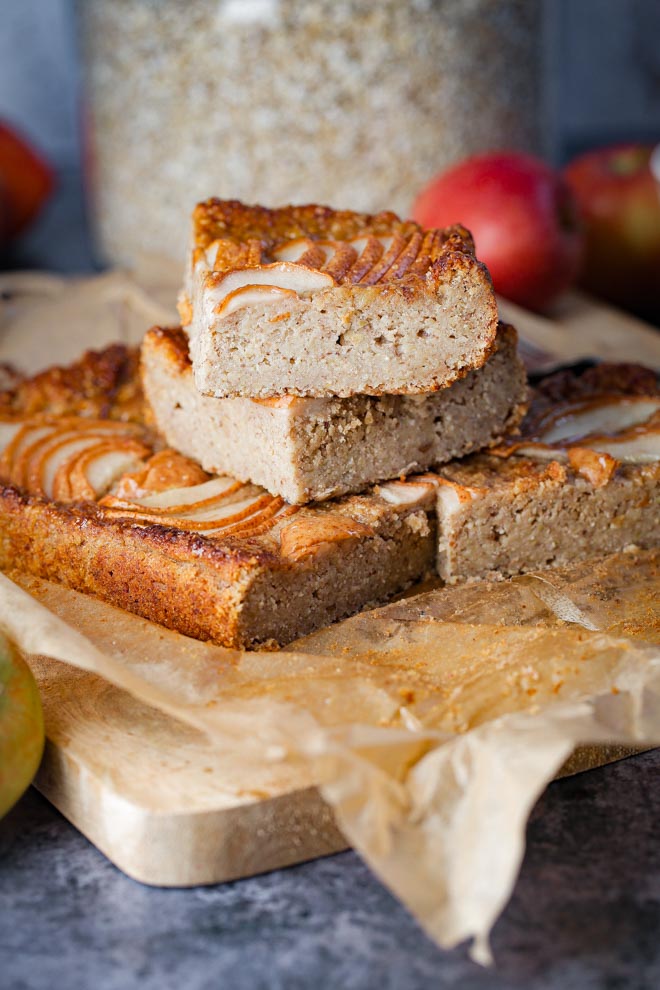 Posted in Recipes on 05.04.2021
Melissa Hemsley's Fruit Bowl Bake
prep: 10 mins / cook: 50 mins / inactive: 0 mins / total: 60 mins / quantity: 8 portions Print recipe?
A cross between breakfast and dessert, this vegan fruit bowl bake is packed full of tasty ingredients and is super simple to whip up! Make ahead for a speedy breakfast or snack, or enjoy warm from the oven for a leisurely weekend brunch!
Ever since seeing a blueberry breakfast cake years ago somewhere on the internet I've always wondered what dessert for breakfast would be like!  I think it would be something like this fruit bowl bake.  All the normal, healthy breakfast ingredients jazzed up a bit with butter and *artfully* arranged fruit on the top.
I say *artfully* – I literally sliced and plonked on top.  You do you and faff and primp your top as much or as little as you like.
We love a baked oats for breakfast.  It's like the summer morning equivalent to winter porridge.  I tend to make a couple of batches at a time, cool, slice and pop in the freezer for breakfasts throughout the week.  I've also been known to snaffle it as an afternoon pick me up as about 3pm most days my body goes into siesta mode, particularly when I'm writing blog posts and staring at a monitor.  I feel my eyes get heavier, the dogs are all tucked up in their bed and look SO comfy and I just want to snuggle right in there with them.
So a hot cuppa something and a slice of this perks me right up.  It gets that blog post finished, the house cleaned, the car washed, the marathon run.  Ok, so maybe I'm exaggerating a little there.
How to make this simple baked oats recipe:
I first saw this on breakfast television and liked the idea of using up what might be going off in your fruit bowl.  Though I have often (ok, always) been known to buy extra bananas just to have the excuse to make something with over-ripe bananas.  The original recipe isn't vegan – it uses eggs and dairy butter.  But a simple swap to using vegan butter and flax seeds is an easy way to make this egg and dairy free.
Put the first batch of ingredients into your food processor.  This is the oats, almonds, baking powder, cinnamon, butter and flax seeds.  Whizz until the butter is mixed in fairly well.  If you're doing this by hand simply rub the (softened) butter into the dry ingredients with your finger tips until no large lumps remain.
Add the banana and syrup.  Or preferred sweetener.  I've used agave but maple syrup, coconut sugar or regular sugar will work too.  Give another whizz – lumps of banana remaining in the mixture is perfectly fine!
Grate the apples.  In the original recipe she squeezes out the juice from the grated apple but as we're not using eggs and I didn't want to lose all that lovely juice I've not done that.  I'm also lazy and squeezing apples is an extra (in my opinion) unnecessary step.
Whizz the apple into the mixture.  Then tip into your prepared tin.  You can use a square or round tin – 8 inches or 20cm.  Push the mixture into the corners and flatten the top.  Then *artfully* arrange your fruit slices however much you can be bothered 😉
Bake until golden and lovely.  This will take around 50 minutes.  Once removed from the oven you can brush over some extra syrup, warmed apricot jam or leave it as nature intended.  Those additions really are just gilding the lily – to shine in the photos and (hopefully) encourage you to make and eat this too!
Love easy, tasty breakfasts too?  These are our tried and thoroughly tested all vegan favourites …
Passion Fruit and Berry Breakfast Pastries – easier than they sound and utterly moreish.
Date and Nut Spiced Fruit Loaf – time consuming yes, but it's SO easy and a lot of it is hands-off, letting yeast do its wonderful thing.
Blueberry Muffins – simple, moist sponge encasing delicious pops of juicy blueberry.
Apple and Cinnamon Baked Oats – one of our original baked oats recipes, so easy and so tasty
I'd also love to hear from you if you make this Fruit Bowl Bake recipe! Just leave a comment as it's so helpful and I love to hear how the recipe worked out for you! Thank you so much!
Don't forget to follow us on YouTube, Facebook or Pinterest for even more recipe inspiration and chat, competitions, behind the scenes and so much more!
Melissa Hemsley's Fruit Bowl Bake
prep: 10 mins / cook: 50 mins / inactive: 0 mins / total: 60 mins / quantity: 8 portions
Ingredients
1 + 1/2 cups (150g) rolled oats
3/4 cup (80g) ground almonds
1 tsp baking powder
1 tsp cinnamon
1/3 cup (100g) vegan butter
3 tblsp ground flax seeds
1/4 cup (74g) maple or agave syrup
3 ripe bananas
3 apples
2 pears
Optional Glaze:
1-2 tblsp maple or agave syrup or warmed apricot jam
Instructions
Preheat your oven to 160 Fan / 180 C / 350 F / Gas 4 and line an 8 inch (20cm) square or round baking tin with parchment
Put the oats, almonds, baking powder, cinnamon, butter, flax seeds and syrup into a food processor
Whizz until the butter is mixed in
Peel the bananas, break into chunks and add to the food processor. Whizz again until the banana is mixed in - visible lumps of banana is fine though!
Grate the apple around the core (discard the core) and add to the food processor. Whizz until the apple is just mixed in
Pour the mixture into your prepared tin, pushing into the corners and flattening the top
Slice the pears round the core then arrange on top of your oat mixture
Bake for 50 minutes until golden and just set
If using, brush with syrup or jam and eat immediately or leave to cool
Store in the fridge once cold or cut into portions to freeze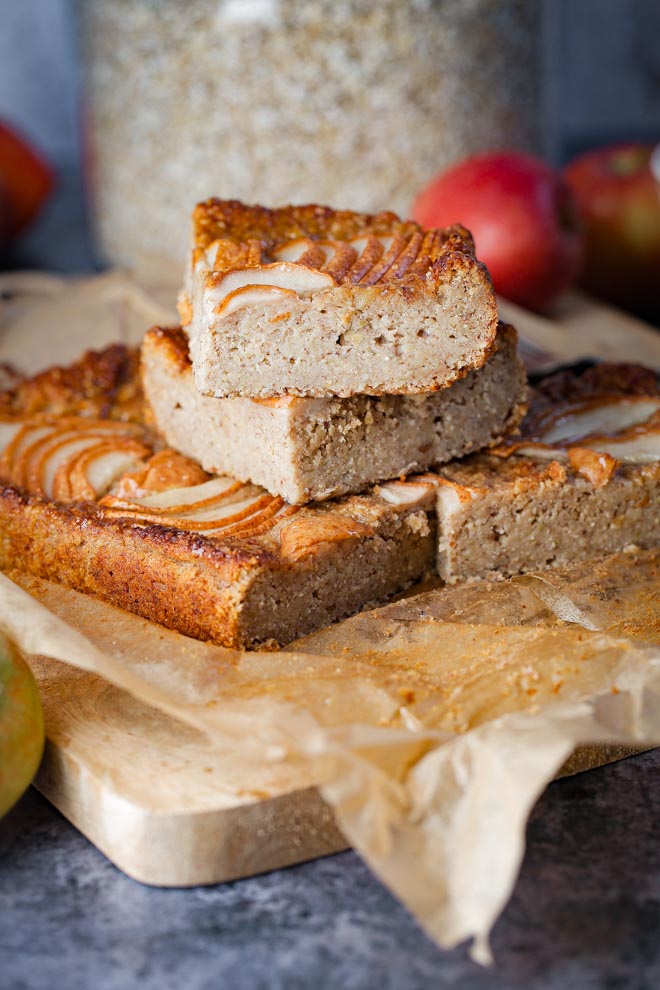 Hello and welcome to The Cook & Him.
We are Sam (The Cook), Phil (Him) and our little dog Nooch. What started with a plan to shed a few pounds back in 2016, soon became obvious that eating healthy doesn't have to be bland and boring.
So, combining Sam's 15 years of experience working within Michelin starred restaurants and our love for deliciously healthy food, we're creating recipes for you to make and enjoy. We've added our own unique spin on traditional and contemporary vegetarian and vegan recipes that keep you (and your pets!) healthy and full.  And we make sure they just work.
All things autumn - warming soups, savoury bakes and delicious sweet treats!
and I would like to see...
Or search for a recipe or post by keyword