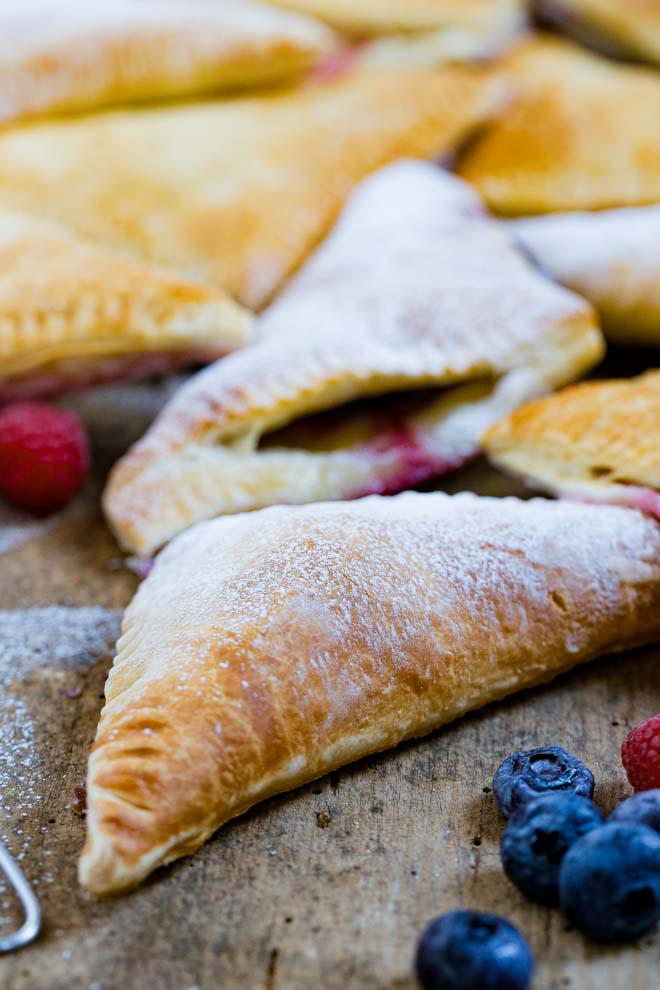 Posted in Recipes on 01.03.2021
Passion Fruit and Berry Breakfast Pastries
prep: 15 mins / cook: 25 mins / inactive: 0 mins / total: 40 mins / quantity: 6 pastries Print recipe?
Crisp puff pastry filled with passion fruit flavour vegan cream cheese makes these berry breakfast pastries a simple but decadent crowd pleaser! Glaze with demerara sugar or icing sugar for a super simple sweet treat!
One of my fondest memories of working in a pastry kitchen in hotels was the freshly baked breakfast pastries.  Walking in on a frosty morning to that warm, sweet, buttery smell.  Grabbing a hot tea and a couple of croissants or berry breakfast pastries before starting a loooong day.  Yes a professional kitchen is HARD work but it has its perks.  We also used to have a full time baker who started at 2am (yikes) to make sure there were enough of these divine little breakfast treats for not just the guests but us hungry chefs!
What's your favourite breakfast?  Do you try and mix it up or do you have routines?  Ours is mostly porridge during the week (swap for overnight oats or baked oats on warmer summer mornings) then crumpets on Saturday and pancakes on Sunday.  Occasionally there'll be a bagel or even a sausage sandwich on a weekend instead.  Breakfast is also my favourite meal of the day.  I think because it's so versatile.  You can have sweet or savoury.  And they don't come any sweeter – or more delicious – than these vegan fruity turnovers.
Of course back in the day, the baker also used to make the puff pastry for us.  He had a giant rolling machine that would layer the dough with all that butter to give it those iconic crisp, puffed layers.  You can of course do it yourself by hand but honestly, the stuff you can get in the supermarket these days – which is almost invariable accidentally vegan – is pretty darn good.  Rolling and layering takes quite some time, hours in fact.  And while nothing is quite as satisfying as making something completely from scratch by yourself, I would NEVER recommend that getting in the way of enjoying these really REALLY simple breakfast pastries 😉
How to make these virtually no effort vegan pastries:
The ingredients are few and simple.  We've got bought puff pastry, vegan cream cheese, , cornflour, icing sugar, fresh berries and Foodie Flavours Passion Fruit Flavouring.  If like me, you love the tart sweet flavour of passion fruit but aren't so fond of the pips (which is basically all passion fruit is) then you'll love this natural, vegan essence!  It gives a wonderful tropical twist to these breakfast pastries!
Mix the cream cheese with the icing sugar, cornflour and a few drops of the Passion Fruit Essence.  For 6 pastries I've used 15 drops for a good but not overpowering flavour.  It goes SO perfectly with the berries without masking their freshness.  All Foodie Flavours essences and flavourings are high strength so a little goes a VERY long way!
Uncurl your puff pastry.  Lay it flat on the parchment it usually comes wrapped in then cut all the way across the middle lengthways.  Then cut each half into 3 equally, giving you 6 squares in total.
Brush round the edges of each square of pastry.  I use a combination of milk and maple (or agave) syrup as this is also what I use to glaze the tops of the breakfast pastries to give them that lovely golden finish!  You just want a thin line round the edges as this is what will stick the pastry to itself when you fold it over.
Dollop on a little of the cream cheese mixture onto one corner of the squares.  Divide the mixture between each of the turnovers.
Pop 2 halved raspberries on top of the cream cheese.  Or 5 blueberries if that's what you're using.  You could also substitute in any fresh berry or fruit, I just think raspberry goes particularly well with passion fruit.  So tart, so sweet, so fresh and fruity!
Lift the corner of the empty half of the pastry and fold it over the cream cheese and fruit making a triangle.  Press down lightly to adhere the edges together.  Carefully lift onto a prepared tray, spacing each one slightly apart to give them room to crisp up.  You may need a couple of trays – try not to crowd them too much!
Get creative with the edges.  I went so far as to get a fork and push it down ALL OVER the edges.  Superior pastry finisher me.  You do you – crimp, curl, use a fork or your fingers.  Just make sure they're stuck very well together.
Brush more of the glaze all over the top of each pastry.  Be generous with it – it's what gives it that lovely golden, crisp finish.
Sprinkle over some demerara sugar.  This is what makes the cooked pastry SHINE!  Little glittery pieces of sugar all crisp and crunchy.  Yum.  I made a couple of batches when making these because I had some fresh blueberries for the dogs (they love blueberries with their morning oats!) and wanted to see how they tasted with the passion fruit.  And the second batch I just glazed and didn't add any demerara.  They were still lovely and golden but they didn't have that sparkle you get with demerara sugar.  They're the ones I dusted with icing sugar.  So you can do either way.
Bake for 20-25 minutes until crisp, puffed and golden.  If some of the filling escapes don't panic!  It might look a bit messy but totally doesn't affect how they taste!
I really recommend giving them 5 minutes out of the oven before stuffing your face with them!  The inside is HOT.  Ask Phil how he knows this.  You can also make these at least a couple of days in advance – just glaze and sprinkle when you're ready to bake!
Love breakfast as much as we do?  Try these well loved and often made favourites (all vegan too!) …
Folded Breakfast Wraps – for all you savoury breakfast luvvers out there.
Blackberry Crumble Bars – tart, sweet, full of buttery crumble and berry flavour.
Healthy Breakfast Muffins – have your muffin and eat it when they're so full of all the good stuff!
Chocolate and Pistachio Babka Buns – homemade bread dough all wrapped and twisted up with gooey chocolate and crunchy pistachios
And of course I'd love to hear from you if you make these Passion Fruit and Berry Breakfast Pastries! Just leave a comment as it's so helpful and I love to hear how the recipe worked out for you! Thank you so much!
Don't forget to follow us on YouTube, Facebook or Pinterest for even more recipe inspiration and chat, competitions, behind the scenes and so much more!
Passion Fruit and Berry Breakfast Pastries
prep: 15 mins / cook: 25 mins / inactive: 0 mins / total: 40 mins / quantity: 6 pastries
Ingredients
Pastries:
1/2 cup (90g) vegan cream cheese
2 tblsp (25g) icing sugar
2 tblsp cornflour
15 drops Foodie Flavours Passion Fruit
1 sheet pre-rolled vegan puff pastry
1/2 cup (70g) fresh raspberries (or sub with any berry)
Glaze:
Optional:
1 tblsp demerara sugar for sprinkling
Instructions
Preheat your oven to 180 Fan / 200 C / 400 F / Gas 6 and line 1-2 trays with parchment or silicon
Put the cream cheese into a bowl and whisk in the icing sugar, cornflour and passion fruit flavouring
Uncurl the puff pastry and lie flat on the parchment it usually comes wrapped in
Cut across the middle lengthways then cut each half into 3 - giving you 6 squares on total
Mix the milk with the syrup and passion fruit flavour and brush round the edge of each of the squares
Put a spoonful of the cream cheese mixture on one half of each of the squares, add a little more to each one if you have any of the cheese mixture left
Top the cheese with a few of the berries - don't overfill or you might struggle to close the turnovers!
Fold the uncovered part of the pastry over the cream cheese so that you have a triangle. Carefully life each one onto your prepared tray(s)
Use a fork to seal the edges of the pastry together - push gently but firmly so that they stick together well
Brush each pastry triangle with the glaze covering all the top of the pastry well then generously sprinkle over the demerara sugar
Bake for 20 - 25 minutes until well risen, puffed and golden
Leave to cool for 5 minutes before devouring!
Notes
You can prepare the raw pastries in advance - up to glazing them before baking - the sugar will melt in the fridge and make the tops soggy! Keep the unglazed pastries in the fridge for up to a couple of days, glaze and bake as usual for fresh warm pastries!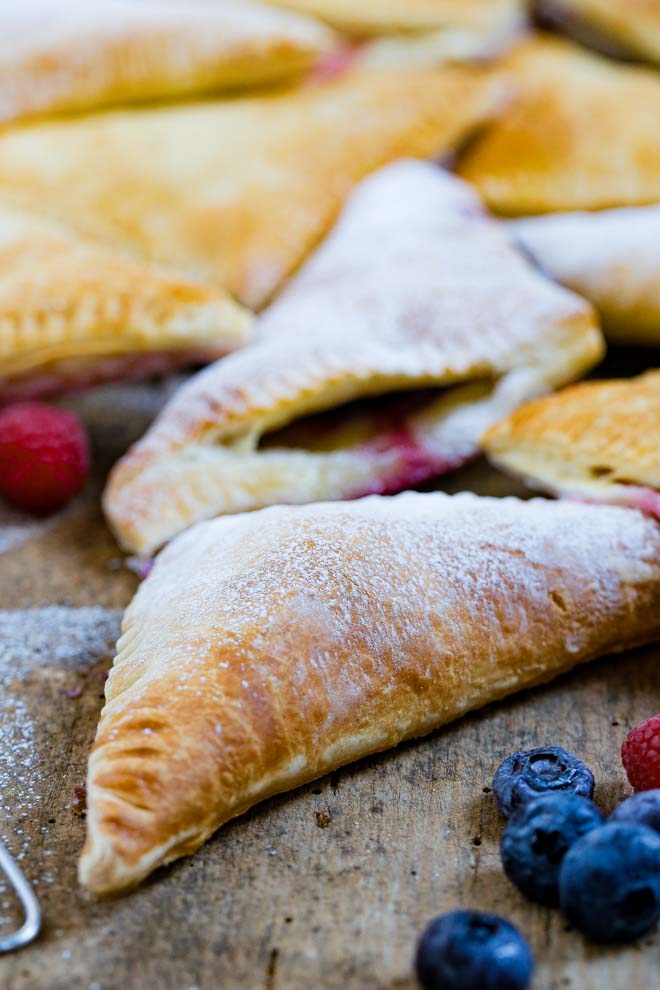 Hello and welcome to The Cook & Him.
We are Sam (The Cook), Phil (Him) and our little dog Nooch. What started with a plan to shed a few pounds back in 2016, soon became obvious that eating healthy doesn't have to be bland and boring.
So, combining Sam's 15 years of experience working within Michelin starred restaurants and our love for deliciously healthy food, we're creating recipes for you to make and enjoy. We've added our own unique spin on traditional and contemporary vegetarian and vegan recipes that keep you (and your pets!) healthy and full.  And we make sure they just work.
All things autumn - warming soups, savoury bakes and delicious sweet treats!
and I would like to see...
Or search for a recipe or post by keyword