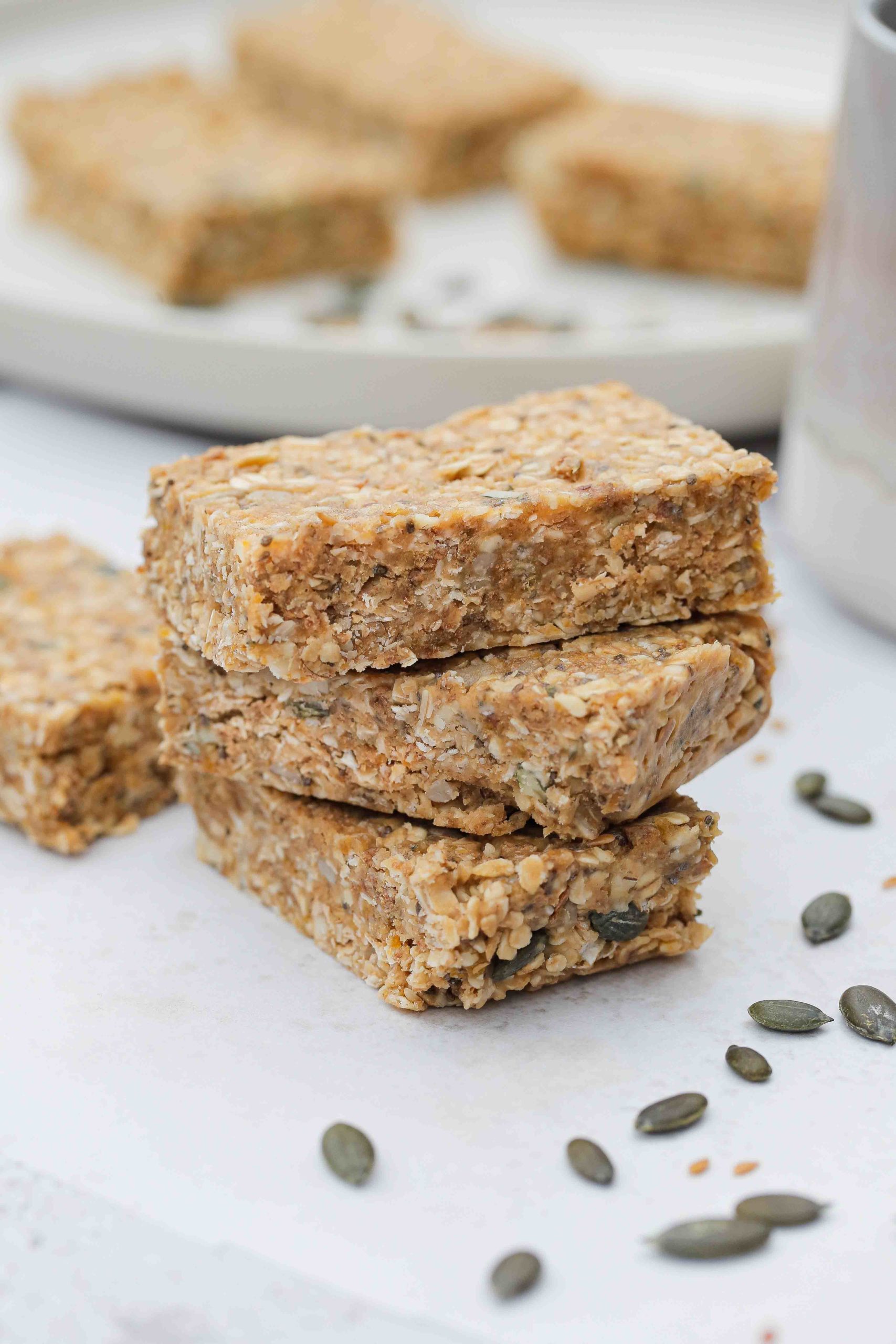 Posted in Recipes on 25.01.2023
Peanut Butter Oat Bars
prep: 20 mins / cook: 0 mins / inactive: 0 mins / total: 20 mins / quantity: 12-14 bars Print recipe?
EASY no bake homemade peanut butter oat bars – full of seeds, nuts and dried fruits. Refined sugar free but sweet and chewy and perfect for a quick breakfast or snack!
Do you get the afternoon hungries?  And do you love peanut butter?  I most certainly do to both of those.  And bought snack bars are SO expensive.  So these sorta healthy (good fats, good carbs, no refined sugar) peanut butter oat bars really hit that snack time spot!  I imagine they'd make a great after school treat too!
They're sweet, the right amount of chew and crunch and oh so good.  And are a doddle to make.  Just a food processor, bowl and tin are needed.  And a teeny tiny little bit of patience while they set in the fridge.  Although technically these no bake oatmeal bars could be eaten as soon as you've pushed the mixture into the tin!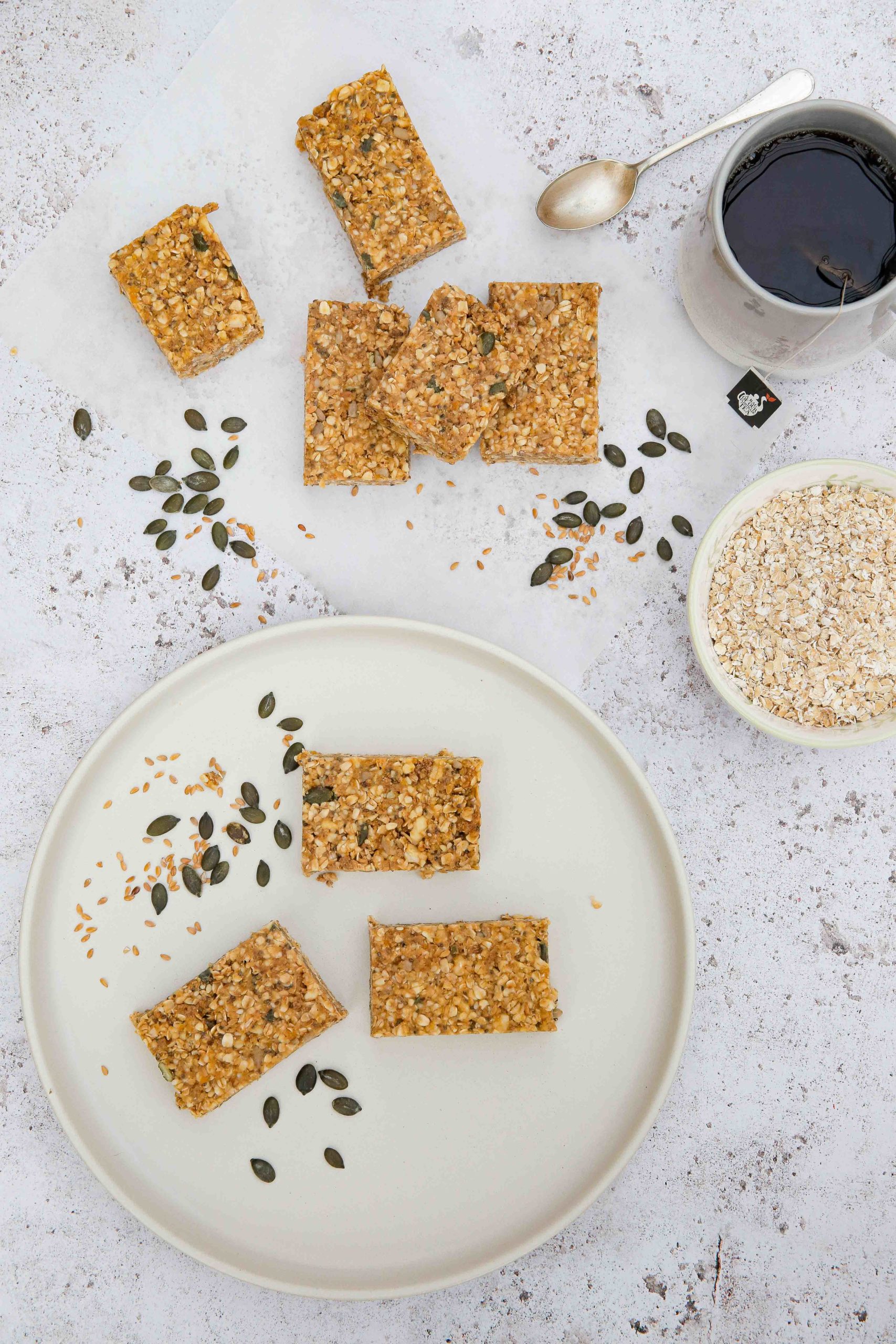 What's in these no bake oatmeal bars:
Oats – I've used just regular rolled oats as the cheaper option, but you could use steel cut or jumbo oats.
Peanut Butter – I've used smooth but I think chunky would work just as well!
Dried Fruits – specifically dates and apricots and it's where most of the natural sweetness comes from as well as giving these fruit and nut bars their divine chewy texture!
Seeds – I've used a variety – pumpkin, chia, sesame, sunflower and flax seeds for all their healthy benefits as well as flavour and crunch.
Bran Flakes – I love bran flakes, but you could use a variety of breakfast cereals – rice krispies, cornflakes, crumbled weetabix.
Equipment needed:
A food processor is recommended to whizz the dates and apricots.  And then the nuts. I love my Magimix, such a work horse.  You could chop everything by hand but that requires far more elbow grease than I'm prepared to use these days.  Other than that just a bowl, spatula or spoon for mixing and a tin to set the bars in.  The size of the tin will effect how thick your bars are.  I used an 8 inch square tin which gave thickish bars.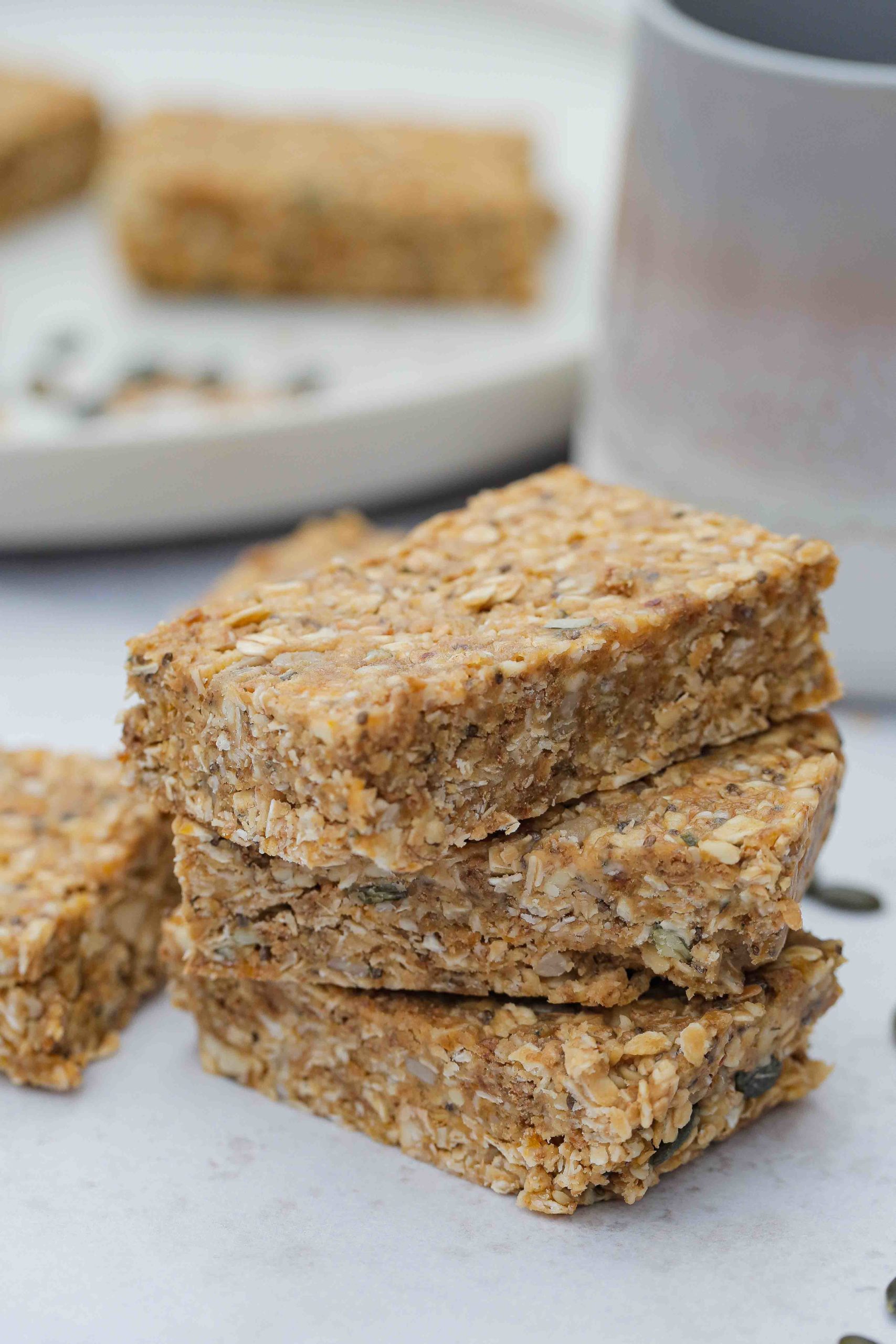 How to make these peanut butter oatmeal bars:
Step 1.  Whizz the dates and apricots in a food processor until you have a smooth paste.  If your dates are a bit dry, add just a splash of boiling water while whizzing them.
Step 2.  Add the nuts and cereals and whizz until just chopped into the fruit paste.
Step 3.  Add the seeds and give a final quick whizz.  This is more to mix the seeds into the paste rather than to chop them.
Step 4.  Tip the nut paste into a bowl and add the oats.
Step 5.  Melt together the peanut butter, agave and coconut oil and add to the bowl.  Melting them together makes it a little easier on the arms!  Give everything a really good mix.
Step 6.  Tip into a lined tin.  These snack bars aren't baked so you can use parchment, cling film or foil to line your tin.
Step 7.  Put the bars in the fridge for a few hours.  This 'sets' the peanut butter and coconut oil so you can get nicely sliced bars!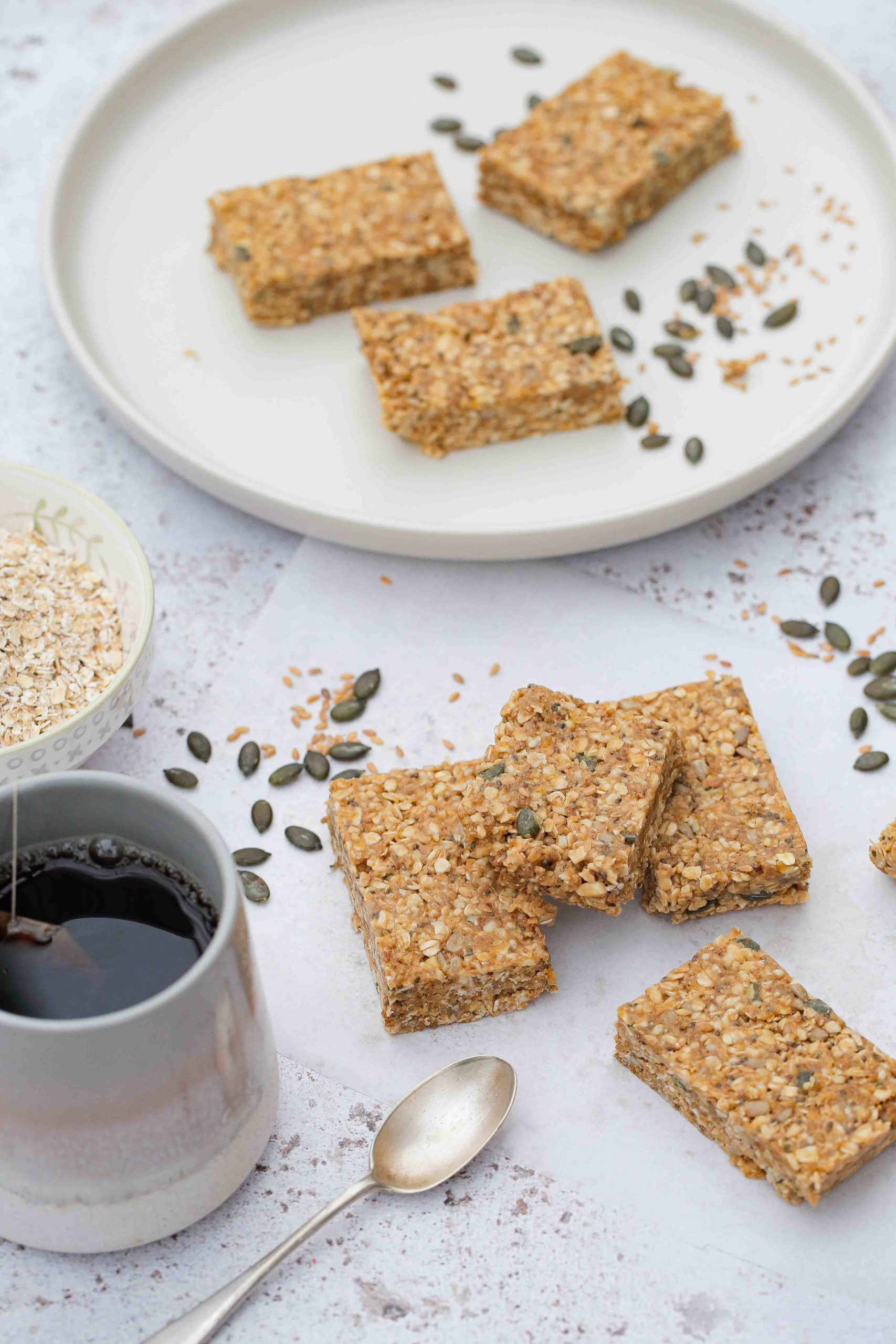 How to store these oat bars:
Once you've cut them into nice bars pop into an airtight container and store in the fridge for 2-3 weeks.  You could keep them at room temperature for a week but I prefer how chewier they are straight from the fridge!  They also freeze really well.  I tend to put things like this in old Chinese takeaway containers or other sealable plastic tubs for the freezer as it's repurposing the plastic and saves them getting bashed about if put in bags.
Final note …
You could totally add chocolate chips or drizzle melted chocolate over the finished bars for a bit of extra yum!
If you make these Peanut Butter Oat Bars or any of the recipes from The Cook & Him I'd LOVE to see! Just snap a picture and share it on Instagram using #thecookandhim and tagging @thecookandhim in the photo itself (as this guarantees I'll see your picture!
)
Don't forget to follow me on Facebook or Pinterest for even more recipe inspiration and chat, competitions, behind the scenes and so much more!
Peanut Butter Oat Bars
prep: 20 mins / cook: 0 mins / inactive: 0 mins / total: 20 mins / quantity: 12-14 bars
Ingredients
50g dried apricots
150g dates – pitted weight
80g nuts (see note)
50g bran flakes – or sub with cornflakes, rice krispies, weetabix, shreddies, shredded wheat
1 tablespoon flax seeds
1 tablespoon sesame seeds
2 tablespoons chia seeds
1 tablespoon pumpkin seeds
1 tablespoon sunflower seeds
150g rolled oats – or sub with jumbo or steel cut oats
150g peanut butter
50ml agave syrup
2 tablespoons coconut oil
Equipment:
Food processor
8 x 8 inch (20 x 20 cm) tin or dish
Instructions
Line an 8 x 8 inch (20 x 20 cm) tin or dish with foil, cling film or parchment and set aside
Put the apricots and pitted dates into a food processor with the S blade and whizz until you have a smooth paste. If your dates are a little dry add just a splash of boiling water
Add the nuts and the bran flakes and whizz just until chopped
Add the seeds and whizz just until incorporated into the paste - these don't really need chopping
Tip the mix into a bowl and add the oats
In a separate bowl or jug melt together peanut butter, coconut oil and agave syrup in the microwave. Or melt in a saucepan on the stove over a low heat, stirring frequently so it doesn't catch and burn
Pour the melted peanut butter mixture into the dry ingredients and stir until everything is very well mixed together
Tip into your prepared tin, flatten and smooth the top then pop in the fridge for a few hours to firm up
Cut into bars and store in an airtight container in the fridge
These bars can also be frozen
Notes
For the nuts use what you have or prefer. I used a combination of cashews and peanuts but anything like almonds, pecans, pistachios, walnuts, macadamia nuts would also work!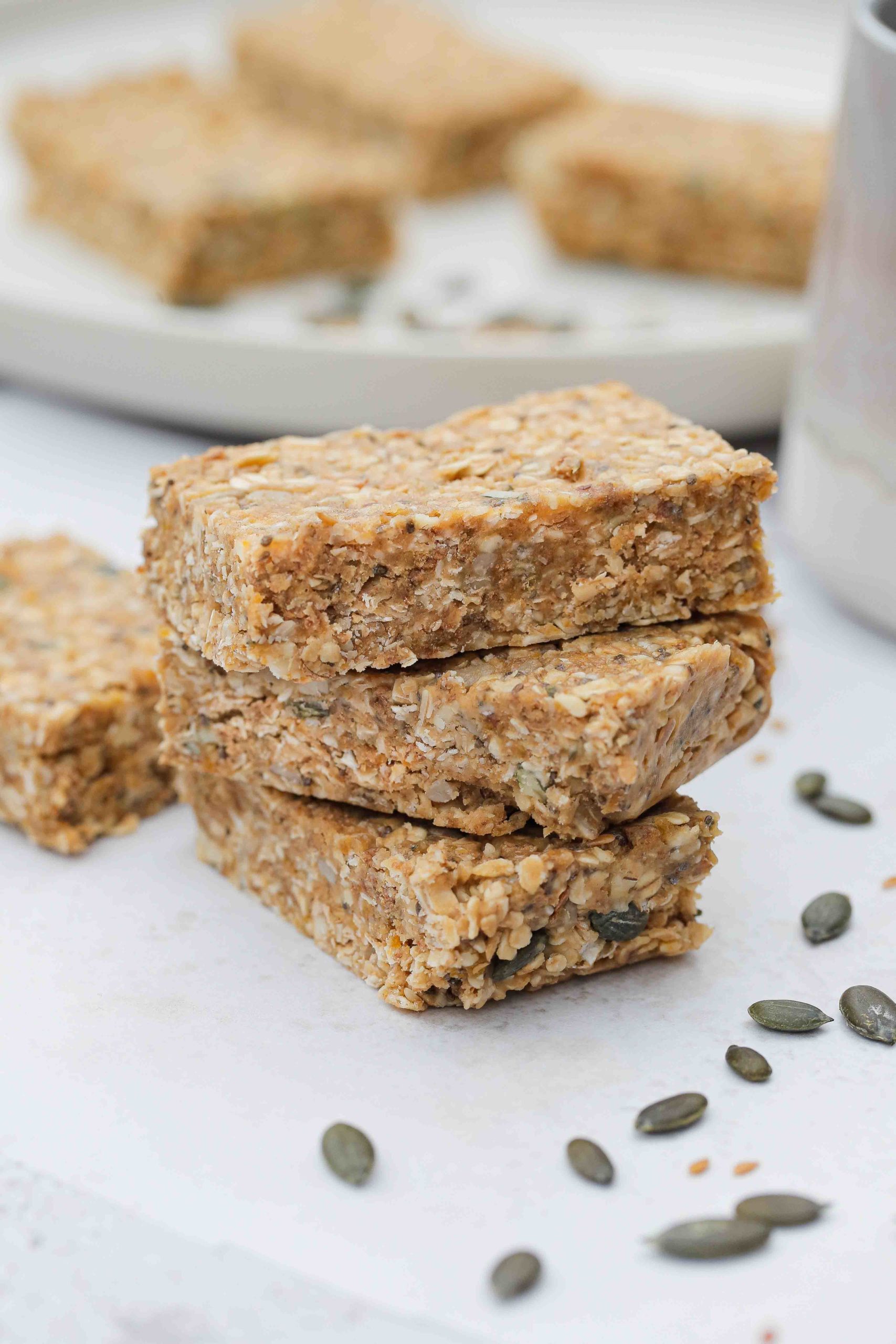 Hello and welcome to The Cook & Him.
We are Sam (The Cook), Phil (Him) and our little dog Nooch. What started with a plan to shed a few pounds back in 2016, soon became obvious that eating healthy doesn't have to be bland and boring.
So, combining Sam's 15 years of experience working within Michelin starred restaurants and our love for deliciously healthy food, we're creating recipes for you to make and enjoy. We've added our own unique spin on traditional and contemporary vegetarian and vegan recipes that keep you (and your pets!) healthy and full.  And we make sure they just work.
All things autumn - warming soups, savoury bakes and delicious sweet treats!
and I would like to see...
Or search for a recipe or post by keyword