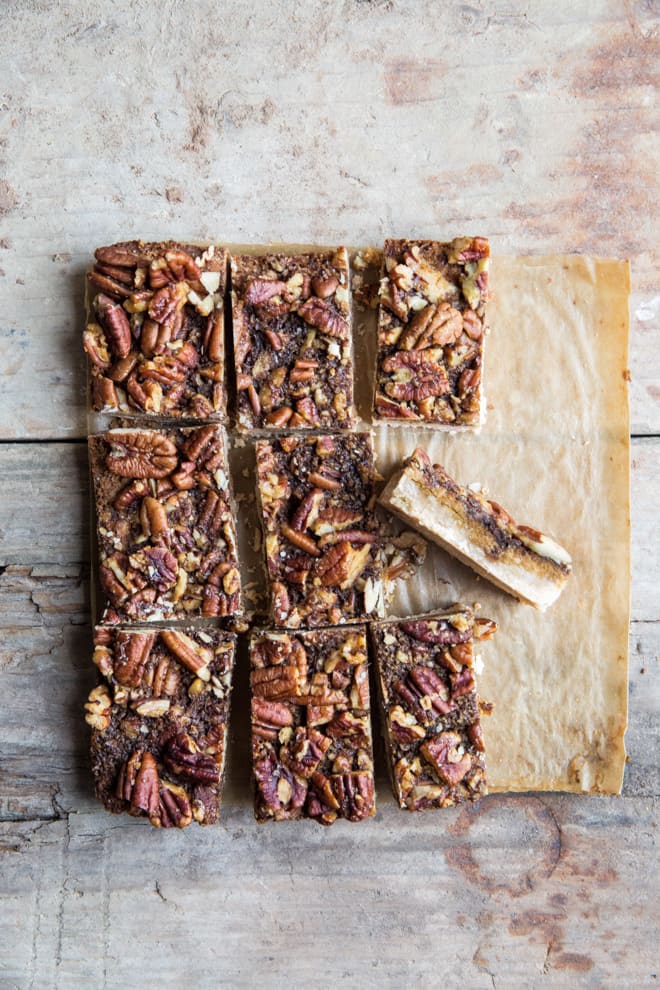 Posted in Recipes on 10.11.2017
Pecan Pie Bars (Vegan and Gluten Free!)
prep: 15 mins / cook: 35 mins / inactive: 0 mins / total: 50 mins / quantity: 12-15 bars Print recipe?
One hotel I used to work at had American owners at that time.  And they were HUGE on using pecans.  One of the desserts that was always on the menu (and a big favourite for large functions) was Pecan Pie.  We made huge ones with thick shortcrust pastry and the filling was largely just varieties of sugar with some eggs and pecans thrown in.  They were unctuous and sticky and I must have made hundreds of the damn things.  And eaten more slices than I should probably admit to.  I confess, by the time I left I was sick of even the sight of a pecan nut, let alone the smell of them cooking.
Thankfully it was enough years ago that I can now face them again!  In fact I'd go so far as to say I've fallen back in love with pecans these days – these little nuts have some amazing health benefits:
They're antioxidant rich, making them heart healthy
They're rich in oleic acid, the healthy fat found in olives and avocado
As a good source of vitamin B3 pecans are the perfect option if you're fighting fatigue because this vitamin helps us access the energy in our food
Not bad for a little nut huh?!
So, take all my years of experience making sticky, sugar laden pies and make them healthier?  Sometimes, as a food blogger, you end up making something more than once (aka several hundred times, for reals ?) because it just doesn't work.  And it's one of the reasons we started this blog.  I got thoroughly fed up of looking for healthier recipes and the ingredients list sounding like something out of a science experiment or the method just didn't make sense and inevitably didn't work.  It's a waste of my time and more importantly, often expensive ingredients.
It took me a while to get the base for these right.  Coconut flour isn't like other flour.  It absorbs liquid very differently so you can't just straight swap it for gluten based flours.  I also wanted the base to be like a shortbread rather than a pastry – not too sweet and a nice contrast to the fudgy, nutty topping that's going on it.
First I tried 'rubbing in' the coconut oil to the coconut flour then adding the maple syrup – this just made it too crumbly and the bars didn't hold together when trying to cut it.  Tasted pretty good, you just ended up with a lap full of crumbs (or a bra full if you're THAT shape!!)
In the end, creaming together the oil and syrup then folding in the coconut flour gave a pretty stable base (can I get a yay for crumb free bras!) and a shortbread like taste and texture.  Yum!
And like shortbread, you push the dough out to its shape rather than roll it to fit the tin.  The topping sort of soaks into the base while it's cooking which gives it an amazing taste and texture and makes it all really caramel-ly without losing the texture and crunch of the pecans.
Like making things in trays then cutting them up into bars?  Try these Healthy Rice Krispie Treats – chocolatey, rich and gooey with flavour pops of delicious little goji berries!
If you make this recipe or any of the recipes from The Cook & Him we'd LOVE to see! Just snap a picture and share it on Instagram using #thecookandhim and tagging @thecookandhim in the photo itself (as this guarantees we'll see your picture!
)
And don't forget to follow us on Instagram , Facebook or Twitter for even more recipe inspiration and chat, competitions, behind the scenes and so much more!
Pecan Pie Bars (Vegan and Gluten Free!)
prep: 15 mins / cook: 35 mins / inactive: 0 mins / total: 50 mins / quantity: 12-15 bars
Ingredients
Base
1/2 cup coconut oil
2 tblsp maple syrup
1 cup coconut flour
Topping
2 tblsp ground flax seeds
5 tblsp cold water
1 cup pecan nuts
2 tblsp coconut oil
1 tblsp maple syrup
1/2 cup coconut sugar
Pinch of salt
Instructions
Heat oven to 160 Fan / 180 C / 350 F / Gas 4 and line a 9 x 9 inch baking tin with parchment
By hand with a spoon or rubber spatula or using an electric mixer, beat together the coconut oil and maple syrup till well combined.  Stir in the coconut flour to form a dough, tip into your prepared tin and push out evenly to reach the corners
Bake for 15 minutes until the edges start to turn a lovely golden colour.  Take out of the oven and set aside
While that's baking toast your pecans either on another baking tray in the same oven for 10 minutes or in a dry frying pan on the stove for 5-10 minutes, stirring frequently
To finish your topping, combine the ground flax seeds with the water and set aside.  
In a medium saucepan add the coconut oil, maple syrup and coconut sugar and over a medium heat boil, stirring occasionally for just 1 minute.   
Take off the heat and leave to cool for 5 minutes before stirring in the flax water.  Mix well then stir in the pecan nuts until coated in the syrupy mixture
Pour this over your base spreading it out evenly then pop in the oven for 20 minutes
Leave to cool at room temperature then put in the fridge to chill and set before cutting up into bars
This is just as nice at room temperature as it is chilled but storing it in the fridge will help it keep longer (I think so anyway - this has never lasted past a couple of days in our house!!)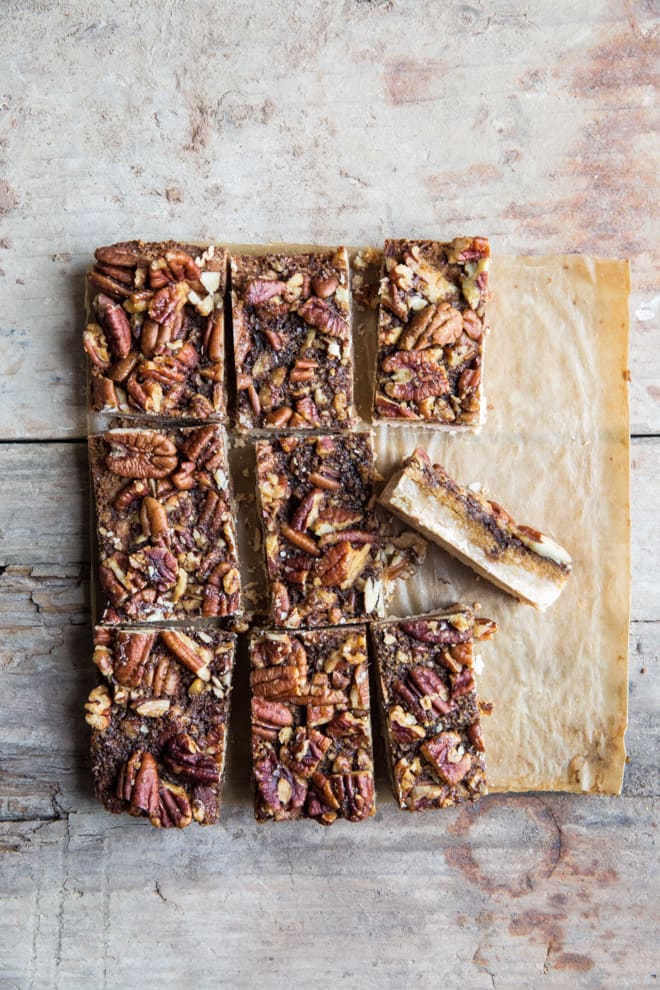 Hello and welcome to The Cook & Him.
We are Sam (The Cook), Phil (Him) and our little dog Nooch. What started with a plan to shed a few pounds back in 2016, soon became obvious that eating healthy doesn't have to be bland and boring.
So, combining Sam's 15 years of experience working within Michelin starred restaurants and our love for deliciously healthy food, we're creating recipes for you to make and enjoy. We've added our own unique spin on traditional and contemporary vegetarian and vegan recipes that keep you (and your pets!) healthy and full.  And we make sure they just work.
All things autumn - warming soups, savoury bakes and delicious sweet treats!
and I would like to see...
Or search for a recipe or post by keyword