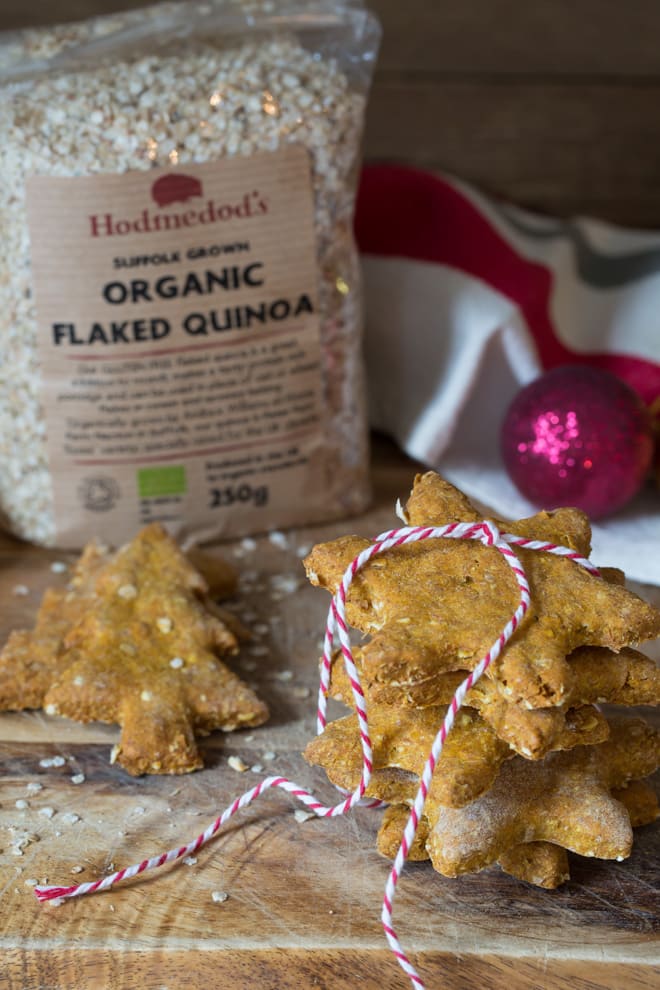 Posted in Recipes on 01.12.2017
Pumpkin Dog Treats
prep: 20 mins / cook: 35 mins / inactive: 0 mins / total: 55 mins / quantity: 40 - 50 biscuits (depends on size of cutter used!) Print recipe?
It's Ms Meg's birthday in a few days and every year I try a new biscuit recipe for her that I think she might like.  I have NO idea why I bother as this is a dog that will eat cat poop, maggots and spiders.  I am SO sorry if you're eating.  I'm probably doing it more for me than her!  And I can't personally vouch for their taste but she seems to enjoy these Pumpkin Dog Treats.
This year I really wanted to incorporate something from Hodmedods and their Quinoa Flakes are just perfect for this.  Great little nuggets of extra fibre to keep your pup's gut healthy.  Am I talking too much about guts and poop?  Again apologies.  They're also packed with protein – perfect for keeping my old girl in tip top energetic health.
Hodmedods is a wonderful company that work with British farms to source a range of top quality ingredients and delicious foods.  Founded in 2012 they started with the humble fava bean – packed from their kitchen table and distributed through local community groups and shops.  Overwhelmingly positive feedback was collected and they now supply all kinds of grains and beans, all UK grown – including lentils and quinoa.
I've been using a lot of their products lately (you'll see plenty more ideas over the coming weeks!) and I honestly can't recommend them enough.
Anyhoo, back to the pup treats …
This mix makes a LOT of biscuits and while they freeze very well, I also enjoy spreading the doggy love and we always seem to know people who have pups themselves.
This dough doesn't have the same smooth consistency as normal pastry dough.  Though to be honest, the dogs really don't care if it has that super flaky texture us humans strive for – with Meg there's rarely any teeth involved in the eating process anyway!  So to get it to where you can roll it out, tip it onto a lightly floured surface and knead with your hands.
You can just keep re-rolling the trimmings until you've used up all the dough.  If you've got some straggly bits left just cut them into strips, the birds love these soaked in a bit of water too!
You can tie them up with pretty ribbons and bows or you can keep them in a fancy(ish) jar …
Again, Ms Meg does NOT care a jot.  She also KNOWS I've made them and constantly reminds me that they're there.  She's the same with the porridge saucepan.
Though sometimes she's not the brightest button …
But I love her more than life itself and I'll keep making her biscuits for as long as either of us is around.
By the way, do you have one of those dogs that just poses when you get the camera/phone out?  Not Ms Meg.  Nuh-uh.  You'd think with the amount of them of her that I take she'd be flipping used to it.  Sometimes I can get a really good candid shot of her.  But as soon as I actually intend to take a photo of her she's all NOPE!  I swear, I must have take 200 photos just to get those dodgy 3 above because the rest look like this …
If you make this recipe or any of the recipes from The Cook & Him we'd LOVE to see! Just snap a picture and share it on Instagram using #thecookandhim and tagging @thecookandhim in the photo itself (as this guarantees we'll see your picture!
)
And don't forget to follow us on Instagram , Facebook or Twitter for even more recipe inspiration and chat, competitions, behind the scenes and so much more!
Pumpkin Dog Treats
prep: 20 mins / cook: 35 mins / inactive: 0 mins / total: 55 mins / quantity: 40 - 50 biscuits (depends on size of cutter used!)
Ingredients
3 cups wholemeal flour
1/2 cup Hodmedods Quinoa Flakes
1 tsp ground cinnamon
1 cup pumpkin puree
2 eggs
3 tblsp smooth peanut butter (see **NOTE**)
Instructions
Preheat the oven to 160 Fan / 180 C / 350 F / Gas 4
In a large bowl mix together the flour, quinoa flakes and cinnamon
In a small bowl whisk together the pumpkin puree, eggs and peanut butter then add this to the bowl of dry ingredients, mixing to form a dough
Roll the dough out on a lightly floured surface to approximately 1/2 cm thick then cut out shapes - size and shape of cutter is up to you!
Bake for 35 minutes then leave to cool completely before storing in an airtight container or freezing in batches
Notes
**IMPORTANT NOTE** Lots of peanut butters include sweetener, particularly Xylitol which is toxic to dogs. Make sure to use a brand of peanut butter that doesn't include any form of sweetener. Many thanks to one of our newsletter subscribers for this information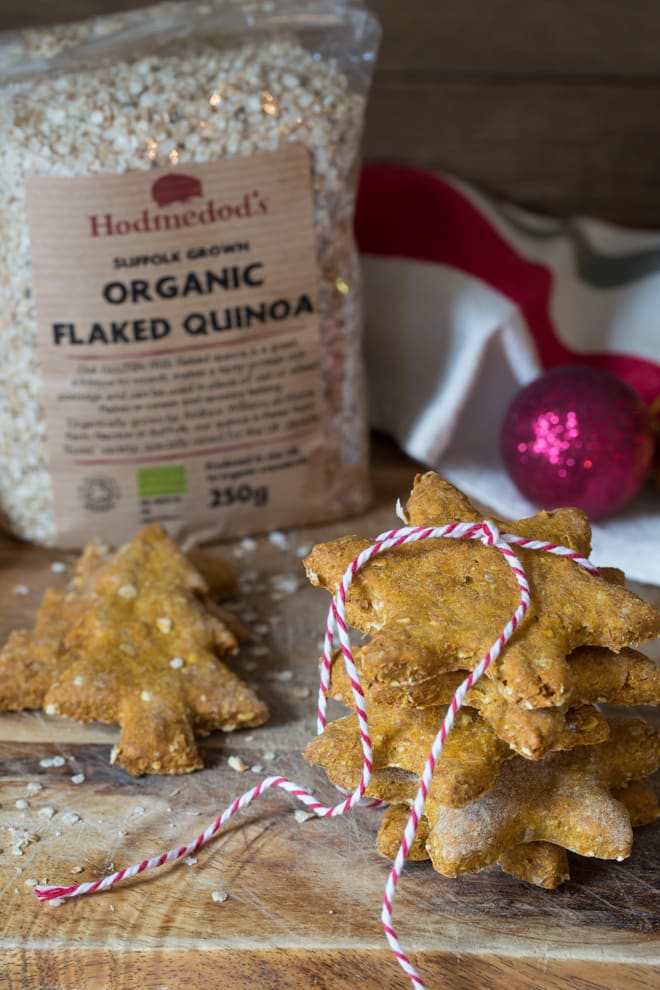 Hello and welcome to The Cook & Him.
We are Sam (The Cook), Phil (Him) and our little dog Nooch. What started with a plan to shed a few pounds back in 2016, soon became obvious that eating healthy doesn't have to be bland and boring.
So, combining Sam's 15 years of experience working within Michelin starred restaurants and our love for deliciously healthy food, we're creating recipes for you to make and enjoy. We've added our own unique spin on traditional and contemporary vegetarian and vegan recipes that keep you (and your pets!) healthy and full.  And we make sure they just work.
All things autumn - warming soups, savoury bakes and delicious sweet treats!
and I would like to see...
Or search for a recipe or post by keyword