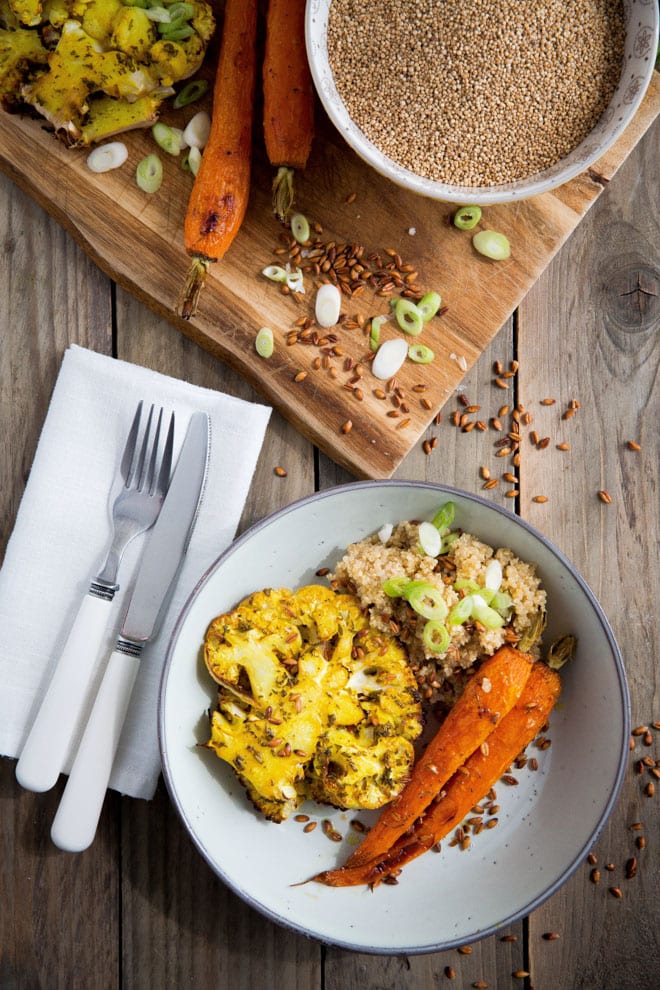 Posted in Recipes on 14.05.2019
Roast Carrot and Smoked Quinoa Salad with Cauliflower Steaks
prep: 30 mins / cook: 50 mins / inactive: 0 mins / total: 1 hour 20 mins / quantity: 2 generous servings Print recipe?
Herbs, spices, garlic and fresh lemon pack flavour into the roasted carrots and cauliflower steaks. The smoked quinoa provides a wonderful contrast in flavour and texture!
Should you be really complimentary about your own food?  Like gushingly so?  Because I ate this and thought I'd be really happy if I got this in a restaurant.  The Hodmedods Smoked Quinoa is a thing of wonder and you need to do very little to it for amazing flavour.
For too long restaurant vegetarian food (let alone vegan food) has been very limited.  A mushroom risotto, a nut roast, a stuffed pepper.  Even a plate of chips was considered the veggie option in some places.  It IS changing.  Not only are there dedicated vegan specific restaurants now but even the 'big players' in fast food – think McDonalds, Burger King, KFC, Greggs 😉 – are introducing vegan options.  Not sure how I feel about that yet.
Anyhoo, vegan food is changing.  It's NOT boring.  IMHO it's actually better than its traditional counterpart – and not just because there's no cruelty on your plate.  It tastes better, the ranges are ever expanding and when it's as good as this who needs meat?
While this dish is really easy to prepare and cook it does take a little time to cook the roasted carrots and cauliflower steaks.  Totally worth the wait though 😉
You can also cook a few extra ahead of time and then pop them in the oven to warm through for a much quicker (and even easier!) meal.
I wanted to impart as much natural, honest to goodness flavour into this dish.  The roasted carrots are slow cooked with thyme and a little maple syrup.  The cauliflower steaks are drenched in lemon, herbs, garlic and spices before being cooked until tender and golden.
How to Cook Quinoa
The principles of cooking smoked quinoa are exactly the same as cooking plain old run of the mill quinoa.  The ratio of water to seed is 2:1 and I use veg stock instead of just water for even more flavour.  I've also written a dedicated blog post on how to cook perfect quinoa here – a very easy to follow walk through guide to getting perfectly cooked quinoa Every.Single.Time.
I used smoked quinoa with the roasted carrots and cauliflower steaks as I wanted a wonderful, earthy contrast to the roasted vegetables.  Roasted carrots are naturally quite sweet, even more so with the addition of a drizzle of maple syrup.  The cauliflower has a lovely golden crust and zingy lemon.  The smoked quinoa brings everything together just perfectly.
Honestly, there was audible moaning from me from the very first bite.  I ate this for the rest of the week.  Even had to buy more cauliflower.
If you make this recipe or any of the recipes from The Cook & Him we'd LOVE to see! Just snap a picture and share it on Instagram using #thecookandhim and tagging @thecookandhim in the photo itself (as this guarantees we'll see your picture!
)
And don't forget to follow us on Instagram , Facebook or Twitter for even more recipe inspiration and chat, competitions, behind the scenes and so much more!
Roast Carrot and Smoked Quinoa Salad with Cauliflower Steaks
prep: 30 mins / cook: 50 mins / inactive: 0 mins / total: 1 hour 20 mins / quantity: 2 generous servings
Ingredients
Quinoa:
1/2 cup (125g) Hodmedods Smoked Quinoa
1 cup (250 ml) vegetable stock (or water and a veg stock cube)
pinch salt
2 spring onions – sliced thinly
Roasted Carrots:
4 large carrots
1 tsp maple syrup
1/2 tsp dried thyme
1 tsp oil
pinch each of salt and pepper
Cauliflower Steaks:
1 large head of cauliflower
1/2 lemon – juice only
2 sprigs rosemary – needles removed and finely chopped (discard stalks)
1 tblsp oil
1 tsp garlic powder
1/2 tsp turmeric
1/2 tsp cumin
good pinch each of salt and pepper
Instructions
Preheat your oven to 180 Fan / 200 C / 400 F / Gas 6 and line 2 baking trays with parchment or silicon mats
Scrub or peel the carrots and lay onto one of the baking trays
In a small bowl mix together the syrup, thyme, oil and salt and pepper and brush over the carrots, coating each carrot well. Put the carrots in the oven for 15 minutes. Don't wash your small bowl or brush yet!
Meanwhile remove the outer leaves from the cauliflower but leave the stalk in tact - this holds the cauliflower steaks together!
Stand the cauliflower upright on your cutting board and using a large sharp knife cut thick 'steaks'. I cut mine about 1 inch (2 1/2 cm) thick. The smaller outer florets will probably crumble off - I just roast those alongside the steaks!
Lay the steaks and smaller florets onto the other baking tray and in the small bowl put the lemon juice, chopped rosemary, garlic powder, turmeric, cumin, salt and pepper
Brush each steak and floret with this mixture, coating well then pop in the oven when the 15 minute timer is up on the carrots
Cook both the carrots and cauliflower for 35 minutes
While they're both roasting, cook the quinoa
Put the quinoa, vegetable stock and salt in a medium saucepan, bring to the boil and simmer for 10-15 minutes until all the water has evaporated and the quinoa is plump and soft
Fluff with a fork, stir in the spring onions and put a lid on the pan to keep warm while the veggies finish roasting
Serve everything in warmed bowls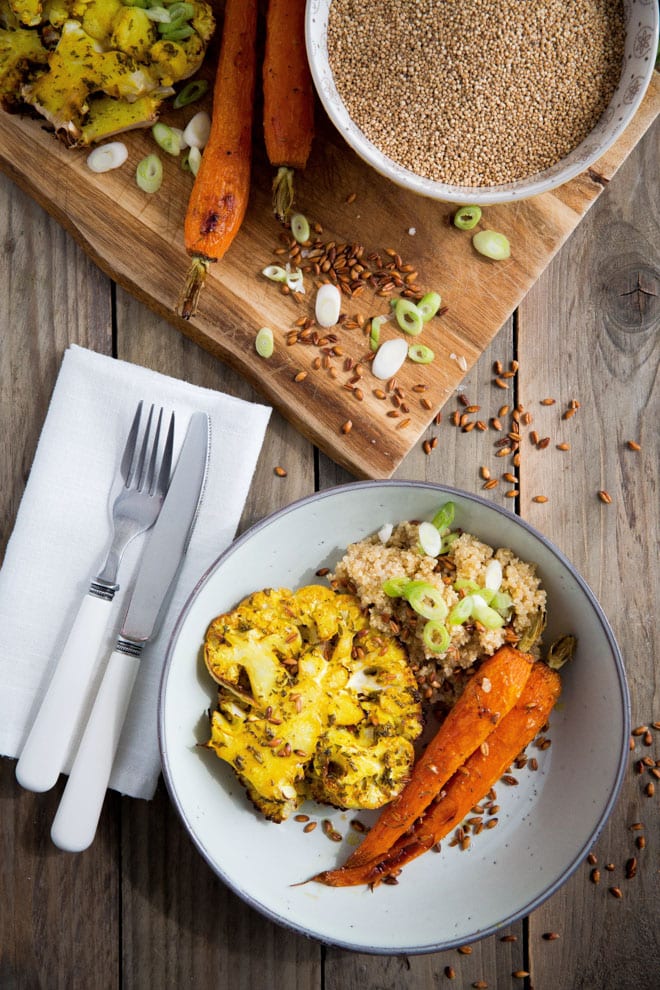 Some products I used in today's post...
Some of the links above are affiliate links, which pay us a small commission for our referral at no extra cost to you! Thank you for supporting The Cook & Him.
Hello and welcome to The Cook & Him.
We are Sam (The Cook), Phil (Him) and our little dog Nooch. What started with a plan to shed a few pounds back in 2016, soon became obvious that eating healthy doesn't have to be bland and boring.
So, combining Sam's 15 years of experience working within Michelin starred restaurants and our love for deliciously healthy food, we're creating recipes for you to make and enjoy. We've added our own unique spin on traditional and contemporary vegetarian and vegan recipes that keep you (and your pets!) healthy and full.  And we make sure they just work.
All things autumn - warming soups, savoury bakes and delicious sweet treats!
and I would like to see...
Or search for a recipe or post by keyword