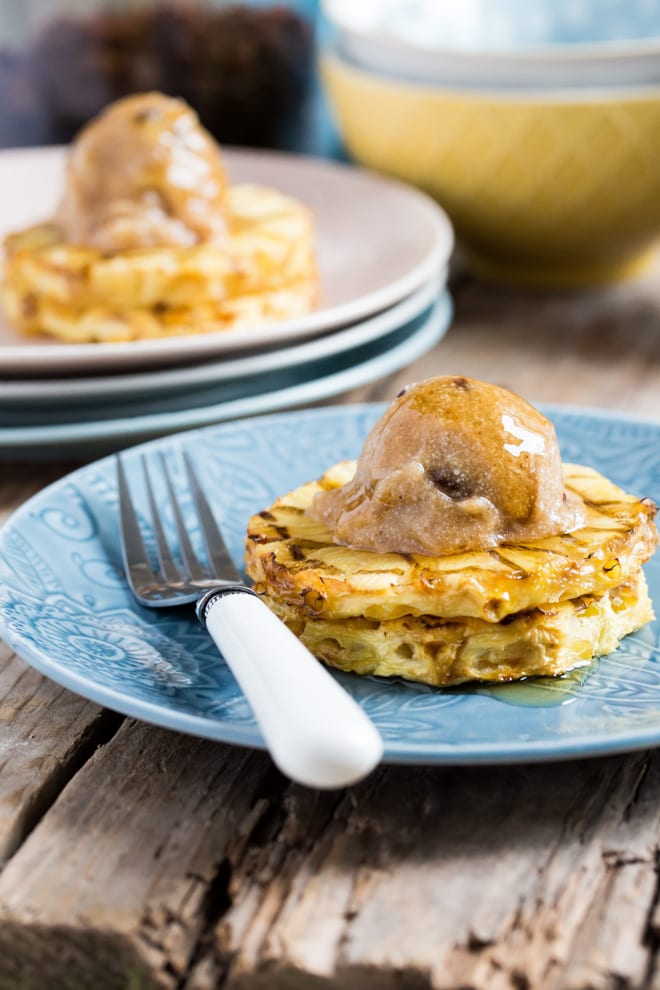 Posted in Recipes on 24.06.2019
Rum and Raisin Ice Cream with Grilled Pineapple
prep: 30 mins / cook: 20 mins / inactive: 3 hours 0 mins / total: 3 hours 50 mins / quantity: 4 servings Print recipe?
Warm, syrupy pineapple slices topped with a vegan rum and raisin ice cream – this is such a perfect summer recipe!
If you've ever tried making your own ice-cream (vegan or otherwise) with the addition of alcohol you'll know what a challenge it can be.  Alcohol of a certain percentage doesn't freeze – which is why vodka is kept in the freezer!  So if you're over generous with the amount of alcohol you put in your ice-cream you can end up with a sloppy mess!  Which is where Foodie Flavours comes into its own – perfectly set ice cream but with all that rum (and raisin) flavour!
And with such a HUGE range of flavours to choose from (which I'm working my way through!) I'm positive you'll find one to match your needs!  And a little goes a really long way – just a few drops for truly intense flavour!
Some of our other Foodie Flavours recipes:
Raspberry and Almond Cake – this cake was my nemesis.  I gave up trying to make it gluten free.  What I did end up with though is the softest, most delicious flavour combo in divinely moist vegan cake.
Vegan Jaffa Cakes – one of my 'mission to prove anything can be made vegan' experiments that was SO successful I think they're better than the original.  And I could eat a box at a time of the original.
Oaty Raspberry Cookies – healthy little breakfast cookies (or anytime of the day cookies really).
Hazelnut and Chocolate Pancakes – OMG these are the most decadent flavour pancakes.  Sweet, sticky, nutty – everything vegan pancakes should be!  If nothing else, buy the bottle of Sweet Hazelnut Flavour so you can just stand there sniffing it and we can be addicts together.
Honeycomb Chocolate Mousse – childhood flavours for a seriously adult dessert!
Cookies and Cream Blondies – Phil was supposed to take some to the gym.  None made it out of the house.
The rum and raisin ice cream couldn't be simpler to make – just freeze some bananas then chuck everything (except the raisins) in a blender or good food processor.  You don't have to use frozen bananas – it just helps speed up the freezing time once it's all blended together.  Because I don't like waiting for ice cream to set once I've made my mind up I fancy ice cream.  Are you also THAT person who will poke it every 10 minutes to see if it's set?
The pineapple can also be cooked a few ways too – just use what you have:
Griddle pan – this is what I used for these photos.  Just brush the pineapple with a little oil to help prevent it sticking then sear both sides.  With a funky cross hatch design if you can be bothered with the faff.  Drizzle the cooked side with your favourite syrup for some unnecessary but totally worth it sticky deliciousness. You could even mix it with a few more drops of Rum Essence!
Roasting – just brush or drizzle with the syrup before roasting in the oven and it will caramelise to perfection.
BBQ – this is the only one I've not tried.  As I write this we're on day 3 of pretty torrential rain.  Meg is not happy about having to negotiate the wet grass to do her business.
The point is, don't let the lack of equipment or crappy weather put you off making this.  I had Phil look at me with his 'HOT pineapple??' face.  He's one of those that thinks pineapple doesn't belong on pizza.  He also doesn't like raisins.  He ate 2 portions of the pineapple and the rest of the ice cream.
If you make this recipe or any of the recipes from The Cook & Him we'd LOVE to see! Just snap a picture and share it on Instagram using #thecookandhim and tagging @thecookandhim in the photo itself (as this guarantees we'll see your picture!
)
And don't forget to follow us on Instagram , Facebook or Twitter for even more recipe inspiration and chat, competitions, behind the scenes and so much more!
Rum and Raisin Ice Cream with Grilled Pineapple
prep: 30 mins / cook: 20 mins / inactive: 3 hours 0 mins / total: 3 hours 50 mins / quantity: 4 servings
Ingredients
Ice Cream:
2 bananas – frozen if possible
1 cup (125g / approx 15) dates – weight after stone removed
1 tin of coconut milk (see note)
1/4 cup (60 ml) unsweetened almond milk (can sub with any other nut or oat milk)
15-20 drops Foodie Flavours Rum Essence
1/3 cup (50g) raisins
Pineapple:
1 large pineapple
drizzle of oil
1-2 tblsp agave or maple syrup
Blender or food processor – I used this Magimix
Instructions
Unless your dates are really sticky and fresh, soak in some boiling water for 10 minutes then drain well
Tip into your blender or food processor along with the banana, coconut milk (the thick creamy white part not the liquid), almond milk and the rum essence
Whizz until thick and smooth then tip into a freezer-proof container and freeze for a 2-3 hours or until set (using frozen bananas speeds up this part!)
When ready to serve cut the thick outer skin off the pineapple and slice the flesh into roughly 1/2 inch (1cm) thick slices - I served 2 per person. Use a cutter or something sharp and round to remove the woody core
Brush one side of each slice with a little olive oil
Heat a griddle pan then lay in the pineapple slices oiled side down and griddle for a few minutes. Brush the top side with a little more oil before turning and griddling the other side
Once you've turned the slices, drizzle a little syrup on the cooked side
Serve the pineapple slices while still hot, topped with a scoop of rum and raisin ice cream
Notes
You only want the thick white part of the coconut milk. The remaining liquid is terrific in smoothies, stews and soups and can also be frozen
If you don't have a griddle pan, you can roast the pineapple in an oven at 180 Fan / 200 C / 400 F / Gas 6 for 35-40 minutes until soft. Drizzle the syrup on the slices before roasting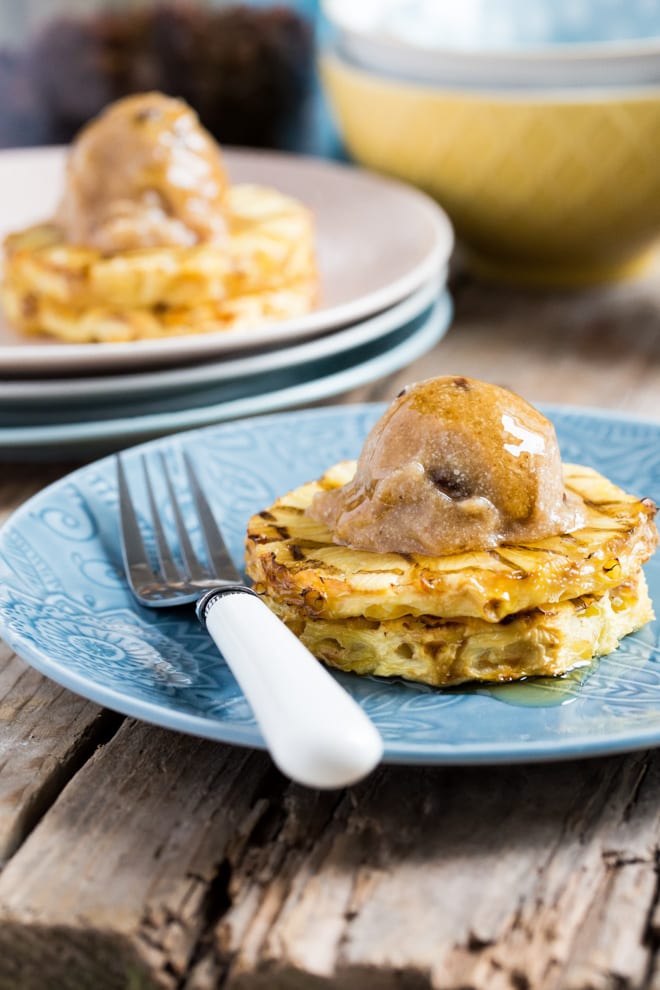 Some products I used in today's post...
Some of the links above are affiliate links, which pay us a small commission for our referral at no extra cost to you! Thank you for supporting The Cook & Him.
Hello and welcome to The Cook & Him.
We are Sam (The Cook), Phil (Him) and our little dog Nooch. What started with a plan to shed a few pounds back in 2016, soon became obvious that eating healthy doesn't have to be bland and boring.
So, combining Sam's 15 years of experience working within Michelin starred restaurants and our love for deliciously healthy food, we're creating recipes for you to make and enjoy. We've added our own unique spin on traditional and contemporary vegetarian and vegan recipes that keep you (and your pets!) healthy and full.  And we make sure they just work.
All things autumn - warming soups, savoury bakes and delicious sweet treats!
and I would like to see...
Or search for a recipe or post by keyword