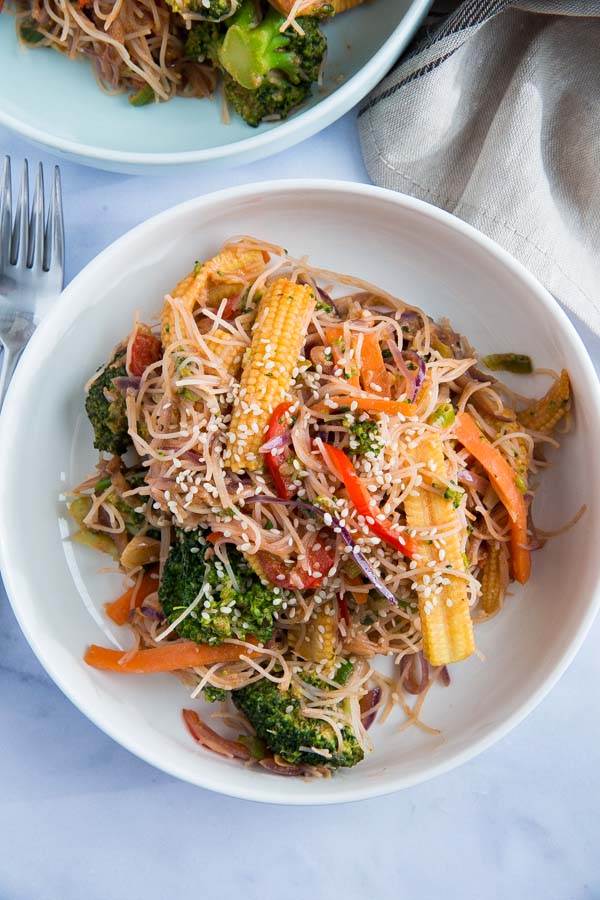 Posted in Recipes on 04.05.2020
Sesame Noodles and Veggies
prep: 20 mins / cook: 10 mins / inactive: 0 mins / total: 30 mins / quantity: 2 servings Print recipe?
These deliciously easy Sesame Noodles and Veggies are a quick and healthy alternative to take out but taste just as good and can be served hot or cold for an easy weeknight meal or lunch!
Good food doesn't have to be complicated.  A lot of times simple really is best.  Bringing together basic ingredients to make something quick, easy, healthy and utterly delicious.  Sesame noodles with veggies really fits into that criteria.
There is, I believe, a misconception that take out is quicker and easier than cooking at home.  It might save on the washing up but by the time you've ordered and gone to pick it up (or even have it delivered) you could have made something that's healthier, tastier and definitely cheaper.
You're also at the behest of what the restaurant decides to put IN it.  And the beauty of these sesame noodles is variety and customisation.  You can add protein in the form of tofu, beans or peanuts and you can vary the veggies dependent on what's seasonal or what you have available.
Swap the broccoli for cauliflower or add some roasted sweet potatoes
Use shallots or white onions instead of red.  I just prefer the slightly sweeter flavour of red onions.
Use soy sauce instead of liquid aminos.
Swap the baby corn for tinned sweetcorn and just add to the stir fry when you add the noodles to heat through
Instead of sugar use a liquid sweetener like maple syrup or agave syrup
We love this as a quick Friday night dinner and often I make double and have it cold as a quick lunch the following Monday.  Because it's just as delicious hot and fresh out of the pan as it is a couple of days later out of the fridge.  Phil loves taking this for his packed lunches and still asks me to make extra for lunch during the current Coronavirus lockdown.
Looking for some other easy meal ideas?  How about …
Minestrone Soup – just one pan needed for this hearty Italian flavour classic!
Creamy Lemon and Basil Pasta – deliciously light and creamy vegan mushroom sauce.
Za'atar Tofu and Cauliflower with Tzatziki Sauce – I could eat this every day of the week and not get bored!
How do you eat your veggie noodles?
I try and eat mine with chopsticks.  I'm not normally one to persevere with things I don't get the hang of immediately but there's something about eating Asian style dishes out of a bowl with a pair of chopsticks.  It's a bit like drinking tea out of a really posh china teacup.  I feel authentic and a bit smug.
Don't forget to follow us on Facebook or Pinterest for even more recipe inspiration and chat, competitions, behind the scenes and so much more!
Sesame Noodles and Veggies
prep: 20 mins / cook: 10 mins / inactive: 0 mins / total: 30 mins / quantity: 2 servings
Ingredients
1 medium head broccoli – broken into florets
2 medium carrots – sliced thinly or cut into thin batons
8 baby sweetcorn – cut in half lengthways
2 tblsp liquid aminos – or swap for soy sauce
2 tblsp light brown sugar – or use agave syrup or maple syrup or coconut sugar
2 tblsp sherry or brandy
1 tblsp tahini
2 tblsp tomato puree
1 tblsp sesame oil
1 red onion – peeled and finely sliced
1 red pepper – core and pips removed and roughly sliced
4 cloves garlic – peeled and crushed
3 cups (300g) rice noodles (see note)
1 bunch spring onions – finely sliced
1-2 tsp sesame seeds
Salt and pepper to taste
Instructions
In a pan of boiling, salted water blanche the broccoli florets, sliced carrot and sliced baby corn for 3-4 minutes until just softened. Drain and refresh in cold water then drain again. Set aside
In a small bowl whisk together the aminos, sugar, sherry, tahini and tomato puree and set aside
Add the sesame oil to a wok along with the sliced onion and pepper and stir fry for 1-2 minutes. Add the garlic and a couple of tablespoons of water and cook for a further minute
Tip in the whisked sauce ingredients followed by the broccoli, carrot and sweetcorn and stir everything well together
Add the noodles, spring onions and sesame seeds, stir well, then taste and add salt and pepper as needed
Serve immediatlely or leave to cool and store in the fridge
Notes
You can use whatever noodles you'd prefer, I'm just lazy and use the pre-cooked rice noodles which are also conveniently quite low in fat ;)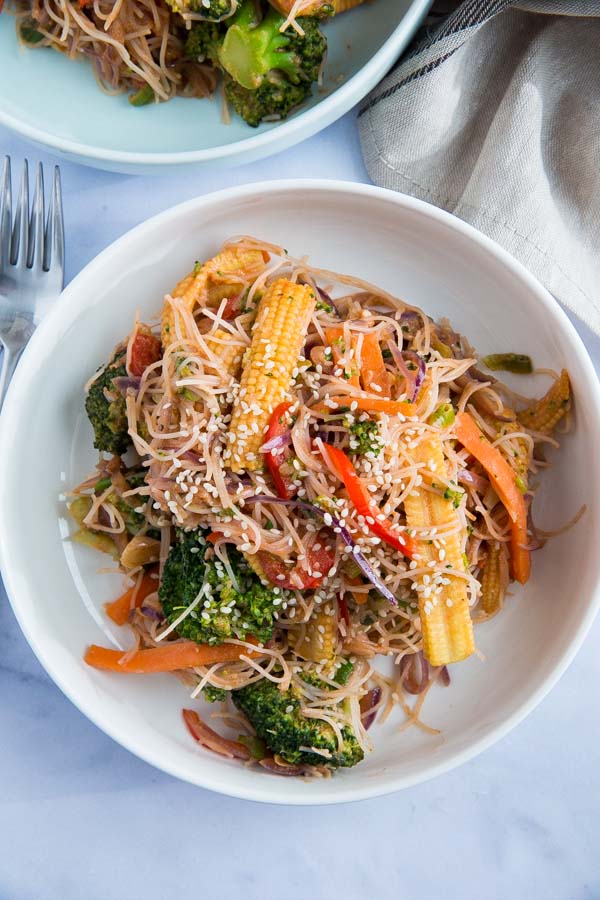 Hello and welcome to The Cook & Him.
We are Sam (The Cook), Phil (Him) and our little dog Nooch. What started with a plan to shed a few pounds back in 2016, soon became obvious that eating healthy doesn't have to be bland and boring.
So, combining Sam's 15 years of experience working within Michelin starred restaurants and our love for deliciously healthy food, we're creating recipes for you to make and enjoy. We've added our own unique spin on traditional and contemporary vegetarian and vegan recipes that keep you (and your pets!) healthy and full.  And we make sure they just work.
All things autumn - warming soups, savoury bakes and delicious sweet treats!
and I would like to see...
Or search for a recipe or post by keyword