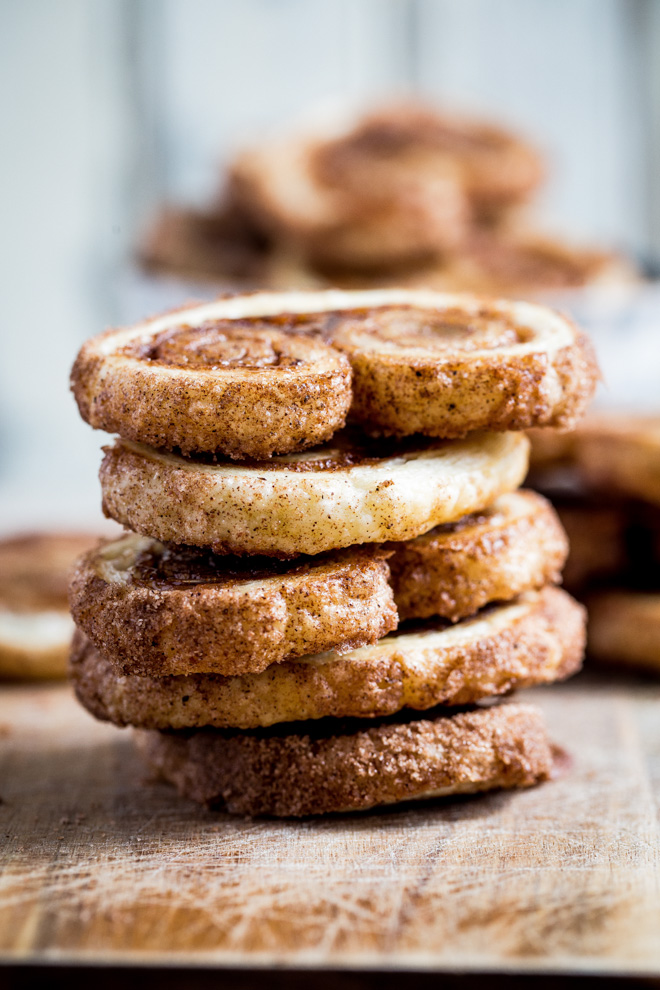 Posted in Recipes on 21.12.2020
Spiced Orange Palmiers | Slice & Bake Recipe
prep: 5 mins / cook: 15 mins / inactive: 0 mins / total: 20 mins / quantity: approximately 20 palmiers Print recipe?
These sweet, spiced orange palmiers (or elephant's ears!) are SO easy to make and need just a few ingredients. They're light, crispy and so so moreish!
Don't know what palmiers are?  Also known as elephant ears, palm trees or palm leaves they are a traditional French pastry that can be served for breakfast or as a delicious snack.  They can be sweet or savoury and these spiced orange palmiers are just on the side of being perfectly sweet.  They're also ridiculously easy to make and need only a few simple ingredients.  So absolutely no faff, no fuss and no frills for perfect little crisp crunchy treats!
I do have to ration how often I make these though as I will hoover them straight off the tray, barely giving them enough time to cool.  There's something about buttery, pillowy puff pastry that I can't resist.  I used to love making it during my pastry chef days – laminating the layers then leaving it to rest.  These days the shop bought stuff is really very good and mostly (accidentally) vegan.
For a savoury version of palmiers I've posted the recipe on our Facebook page here.  Filled with vegan pesto and sun dried tomatoes they're just as delicious and moreish as their sweeter counterparts!
How to make crisp, flaky and easy palmiers:
Buy your puff pastry.  Yep you can absolutely make your own but if time is not your friend the shop bought stuff is more than adequate.
Mix together your sugar, spices and orange.  I've used both nutmeg and cinnamon because I love them and because it's almost Christmas and nothing screams Christmas to me more than the smell of sugary nutmeg and cinnamon baking!
Unfurl your puff pastry.  Pro-tip, don't take it off the parchment it's wrapped in but do lift it off to sprinkle on a little flour then replace the dough on the parchment.  If your room is quite warm, puff pastry (with it's very high fat content) quickly softens.  So rolling the dough up into the 'elephant ears' shape can be tricky if it's starting to stick to the parchment.  A light dust of flour on the parchment really helps prevent this.
Sprinkle the spiced sugar over the puff pastry.  You want to completely cover the dough.  Then use the flat of your hands to gently push the sugar down.  This just helps it stick to the dough when you're rolling.
From the short ends start rolling the dough towards the middle.  Once you've rolled one half of the dough, roll the other end towards the middle too so that they meet, and look a little like elephant's ears!  If you're not baking straight away wrap the dough up in the parchment and chill for a few hours. Don't leave them in the fridge too long or the sugar will absorb any moisture from the pasty, melt and seep out.   If you DO want to make these way in advance they can very easily be frozen.  Just allow to defrost slightly before cutting them.  Having them extra chilled like that actually makes them easier to cut.
You'll want to space them reasonably apart on your tray as they do spread when baked.
Allow to cool for at least a minute or two before devouring.  They are molten sugar after all!  Honestly though I'm hopping round the kitchen and wafting with trays to get these little suckers cooled down.  These orange palmiers are SO delicious and the perfect afternoon hot chocolate accompaniment!
There aren't a lot of recipes I make time and time again because of the nature of what I do and always trying new thing to bring you even more delicious recipes to try!  But I've been making these for years, especially round the holidays and they've become a bit of a tradition.  And they'll make your house smell amazing.  Though I'm constantly getting a hungry Phil wandering down the stairs complaining that the kitchen smells I'm making aren't helping him concentrate for work!
Looking for other quick and easy festive little treats?  How about these, all tried and tested (and all vegan!) …
Mince Pie Flapjacks – so so easy and SO SO delicious!
Chocolate Orange Shortbread Cookies – slice and bake, couldn't be easier!
Vegan Chocolate Tiffin – crush, melt, mix chill.  Simple as.
Christmas Spice Chocolate Truffles – perfect if you can't be bothered with but love the flavour of Xmas pud!
Don't forget to follow us on YouTube, Facebook or Pinterest for even more recipe inspiration and chat, competitions, behind the scenes and so much more!
Spiced Orange Palmiers | Slice & Bake Recipe
prep: 5 mins / cook: 15 mins / inactive: 0 mins / total: 20 mins / quantity: approximately 20 palmiers
Ingredients
1 sheet of ready rolled puff pastry
1/3 cup (80g) caster sugar
2 tsp cinnamon
1 tsp nutmeg
1 orange – finely grated zest only
Instructions
Preheat your oven to 170 Fan / 190 C / 375 F / Gas 5 and line two large baking trays with parchment or silicon mats
Mix together the sugar, cinnamon and nutmeg in a small bowl⠀then stir in the grated orange zest
Unroll the sheet of puff pastry and generously sprinkle the sugar mixture all over until it's completely covered⠀
Roll up the two short ends so they meet in the middle (and look a little like elephant ears!)⠀
Using a sharp knife slice into segments approx 1/2 cm thick and put onto lined baking trays - spacing fairly well apart as they do spread⠀
Bake for 15-20 minutes until crisp and golden
Cool and store in an airtight container at room temperature
Notes
If you want to make these in advance of baking freeze them instead of just chilling in the fridge - where the sugar will react to any moisture in the dough and melt, leaving you with a big sticky mess! Just defrost for a few minutes before slicing. Being slightly frozen actually makes them easier to cut!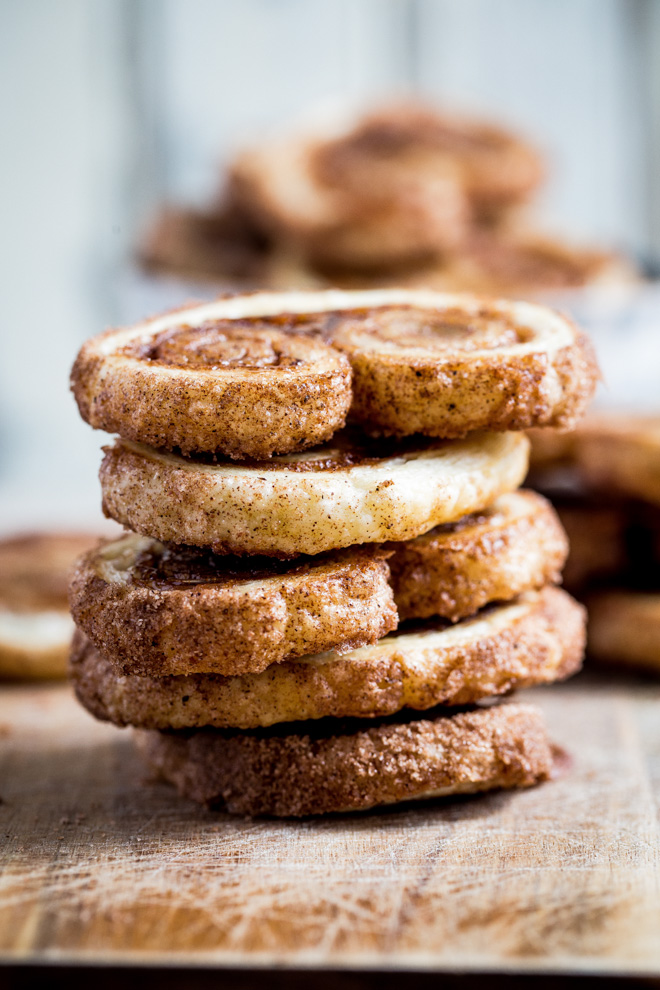 Hello and welcome to The Cook & Him.
We are Sam (The Cook), Phil (Him) and our little dog Nooch. What started with a plan to shed a few pounds back in 2016, soon became obvious that eating healthy doesn't have to be bland and boring.
So, combining Sam's 15 years of experience working within Michelin starred restaurants and our love for deliciously healthy food, we're creating recipes for you to make and enjoy. We've added our own unique spin on traditional and contemporary vegetarian and vegan recipes that keep you (and your pets!) healthy and full.  And we make sure they just work.
All things autumn - warming soups, savoury bakes and delicious sweet treats!
and I would like to see...
Or search for a recipe or post by keyword