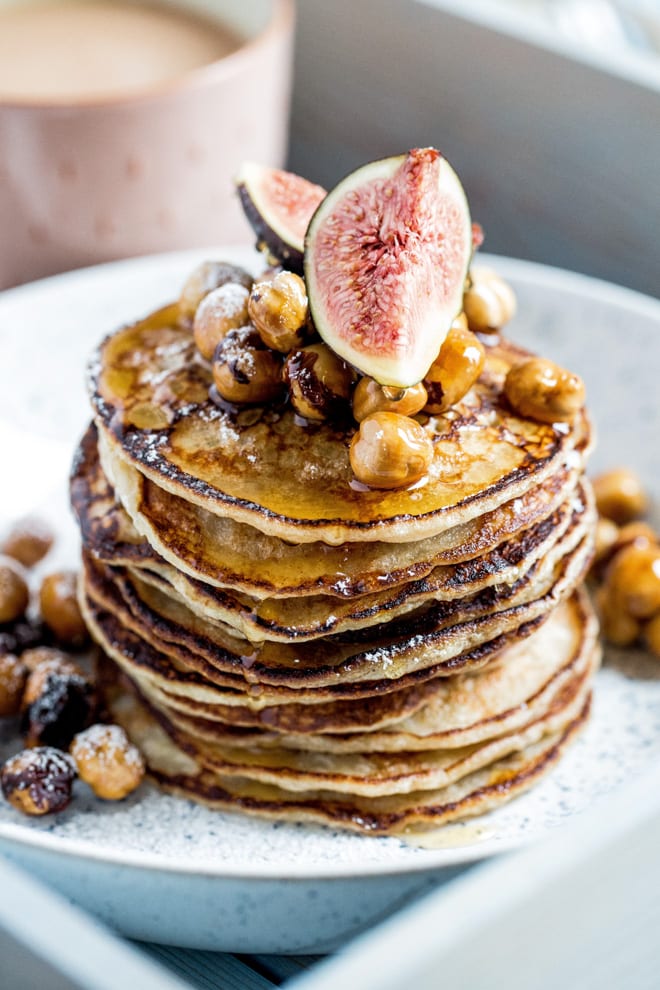 Posted in Recipes on 23.02.2019
Sweet Hazelnut and Chocolate Vegan Pancakes
prep: 10 mins / cook: 15 mins / inactive: 0 mins / total: 25 mins / quantity: approx 10 pancakes Print recipe?
These light, crisp  chocolate vegan pancakes can be quickly whizzed up for the perfectly sweet breakfast or dessert!
Now you might be looking at these and thinking vegan 'chocolate' pancakes?  They don't look chocolate, they look plain.  Don't be fooled friends!  We discovered Foodie Flavours a while ago at a food festival and became huge fans.  Their natural essences and flavours add everything from subtle and delicate to slap you in the face flavour!  And, while I've not tried them all (yet), the ones I have tried don't taste even remotely artificial.
Their range is quite staggeringly comprehensive too, from bubblegum to prosecco to pistachio and everything in between!
Vegan Jaffa Cakes – my first outing with Foodie Flavours and an almost unbelievable success! Tangy, chocolate orange perfection!
Oaty Raspberry Cookies – how to impart gorgeous fruity flavours without altering the mix or batter consistency!
Raspberry, Apricot and Almond Baked Oats – baked oats are HUGE in our house as they're a great batch bake for super quick weekday breakfasts!
Raspberry and Almond Cake – 3 times I made this cake to get it just right (gluten free was NOT my friend back then)
Back to the chocolate vegan pancakes though, which are an absolute doddle to make.
I wrote a detailed post all about how to make vegan pancakes and for this chocolate version the principles are exactly the same.  Easy peasy lemon squeezy principles at that.
This pancake recipe calls for just 6 ingredients and can easily be made gluten free by swapping the flour for oats.  Using a good quality blender means the oats get whizzed fine enough to produce meltingly soft but crispy on the outside vegan chocolate pancakes.
The sweet hazelnut and chocolate natural flavouring gives the finished pancakes the most incredible taste.  There were a number of times I just stood there sniffing the bottle.  Food junkie, that's me.
I tried a few pancakes with some chocolate chips sprinkled in as well but to be honest, they didn't need them.  The flavouring imparted enough chocolate flavour in this pancake recipe.
For the topping I roasted a few hazelnuts then drizzled the whole lot with maple syrup.  Was there ever a pancake stack that didn't look and taste better without a maple drizzle?
Sweet Hazelnut and Chocolate Vegan Pancakes
prep: 10 mins / cook: 15 mins / inactive: 0 mins / total: 25 mins / quantity: approx 10 pancakes
Ingredients
2 small ripe bananas
1 cup (160g) plain flour (or sub with rolled oats for gluten free pancakes)
1 cup (230ml) unsweetened almond milk
1/4 cup (45g) golden caster or coconut sugar
1 tsp baking powder
Blender – I used a Nutribullet RX
Optional topping:
1/3 cup (50g) toasted hazelnuts – skins removed
Drizzle of maple syrup
Instructions
For the pancakes put all the ingredients into a blender cup and whizz until thick and smooth
Pour a little drizzle of oil in to a large non-stick frying pan over a low - medium heat. Pour or spoon in some of the mixture. I make 3-4 at a time. You can make the pancakes any size you want, just remember you have to flip them so leave some room in the pan!
It's quite a thin mixture so it'll naturally spread
Cook for a minute or so until large bubbles have formed on the uncooked side
Using a large fish slice or palette knife carefully flip the pancakes and cook on the other side for a minute or so
Stack the pancakes on a warmed plate and top with a some toasted hazelnuts and a drizzle of maple syrup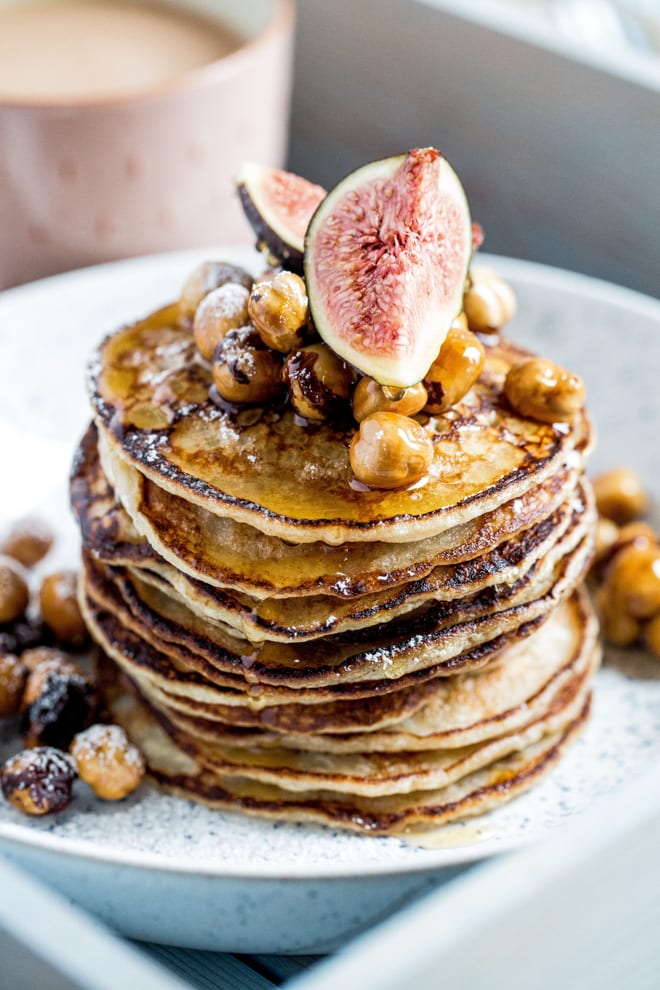 Some products I used in today's post...
Some of the links above are affiliate links, which pay us a small commission for our referral at no extra cost to you! Thank you for supporting The Cook & Him.
Hello and welcome to The Cook & Him.
We are Sam (The Cook), Phil (Him) and our little dog Nooch. What started with a plan to shed a few pounds back in 2016, soon became obvious that eating healthy doesn't have to be bland and boring.
So, combining Sam's 15 years of experience working within Michelin starred restaurants and our love for deliciously healthy food, we're creating recipes for you to make and enjoy. We've added our own unique spin on traditional and contemporary vegetarian and vegan recipes that keep you (and your pets!) healthy and full.  And we make sure they just work.
All things autumn - warming soups, savoury bakes and delicious sweet treats!
and I would like to see...
Or search for a recipe or post by keyword