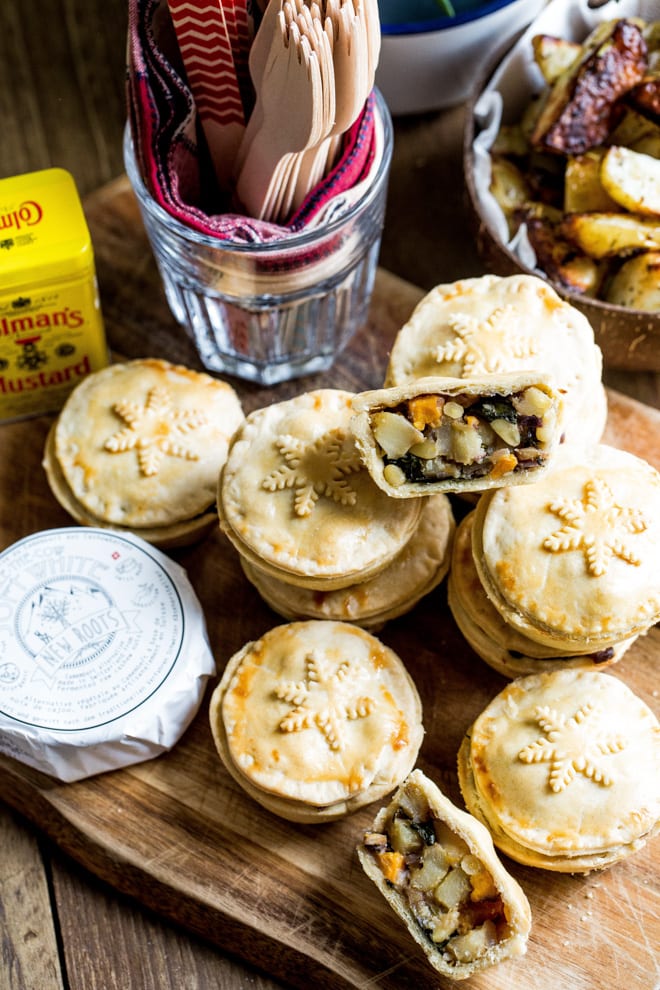 Posted in Recipes on 18.12.2018
Vegan Christmas Pies
prep: 20 mins / cook: 50 mins / inactive: 30 mins / total: 1 hour 40 mins / quantity: 12 mini vegan christmas pies Print recipe?
These Vegan Christmas Pies have a crisp pastry shell absolutely packed with seasonal veggies, herbs, chestnuts and vegan cheese!
These individual pies are so versatile and a great way to use up any leftover veg too.   There's so much flavour packed into these little vegan christmas pies.  Phil even commented 'cor you can make these again'.
Originally I intended to roast the veg to go in these vegan Christmas pies.  But as a huge part of my day is spent washing up and I knew I'd still need to saute the onions and garlic and then wilt in the spinach I decided to cook everything in one large pan.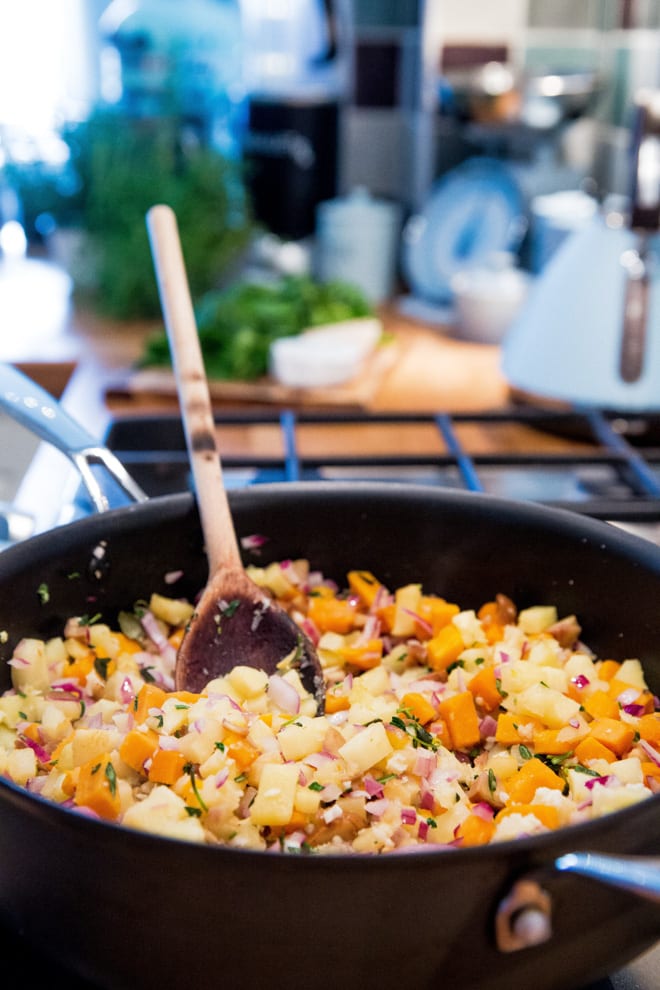 There's nothing to fear by making your own pastry from scratch either.  It takes just minutes and there's a step by step guide for you here.   The little snowflake decorations are entirely optional of course 😉
I also love a really packed pie.  There's something very disappointing in taking a big bite out of a pie and just having a mouthful of pastry.  Don't get me wrong, I love pastry – all of it.  But that's not what a pie is.   A pie should be full to the lid not 90% air.  We've all had those pies.  These vegan Christmas pies are most definitely not those pies.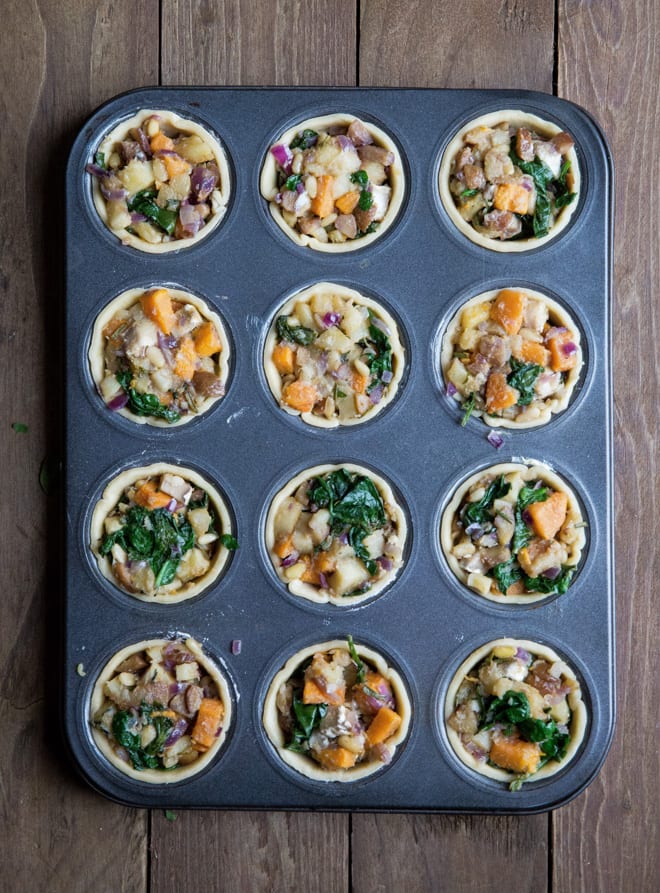 I've used New Roots vegan Camembert in these pies – this is honestly the stuff of legend.  It's so creamy and rich and made by THE loveliest people.
These mini pies can also be made ahead and warmed up when needed with a big pile of roast potatoes and good slosh of gravy.  Or served cold with yummy coleslaw (vegan mayonnaise recipe right here) or some tangy relish and a crisp salad.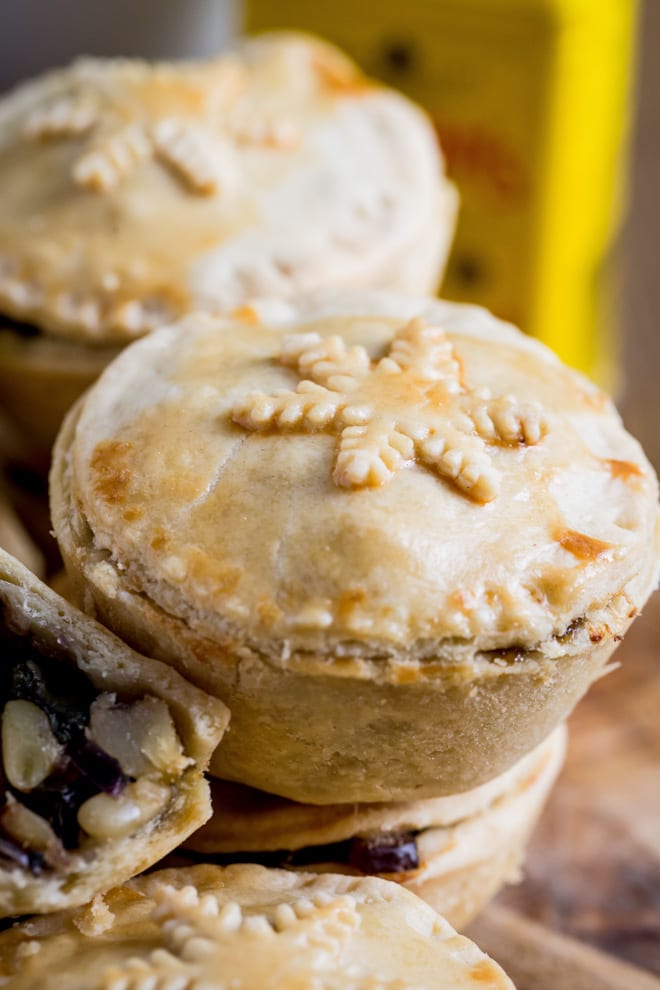 If you make this recipe or any of the recipes from The Cook & Him we'd LOVE to see! Just snap a picture and share it on Instagram using #thecookandhim and tagging @thecookandhim in the photo itself (as this guarantees we'll see your picture!
)
And don't forget to follow us on Instagram , Facebook or Twitter for even more recipe inspiration and chat, competitions, behind the scenes and so much more!
Vegan Christmas Pies
prep: 20 mins / cook: 50 mins / inactive: 30 mins / total: 1 hour 40 mins / quantity: 12 mini vegan christmas pies
Ingredients
Pastry:
2 cups (250g) plain flour
1/3 cup (110g) dairy free spread (I used Vitalite)
large pinch of salt
3 tblsp cold water
Filling:
2 parsnips
1 large sweet potato
1 red onion
4 cloves garlic
4 good handfuls (85g) fresh spinach
1/2 cup (90g) cooked chestnuts
1/4 cup (45g) pine nuts
few sprigs fresh thyme – leaves only (or sub with 1 tsp dried thyme)
2 sprigs fresh rosemary – needles only (or sub with 1/2 tsp dried rosemary)
1 heaped tsp mustard – I used English mustard but dijon or wholegrain would work too
1 vegetable stock cube
1 x 112g  New Roots vegan camembert – cut into small cubes
good pinch each of salt and pepper
Instructions
Start by making the pastry - put the flour and spread into a medium bowl and combine the two by rubbing them together between your fingertips. Do this just until the mixture resembles fine breadcrumbs
Add 2 tblsp cold water and mix together until it starts to form a dough - add another tblsp water (or more) if the mixture is too dry. You want to knead it as little as possible, just enough to bring it all together
Wrap the dough in foil or cling film and put in the fridge for at least 30 minutes. The pastry can also be made in advance and stored in the fridge or freezer. Just thoroughly defrost before using
While the dough is chilling make the filling - peel the parsnips and cut into small chunks, cutting round the hard, woody stem and discarding it. Put the parnsip chunks into a large frying pan
Peel the sweet potato and cut into small chunks and add those to the pan with a splash of water
Cover with a lid and cook over a medium heat for 10-15 minutes until just starting to soften, give an occasional stir being careful with the steam when lifting the lid
While they're cooking, peel the onion and garlic and very finely chop the onion and crush the garlic
Remove the lid and add the onion, garlic, chestnuts, pine nuts, thyme, rosemary, mustard and stock cube and give everything a really good stir then cook for 5-10 minutes, stirring frequently
Wilt in the spinach and add a good pinch of salt and pepper
Turn off the heat and stir in the vegan cheese. Set the pan aside while you roll out the pastry
Preheat the oven to 160 Fan / 180 C / 350 F / Gas 4 and brush the insides of 12 hole muffin tray with vegan spread, oil or spray oil. Dust each muffin hole with a little flour and shake out the excess. This just helps the little pies release easily from the tin
Remove the pastry from the fridge and on a floured work surface, roll out the pastry till it's about the thickness of a £1 coin. Remember to turn the dough frequently as you roll to help prevent the pastry sticking to the table.
Using a 3 1/4 inch (8 1/2 cm) round cutter, cut 12 circles and gently ease each one into your muffin tin, pushing the pastry down into the corners – you can use a little nub of excess pastry to push the pastry into the holes
Then using a 2 3/4 inch (7 cm) round cutter, cut another 12 circles (re-rolling the pastry as necessary) Set those aside while you fill!
Pack the filling into your little pies as tight as you can, gently pushing down so you can get as much filling in as possible. Once you've filled them all place on the lids pushing down gently
If you have any extra pastry and a decorative cutter you can cut out shapes to put on the top of your pies - adhere with a little water
Bake for 45-50 minutes until golden brown. Leave to cool for a few minutes in the tin to firm up then gently remove
Serve warm or leave to cool on a wire rack then store in an airtight container in the fridge
To reheat, put into a hot oven (180 Fan) for 20-30 minutes making sure the centers are piping hot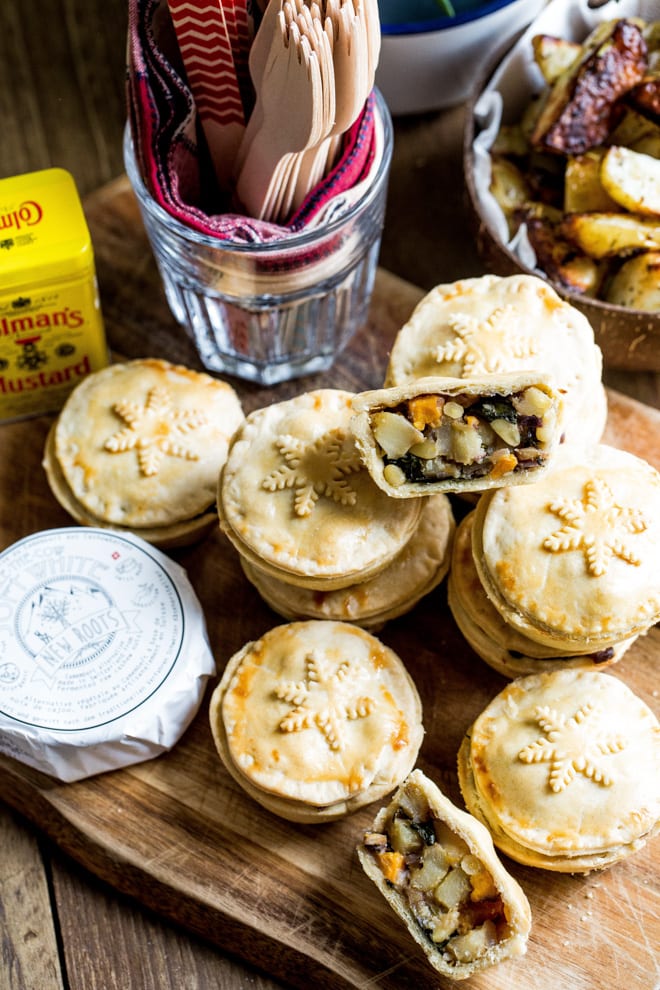 Some products I used in today's post...
Some of the links above are affiliate links, which pay us a small commission for our referral at no extra cost to you! Thank you for supporting The Cook & Him.
Hello and welcome to The Cook & Him.
We are Sam (The Cook), Phil (Him) and our little dog Nooch. What started with a plan to shed a few pounds back in 2016, soon became obvious that eating healthy doesn't have to be bland and boring.
So, combining Sam's 15 years of experience working within Michelin starred restaurants and our love for deliciously healthy food, we're creating recipes for you to make and enjoy. We've added our own unique spin on traditional and contemporary vegetarian and vegan recipes that keep you (and your pets!) healthy and full.  And we make sure they just work.
All things autumn - warming soups, savoury bakes and delicious sweet treats!
and I would like to see...
Or search for a recipe or post by keyword