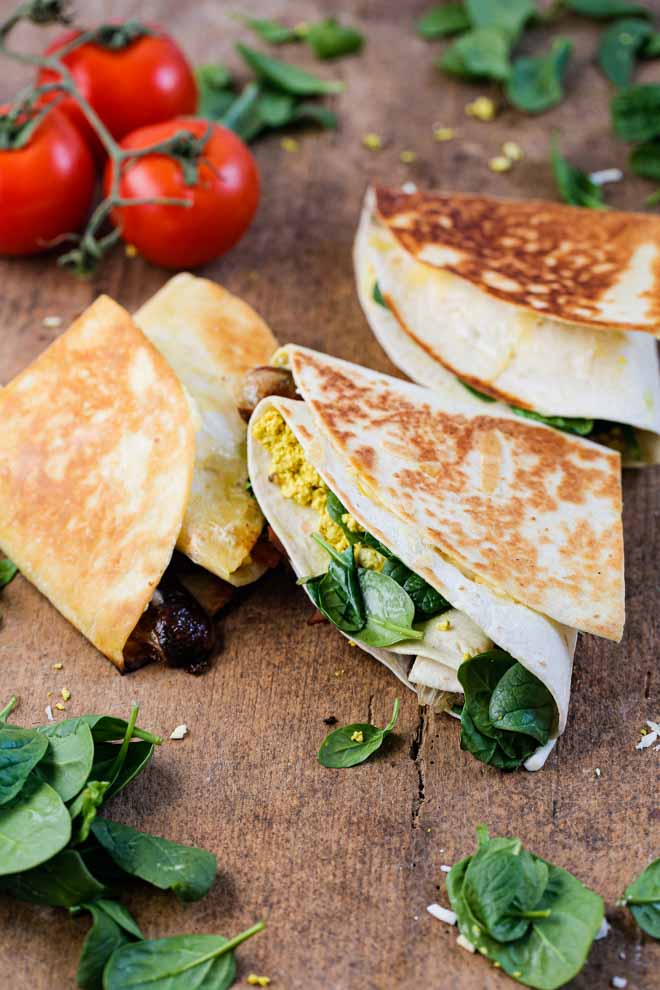 Posted in Recipes on 23.01.2021
Vegan Folded Breakfast Wraps
prep: 30 mins / cook: 15 mins / inactive: 0 mins / total: 45 mins / quantity: 4 wraps Print recipe?
These folded breakfast wraps might not change your world but it'll definitely change the way you see folding wraps! This vegan breakfast version is filled with tofu eggs, vegan sausage, bacon and cheese, spinach and tomato.
What the heck is folded breakfast wrap I hear you ask.  Well, it's like a wrap, just folded a little differently.  Are you a wrap over-stuffer?  I get far too carried away putting everything I can fridge forage into my wraps.  And then I can't fold the damn things.  Bits fall out.  I need a flip top head to get the thing in my mouth and then a portion of it ends up in my lap.  Or bra.
And I'm not usually one to follow a trend.  I generally like what I like and don't care if it's fashionable or not.  But I saw someone making these folded wraps on tv recently and couldn't believe no-one had thought of doing it this way before!  We LOVE quesadillas but they're a little bit of a faff as we like two wraps each and only have space in the oven for two wraps in total.  So they have to be cooked in shifts.  Not the end of the world, it means both quesadillas are hot and melty but still.
My first quandary was what to put IN the folded wrap.  Sweet or savoury?  Healthy or not so?  I wanted to make it filling and hearty, a meal not just a snack.  So I thought I'd make my first attempt a tribute to Phil's love of a good old fashioned cooked English breakfast.  Like all wraps, sandwiches and quesadillas they're very open to your own interpretation.  You could also use baked hash browns, mushrooms, vegan black pudding, baked beans or even saute potatoes.  I wanted to keep ours on the side of a little bit healthier so included the spinach and tomato.
The reason folding them this way is so ingenious is all down to a single cut.  It means you can assign each quarter of the open wrap a filling of flavour then fold in such a way as to create layers.  The folded wrap is then cooked in something like a panini press or simply pan fried in a skillet.  I guess you could even bake them if you wanted to.
How to make a folded wrap:
Start with your fillings.  I've used vegan sausage and bacon, spinach and tomato, tofu eggs and vegan cheese.  Get them all cooked and ready to go.  Alternatively use any leftovers you have or sub with ingredients you have to hand.  All I know is that this combination had Phil telling me, strangely while we were going to bed, that this was his new favourite food.  I think he's like the dogs and dreams about food.
Place your wrap on a flat surface.  Then make a single cut from the centre to the edge.
Assign each quarter a filling.  These will be your layers as you fold.
Start folding.  First fold the tofu eggs layer over the tomato and spinach layer.
Continue folding.  Layer the eggs and spinach layers over the bacon and sausage layer, then fold it all over the cheese layer so you end up with just a folded triangle shape.  Press down firmly on the folded wrap to help keep everything secure.  I didn't do this so well with the first two which is why when they're cooked they look a little popped open and less tidy!
Heat a little oil in a large frying pan or skillet.  Carefully place in your folded tortillas and sizzle each side for 4-5 minutes over a medium heat until crispy and golden.  If you can't fit them all in one pan and don't have two pans you can keep them warm in the oven.  Also they crisp up again perfectly in a warm oven if you find yourself with any leftovers!
These are SO delicious.  They're the perfect combination of crispy, savoury, cheesy and salty.  And make a great midweek dinner alternative.  They're incredibly hearty and filling, warm and so so comforting.
I'd love to hear from you if you make these Folded Breakfast Wraps! Just leave a comment as it's so helpful and I love to hear how the recipe worked out for you! Thank you so much!
Don't forget to follow us on YouTube, Facebook or Pinterest for even more recipe inspiration and chat, competitions, behind the scenes and so much more!
Vegan Folded Breakfast Wraps
prep: 30 mins / cook: 15 mins / inactive: 0 mins / total: 45 mins / quantity: 4 wraps
Ingredients
Tofu Scrambled Eggs:
1/2 block of firm tofu
1 tblsp nutritional yeast
1/4 tsp turmeric
large pinch Himalayan black salt (see note)
drizzle of olive oil
Assembly:
4 vegan sausages – cooked and halved
4 pieces vegan bacon – cooked
Couple of handfuls of spinach
2 large tomatoes – sliced
1/2 cup (40g) vegan cheddar – grated
1/2 cup (40g) vegan mozzarella – shredded
4 large tortilla wraps
drizzle of oil
Instructions
To make the tofu scramble, drain the water from the tofu, gently pat dry with some kitchen towel, put into a bowl and mash with a fork until you get a texture resembling scrambled eggs.
Heat a drizzle of oil in a small pan and add the tofu, nutritional yeast, turmeric and Himalayan black salt
Fry for 3-4 minutes over a medium heat, stirring frequently. Add a grind or two of pepper
Once you've got all your fillings ready, construction is really simple! Start by laying out your wraps on a flat surface. You can make one at a time or fill them all quarter by quarter if you have space
On the bottom left quarter of the wrap next to the cut put the tofu scramble
Above the tofu in the top left quarter put the spinach and sliced tomato
On the top right corner put the halved slices of sausage and pieces of bacon
And on the final bottom right corner put a sprinkle of both the cheeses
To fold start with the quarter with the tofu scramble and fold over the tomatoes. Then work clockwise to fold each quarter over the next so you're left with a large triangle
Push down firmly on top of the wraps so everything holds together
Heat a drizzle of oil in a large frying pan or skillet
Gently add the folded wraps and cook for 4-5 minutes over a medium heat until the bottom is crisp and golden
Carefully flip and repeat with the other side.
Serve immediately. If you end up with leftovers they can be re-crisped in a frying pan or in the oven
Notes
Only use the Himalayan black salt if you want to replicate the eggy flavour of scrambled eggs. Otherwise just season with normal salt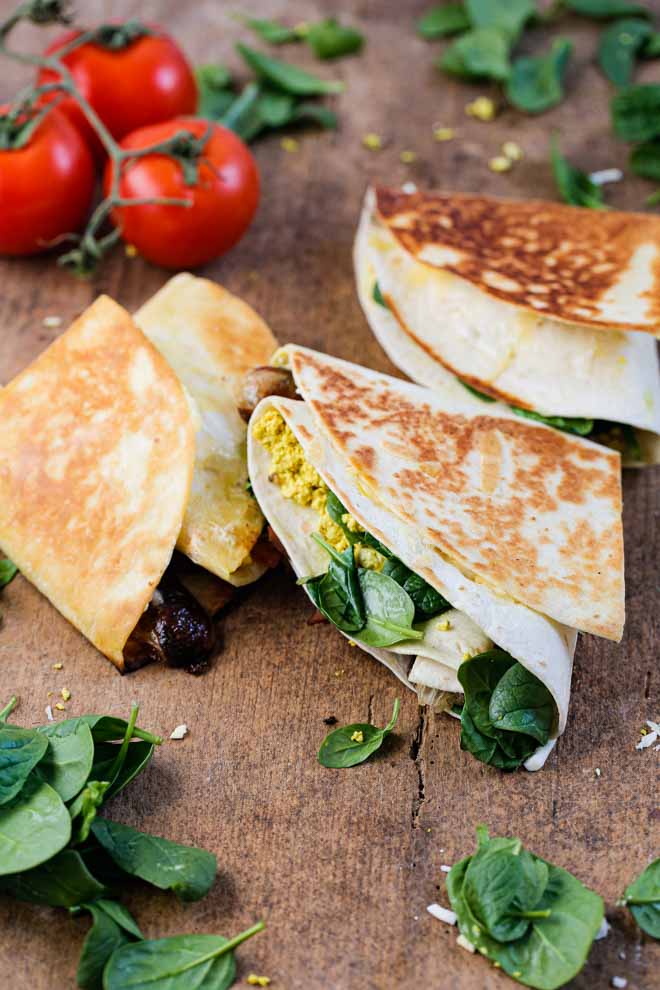 Hello and welcome to The Cook & Him.
We are Sam (The Cook), Phil (Him) and our little dog Nooch. What started with a plan to shed a few pounds back in 2016, soon became obvious that eating healthy doesn't have to be bland and boring.
So, combining Sam's 15 years of experience working within Michelin starred restaurants and our love for deliciously healthy food, we're creating recipes for you to make and enjoy. We've added our own unique spin on traditional and contemporary vegetarian and vegan recipes that keep you (and your pets!) healthy and full.  And we make sure they just work.
All things autumn - warming soups, savoury bakes and delicious sweet treats!
and I would like to see...
Or search for a recipe or post by keyword