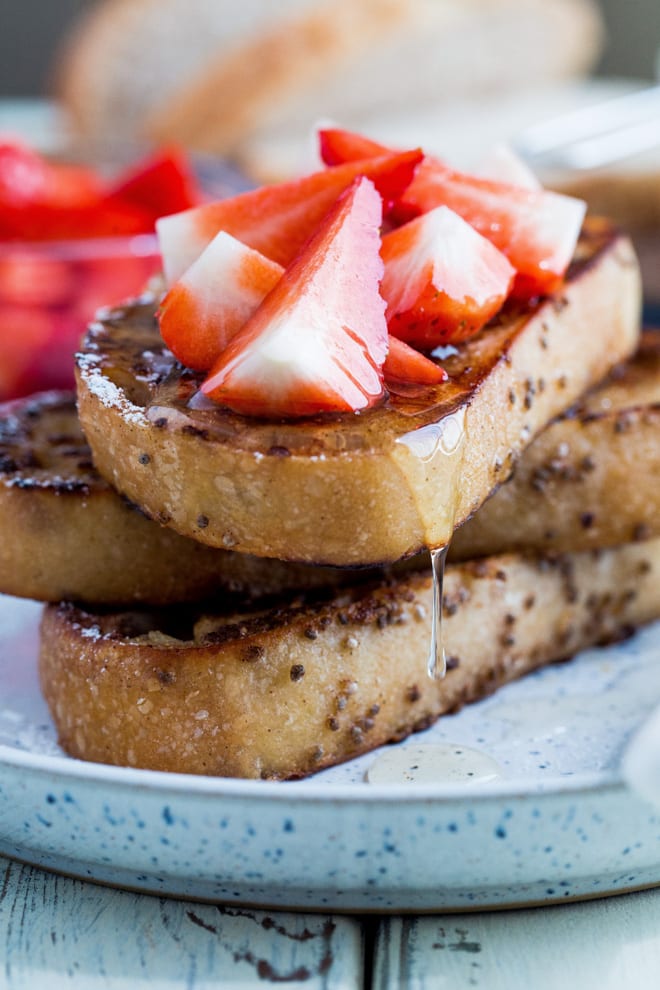 Posted in Recipes on 30.05.2019
Vegan French Toast | Quick and Easy
prep: 10 mins / cook: 15 mins / inactive: 0 mins / total: 25 mins / quantity: 2 servings Print recipe?
No eggs needed for this easy vegan French toast – just a few simple ingredients for a real breakfast favourite!
On the surface Phil and I don't really have a lot in common.  I like to think that those differences give us different perspectives and something to talk about!  We each have our own strengths and they mostly seem to compliment each other.  Even when we met his love of food didn't come anywhere near close to matching mine.  He was a stalwart of the 'open a frozen packet and put it in the oven'.  Cooking from scratch was a VERY rare occurrence.  A long way to the vegan meal prepping man he is today.  And I've always been beyond appreciative when anyone cooks for me – especially breakfast.  During the week breakfasts are such a blurry rush.  But at the weekend we get to slow down a little, at least for breakfast anyway!  Pancake Sundays have always been a sacred tradition in our house – which has now been slightly usurped by vegan French toast!
Phil's Sunday breakfast ritual still involves whisking together a few simple ingredients – except now they also involve a bit of bread dunking!
I chose a sourdough for this French toast recipe but you can use whatever bread you've got.  And it's the PERFECT way to use up any stale bread you've got lingering in a cupboard or bread bin somewhere.  As is this Bread and Butter Pudding.  I say all this like leftover, stale bread is even a thing for us!
One of the other ingredients I've used is Sweet Freedom's Vanilla Syrup.  This is one of 2 new (and sadly limited edition) fruit based syrups from this lovely company who make the most gorgeous natural syrups, chocolate drizzles and spreads.  Honestly I love ALL their stuff.  Both of the new syrups (the other one is caramel) are available from Aldi if you're in the UK.
How to make French toast
Largely the only difference between vegan and non-vegan French toast is the eggs.  There's still milk, just a non-dairy type.  And there's still all the wonderful sweet cinnamon spice and flavour.  But the eggs are what give the 'batter' density and make French toast what it is – crisp and crusty on the outside with a soft chewy inside.  So I did a little bit of testing with various egg replacements.  I tried different types of flour (some were grainier than others), ground flax seeds and chia seeds.  And the best combination turned out to be gram flour (also known as chick pea flour) and chia seeds.  It gave the batter a really good 'thick' quality – perfect for coating and soaking into the bread.
I let the batter stand for around 5 minutes after mixing just to give the chia seeds a bit of time to absorb some of the liquid and plump up.  Slice the bread quite thickly – a good 3/4 inch (2cm) thick.  Dunk in the batter, turning several times to completely coat.  Then gently pan fry in just a little bit of oil on both sides till you get that wonderful golden crust.
I've served ours with just some quartered strawberries and an extra drizzle of syrup for a bit of extra weekend decadence 😉
If you're looking for more great vegan breakfast and brunch ideas we've got loads:
Vegan Scrambled Eggs – the final flourish for your traditional English fry-up
Vegan Pancakes – light and fluffy, we've been known to make a double batch just for the two of us!
Oatmeal Cookies – because I'm an adult so I get to have cookies for breakfast (it's ok, these are mostly healthy)
Split Yellow Pea Breakfast Fritters – just in case savoury breakfasts are your jam
If you make this recipe or any of the recipes from The Cook & Him we'd LOVE to see! Just snap a picture and share it on Instagram using #thecookandhim and tagging @thecookandhim in the photo itself (as this guarantees we'll see your picture!
)
And don't forget to follow us on Instagram , Facebook or Twitter for even more recipe inspiration and chat, competitions, behind the scenes and so much more!
Vegan French Toast | Quick and Easy
prep: 10 mins / cook: 15 mins / inactive: 0 mins / total: 25 mins / quantity: 2 servings
Ingredients
1/2 cup (110ml) unsweetened almond milk
1 tblsp Sweet Freedom Vanilla Syrup + a little extra for drizzling
1 tsp ground cinnamon
1/2 tsp ground nutmeg
2 tblsp gram flour (also known as chickpea flour)
1 tblsp chia seeds
4 thick slices of bread – stale bread gives a crispier crust!
drizzle of oil – I used olive oil
handful of quartered fresh strawberries – or sub for you favourite fruits/berries
Instructions
Put the almond milk, syrup, cinnamon, nutmeg and gram flour into a shallow dish or bowl big enough to take the slices of bread and whisk until it's lump free
Whisk in the chia seeds and leave to stand for 5-10 minutes to thicken up slightly
Heat a large frying pan with a drizzle of oil over a medium heat
Take one of the slices of bread and dunk in the liquid, turning several times until it's well covered and has soaked up some of the liquid
Place into the frying pan and repeat with the other slices
Cook for a few minutes each side until crisp and golden
Serve immediately topped with a few strawberries and an extra drizzle of syrup
Notes
You could also top with a dollop of coconut yoghurt or whipped coconut cream for a truly decadent treat!
If you can't get hold of the Sweet Freedom vanilla syrup you can use either their regular fruit syrup, maple or agave syrup - for all of them just add a dash of vanilla extract to the batter as well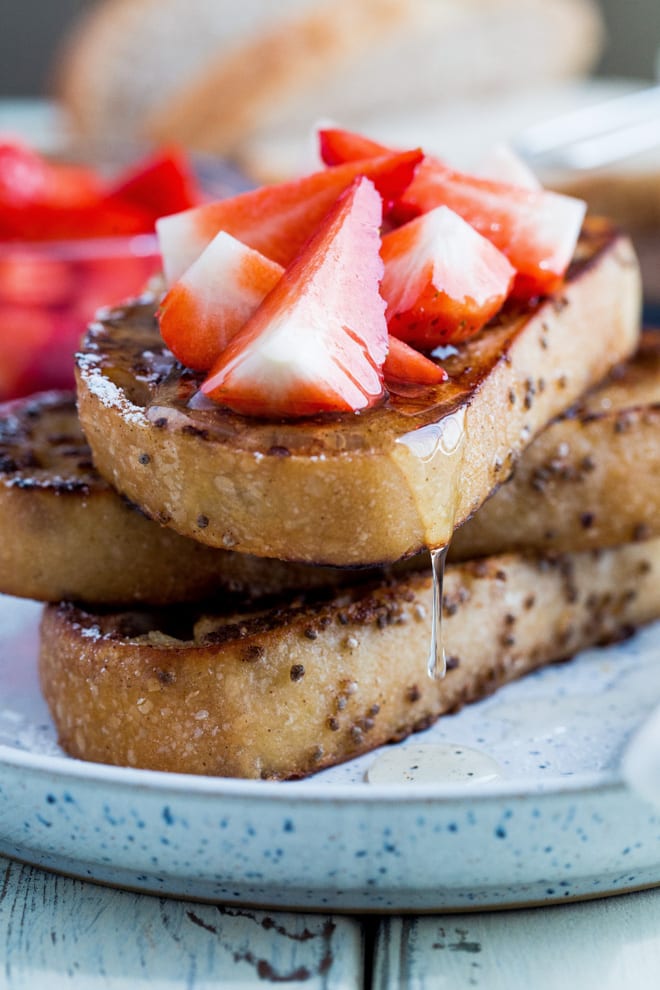 Some products I used in today's post...
Some of the links above are affiliate links, which pay us a small commission for our referral at no extra cost to you! Thank you for supporting The Cook & Him.
Hello and welcome to The Cook & Him.
We are Sam (The Cook), Phil (Him) and our little dog Nooch. What started with a plan to shed a few pounds back in 2016, soon became obvious that eating healthy doesn't have to be bland and boring.
So, combining Sam's 15 years of experience working within Michelin starred restaurants and our love for deliciously healthy food, we're creating recipes for you to make and enjoy. We've added our own unique spin on traditional and contemporary vegetarian and vegan recipes that keep you (and your pets!) healthy and full.  And we make sure they just work.
All things autumn - warming soups, savoury bakes and delicious sweet treats!
and I would like to see...
Or search for a recipe or post by keyword