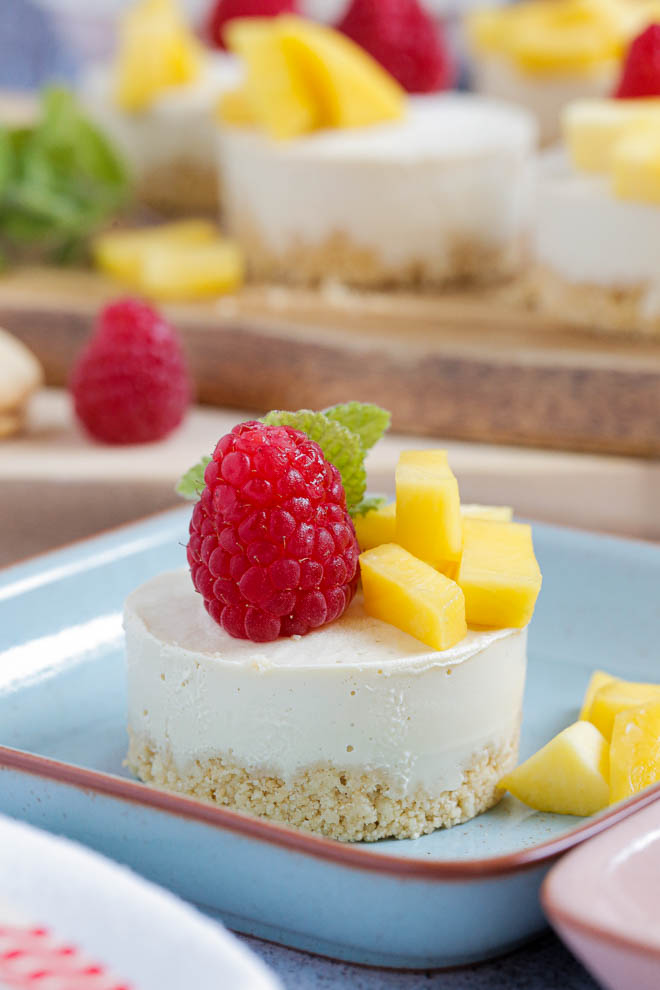 Posted in Recipes on 17.08.2020
Vegan No-Bake Mango Cheesecakes
prep: 30 mins / cook: 0 mins / inactive: 0 mins / total: 30 mins / quantity: 12 mini cheesecakes Print recipe?
Sweet and fruity these no bake vegan mango cheesecakes have a golden biscuit and white chocolate base with a silky smooth and creamy topping. So simple to whip up too!
I don't know where you are in the world but here the last few days have been SO warm.  We're just not equipped for it in the UK.  And cooking has pretty much gone by the wayside recently.  We've been living off wraps filled with creamy hummus and veggies, vegan pesto pasta and Thai quinoa salad.  Basically anything that hasn't required turning the oven on!  But I had a real hankering for something fruity, summer, relaxed and heavenly.  Which is how these mango cheesecakes came about.  I love fresh mango but put them IN anything and the taste can get a bit lost.
By now you've probably heard me mention Foodie Flavours once or twice before.  I never recommend any product I've not tried (and tried) and I'm hand on heart a huge fan of these little bottles of flavour.  They're concentrated so a little goes a (very) long way and they have such a range.  That I'm slowly working my way through.
I've put fresh mango in these mango cheesecakes but the essence really gives a hit of flavour.  Because I've used golden Oreos and white chocolate in the base the fresh mango alone would get completely lost.  And the other beauty of the essences from Foodie Flavours is you can add as little or as much as you like.  The liquid comes out of the bottle in drips so it's very easy to control how much you add to a recipe.
How to make these vegan cheesecakes:
Soak the cashews.  This can be done in boiling water an hour before you want to make them or if you're (far more) organised (than me) you can soak them in cold water overnight.
Whizz the cookies and chocolate together.  I've used Golden Oreos just for something a bit different and vegan white chocolate chips.  And a little melted vegan butter to help the mix stick together once it sets. If you want to make these mango cheesecakes gluten free try the base from these strawberry cheesecakes, or even these raspberry and chocolate cheesecakes, just swap the dark chocolate for white chocolate.
Divide the whizzed mixture between your tins.  I've used this 12 hole lose based mini sandwich tin and it's perfect.  The loose bottoms mean you can push the cheesecakes out of the mould and get that lovely smooth sided finish without having to run a hot knife round the edge or gouge chunks out of your nice tin.  Oh and don't forget to remove the little metal bases before serving <– especially when you have friends over.
Prepare the 'cheesecake' bit.  Drain the cashews and put into a blender with the remaining ingredients and whizz until smooth and creamy.
Pour the mixture into your tins.  Then pop in the freezer for a few hours until set.  Before you want to serve them take the tin out of the freezer for 5 minutes then push up from the bottom.  Remove the disc and put on a serving plate then leave to stand for 30-60 minutes (or 10 if it's been like this week!)
These keep very well in the freezer, are very light but so full of sweet, summery flavours.  It's hard to stop at just one.  Of course we all know how I know this 😉
Love easy summer desserts as much as we do?  Here's some of our tried and tested favourites (all vegan too!):
Roast Nectarines with Nice Cream and Caramelised Walnuts
I'd love to hear from you if you make these Vegan Mango Cheesecakes.  Just leave a comment as it's so helpful and I love to hear how the recipe worked out for you!  Thank you so much 🙂
Don't forget to follow us on YouTube, Facebook or Pinterest for even more recipe inspiration and chat, competitions, behind the scenes and so much more!
Vegan No-Bake Mango Cheesecakes
prep: 30 mins / cook: 0 mins / inactive: 0 mins / total: 30 mins / quantity: 12 mini cheesecakes
Ingredients
Base:
18 Golden Oreos
1/3 cup (85g) dairy free white chocolate
2 tblsp (30g) vegan butter – melted
Cheesecake Filling:
1 +1/2 cups (200g) cashew nuts
1 cup (200ml) dairy free milk
1/2 lemon – juice only
1/2 mango – peeled and flesh roughly chopped
30 drops Foodie Flavours Mango Flavouring
1/3 cup (100g) agave syrup (or sub with maple syrup)
2 tblsp coconut oil – melted
Equipment:
Instructions
Start by soaking the cashews for the filling. This can be done for an hour in boiling water or overnight in cold water. Cover completely with water and leave to soak
To make the base put the biscuits and white chocolate (break the chocolate into pieces if not using chocolate chips) into a food processor and blend to fine breadcrumbs. Drizzle in the melted butter for a final whizz
Spoon the base mixture between the 12 holes of your tin then press them until flat and compact. I use the flat end of a rolling pin but you can use the bottom of a glass or even a teaspoon. Just press until firmly packed down
To make the filling drain the cashews and discard the water then put them into a blender cup along with all the remaining ingredients
Whizz until very smooth and creamy
I scrape the mixture out of the blender cup into a jug then pour the mixture over the biscuit base. Gently tap the tin on the counter a couple of times to level the tops
Carefully put the tin in the freezer (don't push the bottoms of the tin!) and leave to set for a few hours
Up to one hour before you're ready to serve take the tin out of the freezer and leave for a few moments until you can push the cheesecakes up from the bottom out of the tin. Remove the metal disc base and put onto a serving plate. Dependent on ambient temperature leave to soften 30-60 minutes before eating
Store the cheesecakes in the freezer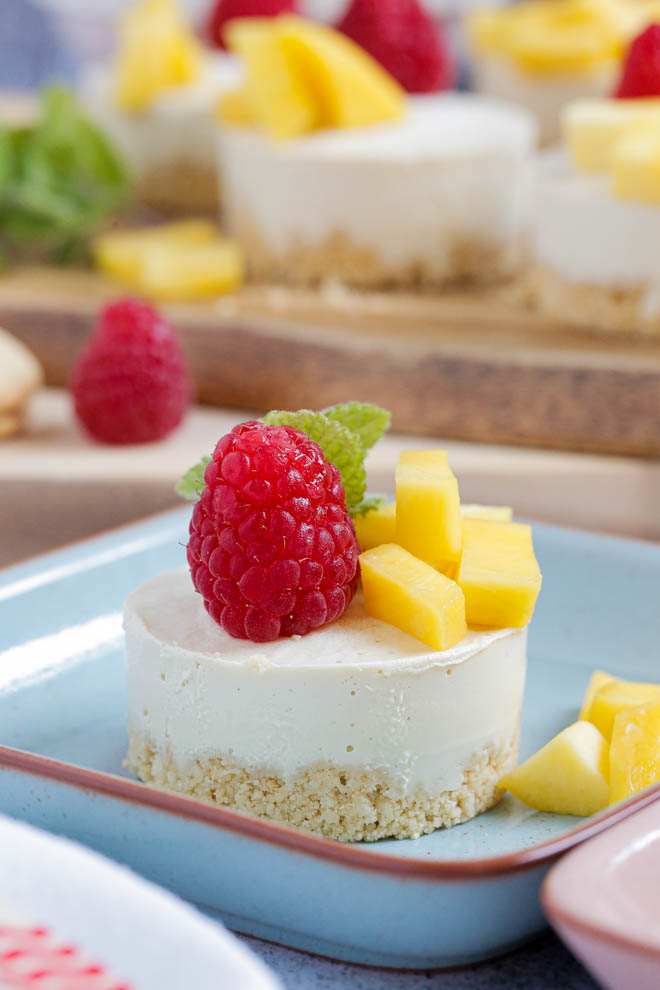 Hello and welcome to The Cook & Him.
We are Sam (The Cook), Phil (Him) and our little dog Nooch. What started with a plan to shed a few pounds back in 2016, soon became obvious that eating healthy doesn't have to be bland and boring.
So, combining Sam's 15 years of experience working within Michelin starred restaurants and our love for deliciously healthy food, we're creating recipes for you to make and enjoy. We've added our own unique spin on traditional and contemporary vegetarian and vegan recipes that keep you (and your pets!) healthy and full.  And we make sure they just work.
All things autumn - warming soups, savoury bakes and delicious sweet treats!
and I would like to see...
Or search for a recipe or post by keyword