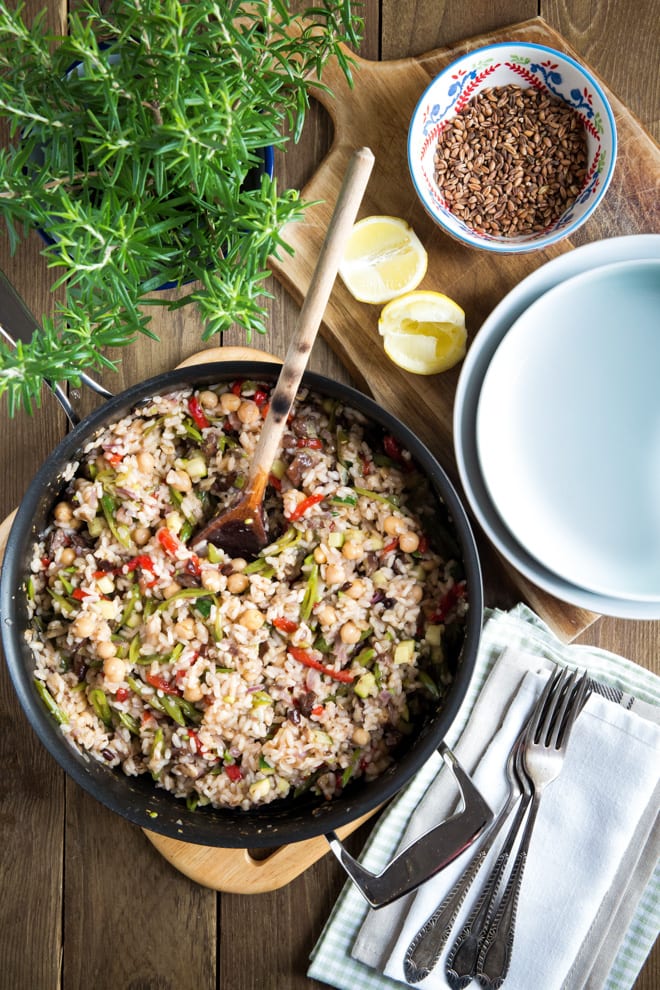 Posted in Recipes on 12.03.2019
Vegan Paella
prep: 20 mins / cook: 1 hour 30 mins / inactive: 24 hours mins / total: 2 hours 14 mins / quantity: Serves 2 generously! Print recipe?
With a vegan twist on a classic favourite this vegan paella is absolutely packed with veggies, protein and flavour!
A traditional Spanish dish, paella is usually cooked with fish or meat but there are as many variations of it as there are people that cook it!  Including vegan paella!  It has very humble origins being a farmer or farm labourer's meal, cooked over a wood fire and utilising whatever ingredients were to hand.  It was also traditionally eaten straight out of the pan with wooden spoons!
Like its traditional counterpart, you can use whatever veggies you fancy or have around.  For this vegan paella recipe though, I wanted to go for bright, spring colours and flavours while packing a big protein punch.  And for that I've used chickpeas, Hodmedods dried Broad Beans and my new favourite snack – toasted Whole Grain Emmer Wheat!  These tiny little things are seriously crunchy and moreish!
The dried broad beans do need a little bit of attention the day before you want to make this paella recipe though.  But it's as simple as soaking in plenty of water and forgetting about them till the next day.  Nothing too taxing 😉
One of the basic paella ingredients though is the rice.  Specifically short grain rice.  I used this Bomba Paella Rice but if you're in the UK, Sainsbury's and Tesco both have a Spanish Paella Rice available – and probably the other supermarkets do too!  You can also use Italian risotto rice and Japanese sushi rice.  You want the rice to easily absorb the liquid so that you end up with plump little rice grains full of flavour that won't dry out.
Another essential paella 'ingredient' is the right frying pan.  You want something wide with a relatively thin base so that the liquid is cooked quickly and evenly.  You also don't want to stir your paella like you would for risotto – that results in a creamy risotto like texture rather than tender, individual and distinguishable rice grains.
The liquid you use is also important in any paella recipe.  Good quality stock (and even a little white wine) will only impart fantastic flavour.  I'll admit to laziness for this part though as I use Marigold Vegan Bouillon Powder.  It's easy to use and has extra herbs and spices for, you guessed it, even more flavour!
And finally, the spices.  Paprika is practically compulsory but you can add turmeric for its antioxidant and anti-inflammatory properties and of course that glorious sunshine yellow colour!
If you make this recipe or any of the recipes from The Cook & Him we'd LOVE to see! Just snap a picture and share it on Instagram using #thecookandhim and tagging @thecookandhim in the photo itself (as this guarantees we'll see your picture!
)
And don't forget to follow us on Instagram , Facebook or Twitter for even more recipe inspiration and chat, competitions, behind the scenes and so much more!
Vegan Paella
prep: 20 mins / cook: 1 hour 30 mins / inactive: 24 hours mins / total: 2 hours 14 mins / quantity: Serves 2 generously!
Ingredients
3/4 cup (120g) Hodmedods Broad Beans
1/4 cup (50g) Hodmedods Emmer (Farro) Wheat
1 red onion – peeled and finely chopped
3-4 cloves garlic – peeled and crushed
drizzle of olive oil
1 courgette – cut into small dice
2 good handfuls (approx 100g) sugar snap peas – finely sliced
1 x 400g can chickpeas – drained
1/2 cup (100g) roasted red peppers – sliced into strips
2 tsp smoked paprika (use more or less dependent on how spicy you like it!)
1 cup (200g) short grain rice
2 + 3/4 cups (700ml) vegetable stock
salt and pepper
1 lemon – juice only
Instructions
The day before you want to make the paella, soak the broad beans in plenty of cold water. Cover and set aside
The next day, drain the beans and put into a heavy based saucepan. Cover with boiling water and cook for 45 minutes - 1 hour
Drain and submerge in cold water then carefully peel the skins off. Discard the skins, keep the pods and set aside
To toast the emmer wheat put into a small frying pan over a medium heat and cook for just a few minutes, tossing or stirring frequently until lightly toasted and golden. Set those aside too
When you're ready to cook the paella heat a drizzle of oil in a large frying or saute pan over a medium heat
Add the chopped onion and crushed garlic and sizzle for a minute or two until just softened
Add the diced courgette and sliced sugar snaps and saute for a further minute
Add the peeled broad beans, drained chickpeas, sliced roasted peppers, smoked paprika, rice and vegetable stock, give everything a quick stir then bubble gently until all the liquid has been absorbed and the rice is plump and cooked
Taste for seasoning, adding salt and pepper as needed and stir this through with the lemon juice
Sprinkle with the toasted emmer wheat and serve immediately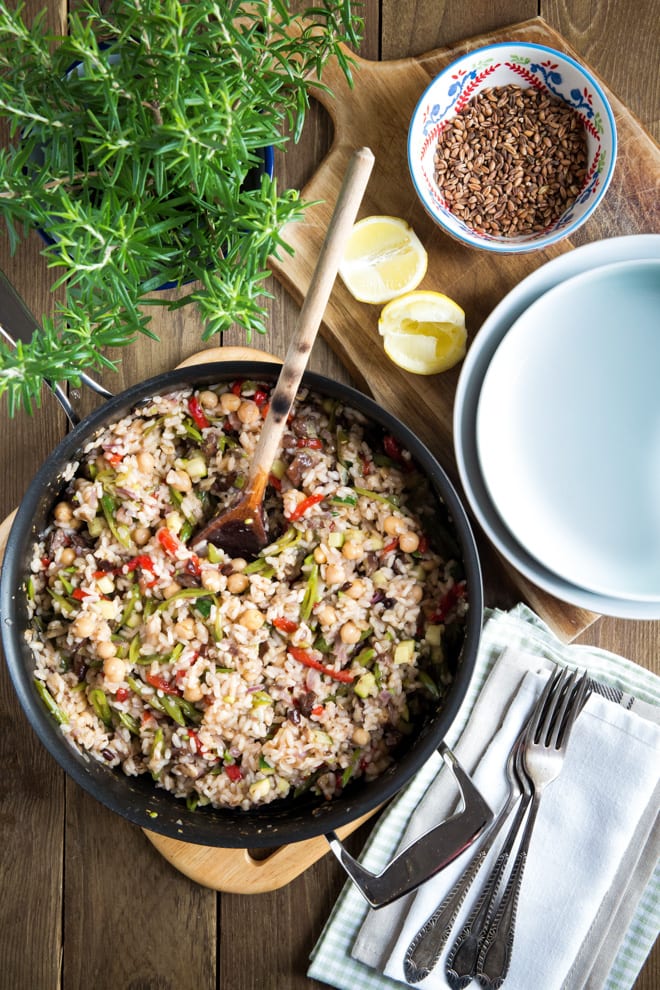 Some products I used in today's post...
Some of the links above are affiliate links, which pay us a small commission for our referral at no extra cost to you! Thank you for supporting The Cook & Him.
Hello and welcome to The Cook & Him.
We are Sam (The Cook), Phil (Him) and our little dog Nooch. What started with a plan to shed a few pounds back in 2016, soon became obvious that eating healthy doesn't have to be bland and boring.
So, combining Sam's 15 years of experience working within Michelin starred restaurants and our love for deliciously healthy food, we're creating recipes for you to make and enjoy. We've added our own unique spin on traditional and contemporary vegetarian and vegan recipes that keep you (and your pets!) healthy and full.  And we make sure they just work.
All things autumn - warming soups, savoury bakes and delicious sweet treats!
and I would like to see...
Or search for a recipe or post by keyword