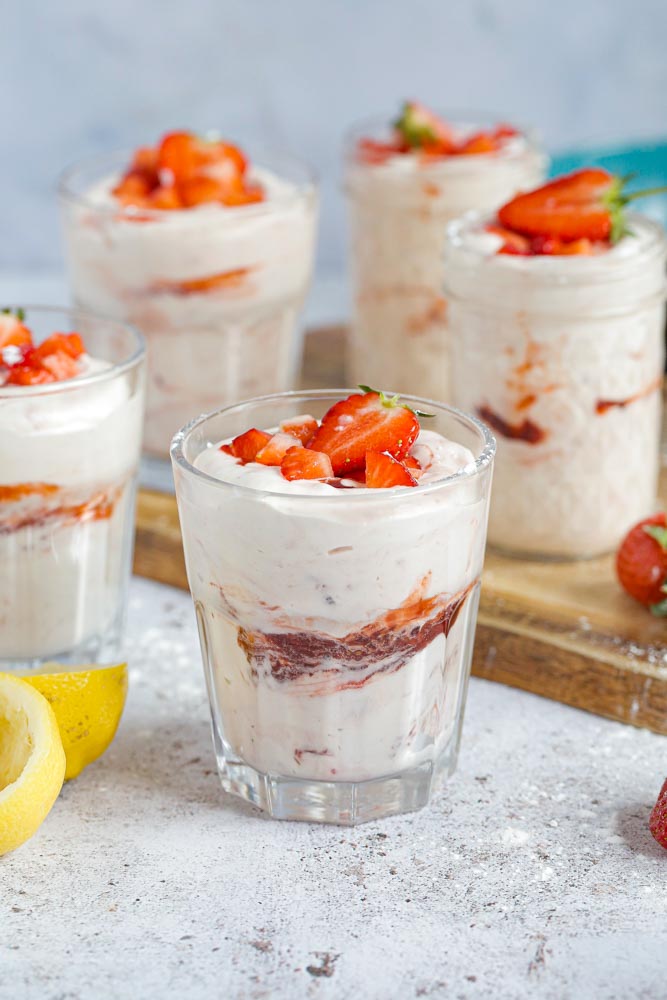 Posted in Recipes on 26.07.2021
Vegan Rhubarb and Strawberry Fool
prep: 20 mins / cook: 15 mins / inactive: 30 mins / total: 1 hour 5 mins / quantity: 6-8 fools Print recipe?
Full of bright, fresh flavour, this fruity fool is a creamy base swirled with the easiest rhubarb and strawberry jam. A deliciously light and fruity summer dessert!
This no bake, make ahead dessert (well, unless you have a Phil who will NOT wait for it to set) is everything a summer dessert should be.  Light, sweet, creamy and fruity.  And also easy – because who wants faff on these longer summer days?  Get out your fanciest serving glasses and prepare your patio table as you sit with a long spoon and daintily shovel this fruity fool into your mouth.  You could make shortbread cookies to nibble alongside if you want to be really fancy.
Why is a fool called a fool?
It is said to have originated from the French word 'fouler' which means to press or crush.  Fruit fools are made with a puree from fresh or frozen fruit.  In my version of this traditional English dessert I've made a fruit jam instead of just a puree.  I've also used vegan cream cheese to give the creamy part of the fool a bit of 'body'.  Vegan cream doesn't hold up quite as well as non-vegan cream.  When it's whipped it's much lighter in texture and I didn't want the whole thing to just fall apart when I stirred the jam through it.  The cream cheese also gives the whole thing a richer flavour
Why I use Foodie Flavours.
I had a very persnikety reply to one of my newsletters recently.  A lady who thought it ok to criticise the free content she was getting because with an already full cupboard of herbs and spices she doesn't need more ingredients.  And apparently all my recipes now only feature Foodie Flavours.  There are a LOT of reasons I use them.  And it's just one in every 3 recipes I feature them.  First and foremost I never recommend something I've neither used nor love.  Whether I've been sent a free sample or whether someone is paying for my time.  Food blogging is NOT cheap.  There's the camera equipment and photography software, website hosting and add-ons, the ingredients, food equipment and props needed and a plethora of other bits and bobs that all cost something.
THEN there's the time it takes to go from a germ of an idea in my head to a complete, tested and photographed recipe and the accompanying written blog post.  And then there's trying to understand SEO, keywords and what hashtags to use.  Makes my head hurt some days.  I am cook, washer up, shopper, food photographer, food writer, food blogger, social media manager and whatever else is needed.  Phil is there for the far too technical stuff for my not so technical brain but everything else I do is for you, dear reader.  Because vegan food is amazing and so are Foodie Flavours.
And I LOVE being a food blogger.  I love getting to share food and ideas that I am so passionate about.  I've 'met' some of the loveliest people I now call friends.  And someone making and enjoying one of my recipes is honestly one of the best feelings in the world.  Right up there with a dog falling asleep with his or her head on your chest.  If a company I believe in wants to pay me for my time and hard work then I consider myself even more fortunate.
I genuinely love using their products.  They can lend a lovely hint or a big old slap of flavour to a recipe without altering the its balance.  And if you buy any of their flavours based on a recipe I've made then that's great for a small business (and aren't we all supposed to be supporting those?)
For something like this rhubarb and strawberry fool using the rhubarb flavouring was a complete win for me.  It's smells like those rhubarb and custard sweets you got as a kid.  Or maybe you still do?  I love the taste of fresh rhubarb but it's often too bitter for me and I have to add a tonne of sugar to make it palatable.  Adding a few drops gave this fool such lift and depth of flavour.  Just using fresh strawberries would have resulted in their gorgeous summer flavour being lost in all that cream and cream cheese.  Making the strawberries into a sticky jam and adding the rhubarb intensified the flavour and made it a rich, sweet, jammy contrast to the creamy bit.
We absolutely LOVE this dessert and I'll be making it many more times in the next few weeks or for as long as our summer lasts.  It's quick, easy and because the jam is homemade there's not that much sugar in it.
How to make an easy vegan fruit fool:
Start by making the jam.  This really does only take 15 minutes and you can use fresh or frozen strawberries.  Simply put the berries, lemon juice and sugar into a saucepan and bubble for around 15 minutes.  Turn off the heat and add the Rhubarb flavouring.  I've used around 30 drops but add less or more depending on how strong you want the flavour.  Leave the jam to cool for 30 minutes – you can tip it into something else so it's no longer sitting in a hot pan to help speed up the cooling.
Whisk the cream cheese with the icing sugar.  You can do this while the jam is cooling then put it back in the fridge until you're ready to assemble your fool!
Once the jam is cool whip the cream with a bit more icing sugar.  You'll probably want to do this on a machine – vegan cream doesn't whip as quickly, or to as firm peaks, as dairy cream.  Whip until you get soft peaks that hold their shape.
Gently stir the whipped cream and the cream cheese together.  Then swirl in around 2/3 of the jam, reserving 1/3.  Don't whisk or beat the jam in, just gently swirl them together.
Spoon or pipe the cream mixture into the bases of 6 glasses.  Spoon in half the reserved jam equally across the glasses and use something long (like a skewer) to swirl that into the cream.
Top with the remaining cream.  Then spoon the remaining jam on top, gently swirling it in.  Top with some halved fresh strawberries.  Store the fools in the fridge.  These hold well for a day or two.
This is such an easy, light and summery dessert.   Full of sticky sweet fruit flavours swirled through whipped cream.  Honestly, does eating get any better than this?  The bonus is you'd also never guess it was vegan!
Looking for more vegan summer desserts?  Try these favourites:
Pina Colada Ice Lollies – so easy and fresh, kid friendly too!
Vegan Strawberry Cheesecakes – perfect little summer desserts.
Summer Fruits Pancake Tacos – is it dessert or breakfast?
Chocolate and Banana Milkshake Ice Pops – everything a summer lolly should be!
I'd also love to hear from you if you make these summery Rhubarb and Strawberry Fools! Just leave a comment as it's so helpful and I love to hear how the recipe worked out for you! Thank you so much!
Don't forget to follow us on YouTube, Facebook or Pinterest for even more recipe inspiration and chat, competitions, behind the scenes and so much more!
Vegan Rhubarb and Strawberry Fool
prep: 20 mins / cook: 15 mins / inactive: 30 mins / total: 1 hour 5 mins / quantity: 6-8 fools
Ingredients
Rhubarb and Strawberry Jam:
2 cups (350g) strawberries – fresh or frozen – stalks removed
1 lemon – juice only
1/4 cup (40g) coconut sugar
25-30 drops Foodie Flavours Rhubarb
Cream Cheese Mix:
1 cup (210g) vegan plain cream cheese
1/2 cup (75g) icing sugar
Cream:
1 cup (270ml) vegan double cream
1/4 cup (75g) icing sugar
A few fresh strawberries for garnish
Instructions
Make the jam first by putting the strawberries, lemon juice and sugar into a saucepan. Bubble over a medium heat, stirring from time to time for around 10 minutes
Once the berries are soft and starting to go mushy, squash them a little with the spoon until no large lumps remain. Cook, stirring for another 5 minutes then set aside to cool for at least half an hour
Once the jam is cooled, whisk the cream cheese with the icing sugar until no lumps remain
Then whisk the vegan cream with more icing sugar until soft but definite peaks are formed
Gently stir together the cream cheese and cream mixtures then very gently swirl in around 2/3 of the cooled jam
Spoon or pipe half the mixture into 6 glasses then top with half the jam across all the glasses. Use something long like a skewer to swirl the extra jam into the cream in the glasses
Top each glass with the remaining cream mixture then spoon on and swirl in the remaining jam
Top with some halves of fresh strawberry
Store in the fridge for 1-2 days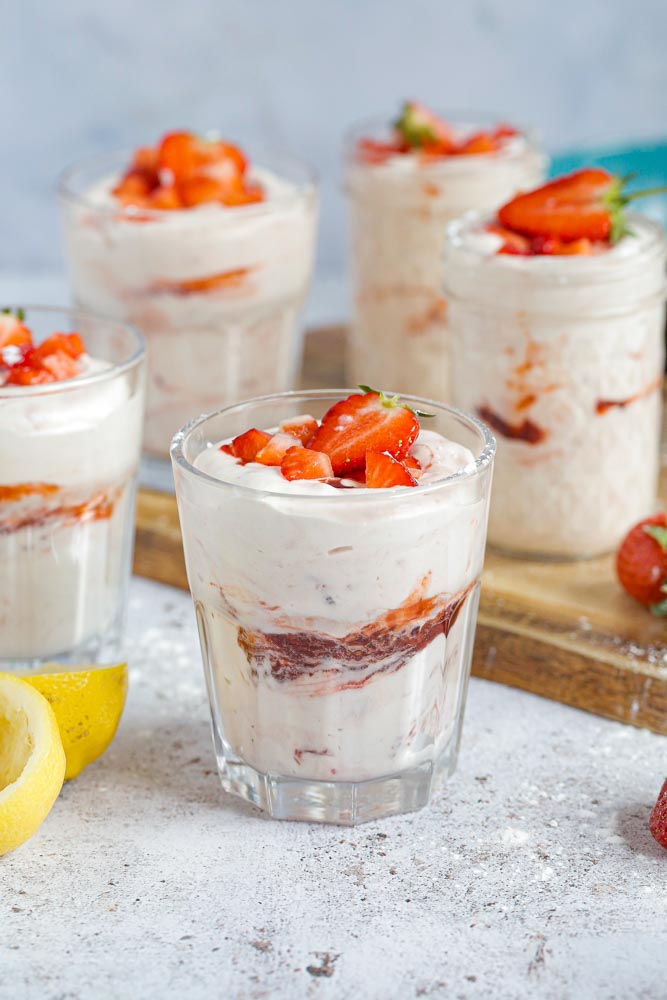 Hello and welcome to The Cook & Him.
We are Sam (The Cook), Phil (Him) and our little dog Nooch. What started with a plan to shed a few pounds back in 2016, soon became obvious that eating healthy doesn't have to be bland and boring.
So, combining Sam's 15 years of experience working within Michelin starred restaurants and our love for deliciously healthy food, we're creating recipes for you to make and enjoy. We've added our own unique spin on traditional and contemporary vegetarian and vegan recipes that keep you (and your pets!) healthy and full.  And we make sure they just work.
All things autumn - warming soups, savoury bakes and delicious sweet treats!
and I would like to see...
Or search for a recipe or post by keyword