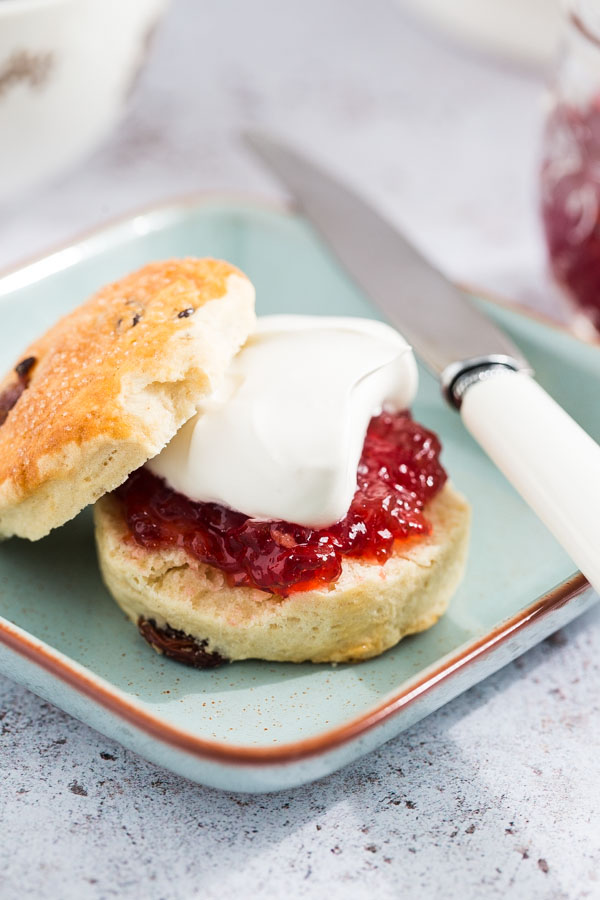 Posted in Recipes on 18.05.2020
Vegan Scones (with vegan cream and homemade jam!)
prep: 20 mins / cook: 15 mins / inactive: 0 mins / total: 35 mins / quantity: 9 scones Print recipe?
These vegan scones are just as easy and delicious as traditional ones with soft fluffy centres and sweet golden tops! Serve with a super easy homemade jam and vegan cream for the perfect afternoon treat!
The secret to vegan scones is exactly the same as any traditional scone recipe if you want that light fluffy texture and a lovely golden crust sparkling with sweet sugar crystals.  I don't know about you but I've had far too many scones that are style over substance.  Everything from giant stodgy things to teeny tiny things with one sultana per scone.
These vegan scones (which are incredibly easy to make) have perfectly light and soft middles and lovely golden tops.  And you can have them with or without fruit if dried fruit isn't your thing.  Phil was adamant he didn't like dried fruit pretty much since I met him.  He started to change his mind right around the time of these Teacakes.  And was 100% on board with dried fruits not being chewy bits of horror by the time we got to Vegan Christmas Cake!
Personally I love a fat juicy sultana.  But you can use raisins, mixed dried fruit, mixed peel, goji berries, dried apricots or even chocolate chips if that takes your fancy.  Or leave the fruit out entirely for a change.
How to make vegan scones
There's really no mystery to making vegan scones.  It's very much the same process as a traditional one with just a couple of ingredient swaps.  To get that lovely fluffy centre, less is more because the dough needs minimal handling.  Much like making pastry it's simply a case of bringing the ingredients together into a manageable dough rather than kneading the heck out of it as you would a bread dough.  Let's talk ingredients:
Self raising flour and baking powder – because you want that extra lift that gives a scone that lovely rise and soft fluffy middle self raising flour alone isn't quite enough.  The baking powder gives it that extra oomph and ensures a beautifully risen scone.
Vegan butter – I prefer the hard block butter over the spread for making scones.  It has a higher fat content and melts at a lower temperature giving a better taste and texture to your scones.
Dairy free milk – I've used unsweetened almond milk in this vegan scone recipe but you could substitute with soy or oat milk.
Golden caster sugar – I've used caster sugar rather than granulated because it has a finer texture.  It also adds more volume to baked goods and gives them a lighter texture.  And I prefer golden caster sugar because compared to white caster sugar it's less refined as it's not had the molasses removed giving it a lovely colour and slightly buttery flavour.
To make the scones you start by rubbing the butter into the flour.  I chop the butter into smallish squares to make it easier to do this rather than trying to break up a large block of butter with your fingers!  To rub any fat into flour you simply pick up the pieces of butter in your fingers and using a light touch squash the fat with some of the flour to break it up.  Repeat as the pieces of fat get smaller until you have a mixture that resembles sand or fine breadcrumbs.  There's not a lot of fat to flour in this recipe compared to pastry so it won't take very long.
Then you stir in the sugar then the liquid.  Another tip is to not add all the liquid at once.  Flour and its absorbancy can be affected by all sorts of different things – the type of flour, the brand you've used and even the humidity in your house can all factor into how much liquid the particular flour you're using will absorb.  Other factors also play a part – how accurately you've weighed all your ingredients and how much you might have tamped down the flour as you measured.
So for these scones add nearly all the milk to make a soft but not overly sticky dough, adding a little more milk if needed.  And only mix enough to form a dough.  There's no need to knead 😉
Lightly dust your work surface with flour then roll the dough out to around 1 inch (2 1/2 cm) thick.  I've used metal cutters as they're sharper than plastic and give a cleaner cut.  Push the cutter down firmly and cleanly.  Don't be tempted to twist the cutter as this is what misshapes the dough and you end up with lopsided wonky scones.  Not that I wouldn't eat those too!
I brush the tops with a little extra milk then sprinkle on just a pinch of demerara sugar.  The larger sugar granules give a wonderfully sweet and crunchy topping.
I also can't eat a sweet scone without a good dollop of jam and cream.  I wholeheartedly recommend this ridiculously simple Berry Jam recipe.  And thankfully the good people at Elmlea have seen fit to provide us with a vegan double cream that can also be whipped!  This stuff is amazing!  It's not clotted cream and doesn't have the same consistency.  In fact it doesn't really whip quite as thick as even normal double cream.  But it IS a soft whip and is the creamy cherry on the top of these vegan scones!
If you can't get hold of Elmlea or it hasn't made its way to your part of the world yet you can put a tin of coconut milk in the fridge overnight then scoop out and whip the thick white creamy part.  I don't find it too strong a flavour of coconut and maybe one day someone will invent a legitimate vegan clotted cream.  Till then I'm happy – scones + jam + soft whipped cream = heaven.
Excuse me, I'm off to split another scone 😉
Don't forget to follow us on Facebook or Pinterest for even more recipe inspiration and chat, competitions, behind the scenes and so much more!
Vegan Scones (with vegan cream and homemade jam!)
prep: 20 mins / cook: 15 mins / inactive: 0 mins / total: 35 mins / quantity: 9 scones
Ingredients
Scones:
2 + 1/3 cups (350g) self raising flour
1 tsp baking powder
6 tblsp (95g) vegan butter – roughly diced
1/4 cup (45g / 3 tblsp) golden caster sugar
2/3 cup (150ml) unsweetened almond milk (or sub with soy or oat milk)
1/2 cup (80g) sultanas
Topping:
1-2 tblsp unsweetened almond milk (or sub with soy or oat milk)
1 tblsp demerara sugar
To serve:
Instructions
Preheat your oven to 200 Fan / 220 C / 425 F / Gas 7 and line a large tray with greaseproof or a silicon mat
Put the flour, baking powder and diced butter into a large bowl and using the tips of your fingers rub the butter into the flour until no lumps of butter remain and the mixture resembles fine breadcrumbs
Stir in the sugar then add the milk - don't add all the milk at once, just enough to make a soft but not overly sticky dough. Mix just enough to bring the dough together, don't over-knead it
Lightly dust your worksurface with a little extra flour then roll out the dough until it's about 2 1/2 cm (1 inch) thick
Using a 2 1/4 cm (6 inch) cutter firmly cut out as many circles as you can
Gently bring together any trimmings into a ball then re-roll, cutting out more circles. Repeat until you've used all the dough
Place the cut scones onto your prepared tray
Brush each scone with the extra milk then sprinkle on the demerara sugar
Bake for 15 minutes until set and golden on top
Leave to cool before splitting in half and serving with jam and whipped vegan cream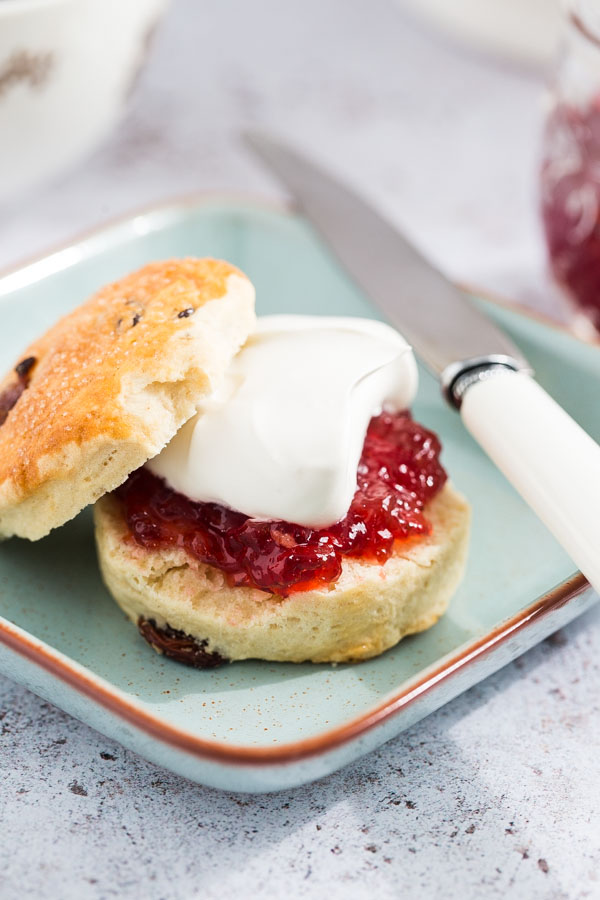 Hello and welcome to The Cook & Him.
We are Sam (The Cook), Phil (Him) and our little dog Nooch. What started with a plan to shed a few pounds back in 2016, soon became obvious that eating healthy doesn't have to be bland and boring.
So, combining Sam's 15 years of experience working within Michelin starred restaurants and our love for deliciously healthy food, we're creating recipes for you to make and enjoy. We've added our own unique spin on traditional and contemporary vegetarian and vegan recipes that keep you (and your pets!) healthy and full.  And we make sure they just work.
All things autumn - warming soups, savoury bakes and delicious sweet treats!
and I would like to see...
Or search for a recipe or post by keyword