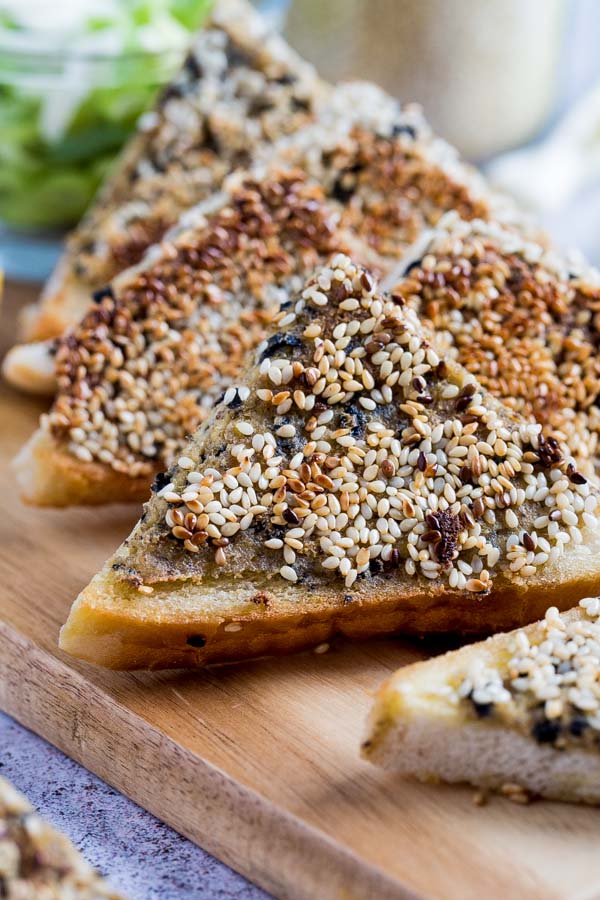 Posted in Recipes on 08.06.2020
Vegan Sesame Prawn Toast
prep: 30 mins / cook: 20 mins / inactive: 0 mins / total: 50 mins / quantity: Serves 4-6 Print recipe?
Homemade and sizzled to crispy, golden perfection, this vegan sesame prawn toast recipe is even better than its more traditional counterpart!
Prawn toast always used to be one of the first things we ordered when getting a Chinese takeaway.  Even though they could sometimes be very hit and miss – ranging from overly greasy to dull and tasteless – there was something about the promise of those crispy little triangles that kept us coming back for more.
And while there really are very very few things I miss as a vegan, sesame prawn toast was definitely one of them.  Not any more!  But I am going to have to ration when I make them because every time I have so far I pretty much inhale 10 triangles before I've even given it a thought!
They're also not as difficult to make as you might imagine and they don't require much time or effort at all.
How to veganise this Chinese takeout classic:
Firstly, I wanted to give the paste a bit of texture but make sure it had enough 'body' to it to actually make a paste and stick to the bread during frying.  I thought about just using tofu or just using mushrooms for the paste but decided that a combination of the two might work.  And boy does it work.  It spreads and sticks like a dream and doesn't fall off the bread when you're frying them.
Start by sauteeing the mushrooms and garlic in a little sesame oil then add to a food processor with the remaining ingredients.
Now you might be wondering how you get that fishy flavour without any actual fish – if you've not heard of them then welcome to the wonderful thing that is nori sheets.  They're paper thin toasted sheets of seaweed and are most commonly used when making sushi.  They're even made using a process that resembles papermaking!  But they give a lovely subtle fishy flavour and open up a whole new culinary world of possibility!
Once you've made the 'prawn' mix it will keep in the fridge for a few days in a sealed container.  Feel free to add more nori to the mix (I used just 2) for a stronger flavour.
Now for the unhealthy bit – there's no getting round the fact that these are fried.  And I really recommend using white bread for that truly 'authentic' prawn toast chinese takeaway vibe!  😀
It's also a great way to use up any leftover or starting to go stale bread.
Is there anything you miss as a vegan?   We live in a better time of it being so much more mainstream than even, say, 5 years ago.  Supermarkets have whole sections dedicated to the vegan hungries.  And I've genuinely not found anything that doesn't actually taste better vegan.  I'm particularly looking at you here Vegan Jaffa Cakes.  And these prawn toasts can be added to that list.  Let me know if there's anything you've found (or can't actually find) that hasn't yet been made or done better as vegan.
Meanwhile, I'll just be over here gently sizzling then inhaling a few more prawn toast triangles.
Don't forget to follow us on Facebook or Pinterest for even more recipe inspiration and chat, competitions, behind the scenes and so much more!
Vegan Sesame Prawn Toast
prep: 30 mins / cook: 20 mins / inactive: 0 mins / total: 50 mins / quantity: Serves 4-6
Ingredients
1 cup (95g) closed cup mushrooms – roughly diced
3 cloves garlic – peeled and crushed
1 tsp sesame oil
1 tblsp vegetable bouillon – or sub with 1 veg stock cube
280g pack firm tofu
1/2 tsp salt
1/2 lemon – juice only
6 medium slices white bread
oil for shallow frying
Instructions
Put the diced mushrooms, crushed garlic and sesame oil into a small frying pan and saute until just softened
Stir in the vegetable stock and remove from the heat
Tip the mushroom mixture into a food processor bowl along with the tofu, nori, tahini, salt and lemon juice and whizz everything to a smooth paste
Divide evenly amongst the 6 slices of bread, spreading thickly on each one
Cut the bread slices into 4 triangles
Put the sesame seeds onto a plate or shallow dish and push each triangle into the sesame seeds. Push quite firmly so the seeds stick well into the paste
Heat a good drizzle of oil in a large frying pan and lay in several of the bread triangles, sesame seed side down
Fry for a few minutes, carefully checking occasionally to see if the sesame seeds are turning golden
Once they're gently coloured carefully turn the toasts over and fry for a couple of minutes on the other side
Drain the prawn toasts on kitchen paper
Repeat with the remaining triangles (see note)
Notes
These prawn toasts are best served within a couple of minutes of frying for best crispness but can be kept warm in the oven while you fry the rest of the batch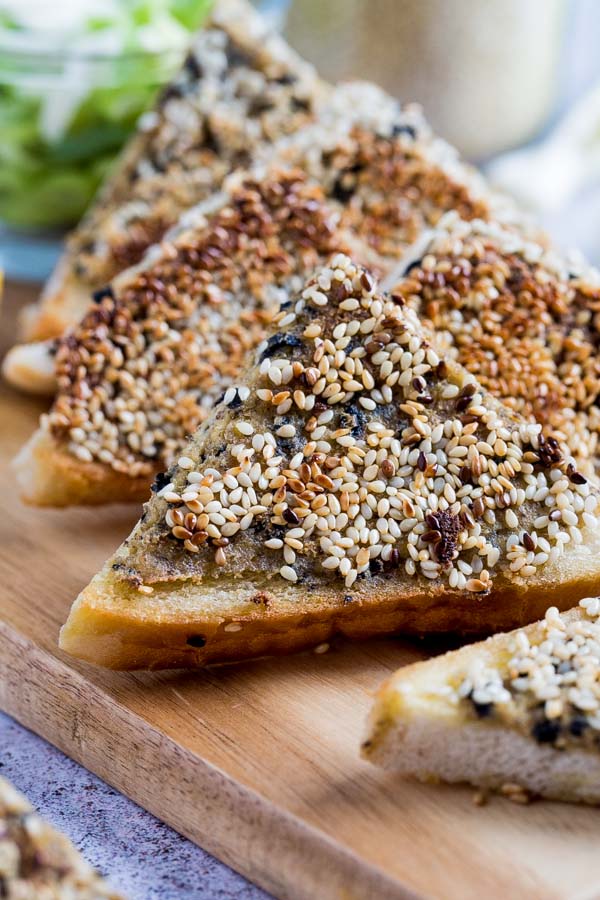 Hello and welcome to The Cook & Him.
We are Sam (The Cook), Phil (Him) and our little dog Nooch. What started with a plan to shed a few pounds back in 2016, soon became obvious that eating healthy doesn't have to be bland and boring.
So, combining Sam's 15 years of experience working within Michelin starred restaurants and our love for deliciously healthy food, we're creating recipes for you to make and enjoy. We've added our own unique spin on traditional and contemporary vegetarian and vegan recipes that keep you (and your pets!) healthy and full.  And we make sure they just work.
All things autumn - warming soups, savoury bakes and delicious sweet treats!
and I would like to see...
Or search for a recipe or post by keyword