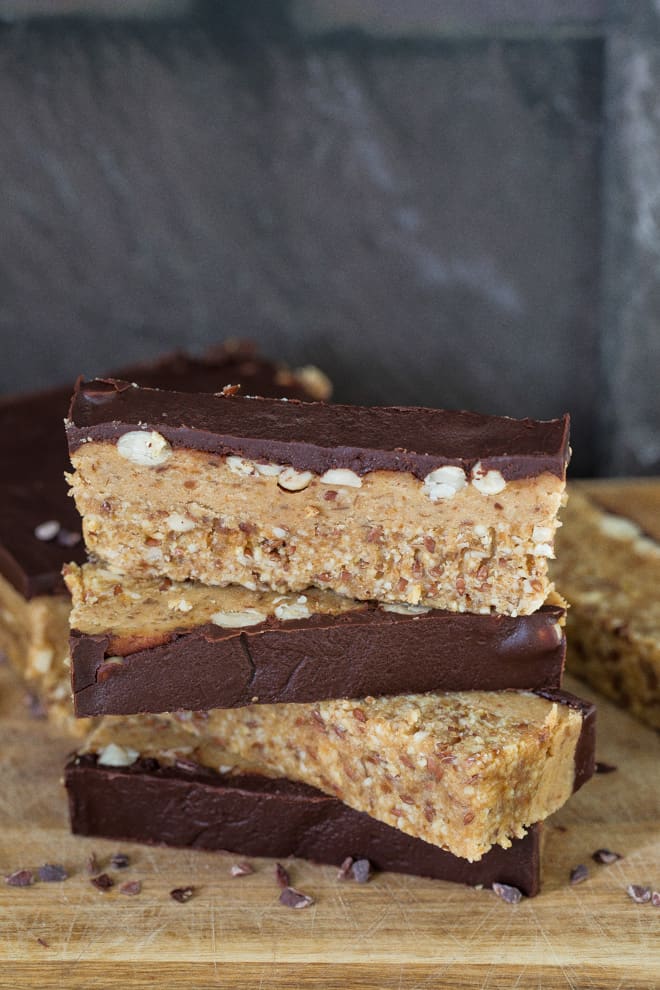 Posted in Recipes on 20.02.2018
Vegan Snickers Bars
prep: 45 mins / cook: 0 mins / inactive: 0 mins / total: 45 mins / quantity: 12 - 15 bars Print recipe?
Anyone else of an age when they remember these things as Marathon Bars?
This is my healthy(er) take on a childhood classic.  All the gooey caramel, nougat softness and jumbo peanut crunch of the original but no refined sugar.  The chocolate topping is also homemade, rather than just melted chocolate for a change of pace!  And SOSO simple as well as completely forget the snickers bit and just let me ladle this stuff into my mouth.  Thanks to Revolution Foods truly awesome Organic Cold Pressed Coconut Oil and Raw Cacao Powder this stuff is DIVINE.  Smooth, rich, unbelievably chocolatey with some cleverly disguised spirulina for yet another healthy slap in the face.
I've always loved Marathon/Snickers bars but these days I find commercial chocolate and candy bars just too sweet.  Like teeth achingly sweet.  Breakfast pastries however I can still eat till the cows come home, but that's another story.
These are another of my deceptively simple to make recipes with just a few truly wholesome ingredients and no unpronounceables.  And you get an absolute truck load of bars out of this one recipe for those mid afternoon munchies that I'm all too familiar with!
Now, you might think 'what the heck is she talking about a truck load if I'm only making it in a loaf tin and not some giant sheet pan'.  Trust me.  These are SO rich and decadent you don't want giant slices – you want dainty, finger slices or even half slices.  Because these things are TALL.  Like needing a flip top head to get your mouth round it tall.
Because sometimes in life you just want to flip top that head and fill it with chocolate, caramel, nougatey nummyness.  Not just me right?
If you make this recipe or any of the recipes from The Cook & Him we'd LOVE to see! Just snap a picture and share it on Instagram using #thecookandhim and tagging @thecookandhim in the photo itself (as this guarantees we'll see your picture!
)
And don't forget to follow us on Instagram , Facebook or Twitter for even more recipe inspiration and chat, competitions, behind the scenes and so much more!
Vegan Snickers Bars
prep: 45 mins / cook: 0 mins / inactive: 0 mins / total: 45 mins / quantity: 12 - 15 bars
Ingredients
Base layer
1 + 1/2 cups cashew nuts
8 organic Medjool dates – stone removed
1/4 cup flax seeds
1/2 cup ground almonds
Caramel layer
8 organic Medjool dates – stone removed
1/4 cup peanut butter
1 tblsp almond milk
1/2 cup blanched whole jumbo peanuts
Topping layer
1/4 cup Revolution Foods Coconut Oil
1 tblsp maple syrup
1/4 cup Revolution Foods Raw Cacao Powder
2 tsp spirulina powder
Instructions
Cut a piece of parchment paper to fit across across the bottom and up the long sides of a 9 x 3 inch loaf tin.  This just makes lifting the finished bar easier to lift out of the tin
For the base layer, put the cashews, 8 stoned dates, flax seeds and ground almonds into a food processor and blitz until very well chopped and blended together
Tip this into your tin and smooth flat with a spatula or the back of a spoon
For the caramel layer, put the next 8 stoned dates, peanut butter and almond milk into the food processor (no need to wash up in between layers!) and blitz until smooth, scraping down the sides of the bowl with a spatula as necessary
Pour this on top of your base making sure the edges reach the corners.  Then evenly sprinkle over the peanuts, lightly pushing into the caramel
For the topping, gently melt the coconut oil with the maple syrup then whisk in the cacao and spirulina powders.  Pour this over the peanuts then put the tin in the fridge for at least an hour to set
Loosen the two short ends from the tin with a knife then use the parchment to lift the whole thing out of the tin.  Cut into bars with a sharp knife
Store in the fridge for up to 1 week
Notes
For clean edges when cutting into bars use a knife dipped in hot water, re-dipping and cleaning the knife between each cut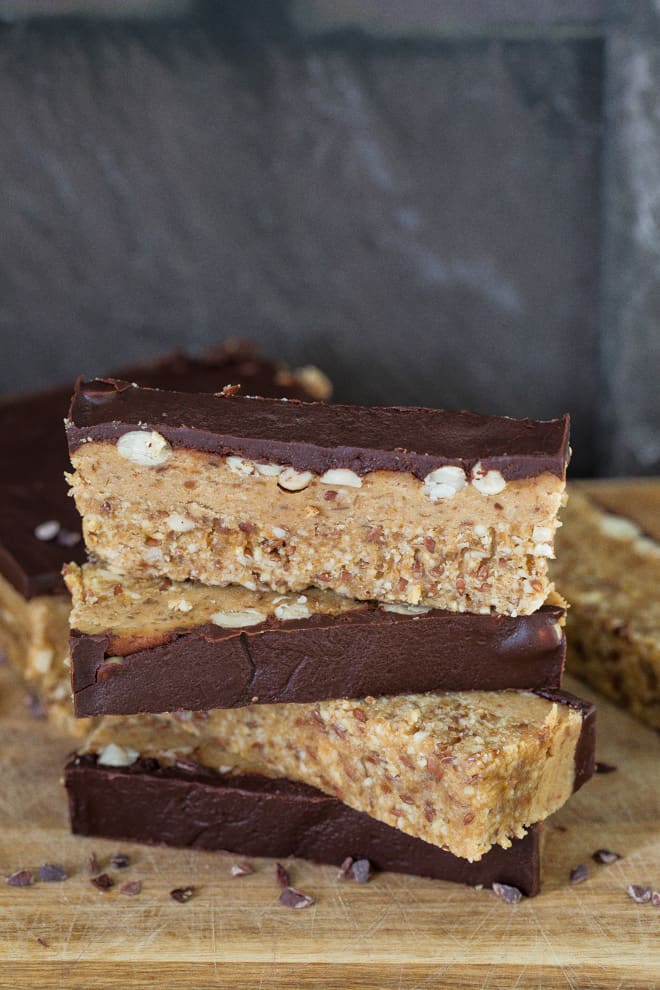 Hello and welcome to The Cook & Him.
We are Sam (The Cook), Phil (Him) and our little dog Nooch. What started with a plan to shed a few pounds back in 2016, soon became obvious that eating healthy doesn't have to be bland and boring.
So, combining Sam's 15 years of experience working within Michelin starred restaurants and our love for deliciously healthy food, we're creating recipes for you to make and enjoy. We've added our own unique spin on traditional and contemporary vegetarian and vegan recipes that keep you (and your pets!) healthy and full.  And we make sure they just work.
All things autumn - warming soups, savoury bakes and delicious sweet treats!
and I would like to see...
Or search for a recipe or post by keyword