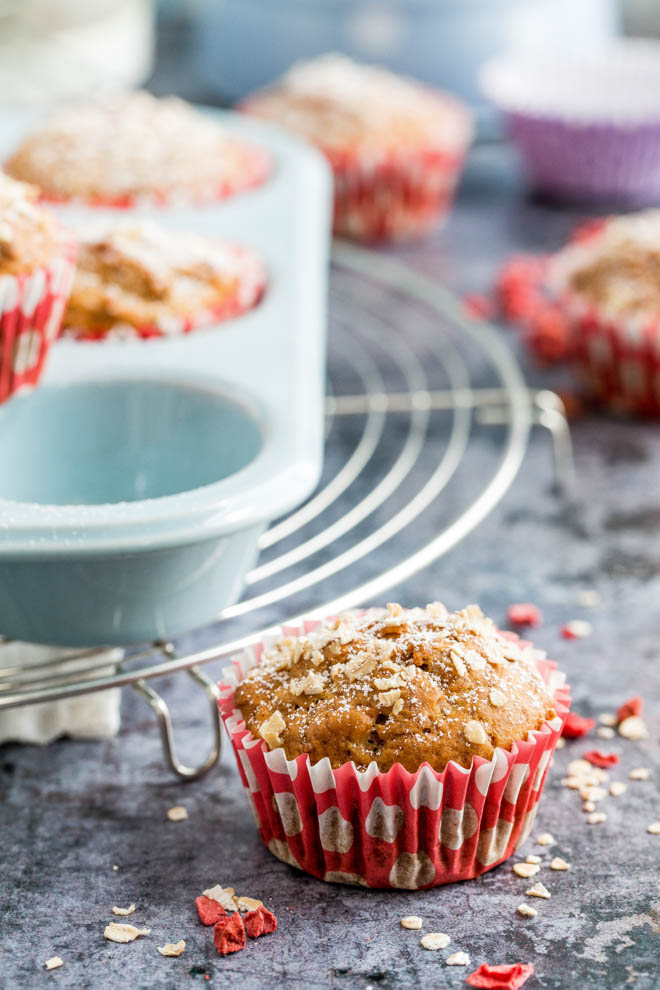 Posted in Recipes on 10.09.2019
Vegan Vanilla and Strawberry Protein Muffins
prep: 15 mins / cook: 25 mins / inactive: 0 mins / total: 40 mins / quantity: 16 - 18 muffins Print recipe?
Light, fruity vegan protein muffins with delicious hints of vanilla. The perfect workout snack or grab and go breakfast for busy mornings!
If you want a protein muffin recipe that's:
Really really easy (one bowl easy)
Has that feel good factor
Is low in sugar (and actually refined sugar free)
Sooo tasty you'll not really want to freeze them for future snacking/breakfast/sweet pick me up situation (yet get those too right?)
Then look no further than these strawberry protein muffins.  They're light and soft with chewy bits of strawberry, kicks of vanilla and a mega boost of vegan protein.  I've used the Vanilla Flavour from Awesome Supplements for these muffins as it has a wonderfully creamy flavour – not artificial at all and not overpowering.
If you've read our Best Vegan Protein Powder Review you'll know by now we did a LOT of research into some of the most popular as well as some of the lesser known vegan protein powders.  As a vegan it really isn't as hard as the sceptics and naysayers would have you believe to get enough protein in our diet.  With Phil going to the gym and weight training as hard as he is though, he's always looking for an extra protein boost and not always from just a drink.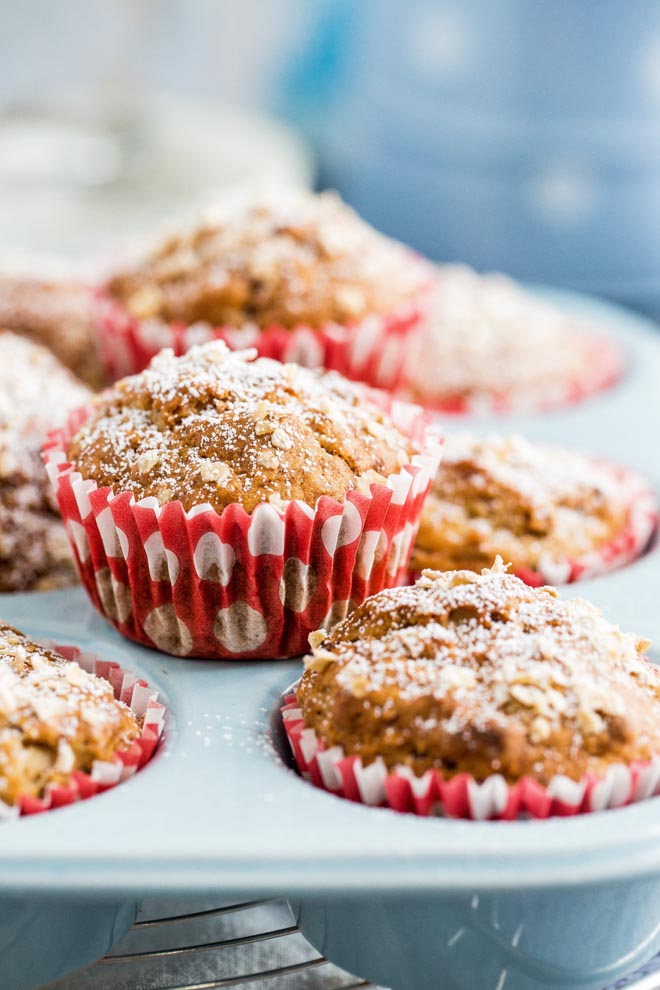 And these protein muffins are a truly delicious little treat.  And super easy to quickly whip up.  I also talk a lot about how food smells.  And man, the smell of these as they baked.  I mean anything baked smells great.  Usually.  But that sweet vanilla with just a hint of those fruity strawberry gems and I was hopping about the kitchen just waiting for the damn things to cook already.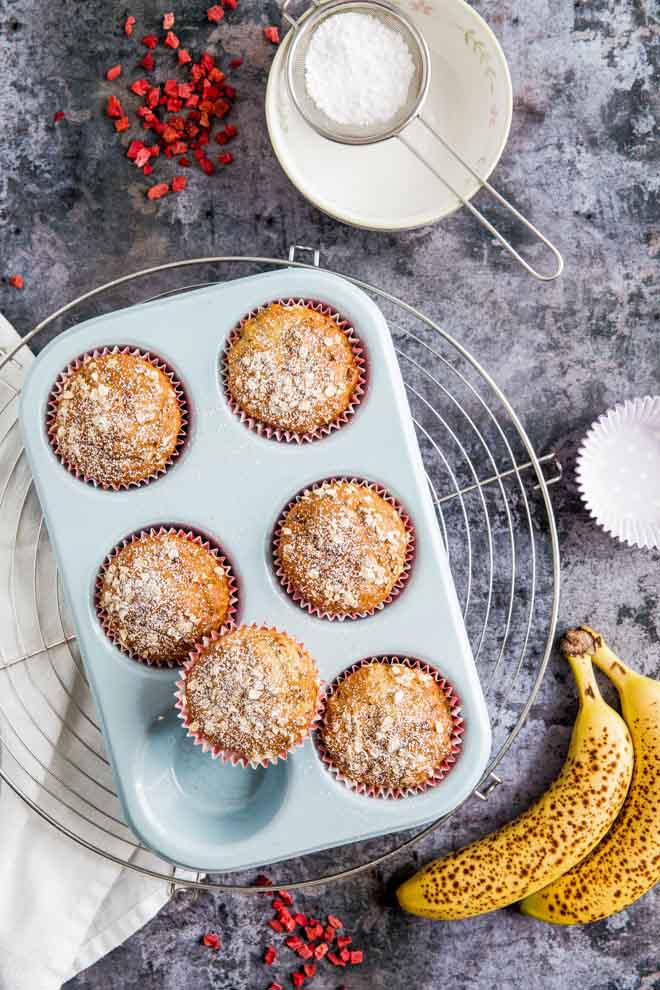 How to make vegan protein muffins
In the land of the perpetually full washing up bowl, one bowl recipes are heroes.  Of course I dirty extra plates to get the lovely "these are all the ingredients" photo.  But on a normal muffin baking day, knowing I can whip up a batch in just a few minutes with one bowl, one fork and one spatula is sorta life saving.
I used freeze dried strawberry pieces rather than fresh strawberries for this recipe because they have such an intense flavour in just tiny pieces.  If you're looking for muffins with fresh strawberries try these Strawberry Chia Muffins (which also have the most divine fresh strawberry frosting!)
I've also been asked a few times why I use vinegar in sweet baking recipes.  The simple answer is that we're looking for the same reaction eggs have in non-vegan baking.  Giving that extra bit of lift and light crumb texture.  Because no-one wants a claggy muffin.  Not even us vegans 😉
So we start by mixing the plant based milk with the vinegar to kickstart the chemical reaction.  This curdles the milk, giving the finished baked muffin that dairy like flavour.
Mash the bananas into the milk, whisk in the sugar and oil  then stir in the dry.  This is where the second chemical reaction takes place – as the bicarbonate of soda also reacts with the vinegar giving us those lovely little pockets of air and light crumb texture.  We then spoon the mix into our muffin cups and bake.  It's as simple as that for perfect light, fruity vegan protein muffins.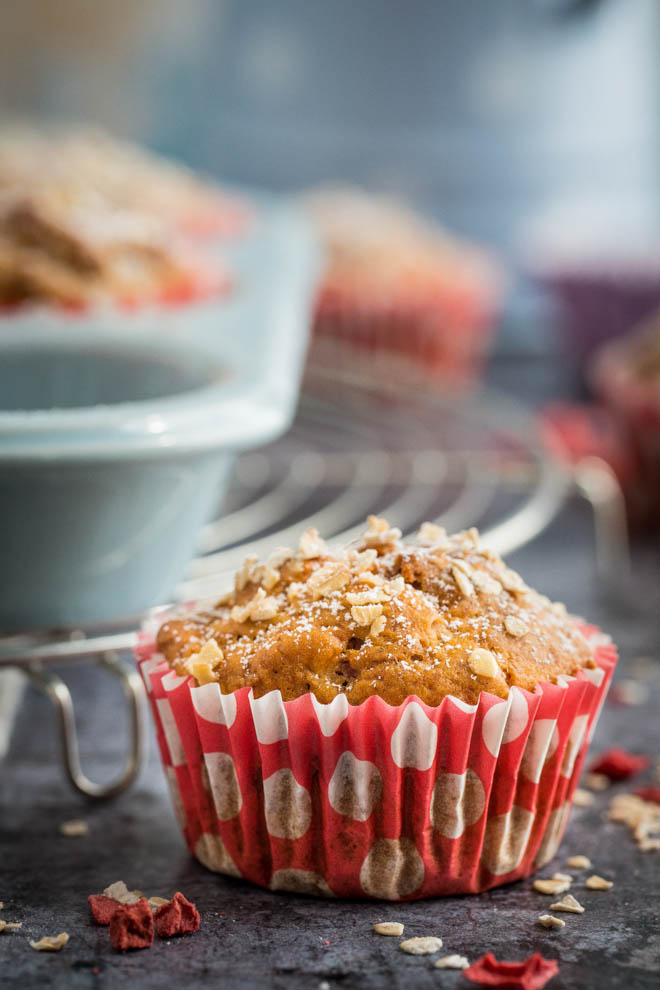 If you make this recipe or any of the recipes from The Cook & Him we'd LOVE to see! Just snap a picture and share it on Instagram using #thecookandhim and tagging @thecookandhim in the photo itself (as this guarantees we'll see your picture!
)
And don't forget to follow us on Instagram , Facebook or Twitter for even more recipe inspiration and chat, competitions, behind the scenes and so much more!
Vegan Vanilla and Strawberry Protein Muffins
prep: 15 mins / cook: 25 mins / inactive: 0 mins / total: 40 mins / quantity: 16 - 18 muffins
Ingredients
1 cup (230ml) unsweetened almond milk
1/2 tblsp apple cider vinegar
2 medium size ripe bananas
1/2 cup (90g) coconut sugar
1/4 cup (50ml) oil – your choice which – I used olive oil, but melted coconut oil, avocado oil and rapeseed (canola) oil should work too
2 cups (300g) plain flour
2 tsp baking powder
1/2 tsp bicarbonate of soda
1/3 cup vegan vanilla protein powder – I used Awesome Supplements
1/2 cup (15g) freeze dried strawberry pieces
Optional:
 a sprinkle of rolled oats for the tops of the muffins
Instructions
Preheat your oven to 180 Fan / 200 C / 400 F / Gas 6 and line 16 muffin holes with cases. Alternatively you can brush a little vegan butter into the muffin cups of the tin, then sprinkle in a little flour. Shake the tin so that the flour coats the butter then tip out the excess
In a large bowl whisk together the milk and vinegar. Leave to stand for 1-2 minutes
Peel the bananas and break into chunks into the large bowl with the milk. Mash with a fork or a potato masher
Whisk in the caster sugar, oil and vanilla
Sift in the flour, baking powder, bicarbonate of soda and protein powder then gently but thoroughly mix together with a rubber spatula. Scrape up from the bottom of the bowl, making sure there are no flour pockets remaining
Stir in the dried strawberry pieces
Evenly divide between the muffin cups, filling each one approx 2/3 full. Sprinkle with a pinch of oats per muffin if using
Bake for 25 minutes until a tooth pick inserted into the centre of one of the muffins comes out clean. If there's any raw cake mixture clinging to the tooth pick return to the oven until cooked
Cool for 5 minutes in the tray then carefully lift out onto a wire rack to cool completely
Store in an airtight container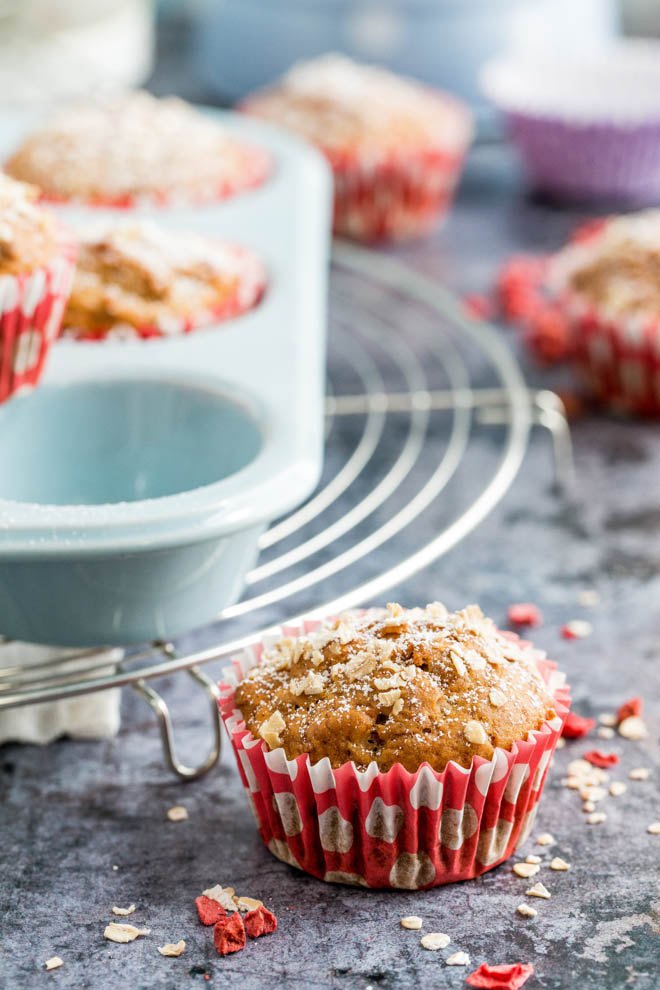 Some products I used in today's post...
Some of the links above are affiliate links, which pay us a small commission for our referral at no extra cost to you! Thank you for supporting The Cook & Him.
Hello and welcome to The Cook & Him.
We are Sam (The Cook), Phil (Him) and our little dog Nooch. What started with a plan to shed a few pounds back in 2016, soon became obvious that eating healthy doesn't have to be bland and boring.
So, combining Sam's 15 years of experience working within Michelin starred restaurants and our love for deliciously healthy food, we're creating recipes for you to make and enjoy. We've added our own unique spin on traditional and contemporary vegetarian and vegan recipes that keep you (and your pets!) healthy and full.  And we make sure they just work.
All things autumn - warming soups, savoury bakes and delicious sweet treats!
and I would like to see...
Or search for a recipe or post by keyword