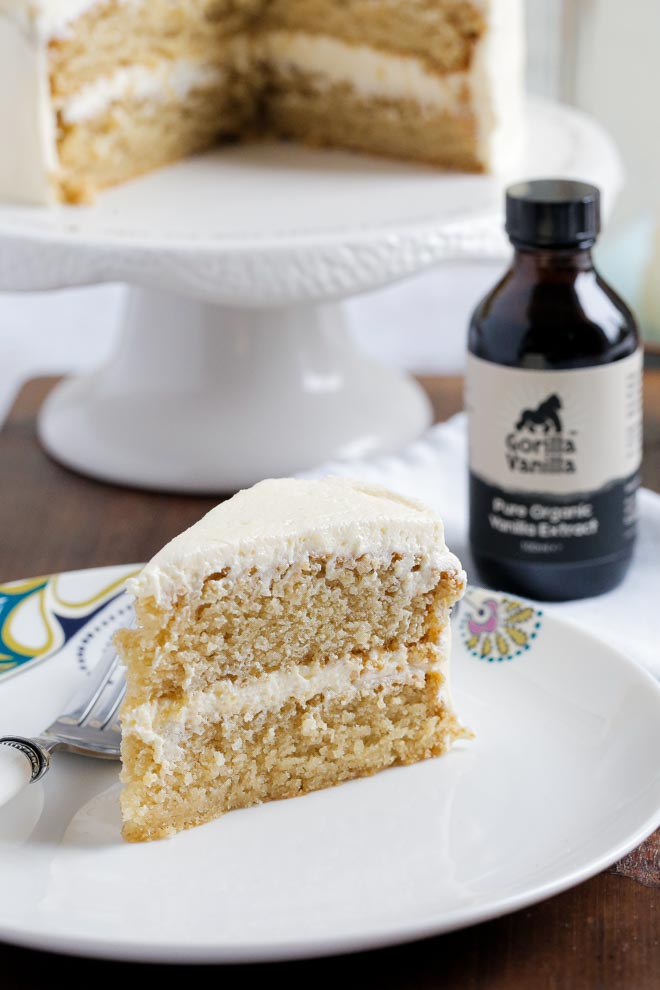 Posted in Recipes on 20.06.2020
Vegan Vanilla Cake
prep: 30 mins / cook: 30 mins / inactive: 60 mins / total: 2 hours 0 mins / quantity: 1 x 8 inch cake (10 good size slices) Print recipe?
Deliciously light vegan vanilla cake absolutely packed full of sweet vanilla flavour – everything you want from a sponge cake! You'd never know it's vegan either!
Are you a cake person?  I think I've always been a cake person.  Decorated or plain (I literally don't care) as long as it's soft and sweet.  Sometimes life poses problems that only tea and cake can answer.  And this vegan vanilla cake most definitely has ALL the answers.
For a start it's two layers.  Which equals extra buttercream.  Win.
It's fluffy, dreamy and oh so squidgily moist and TOTALLY delivers on vanilla flavour.
I always try not to skimp on vanilla.  If something is claiming to be vanilla it had damn well better be VANILLA.  And if you've followed us for a while you'll have heard me mention Foodie Flavours once or twice.  I LOVE them.  SO MUCH flavour from a tiny little bottle.  The perfect way to incorporate rich, unctuous flavour without altering a recipe.
And I'm so happy to announce they've added a brand new pure organic vanilla extract to their collection.  But this isn't any 'ole vanilla extract.  Nuh-uh.
The beans are grown in Uganda by a group of farmers working to organic standards where they're harvested in a way that optimises the vanillin content giving a stronger, richer vanilla flavour.  By sourcing the ingredients from these growers Foodie Flavours are supporting the local farming community which has, in turn, a positive effect on the peaceful lives of the Ugandan gorillas.  Wins #2 and #3.
Now I don't very often make elevated claims to have "the world's best recipe" or "this recipe will change your life" or "this is the only recipe you'll ever need".  But honestly, this really is the only vegan vanilla cake recipe you'll ever need!  Got a birthday?  Poke some candles into the buttercream frosting and you're set!  Celebrating something?  Scatter over some candy sprinkles and edible glitter and get your celebrating pants on!  Fancy a spot of afternoon tea?  Dip some strawberries in chocolate and delicately plonk on top of your cake.  For extra strawberryness slice some and put inside the cake with the buttercream filling.
Another exception to the elevated claims rule is this Chocolate Pie.  Honestly, make it.  I'm not even kidding how utterly perfect it is.
How to make the only vegan vanilla cake recipe you'll ever need:
To keep the cake super squidgy I've used aquafaba.  Yes it's the liquid from a can of chickpeas.  No you ABSOLUTELY CANNOT taste it in your finished cake.  Just trust me on this ok?  Aquafaba is a miracle liquid.  It makes the best vegan meringue and it's whipped to just frothy here to help keep this vanilla cake super soft and moist.
Other than the aquafaba this is a pretty standard cake mix.  I wanted to keep the flavour rich and buttery so I've used vegan butter.  You can also use the softer vegan spread or margarine – the taste will still be lovely and will be easier to mix if you don't have a stand mixer.
The butter is beaten to make it light and fluffy and you then alternate adding the frothy aquafaba, the dry ingredients and the other wet ingredients.  The final batter itself is quite wet and, like these Blueberry Muffins, it helps keep the cake moist and gooey.  If you're looking for a lighter, more airy cake I recommend this Vegan Victoria Sponge or even this Vegan Chocolate Cake (which is actually lighter than air.  Fact.)
How to make easy vegan buttercream frosting:
I really recommend using the block type butter for this rather than the tub spread or margarine.  If you're making the frosting by hand you'll also want to have the block butter at room temperature – so take it out of the fridge the day before you want to frost the cake.  Unless you have muscles like Popeye of course.
The softer spread is too soft and doesn't hold its shape well when you cut into the cake.  Squidge on top of squidge does not a pretty slice of vegan cake make.  I also like to beat the butter with the icing sugar a LOT.  Doing this makes it very pale and fluffy.  And even more darn edible.  Anyone else a frosting spatula licker?
I'd love to tell you how long this cake lasts but out of the three times I've made it now it's not lasted longer than a couple of days – once because we took it to share with Phil's brother and partner but mostly because Phil has hollow legs and is quite happy to cycle an extra 10 miles of post cake indulgence calorie burning.
I'd love to hear from you if you make this vegan vanilla cake – just leave a comment as it's so helpful and I love to hear how the recipe worked out for you!  Thank you so much 🙂
Don't forget to follow us on Facebook or Pinterest for even more recipe inspiration and chat, competitions, behind the scenes and so much more!
Vegan Vanilla Cake
prep: 30 mins / cook: 30 mins / inactive: 60 mins / total: 2 hours 0 mins / quantity: 1 x 8 inch cake (10 good size slices)
Ingredients
Cake:
1 cup (24 0ml) unsweetened non-dairy milk
1 tsp lemon juice (or apple cider vinegar)
1/2 cup (115g) vegan butter
1 + 1/2 cups (260g) caster sugar
1/4 cup (50 ml) light vegetable oil
2 cups (300g) plain flour
1 tblsp baking powder
1/2 tsp bicarbonate of soda
1/2 cup (130g) aquafaba – the drained water from a 400g can of chickpeas
Frosting:
1 cup (230g) vegan block butter (not margarine)
2 cups (360g) icing sugar
1-2 tblsp unsweetened non-dairy milk
Instructions
Preheat your oven to 160 Fan / 180 C / 350 F / Gas 4 and grease and base line 2 x 8 inch (20 cm) cake tins
For the cake put the milk and lemon juice (or vinegar) into a jug, whisk and set aside
Using a stand mixer with the paddle attachment (or by hand with a wooden spoon) beat together the butter and caster sugar
In a bowl sift together the flour, baking powder and bicarbonate of soda and set aside
To the milk and lemon whisk in the oil and vanilla
Drain the liquid from the chickpeas into a medium bowl and using an electric whisk beat for 2 minutes until light and very foamy
To the beaten butter and sugar add half the flour, half the milk mixture and half the aquafaba and beat together until just incorporated. Repeat with the other half of the ingredients
Divide equally between the two prepared tins and bake for 30-35 minutes until golden, risen and a cocktail stick inserted in the centre of the cakes comes out clean with no raw cake mixture clinging to it
Leave to cool in the tin for 10 minutes then carefully tip out onto a cooling rack to cool completely
Wbile they're cooling make the frosting by beating together the butter, icing sugar and vanilla until very pale and fluffy, adding a little milk if the mixture feels too stiff to spread
Put one of the cakes onto your serving plate or cake stand and spread over roughly 1/3 of the frosting, speading out to cover the cake
Top with the other cake and the remaining frosting, spreading it out to cover the tops and sides of the cake
Serve immediately or store in an airtight container for up to 4-5 days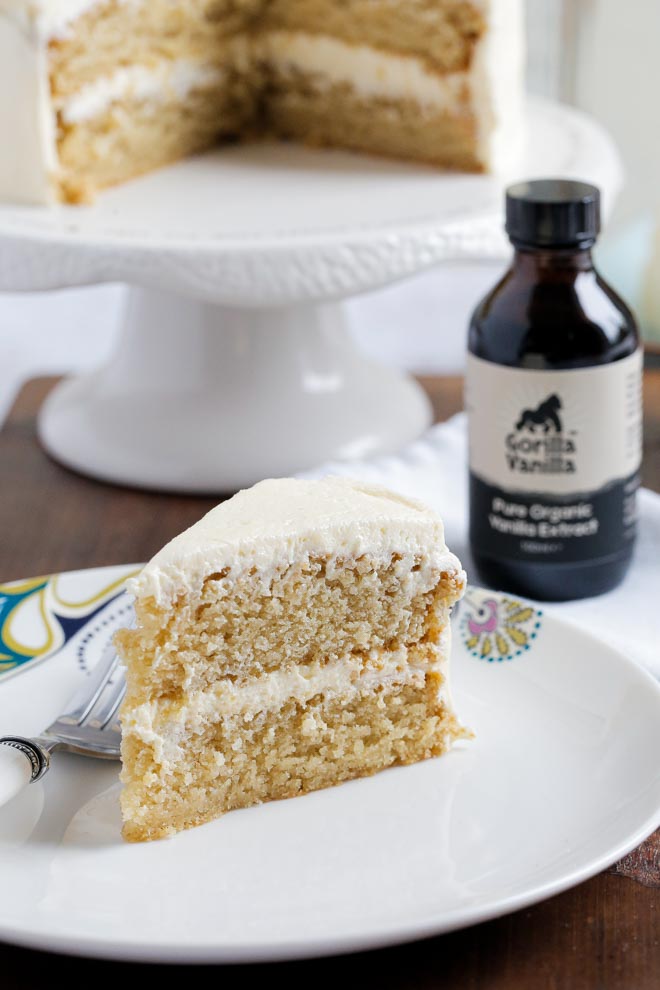 Hello and welcome to The Cook & Him.
We are Sam (The Cook), Phil (Him) and our little dog Nooch. What started with a plan to shed a few pounds back in 2016, soon became obvious that eating healthy doesn't have to be bland and boring.
So, combining Sam's 15 years of experience working within Michelin starred restaurants and our love for deliciously healthy food, we're creating recipes for you to make and enjoy. We've added our own unique spin on traditional and contemporary vegetarian and vegan recipes that keep you (and your pets!) healthy and full.  And we make sure they just work.
All things autumn - warming soups, savoury bakes and delicious sweet treats!
and I would like to see...
Or search for a recipe or post by keyword