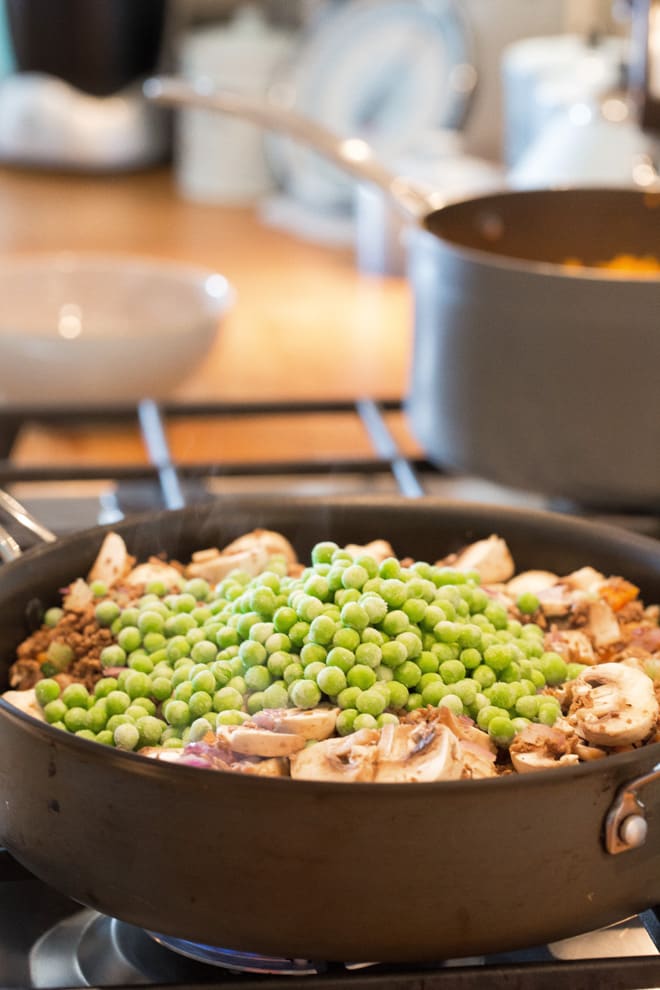 Posted in Recipes on 07.11.2017
Vegetarian Shepherd's Pie with Sweet Potato Mash
prep: 20 mins / cook: 50 mins / inactive: 0 mins / total: 1 hour 10 mins / quantity: 4-6 portions Print recipe?
I tell you, give me a big bowl full of this, a fork (no knife needed) and an episode of The Walking Dead (hey, no judgements, I like my food with fake blood and drama!) and I'm in sensory heaven!
I also love food that I can make ahead and that stretches over a few meals.  It's comforting knowing that when either time has completely got away from me or I've had enough of cooking (yep, it happens!) that there's something hearty, filling and pretty darn healthy sitting waiting for us.  And home made comfort food, my friends, is THE perfect antidote to over indulgence.
Let't talk about the ingredients:
Red onions – mild and sweet but with a low glycemic index which helps the body store less fat
Celery – an excellent source of antioxidants
Carrots – vitamin rich
Garlic – great for blood and heart health
Mushrooms – also high in antioxidants – helps to support the immune system and prevent damage to cells and tissues
Sweet potatoes – They have more Vitamin C, fewer calories, more fibre and, despite more sugar, fewer overall carbohydrates than white potatoes. The soluble fibre in the flesh of the sweet potato slows down digestion and helps manage weight.
Passata – tomatoes contain impressive amounts of vitamin A, C, and K
Herbs and spices
Soy mince – a very good source of protein, B vitamins and minerals.  I've used both Quorn Meat Free Mince and Tesco Meat Free Mince – the Tesco one honestly tastes pretty good.  Bear in mind soy based products normally have a neutral flavour on their own and 'adopt' the flavours of whatever they're paired with – the rich vegetable and tomato sauce in this case.
Isn't it great that comfort food can also be so good for you?!  Oh, OH!  And it tastes so great too – confirmed meat eaters will thoroughly enjoy this without even realising it's not meat.  Of all soy substitutes for meat, soy mince seems to be the most like its counterpart in terms of texture.
If you make this recipe or any of the recipes from The Cook & Him we'd LOVE to see! Just snap a picture and share it on Instagram using #thecookandhim and tagging @thecookandhim in the photo itself (as this guarantees we'll see your picture!
)
And don't forget to follow us on Instagram , Facebook or Twitter for even more recipe inspiration and chat, competitions, behind the scenes and so much more!
Vegetarian Shepherd's Pie with Sweet Potato Mash
prep: 20 mins / cook: 50 mins / inactive: 0 mins / total: 1 hour 10 mins / quantity: 4-6 portions
Ingredients
4-5 large sweet potatoes
2 red onions – peeled and finely diced
2 sticks celery – diced small
1 large carrot – scrubbed or peeled and diced small
3 large cloves garlic – crushed
couple of drizzles of olive oil
300g closed cup or chestnut mushrooms – thickly sliced
400g soy mince
500g passata
200ml veg stock (or 2 veg stock cubes and 200 ml water)
2 tblsp tomato puree
1/2 tsp dried thyme
1 tsp smoked paprika
1/2 tsp dried thyme
salt and pepper
Instructions
Preheat the oven to 180 Fan / 200 C / 400 F / Gas 6
Peel and dice the sweet potatoes into medium chunks.  Put into a saucepan, cover with boiling water, add a pinch of salt and boil for 10-15 minutes till the potatoes are soft
While the potatoes are boiling start cooking your veg.  Heat a drizzle of olive oil in a large frying pan then add the diced onion, celery, carrot and minced garlic and gently soften over a medium heat for 10 minutes, stirring occasionally
Once the potatoes are cooked, drain well, return to the saucepan and mash with a potato masher along with plenty of salt and pepper and a drizzle of olive oil
To your frying pan of veg add the sliced mushrooms and cook for another 5 minutes.  Then add the soy mince and cook, stirring occasionally for a further 5 minutes
Pour in the passata and veg stock then stir in the tomato puree, thyme and paprika.  Bring to the boil then add the petit pois and bubble for a final 2-3 minutes.  Carefully taste (it will be hot!) and season
Tip the whole lot into a large serving dish, flattening evenly then spread the sweet potato mash over the top.  At this stage you can let it cool then chill and keep in the fridge for up to 1 week.  Alternatively pop into your warmed oven for 30 minutes until bubbling
Serve immediately.  We like this with some simple steamed green vegetables and/or roast parsnips
Notes
If you chill this or want to reheat leftovers, cook for around 40 minutes and make sure it's piping hot in the middle before serving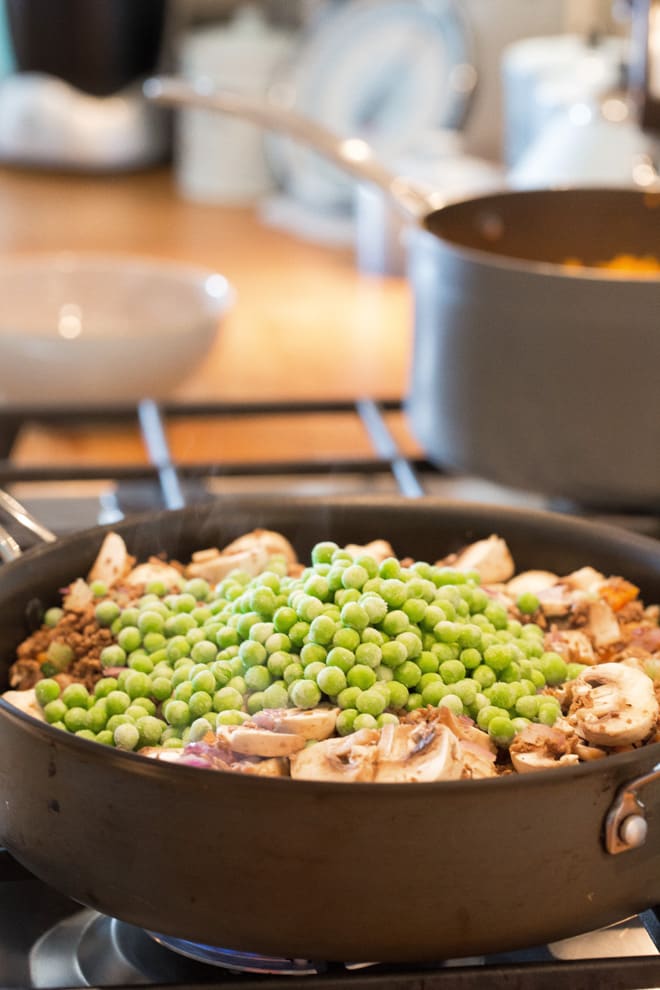 Hello and welcome to The Cook & Him.
We are Sam (The Cook), Phil (Him) and our little dog Nooch. What started with a plan to shed a few pounds back in 2016, soon became obvious that eating healthy doesn't have to be bland and boring.
So, combining Sam's 15 years of experience working within Michelin starred restaurants and our love for deliciously healthy food, we're creating recipes for you to make and enjoy. We've added our own unique spin on traditional and contemporary vegetarian and vegan recipes that keep you (and your pets!) healthy and full.  And we make sure they just work.
All things autumn - warming soups, savoury bakes and delicious sweet treats!
and I would like to see...
Or search for a recipe or post by keyword