Posted in Recipes on 17.08.2017
Chia Seed Protein Pancakes
prep: 10 mins / cook: 15 mins / inactive: 0 mins / total: 25 mins / quantity: 6 pancakes Print recipe?
Here we have another one of those one-bowl-wonders that I'm always talking about!  And one of our favourite weekend breakfasts – that magical time when we actually get breakfast together which NEVER happens on a weekday.  Ordinarily we're practically addicted to oats – be they overnight oats or even chocolatey/fruity baked oats –  because they're just so convenient and filling and SO easy to make taste great!  But when we have a bit of extra time at the weekend we often have these pancakes because …
One bowl loveliness
I'm a true believer that the recipes I put up here should be what we eat every day and not just a random one off so I could take a pretty photo!
With all the cooking I do on a daily basis, these are so easy that Phil not only makes them but enjoys making them and I get to sit on my bum and enjoy warm, thick, crispy and naturally sweet pancakes 🙂
Now this is a very different batter to normal pancake batter – in looks and texture.  The chia seeds absorb a lot of the liquid, but the pancakes fluff up just as lovely and are naturally sweet as well as being gluten free!
The batter doesn't pour so we use a very large spoon to dollop it into the hot frying pan then use the back of the spoon to spread it out enough to get a decent sized pancake that's not so thick it won't cook all the way through before being burnt to a crisp on the outside!
The batter makes 6 pretty generous sized pancakes and we cook 3 at a time meaning I get to eat mine while Phil cooks his, yay me!
The trick is finishing mine just in time as he's finished cooking his so you only need one plate – even more saving on the washing up.  You're welcome 😉
You can also dispense with unnecessary cutlery and just use fingers of course.
And it's practically mandatory that you pull lots of silly faces as you tuck into these warm and crispy bits of healthy breakfast heaven.
You're then free to go about the rest of your day with a nicely full belly.
Oh and psssst .. these go disgustingly well with this Chia Seed & Berry Jam!
Chia Seed Protein Pancakes
prep: 10 mins / cook: 15 mins / inactive: 0 mins / total: 25 mins / quantity: 6 pancakes
Ingredients
2 ripe bananas
2 eggs
1 ½ tblsp chia seeds
1 tblsp coconut flour
2 ½ tblsp ground almonds
1 tsp baking powder
1 tblsp almond milk
2 tsp hemp protein powder
Instructions
Peel the bananas, break into chunks into a medium sized bowl and mash with a fork.
Crack in the eggs and give a quick whisk with the fork.
Add the rest of the ingredients and mix well then leave to stand for just a few minutes while the chia seeds swell and absorb some of the liquid.
Heat a large frying pan over a medium heat and melt in some olive oil, butter or coconut oil then heap in spoonfulls of the pancake mixture, spreading slightly with the back of the spoon.
Cook 2-3 minutes till the bottom has set enough that the pancakes can be lifted and turned with a metal spatula or fish slice.
Cook a further 1-2 minutes (or a little longer if, like us, you like yours a bit crispy!)
Notes
We find these just as tasty 'commando' as when spread with a little of our Chia Seed & Berry Jam ;)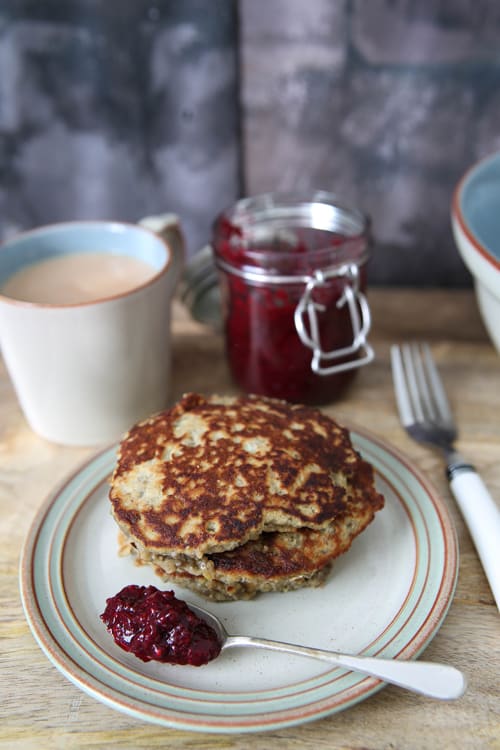 Hello and welcome to The Cook & Him.
We are Sam (The Cook), Phil (Him) and our little dog Nooch. What started with a plan to shed a few pounds back in 2016, soon became obvious that eating healthy doesn't have to be bland and boring.
So, combining Sam's 15 years of experience working within Michelin starred restaurants and our love for deliciously healthy food, we're creating recipes for you to make and enjoy. We've added our own unique spin on traditional and contemporary vegetarian and vegan recipes that keep you (and your pets!) healthy and full.  And we make sure they just work.
All things autumn - warming soups, savoury bakes and delicious sweet treats!
and I would like to see...
Or search for a recipe or post by keyword