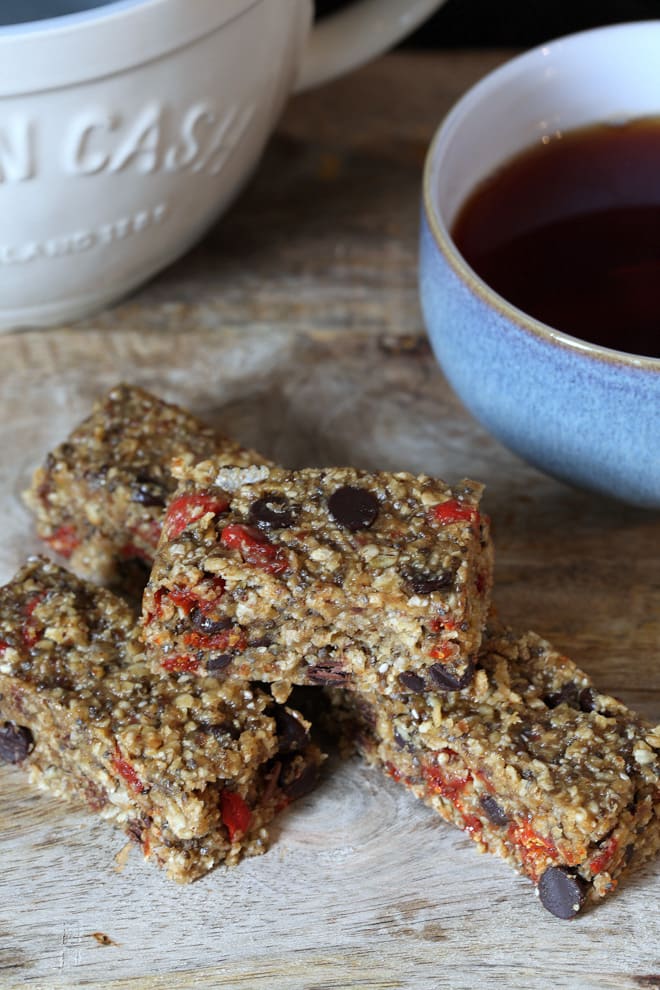 Posted in Recipes on 02.01.2018
Peanut Butter Protein Bars
prep: 20 mins / cook: 0 mins / inactive: 0 mins / total: 20 mins / quantity: 16 - 20 bars Print recipe?
First time I made these it was a proper experiment.  I'm talking kitchen alchemy here.  I had pots of this, tubs of that and jars of the other.  There was a literal moment I felt like Mickey Mouse in Fantasia.  And I had absolutely NO idea how these would turn out.
Would they be sweet enough?  Or would they be too sweet?  Would they set or would they remain the gloopy goo that went in the fridge?
You can taste things as you go along and as I scooped my finger through the gloopy goo and tasted I let out an actual groan of satisfaction.  But things can change once they're 'sat' for a while.  Flavours can get muddled.  Textures can alter and not always in a good way.
But this time the birds sang, the angels wept and the next day when I took these out of the fridge to cut them up they were absolutely perfect.  Yay for kitchen alchemy!!
They're firm but soft.  Moist but not wet.  And the flavours.  Oh man, the flavours.  There's that wonderful oaty texture as the base.  Then there's sweet goji berries.  There's peanut butter.  There's chocolate chips.  And then there's the amazing things that are Revolution Foods Hemp Protein Powder and Organic Chia Seeds.
Phil and I have been incorporating superfoods in our diets for some time now.  And we juice a LOT so it's not hard to chuck a spoonful of something or other into them.  But it's winter and sometimes you don't want a belly full of cold liquid when it's -4 outside so I'm always looking for ways to use these amazing ingredients in something other than a juice.
So why not baking?  Except this isn't baking as it's raw.  So why not raw baking??!
Here are some items I used to make today's recipe.
If you make this recipe or any of the recipes from The Cook & Him we'd LOVE to see! Just snap a picture and share it on Instagram using #thecookandhim and tagging @thecookandhim in the photo itself (as this guarantees we'll see your picture!
)
And don't forget to follow us on Instagram , Facebook or Twitter for even more recipe inspiration and chat, competitions, behind the scenes and so much more!
Peanut Butter Protein Bars
prep: 20 mins / cook: 0 mins / inactive: 0 mins / total: 20 mins / quantity: 16 - 20 bars
Ingredients
Instructions
Line a 9 x 9 inch tin or dish with a piece of parchment or cling film, covering the base and coming up the sides.  This just makes it easy to lift the set bars out of the tin!
In a food processor or using the grinder attachement of a blender blitz 1 + 1/2 cups of the oats and all of the flax seeds and blend until it looks like flour
Tip this into a large bowl along with the remaining 1/2 cup of unblended oats, the hemp protein powder, chia seeds, dark chocolate chips and goji berries and give it all a good stir
In a smallish bowl or jug stir together the peanut butter, almond milk and maple syrup till you have a smooth 'paste' then add this to the bowl of dry ingredients
Mix everything well until fully incorporated together
Tip into your prepared dish or tin and smooth/push out to the corners making it flattened and level as you go
Put in the fridge.  It takes several hours to set enough to cut the bars evenly and is better left overnight.  But if you can't wait and you don't care about nicely cut bars you can enjoy this whenever - the taste doesn't change, just the texture!
Notes
If you make this and enjoy it but are put off by having to regrind the oats, next time grind the oats and flax and put in a lidded container along with the other dry ingredients.  It means the next time you make them all you have to do is stir through the wet ingredients
I actually make 2-3 extra tubs of the weighed out dry ingredients as there's rarely a week goes by this isn't in our house or I'm making it for fellow addicts ?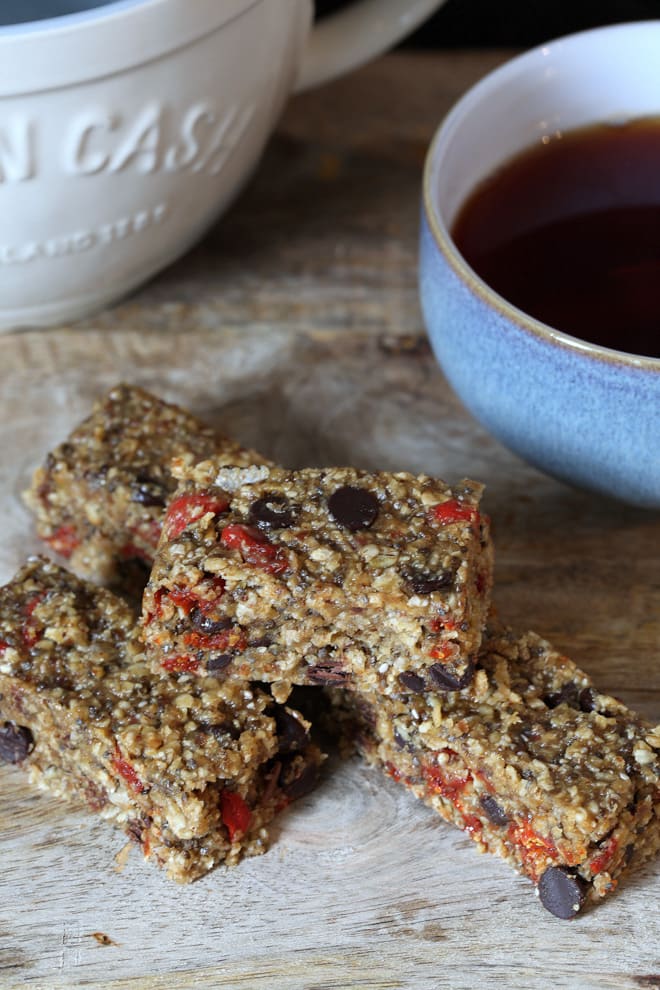 Hello and welcome to The Cook & Him.
We are Sam (The Cook), Phil (Him) and our little dog Nooch. What started with a plan to shed a few pounds back in 2016, soon became obvious that eating healthy doesn't have to be bland and boring.
So, combining Sam's 15 years of experience working within Michelin starred restaurants and our love for deliciously healthy food, we're creating recipes for you to make and enjoy. We've added our own unique spin on traditional and contemporary vegetarian and vegan recipes that keep you (and your pets!) healthy and full.  And we make sure they just work.
All things autumn - warming soups, savoury bakes and delicious sweet treats!
and I would like to see...
Or search for a recipe or post by keyword