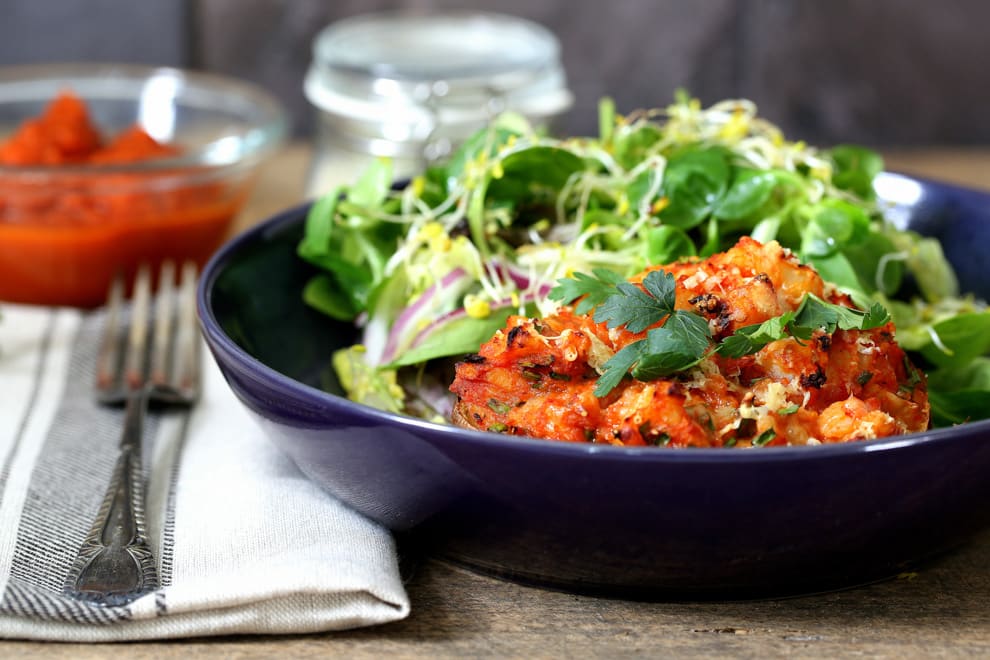 Posted in Recipes on 01.11.2017
Pizza Jacket Potatoes
prep: 15 mins / cook: 2 hours 0 mins / inactive: 0 mins / total: 2 hours 15 mins / quantity: 1 portion Print recipe?
Do you know anyone who doesn't love pizza?  I mean it's just a giant open sandwich with extra drippy melted cheese.  And like a sandwich you can chuck whatever you want on it, no matter what your weird combinations might be.  I love it all, but my body doesn't.  When we do have those completely can't be arsed days pizza is generally what we turn to but the next day I feel like I'm full of cement.  Sluggish, low energy and generally guilty.
So I wanted something that gave me all the flavours and – let's face it – satisfaction of pizza but with far less stodge.  Enter the humble potato.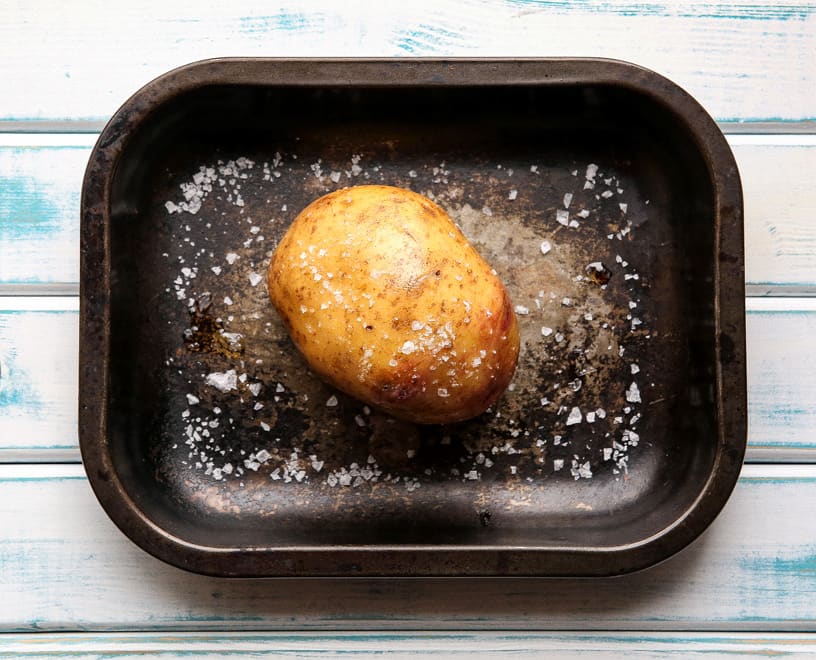 There are a gajillion different ways you can bake a jacket potato.  And, like making a cup of tea, everyone has their own foolproof method.  But for this recipe, microwaved jackets just don't work.  You want a crispy skin that stands up to having its innards scooped out then put back in.  And that crisp skin is so full of texture and flavour (and downright goodness) you really don't want to miss out.
Ms Meg agrees.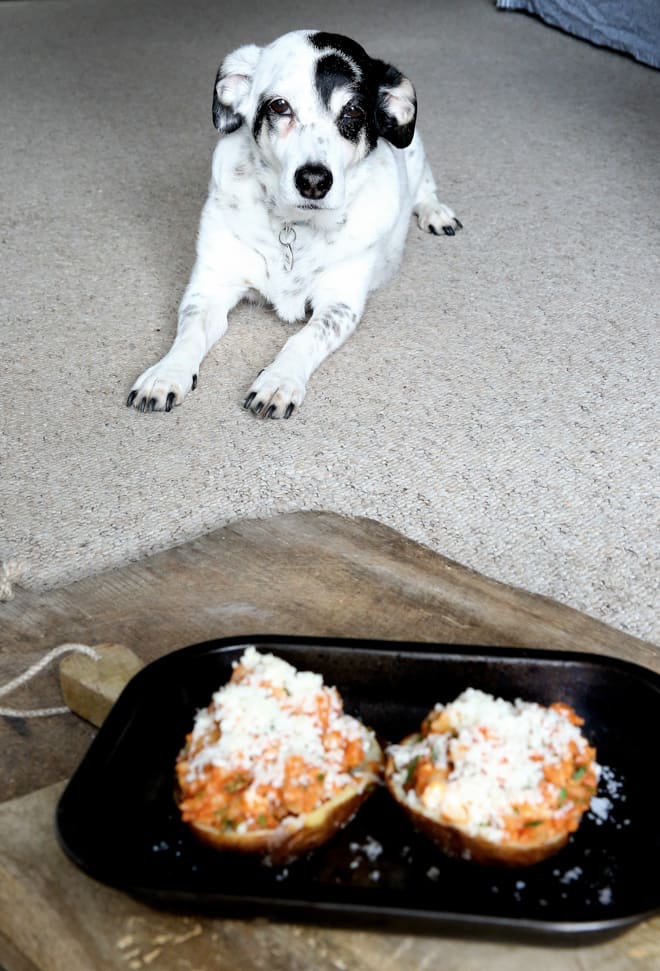 I've also been known to make something completely from scratch, take all the relevant photographs and do all the inevitable cleaning up with my clothes on inside out.
I digress.
If you want this supremely comfort type food to be as pizza unctuous as possible I really recommend making this Marinara Sauce.  It's SO simple, just 7 ingredients and 1 saucepan.  And you HAVE to include mozzarella because stringy cheeseness!  The rest is largely up to you – I like to keep it simple, just the potato flesh, the Marinara Sauce, mozzarella, a handful of chives, a dash of pesto and a final flourish of parmesan.  Pass the fork please ?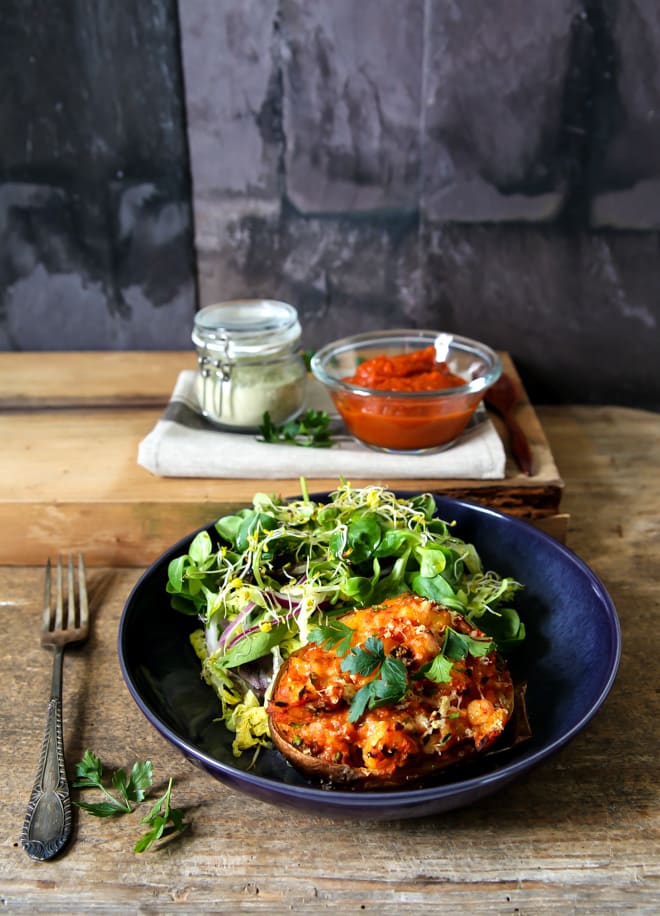 If you make this recipe or any of the recipes from The Cook & Him we'd LOVE to see! Just snap a picture and share it on Instagram using #thecookandhim and tagging @thecookandhim in the photo itself (as this guarantees we'll see your picture!
)
And don't forget to follow us on Instagram , Facebook or Twitter for even more recipe inspiration and chat, competitions, behind the scenes and so much more!
Pizza Jacket Potatoes
prep: 15 mins / cook: 2 hours 0 mins / inactive: 0 mins / total: 2 hours 15 mins / quantity: 1 portion
Ingredients
1 large baking potato
Drizzle of olive oil
3 tblsp of Marinara Sauce
Handful of chopped chives
50g half-fat mozzarella – torn into small pieces
Salt and pepper
Grated parmesan
Optionals
pesto, spring onions, olives, sweetcorn, cherry tomatoes, sun dried tomatoes, peppers, mushrooms, jalapenos etc
Instructions
Preheat the oven to 180 Fan / 200 C / 400 F / Gas 6
Scrub your potato to remove any dirt, pat dry, prick all over with a knife or fork then rub the skin with a little olive oil.
Place in a baking tray, sprinkle over some salt then bake for 1 – 1 ½ hours – test if it's done by poking with a pointed knife – the skin should be crispy and the flesh soft. Cook for a little longer if necessary.
Leave the potato to cool slightly (or completely if you want to finish it later) then cut it in half lengthways.
Using a spoon, scoop out the flesh into a bowl, being careful not to tear the skin. Lay the empty skins back in the baking tray
To the potato flesh add the marinara sauce, chopped chives, mozzarella pieces and seasoning to taste and give it all a good mix together.
At this point feel free to add any of your own pizza flavours – pesto, spring onions, olives, sweetcorn, cherry tomatoes, sun dried tomatoes, peppers, mushrooms, jalapenos etc
Spoon the mixture back into the empty skins, sprinkle with grated parmesan and bake at the same temperatures as above for 30-40 minutes till piping hot.
Notes
Cool and chill the baked potatoes ready to scoop and fill another time
Chill once scooped and filled - they keep a few days like this and make a great little treat for visiting friends ??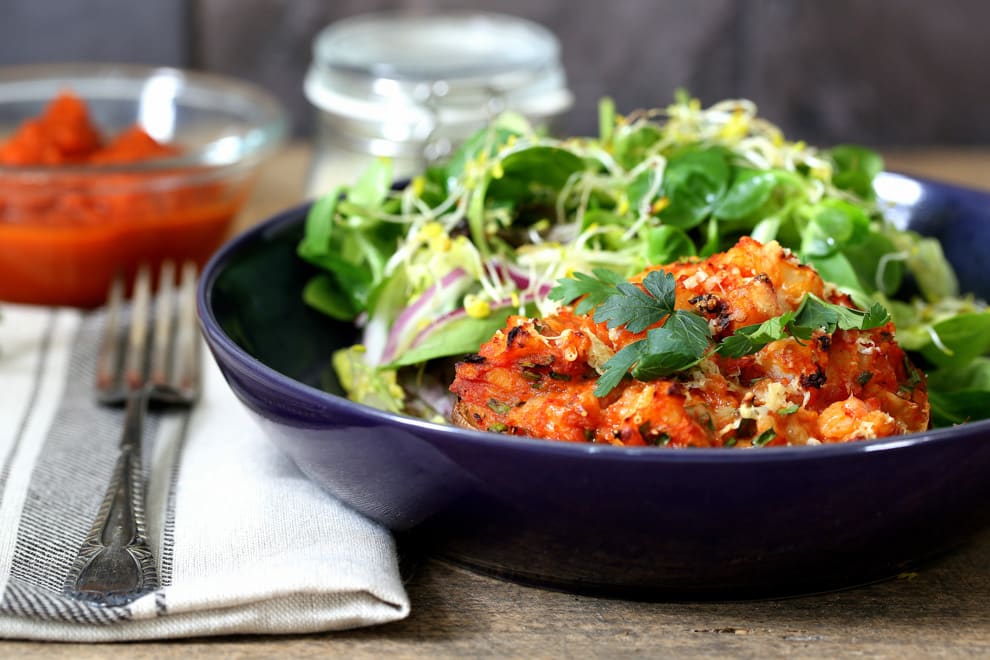 Hello and welcome to The Cook & Him.
We are Sam (The Cook), Phil (Him) and our little dog Nooch. What started with a plan to shed a few pounds back in 2016, soon became obvious that eating healthy doesn't have to be bland and boring.
So, combining Sam's 15 years of experience working within Michelin starred restaurants and our love for deliciously healthy food, we're creating recipes for you to make and enjoy. We've added our own unique spin on traditional and contemporary vegetarian and vegan recipes that keep you (and your pets!) healthy and full.  And we make sure they just work.
All things autumn - warming soups, savoury bakes and delicious sweet treats!
and I would like to see...
Or search for a recipe or post by keyword