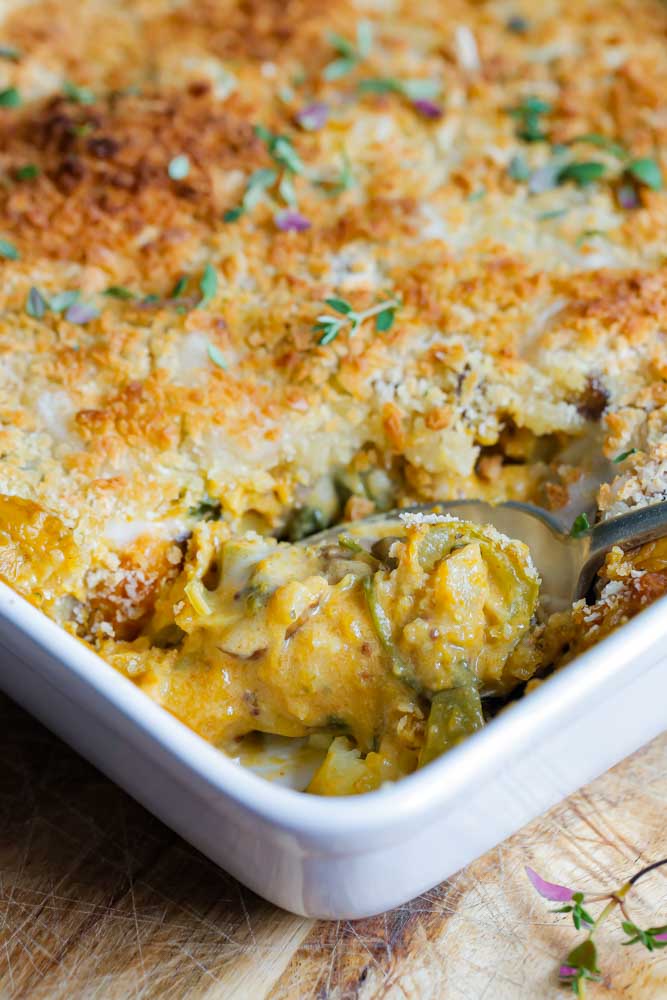 Posted in Recipes on 20.09.2021
Butternut Squash and Gnocchi Bake
prep: 20 mins / cook: 30 mins / inactive: 0 mins / total: 50 mins / quantity: serves 4 Print recipe?
This vegan gnocchi bake is cosy, comfort food heaven that's easy enough to be cooked in one pan and totally delivers on warming, delicious flavours!
So, if you didn't already know, Phil and I (and the dogs of course) sold our 4 bedroom house a couple of months ago to live in a 5th wheel caravan and tour the UK.  We've been staying places for a few weeks at a time, exploring the area then moving on.  We live in a beautiful country and we've never really taken the time to properly see it.  And it's possibly the best decision we ever made.  It doesn't come without its challenges though, one of them being a small oven and small hob.  Which is where food like this gnocchi bake, full of delicious flavours and textures really comes into its own.
If you have a pan that can go from hob to oven making this gnocchi bake is a cinch.  The base is cooked in the pan on the stove before going in the oven to crisp up the breadcrumbs.  Baking also really softens the butternut squash, making it so yummy, thick and creamy underneath the cheese and breadcrumb layer.
For the love of autumn recipes:
Are you a lover of autumn and all it brings?  What's your favourite part?  If you've been here a while now you'll also know of my love for autumn.  I love everything about it, not least the food!  It's just starting to turn chilly where we currently are (mid Wales) and the site we're at and the pitch we're on means we are overlooking the most gorgeous valley and the town below.  We're starting to see wisps of smoke from chimneys, the leaves are just beginning to turn and there's that distinct autumnal nip in the morning air.
All of which turns my cooking mind to warm bowls of comforting food.  Food that's easy as well as hearty and full of flavour.
I'm also looking forward to cosy sweaters, pumpkin spice everything and berry coloured nail polish 😉
How to make a deliciously autumnal gnocchi bake:
Prepare your butternut squash.  If you've never done this before don't panic, it's very easy.  As a member of the pumpkin family, a butternut squash has a similar outer skin, seeds in the middle and a sweet, nutty flavour.  I start by cutting the whole thing in half across the middle width (not lengthways from top to bottom) so that you have 2 pieces – the narrower top part and the bulbous bottom part where the seeds are.  I remove the skin by using a sharp knife and cutting down the sides.
Once that's done cut the bulbous part in half so that the seeds are exposed and use a spoon to scoop them out.  You can then cut the flesh into chunks.  I've used a small squash for this gnocchi bake recipe but if you can only get a large squash you can freeze the flesh to use another time.   Dogs also love the roasted chunks!
Heat some oil in a large oven proof pan if you have one or just a large saute pan if you don't.  Saute the chunks of squash for a few minutes over a medium heat, stirring from time to time until they're just starting to caramelise.
Add the garlic, peppers and thyme and cook gently for a further minute.  Keep stirring to prevent the garlic from burning.
Add the spinach.  Stir it into the pan until it starts to wilt.  Then stir in the chopped chestnuts, cream, smoked paprika, nutritional yeast, mustard, sage and vegetable bouillon (or vegetable stock cube).
Taste and season accordingly.  Then stir in the gnocchi and tip into a baking dish unless you're using an ovenproof pan.
Sprinkle over the crumbled feta.  Then sprinkle over the breadcrumbs.  You can use shop bought breadcrumbs, panko crumbs or crumble up any stale bread you have left.
Drizzle the top with a little oil.   Bake until golden and bubbling.
Looking for more vegan autumn recipes?  Try these:
Cinnamon Roll Apple and Blackberry Cobbler – autumn in EVERY.SINGLE.BITE.
Lentil and Chestnut Pies – we love these so much they make it to our Christmas dinner table!
Apple and Cinnamon Baked Oats – easy make ahead breakfast for busy mornings.
Minestrone Soup – nothing screams chilly weather more than a big old bubbling pot of soup!
Pumpkin Spice Cinnamon Rolls – two of the best flavours combined into one break all the diets decadent treat!
I'd also love to hear from you if you make this Butternut Squash and Gnocchi Bake! Just leave a comment as it's so helpful and I love to hear how the recipe worked out for you! Thank you so much!
Don't forget to follow us on YouTube, Facebook or Pinterest for even more recipe inspiration and chat, competitions, behind the scenes and so much more!
Butternut Squash and Gnocchi Bake
prep: 20 mins / cook: 30 mins / inactive: 0 mins / total: 50 mins / quantity: serves 4
Ingredients
1 tblsp olive oil
1 small butternut squash
5-6 cloves garlic – peeled and crushed
1 bell pepper – seeds and stalk removed and flesh sliced
few sprigs of fresh thyme, leaves only (or sub with 1 tsp dried thyme)
3 handfuls fresh spinach
1 cup (180g) cooked chestnuts – roughly chopped
1 cup (250ml) vegan single cream
1 tsp smoked paprika
3 tblsp nutritional yeast
2 tsp wholegrain mustard (or sub with preferred mustard)
1 small bunch sage leaves – shredded (or sub with 2 tsp dried)
3 tsp vegetable bouillon (or sub with 1 vegetable stock cube)
500g pack gnocchi
1 cup (100g) vegan feta cheese
1 cup (80g) breadcrumbs – fresh or dried
a little extra oil for drizzling
salt and pepper to taste
Instructions
Peel the squash and removed and discard the seeds. Cut the flesh into medium size chunks
Preheat your oven to 180 Fan / 200 C / 400 F / Gas 6
Heat 1 tblsp oil in a large saute pan - use an ovenproof pan if you have one
Add the squash chunks and saute over a medium heat for a few minutes until just starting to soften and caramelise. Stir from time to time
Stir in the crushed garlic and sliced pepper and saute for a further minute
Stir in the spinach and cook until it starts to wilt
Add the chestnuts, cream, paprika, nutritional yeast, mustard, sage, bouillon and salt and pepper to taste
Stir in the gnocchi then tip into a baking dish unless you're using an ovenproof pan
Crumble the feta into chunks then scatter over the top of the gnocchi mixture
Sprinkle over the breadcrumbs, drizzle a little extra oil over the top then bake for 30-40 minutes until golden and bubbling
Serve immediately with steamed greens and/or crusty bread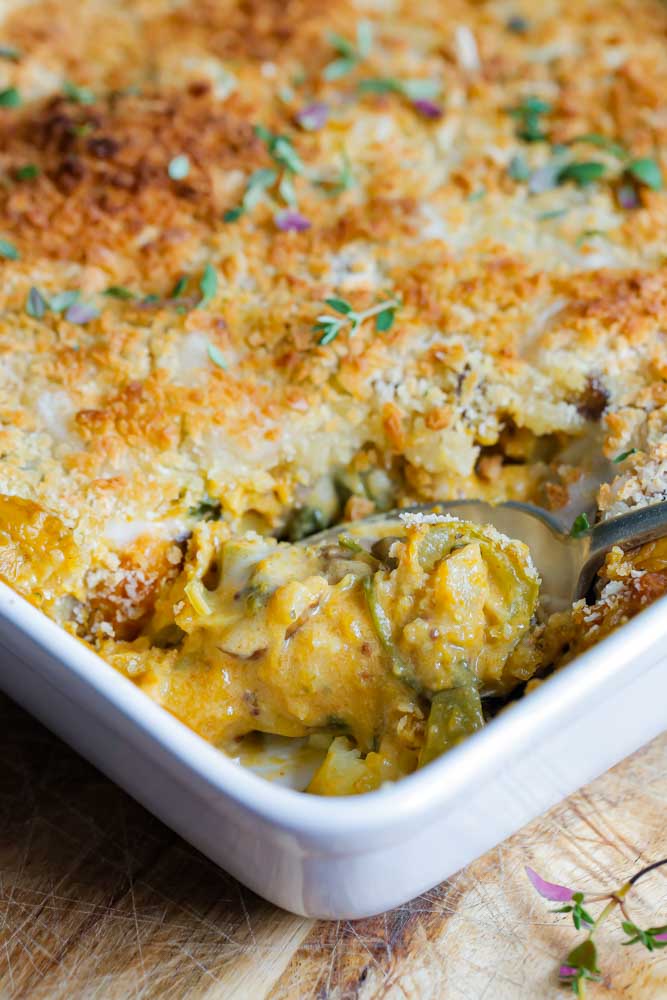 Hello and welcome to The Cook & Him.
We are Sam (The Cook), Phil (Him) and our little dog Nooch. What started with a plan to shed a few pounds back in 2016, soon became obvious that eating healthy doesn't have to be bland and boring.
So, combining Sam's 15 years of experience working within Michelin starred restaurants and our love for deliciously healthy food, we're creating recipes for you to make and enjoy. We've added our own unique spin on traditional and contemporary vegetarian and vegan recipes that keep you (and your pets!) healthy and full.  And we make sure they just work.
All things autumn - warming soups, savoury bakes and delicious sweet treats!
and I would like to see...
Or search for a recipe or post by keyword