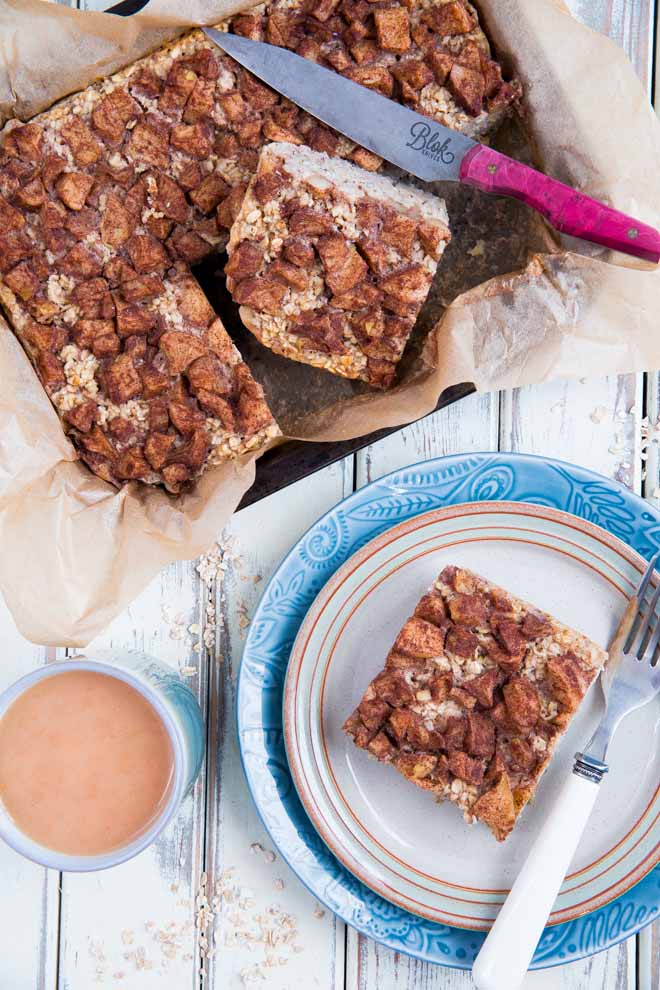 Posted in Recipes on 27.04.2020
Apple & Cinnamon Baked Oats
prep: 20 mins / cook: 40 mins / inactive: 0 mins / total: 60 mins / quantity: 8 bars Print recipe?
Made with just a handful of healthy ingredients these apple and cinnamon baked oats will leave you satisfied until lunch!  They're also the perfect make ahead breakfast for rushed mornings!
Are you always looking for new ideas for a healthy breakfast – something that's just easy to grab and go?  One of our staples is baked oats.  We love oats.  Like LOVE love them.  Hot, cold, overnight oats, in cookies, smoothie thickener, Cinnamon and Apple Baked Oats – you name it, we will probably chuck oats in it.  Tasty, filling, versatile and with quite a few health benefits:
Oats are full of antioxidants – essential for a healthy diet, protecting the body from harmful molecules called free radicals
They also have a low glycemic index – great if you're trying to level and maintain troublesome glucose levels
They're high in fibre
Oats are a great energy boost – they contain complex carbohydrates and are packed with protein which fill the body with energy and because they're absorbed slowly in the body they help keep you fuller for longer!
They contain a healthy dose of iron – essential for red blood cell formation
Not bad for a little oat huh?!
It's also currently spring and while Phil and I love our fresh smoothies, these still chilly mornings call for something that not only has all these health benefits but also 'sticks to your ribs' a bit – and oats are just perfect for this.  I fell in love with baked oats with these Acai and Strawberry ones.  Which I then I added chocolate to and turned them into something that should be dessert but you can legitimately sit and eat for breakfast.  Ahhh, thank  you adulthood.  Healthy breakfast that looks and tastes like dessert.
But for variety's sake and because I can eat all things cinnamon all year round, friends I give you spicy, sweet, appley, definitely moreish Apple & Cinnamon Baked Oats.  If it were up to me I'd have thrown in a handful of sultanas too but I have someone who, while he's learning to accept sultanas aren't chewy bits of horror,  still believes he doesn't like them.  It's getting better, he'll eat them in Vegan Christmas Cake very happily.  Just don't tell him they're in there 😉
If you're concerned that the cooked apples actually look more like they're BBQ flavour it's because I've used Saigon cinnamon.  It's one of the sweetest and strongest varieties of cinnamon and has a vivid orange/red colour when powdered.  Hence the BBQ look!
Healthy Baked Oats Tips
Like these Healthy Breakfast Muffins, using spotty bananas provides natural sweetness and cuts down the need for much more added sugar.  For baked oatmeal I use liquid sweetener like agave, maple syrup or if you're in the UK Sweet Freedom's Fruit Syrup.
Whilst I love the recipe as it is, it's also very easy adapted – sprinkle blueberries (fresh or frozen) on top instead of the apples or try extra sliced bananas.
Serve with a dollop of vanilla coconut yoghurt for an extra special easy healthy breakfast.
Don't forget to let me know in the comments if you try this recipe.  I hope this becomes one of your healthy breakfast favourites too!
If you make this recipe or any of the recipes from The Cook & Him we'd LOVE to see! Just snap a picture and share it on Instagram using #thecookandhim and tagging @thecookandhim in the photo itself (as this guarantees we'll see your picture!
)
And don't forget to follow us on Instagram , Facebook or Twitter for even more recipe inspiration and chat, competitions, behind the scenes and so much more!
Apple & Cinnamon Baked Oats
prep: 20 mins / cook: 40 mins / inactive: 0 mins / total: 60 mins / quantity: 8 bars
Ingredients
Instructions
First up, put the apples, cinnamon and coconut oil into a medium saucepan and gently cook over a medium heat for around 15 minutes until soft
While the apples are cooking, preheat the oven to 170 Fan / 190 C / 375 / Gas 5 and line a 9 x 9 inch baking tin or dish with parchment
In a mug mix the ground flax seeds with 3 tblps water to make a flax 'egg' and set aside while you prepare everything else
Break the bananas into chunks and put into a large bowl.  Mash with a fork or potato masher
Add the remaining ingredients - milk, syrup, vanilla, baking powder and rolled oats along with the flax 'egg' and stir until well combined
Tip this into your prepared baking tin, pushing out to the edges and flattening as you go.  It's quite a liquid mixture so should spread easily
Scatter the cooked apples on top of the oats and bake for 40 minutes until set
Serve warm or cool completely and chill in the fridge for up to 5 days.  This also freezes really well, ready for an easy grab and go breakfast - simply defrost the night before!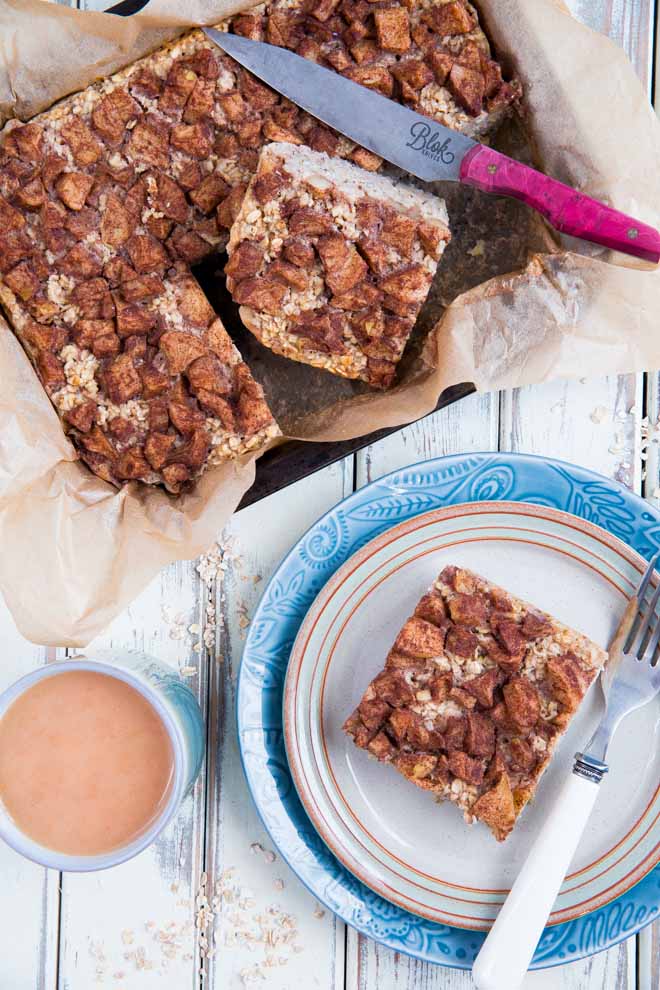 Hello and welcome to The Cook & Him.
We are Sam (The Cook), Phil (Him) and our little dog Nooch. What started with a plan to shed a few pounds back in 2016, soon became obvious that eating healthy doesn't have to be bland and boring.
So, combining Sam's 15 years of experience working within Michelin starred restaurants and our love for deliciously healthy food, we're creating recipes for you to make and enjoy. We've added our own unique spin on traditional and contemporary vegetarian and vegan recipes that keep you (and your pets!) healthy and full.  And we make sure they just work.
All things autumn - warming soups, savoury bakes and delicious sweet treats!
and I would like to see...
Or search for a recipe or post by keyword