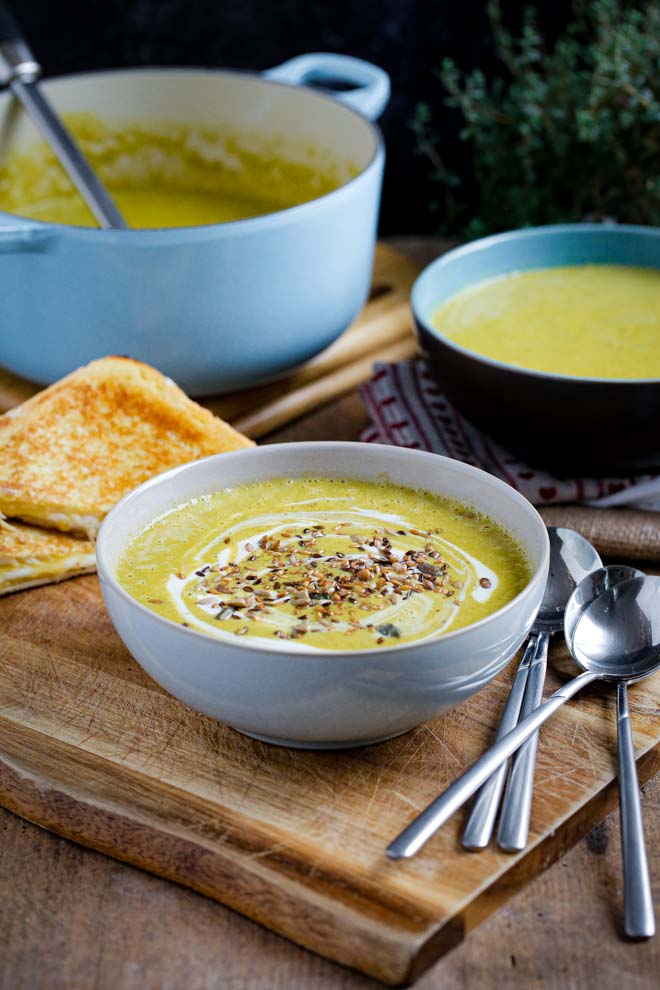 Posted in Recipes on 25.01.2021
Creamy Broccoli Soup | With Toasted Cheese Sandwiches!
prep: 10 mins / cook: 25 mins / inactive: 0 mins / total: 35 mins / quantity: 4 servings Print recipe?
Healthy broccoli soup packed with veggies, a dash of wine and cream and tonnes of flavour! So simple but rich and satisfying this velvety vegan soup is made in just one pan in around 30 minutes! Serve with toasted vegan cheese sandwiches for comfort food heaven!
I actually developed this broccoli soup recipe allll the way back in November but didn't get to squeeze it in amongst all the Christmas goodies.  Since then I've made it pretty much every week.  Why?
It's SO easy
So tasty
Toasted cheese sandwiches + broccoli soup = match made in heaven
And it's the perfect healthy, comforting something you need after a tooth extraction.
Can I just say now, for the record, OUCH!  From the searing pain in my tooth right up to Christmas Eve – when the antibiotics finally kicked in.  To the juggling of medication and dosages so that I could get the blimming thing taken out.  Thankfully it's a few days gone now and healing nicely.  Fortunately the frosty weather we've been having has involved all things warming and comforting.  I'm still trying to eat better than I did for most of last year and healthy broccoli soup is just the ticket.
Soup is practically mandatory in winter and while nothing is as easy as opening a can there's nothing as satisfying as making your own.  And this creamy broccoli soup honestly couldn't be easier.
Everything is cooked in one saucepan till it's blended to thick, creamy, velvety perfection.  It's also packed with veggies – onions, carrots, garlic, celery and of course broccoli.  There's a dash of white wine and vegan cream and tonnes of flavour from all those veggies plus some miso paste, vegetable stock, herbs and nutritional yeast.
The toasted cheese sandwiches are entirely optional but SO recommended.  Yeah they're a little less healthy but with so much goodness packed into the soup, a melty, stringy, toasted cheese sandwich is just as good for the soul.  Because sometimes the best food for you is the stuff that actually tastes really really good.
You can of course just use a simple loaf and this Yeastless No-Knead bread is almost as perfect an accompaniment as the cheesy sarnies.  It's made in literally 5 minutes and cooks in 30 so you can have fresh bread AND homemade soup in around 45 minutes!  Honestly, we've waited longer for take out food!
The soup freezes really well so if you've got a big enough pan (or even a couple of pans) double up the quantity for a quick, any night of the week meal.
How to make this simple healthy, hearty soup:
I've always wanted to bring you recipes that you really want to make.  Some involve some time and a bit of effort.  But are SO worth it.  Pumpkin Spice Pull Apart Bread I'm looking at you here.
Other recipes are practical, for every day life and don't require a tonne of equipment and ingredients.  This soup is definitely one of those.
Melt the butter and oil in a large saucepan.  The addition of butter is just for flavour.  Use just oil if you'd prefer.  You also want a saucepan that has a lid.  This just keeps the heat in and helps cook the broccoli till it's nice and tender.
Saute the onion, celery, garlic and carrots until just starting to caramelise.  All caramelising does is impart flavour – giving real richness and depth.
Add the broccoli and flour.  Stir to coat the veggies in the flour.  Flour is used here as a thickener, giving the finished soup that really velvety texture.
Stir in the vegetable stock and wine.  Then add the miso paste, herbs and nutritional yeast and stir.
Put a lid on.  And bubble for 20-25 minutes, stirring from time to time, until the broccoli is soft.
Add the cream and blend.  This can be done with an immersion blender or in a blender jug.  Season to taste.  I use Alpro or Oatly vegan cream – both are fantastic!
You can either serve immediately if it's still warm enough or put back in your saucepan to heat through.  This broccoli soup can also be left to cool completely and then chilled or frozen for super quick and healthy meals another day!
How to make Vegan Toasted Cheese Sandwiches:
Grate cheese.  I use a combination of vegan cheddar and mozzarella.
For 1 sandwich each butter 4 slices of bread.  You can use margarine or softened vegan butter.
Put 2 of the slices buttered side down in a large frying pan.  Then top each of the slices of bread with a good sprinkle of both cheeses.
Place the other buttered slice on top, buttered side up!  I find it easier to do all this in the frying pan before turning the heat on – less chance of singed arm hairs that way!
Turn on the heat and cook for around 5 minutes.  You want a nice golden colour on the underside of the bread.
Carefully flip each sandwich over.  A fish slice is a really good tool for this as it has a wide flat surface on which to hold the bread as you flip it!  Cook for another 5 or so minutes.
Lift out and cut in half and serve immediately with your hot soup!  Honestly this flavour combo is just heaven.  One just completely compliments the other.  Hot, hearty soup and hot stringy, melty cheese sandwiches.  Pretty good deal for a bit of chopping and grating if you ask me.
Looking for more hearty, comforting soups?  These are our tried and thoroughly tested (and enjoyed!) favourites …
Roasted Garlic and Tomato Soup
Straight up THE very best Tomato Soup
Don't forget a hunk of Herbed Beer Bread, dark, flavourful Rye Bread or even Gluten Free Bread to go with any of these!
I'd love to hear from you if you make this Creamy Broccoli Soup … or even the toasted cheese sandwiches! Just leave a comment as it's so helpful and I love to hear how the recipe worked out for you! Thank you so much!
Don't forget to follow us on YouTube, Facebook or Pinterest for even more recipe inspiration and chat, competitions, behind the scenes and so much more!
Creamy Broccoli Soup | With Toasted Cheese Sandwiches!
prep: 10 mins / cook: 25 mins / inactive: 0 mins / total: 35 mins / quantity: 4 servings
Ingredients
Soup:
1/2 tblsp oil
1 tblsp (15g) vegan butter
1 large onion – peeled and roughly chopped
2 sticks of celery – roughly chopped
1 large carrot – roughly chopped
4 large cloves garlic – peeled and roughly chopped
3 tblsp oat flour or plain flour
2 + 1/2 cups (900ml) vegetable stock
3/4 cup (180ml) white wine
1 heaped tsp miso paste
2 tblsp nutritional yeast
1 tsp dried mixed herbs
2 heads of broccoli – broken into florets and thick stalk roughly chopped
3/4 cup (180ml) vegan single cream
salt and pepper
Toasted Cheese Sandwiches to serve:
4 slices of bread
margarine or softened vegan butter
couple of handfuls of vegan cheddar and mozzarella – grated
Instructions
Peel and prep all your veggies
Heat a large saucepan over a medium flame and add the butter and oil until the butter is melted
Add the onion, celery and carrot and garlic and cook, stirring from time to time, for a few minutes until just starting to caramelise
Add the broccoli then the flour and stir to coat the veggies
Add the vegetable stock and white wine then stir in the miso paste, nutritional yeast and herbs
Put a lid on the pan and gently bubble for 20-25 minutes until the broccoli is softened. Stir once or twice during this cooking time
Add the cream then use and immersion blender or stand to puree the soup. If using a stand blender you will probably need to do this in a couple of batches
Season with salt and pepper to taste
To make the toasted cheese sandwiches spread 4 slices of bread with margarine or softened vegan butter
Place two of the slices buttered side DOWN in a large frying pan then top with a combination of cheddar and mozzarella
Top with the other two slices of bread, buttered side UP and turn on the heat
Fry for around 5 minutes until crisp and golden on the bottom then carefully flip the sandwiches over and repeat with the other side
Serve immediately with the hot soup!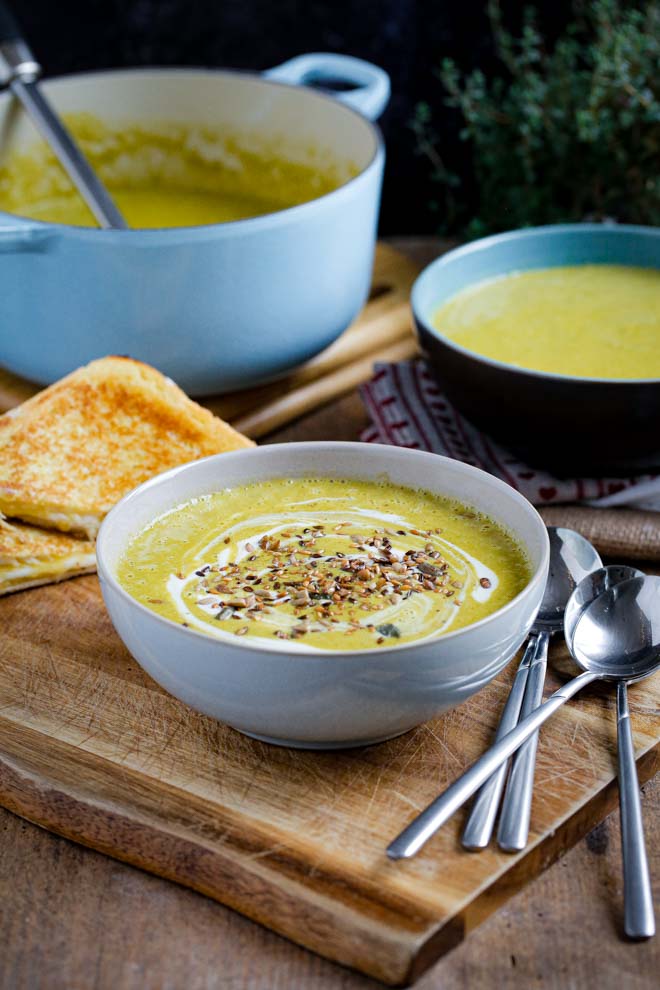 Hello and welcome to The Cook & Him.
We are Sam (The Cook), Phil (Him) and our little dog Nooch. What started with a plan to shed a few pounds back in 2016, soon became obvious that eating healthy doesn't have to be bland and boring.
So, combining Sam's 15 years of experience working within Michelin starred restaurants and our love for deliciously healthy food, we're creating recipes for you to make and enjoy. We've added our own unique spin on traditional and contemporary vegetarian and vegan recipes that keep you (and your pets!) healthy and full.  And we make sure they just work.
All things autumn - warming soups, savoury bakes and delicious sweet treats!
and I would like to see...
Or search for a recipe or post by keyword