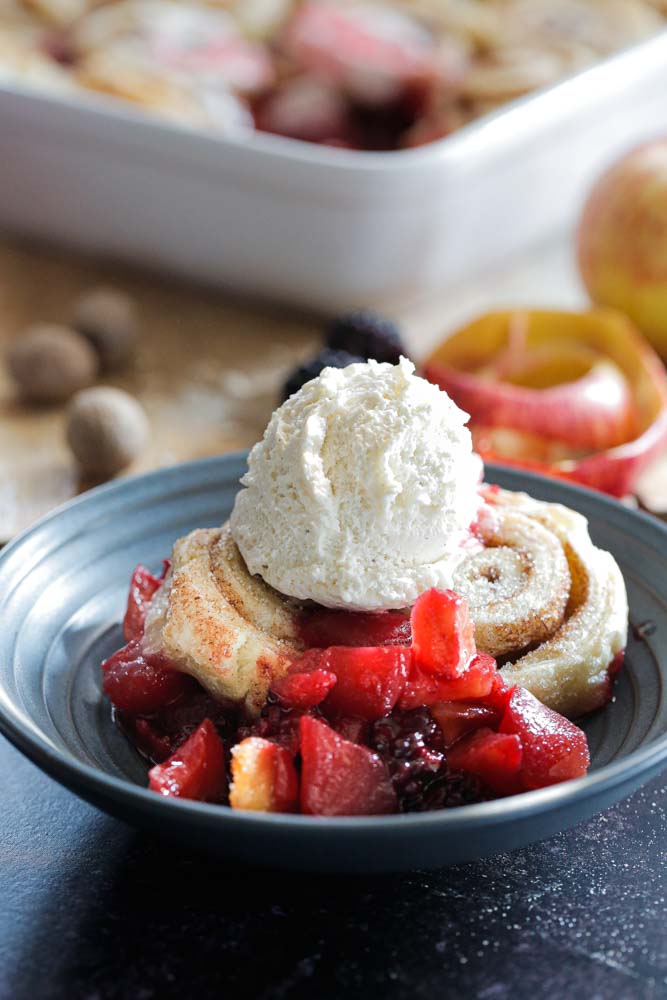 Posted in Recipes on 13.09.2021
Cinnamon Roll Apple and Blackberry Cobbler
prep: 20 mins / cook: 60 mins / inactive: 0 mins / total: 1 hour 20 mins / quantity: 8 servings Print recipe?
Brunch, breakfast or dessert this fruity apple and blackberry cobbler topped with crisp cinnamon rolls is full of sweet autumn flavour!
Autumn, yay!  I can finally say it!  And thoroughly welcome the best season of all seasons with a stunning apple and blackberry cobbler.  Yes I know, I'm a bit of a broken record when it comes to all things autumn.  I just seriously love everything about it.  Do you have a favourite season?  What's the best thing about it?
I've been reading a LOT about hygge (pronounced hoo-gah) lately.  It's a Danish word (though it also has Scandanavian origins) for something almost intangible.  It's a feeling, a state of mind.  It's about creating a feeling of cosiness, a warm atmosphere and sharing it with good people.  You can hygge in any season, but nothing evokes that word or feeling to me more than autumn with its candlelight, warm blankets, cosy sweaters, good food and good company.
Especially the good, hearty, warming, food part of it.
And with its blend of sweet apples, tart blackberries and crisp, spiced puff pastry topping, food doesn't get more cosy or hygge than this blackberry cobbler!
A little blackberry cobbler story:
The first time I made this Phil was away marshalling for the weekend.  So I spent the weekend blackberry picking and baking to herald in my favourite season.  And living on a campsite definitely has its ups and downs.  The ups are the peace and quiet, the scenic locations, the sunsets and the truly lovely people you get to meet.  Everyone has different stories and their own unique way of telling them.  They've had Phil and I in absolute stitches with tales of parasailing, leaky toilets and blackberry picking.  Most of them also love Nooch and Baxter and those that don't are generally just nervous around that kind of breed.  But once they've been cuddled and licked more than is appropriate (Nooch has a foot fetish) by our overly affectionate pair they're soon converted.
The down side is sharing something you make and then not getting any of it back.  Well the rudeness of some people!  My fault for just giving them the dish of blackberry and apple cobbler I suppose and telling them to help themselves to whatever they wanted.  At least it wasn't just me that thought it was good 😉
How to make this easy autumn dessert:
Traditionally cobblers have a different topping to the cinnamon roll one I've used here.  They're normally either like a scone, baked right on top of the filling or can be sort of a cake mix, again baked with the fruit.  I wanted to make this blackberry cobbler as simple as possible so there's no delay in getting all those wonderful smells into your kitchen and wonderful flavours into your belly!
Start with cooking the apples.  This means you don't have to bake the cobbler for too long and run the risk of burning the top before the apples are lovely and soft underneath.  Just peel, remove the core, chop the flesh and put into a saucepan with a dot of butter.  If you've used sweet dessert apples you'll not need any extra sugar adding.  If you're using cooking apples, add your preferred sweetener to taste.  Cook for about 10 minutes until they're just soft.
Add the blackberries.  Just stir them in, no need to cook these.  Then tip the whole lot into your baking dish.
For the topping, mix the sugar with the two spices – nutmeg and cinnamon.  Melt the butter then uncurl your puff pastry if you're using ready rolled.  If you're using a block of pastry you'll want to roll it out to a rectangle roughly 18 x 10 inches (45 x 25 cm).
Brush the pastry all over with the melted butter.  Then sprinkle over the cinnamon sugar.  It will feel like you've got too much sugar but it gives the baked pastry such a wonderfully sweet crunch.
Roll the pastry up like a Swiss roll.  Start from the longest edge and roll the pastry over itself.  Slice into 16 pieces then lay cut side up over the fruit, staggering them slightly.  As the pastry cooks it will expand and cover most of the fruit.
Bake for 40-45 minutes until the pastry is puffed and golden.  The fruit underneath will be all soft and bubbly.  If you're using a fairly shallow dish put it on a baking tray to save any of it bubbling over and making a mess in your oven!
This is almost as good cold as it is warm and fresh from the oven.  It's also really good straight from the dish and shovelled into your mouth (or so I've heard) but I really recommend vegan vanilla ice cream or double cream poured over.
Looking for more vegan autumn recipes?  Try these:
Pumpkin Spice Pull Apart Bread
I'd also love to hear from you if you make this Cinnamon Roll Apple and Blackberry Cobbler! Just leave a comment as it's so helpful and I love to hear how the recipe worked out for you! Thank you so much!
Don't forget to follow us on YouTube, Facebook or Pinterest for even more recipe inspiration and chat, competitions, behind the scenes and so much more!
Cinnamon Roll Apple and Blackberry Cobbler
prep: 20 mins / cook: 60 mins / inactive: 0 mins / total: 1 hour 20 mins / quantity: 8 servings
Ingredients
Filling:
6 + 1/2 cups (650g) apples – peeled and core removed weight (roughly 10 small apples)
1 tblsp (15g) vegan butter
2 cups (200g) blackberries
Cobbler Topping:
1/2 cup (125g) sugar
2 tsp cinnamon
1 tsp nutmeg
2 tblsp (30g) vegan butter
550g pack ready rolled puff pastry
Instructions
Peel and chop the apples (discard the core) and put into a saucepan with the butter and cook, stirring from time to time, for about 10 minutes until soft and lightly golden
Stir in the blackberries then tip everything into a large baking dish
Preheat your oven to 180 Fan / 200 C / 400 F / Gas 6
For the topping mix the sugar with the cinnamon and nutmeg
Melt the butter
Uncurl your puff pastry and spread all over the top with the melted butter
Sprinkle over the cinnamon sugar
Roll the pastry up like a Swiss roll, starting from the longest edge. Cut the roll into 16 equal sized pieces
Place the rolls of pastry cut side up on top of the fruit, staggering them apart slightly and allowing a little bit of room for the pastry to puff and spread across the fruit during baking
Bake for 40-45 minutes until the pastry is puffed, golden and crisp all the way through
Allow to cool for 5-10 minutes before serving with vegan ice cream or pouring cream
Cool and chill any leftovers and store in the fridge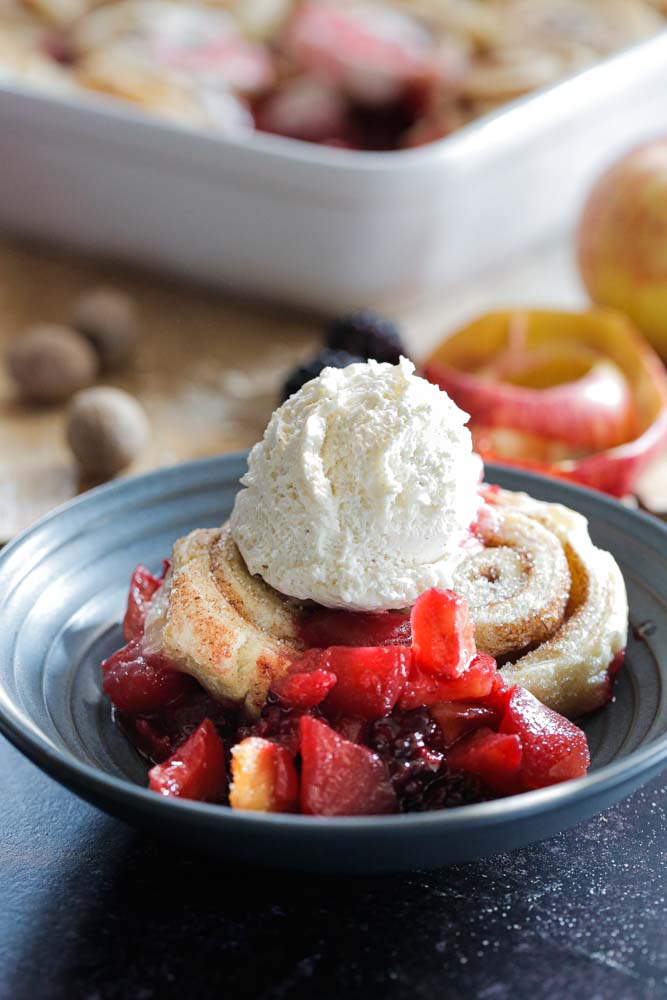 Hello and welcome to The Cook & Him.
We are Sam (The Cook), Phil (Him) and our little dog Nooch. What started with a plan to shed a few pounds back in 2016, soon became obvious that eating healthy doesn't have to be bland and boring.
So, combining Sam's 15 years of experience working within Michelin starred restaurants and our love for deliciously healthy food, we're creating recipes for you to make and enjoy. We've added our own unique spin on traditional and contemporary vegetarian and vegan recipes that keep you (and your pets!) healthy and full.  And we make sure they just work.
All things autumn - warming soups, savoury bakes and delicious sweet treats!
and I would like to see...
Or search for a recipe or post by keyword