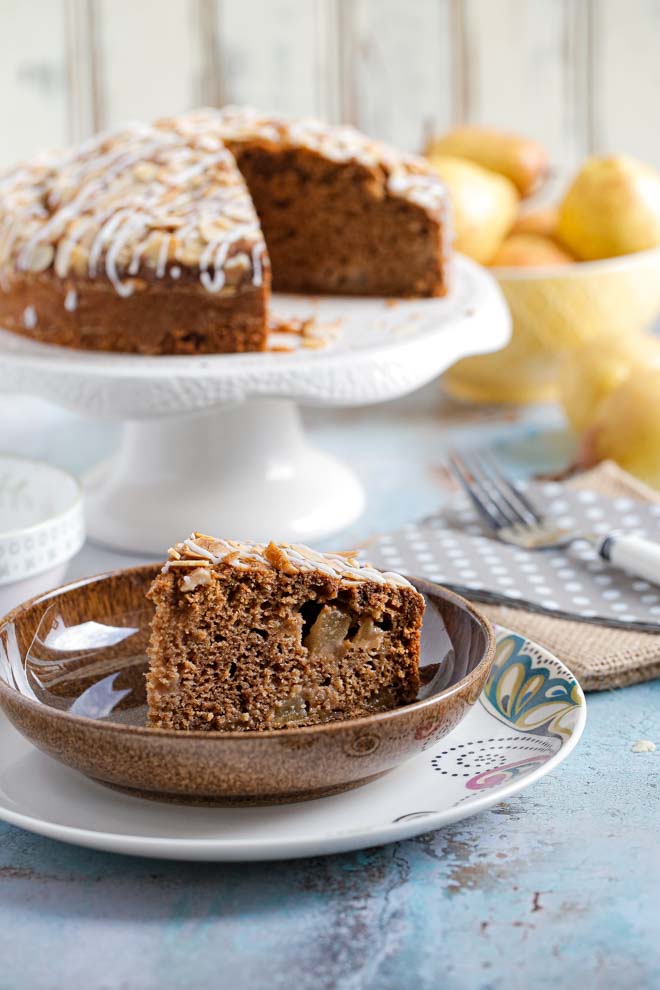 Posted in Recipes on 15.03.2021
Pear and Almond Cake
prep: 30 mins / cook: 1 hour 15 mins / inactive: 0 mins / total: 1 hour 45 mins / quantity: 10 slices Print recipe?
This delightful pear and almond cake is my take on an Italian classic – a light sponge brimming with fresh fruit and studded with crisp almonds.
You know a cake is good when it's just as good on a rainy day with a cuppa tea as it is with a fancy quenelle of cream for an elegant dinner party!  This pear and almond cake ticks SO MANY boxes.  Fruity, sweet, moist, subtle, crisp and above all, heavenly.  Grand words I know but after 3 slices in a row (I kid you not) Phil can tell you just how much I'm not exaggerating!
And the best part is that it really couldn't be easier.  I really want to get away from the misnomer that vegan baking is difficult, flavourless, not worth the effort and requires a tonne of weird, hard to find ingredients.  In the case of this sponge cake (and pretty much most of my recipes – there a couple of dodgy early ones where I was finding my vegan feet, we'll not name and shame them) it's simply not true.  Apart from the fact that there are no eggs – and not all non-vegan baking requires them anyway – and a plant based milk the ingredients and processes are exactly the same.
Let's talk cake ingredients:
The classic Italian cake that my vegan version is based on usually has the pears added last, forming the top layer of the cake.  They can be sliced and arranged or simply peeled and halved so that they sit just proud of the top of the cake.  But I wanted to make sure you got a piece of juicy pear in pretty much every single bite.  So for this pear and almond cake I've chopped up the pears and mixed them into the sponge batter.  I also cook them before adding them in – I can't stand hard crunchy bits of fruit in soft, delicate sponge.  It's an extra step but so very worth it and I think it helps really bring out the pear flavour.
We've got two different types of almond going into this vegan sponge – ground and flaked.  For extra nutty almondy flavour.  The ground almonds go in the batter, giving a lighter cooked sponge cake texture.  The flaked almonds are sprinkled on top before baking so they give the most wonderful toasty crunch!
I've also used coconut sugar in the batter because I LOVE coconut sugar.  It gives everything a rich caramel flavour.  And it's less refined than regular white sugar.  You can substitute with light brown sugar or golden caster sugar for a similar flavour if you can't get hold of coconut sugar.  It's what gives the cooked cake that rich, dark colour.  Honestly I can't stop sniffing the stuff.  It's like toffee apples and fairgrounds.
The extra drizzle of icing is just a bit of pretty for pretty's sake 😉
Looking for more vegan cake recipes?
These are our tried and THOROUGHLY tested favourites …
Lemon and Poppy Seed Cake – I made this recently for prospective buyers of our house, one lady took 3 slices!
Easy Chocolate Cake – so easy that sticky little fingers can get involved.
Vegan Vanilla Cake – made with Foodie Flavours Gorilla Vanilla so yeah, eating cake helps save gorillas!
Chocolate Fudge Cake – because you can never have enough chocolate cake recipes!
I'd also love to hear from you if you make this Pear and Almond Cake! Just leave a comment as it's so helpful and I love to hear how the recipe worked out for you! Thank you so much!
Don't forget to follow us on YouTube, Facebook or Pinterest for even more recipe inspiration and chat, competitions, behind the scenes and so much more!
Pear and Almond Cake
prep: 30 mins / cook: 1 hour 15 mins / inactive: 0 mins / total: 1 hour 45 mins / quantity: 10 slices
Ingredients
Cake mix:
5 small firm pears
1 tsp ground cinnamon
1 tsp ground nutmeg
1 cup (250ml) almond milk
1/3 cup (65ml) light vegetable oil
1 tblsp apple cider vinegar
1 + 1/2 cups (250g) plain flour
3/4 cup (120g) coconut sugar (or sub with light brown sugar or golden caster sugar)
1/2 cup (60g) ground almonds
1/2 tsp bicarbonate of soda
2 tsp baking powder
Topping:
1/3 cup (35g) flaked almonds
2 tblsp icing sugar
Instructions
Peel, core and roughly dice the pears then put in a saucepan with the cinnamon and nutmeg
Cook over a low heat for 10 minutes, stirring from time to time until softened. Set aside to cool while you make the cake batter
Preheat your oven to 160 Fan / 180 C / 350 F / Gas 4 and grease, flour and base line an 8 inch cake tin
In a jug, whisk together the milk, oil and cider vinegar and set aside
In a large bowl whisk together the flour, sugar, ground almonds, bicarb and baking powder
Pour the jug of wet ingredients into the bowl of dry and mix very well together - stir up from the bottom of the bowl to make sure no flour pockets remain
Stir in the cooked pears then pour the mixture into your prepared tin
Sprinkle the flaked almonds over the top of the cake and use your fingers to very gently push them into the cake batter - this helps stop them falling off!
Bake for 1 hour and 15 minutes or until a skewer or cocktail stick inserted into the centre of the cake comes out clean with no raw cake clinging to it. If not, just return the cake to the oven and bake for a few more minutes, checking again
Leave the cake to cool in the tin for 15 minutes before lifting out and placing on a wire rack to cool completely
Once cooled, mix the icing sugar with just enough water (it really doesn't take much!) to make a thick but runny paste
Drizzle the icing over the top of the cake and allow to set for 5 minutes
Serve immediately and store any leftovers in an airtight container at room temperature for 3-4 days
Notes
Instead of making runny icing you can also simply dust the top of the cake with icing sugar once it's cooled or glaze it as soon as it comes out of the oven with maple or agave syrup. You could even use some warmed apricot jam for a really sticky, shiny glaze!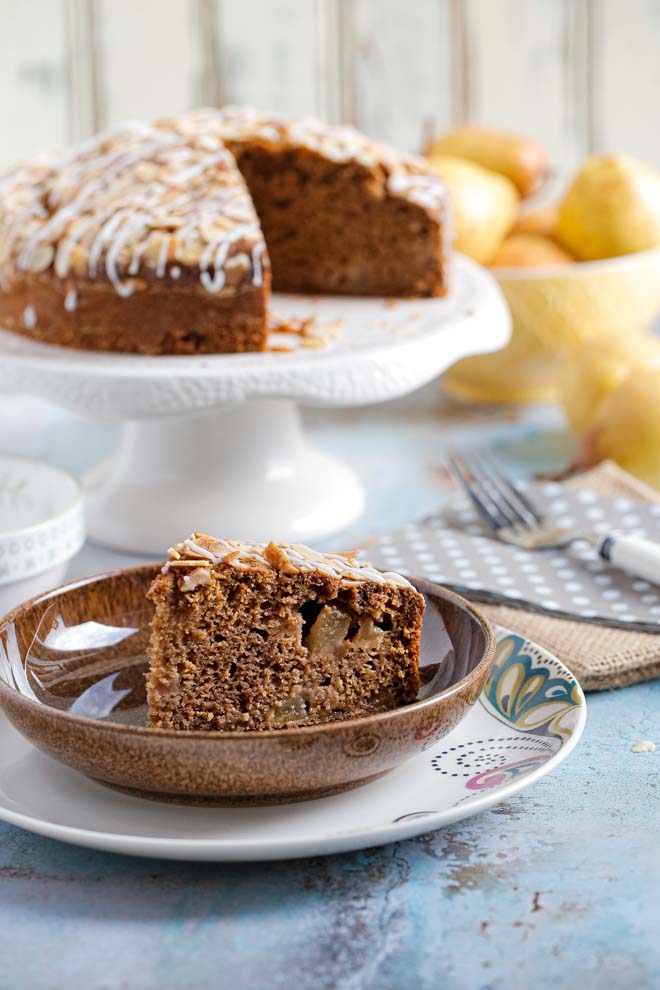 Hello and welcome to The Cook & Him.
We are Sam (The Cook), Phil (Him) and our little dog Nooch. What started with a plan to shed a few pounds back in 2016, soon became obvious that eating healthy doesn't have to be bland and boring.
So, combining Sam's 15 years of experience working within Michelin starred restaurants and our love for deliciously healthy food, we're creating recipes for you to make and enjoy. We've added our own unique spin on traditional and contemporary vegetarian and vegan recipes that keep you (and your pets!) healthy and full.  And we make sure they just work.
All things autumn - warming soups, savoury bakes and delicious sweet treats!
and I would like to see...
Or search for a recipe or post by keyword