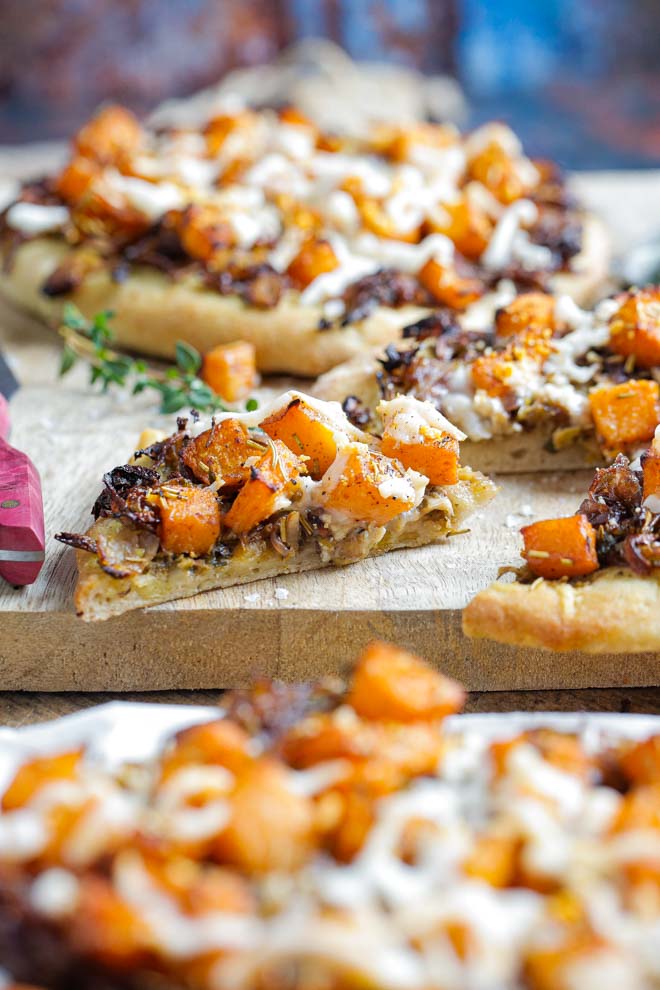 Posted in Recipes on 09.11.2020
Roasted Autumn Harvest Pizza
prep: 30 mins / cook: 60 mins / inactive: 0 mins / total: 1 hour 30 mins / quantity: 2-4 servings Print recipe?
Simple but delicious, this autumn harvest pizza is full of all the best seasonal flavours, herbs and gentle spices. Top with tangy vegan cheese for a comfort food favourite!
I'm subtitling this post with "how to survive a second lockdown by eating ALL.THE.THINGS."  What a weird world we're in right now.  How's your November looking?  Ours is constantly changing our plans while trying to avoid having to go out but feeling a little stir crazy, missing family and still trying to organise a MAJOR life change next year.  One of the plans that got changed was a few days break at the beginning of this month.  Instead of finding a cheap Air B&B we had a stay-cation instead.  We ate, read, napped and binged The Haunting of Hill House on Netflix (if you love creepy you will LOVE this).  We also spent some time cooking together.  Which is how this autumn harvest pizza came about.
I'd bought a squash a) because it's autumn and b) because I'd planned on making Sticky Sausage and Veg Tray Bake for dinner.  Then Phil decided he fancied pizza.  Nothing to do with him being a pizza addict.  I don't really like ordering take-out pizza.  I think they're a ridiculous amount of money for a bit of bread dough, some basic tomato sauce and a few veggies.
So the squash got repurposed, along with some sprouts and a parsnip.
How to make a roasted veg vegan pizza:
Make the flatbread pizza base.  This is something that can even be done a couple of days in advance and kept in the fridge.  It's a yeast dough but because we're using plain flour it doesn't require much kneading – just enough to bring the dough together.  I've grated a parsnip and added it to the pizza base as well.  It gives it a wonderful texture and even more autumn flavour.
Roast the squash.  Simply toss the diced butternut squash with some oil, the herbs and spices and roast for around 35 minutes.
Make the onion 'jam'.  I LOVE onion jam.  I have it in sandwiches, with burgers, on crackers with vegan cheese and can literally eat it by the spoonful.  It's super easy to make but gives so much flavour.  All you do is slowly cook the onions over a low heat until the natural sugars come out and they start to caramelise.  I've jujjed (?) them up with a bit of balsamic and brandy and stirred in some vegan butter for extra unctuousness.  I've also mixed them with shredded sprouts to form the base of the topping because I love sprouts and they're so full of goodness.  Who said pizza can't be a little bit healthy? 😉
Roll the dough out on a lightly floured surface.  Or use your hands to push it into whatever shape you want.  This dough is quite forgiving and if it's chilled it's even easier to work with.  These pizzas serve 2-4 and you can make smaller individual ones or a couple of larger ones.
Assemble your pizza.  Spread the onion and sprout mixture over the pizza base then scatter over the roasted squash.  Sprinkle over the cheese and bake for 20-25 minutes until golden and crispy.
I love the way the onions become a little bit charred, giving a wonderful smoky flavour.  These pizzas are SO full of flavour we literally just stood there after they came out the oven cutting pieces off and devouring.  This is feel good pizza.  It's flavour after flavour that's not been buried under a mountain of cheese.  Don't get me wrong I also love cheese.  I just don't think there needs to be more of it than anything else on a pizza.  However if super cheeeeeezy pizza is your thing go right ahead and load it up.  If you're going to make pizza from scratch you do it your way.
Like most people we LOVE pizza …
Easy Vegan Pizza –  with a sublime vegan Camembert and courgette topping
Spring Veggies Flatbread Pizza
Cheese and Tomato Pizza Bread – which we also have a video for right here
I'd love to hear from you if you give this Vegan Autumn Harvest Pizza recipe a try! Just leave a comment as it's so helpful and I love to hear how the recipe worked out for you! Thank you so much
If you make this recipe or any of the recipes from The Cook & Him I'd LOVE to see! Just snap a picture and share it on Instagram using #thecookandhim and tagging @thecookandhim in the photo itself (as this guarantees I'll see your picture!
)
Don't forget to follow me on Facebook or Pinterest for even more recipe inspiration and chat, competitions, behind the scenes and so much more!
Roasted Autumn Harvest Pizza
prep: 30 mins / cook: 60 mins / inactive: 0 mins / total: 1 hour 30 mins / quantity: 2-4 servings
Ingredients
Pizza Base:
3/4 cup (190ml) tepid water (see note)
1 + 1/2 tsp active dried yeast
1 tsp sugar
2 cups  (280g) plain white flour
1 tsp salt
1 tblsp olive oil
1 parsnip – peeled and grated (grate around and discard the thick woody middle bit)
Pizza Topping:
1/2 large butternut squash
drizzle of oil
2 tsp smoked paprika
1/2 tsp dried rosemary
1/2 tsp dried thyme
salt and pepper
2 large red onions
2 tblsp brandy
1 tblsp balsamic vinegar
1 tblsp vegan butter
2 cups (140g) shredded Brussels sprouts
1/2 cup (125g) grated vegan mozzarella
Instructions
To make the pizza base put the tepid water into a large bowl and whisk in the yeast and sugar. Cover and leave to stand for 5-10 minutes until the top becomes frothy
Add the plain flour, salt oil and grated parsnip to the yeast water and stir together until it starts to form a soft, not too sticky dough. You can do this by hand or using a stand mixer with the dough hook attachment
Cover and leave to stand at room temperature for 45 minutes - 1 hour or chill and keep refrigerated for up to 2 days
While the dough is proving roast the squash - preheat your oven to 180 Fan / 200 C / 400 F / Gas 6 and line a baking tray with parchment or a silicon mat
Peel the squash and discard the seeds then cut the flesh into medium sized chunks. If you're wondering what to do with the other half of the squash, cut that into cubes too and freeze for use another time
Toss the squash with a drizzle of oil, paprika, herbs and a good pinch each of salt and pepper. Tip into your prepared tray, spreading the squash out and roast for 35 minutes
For the onion jam peel and thinly slice the onions and put into frying pan with another drizzle of oil
Cook over a low heat, stirring occasionally for 10-15 minutes until the onions are very soft and starting to caramelise
Stir in the brandy and balsamic and bubble then stir in the shredded sprouts, mixing everything together well
Line another 1-2 trays with parchment or silicon mats to cook the pizzas on
To assemble the pizzas cut the pizza into 2 or 4 equal pieces and roll or use your hands to shape the pizza bases then carefully lift onto your prepared tray(s)
Spread over the onion and sprout mixture then scatter over the roasted squash
Sprinkle over the vegan cheese and bake for 25 minutes until golden and crispy
Notes
The water should be blood temperature - meaning when you put your finger in it you can't feel if it's hot or cold!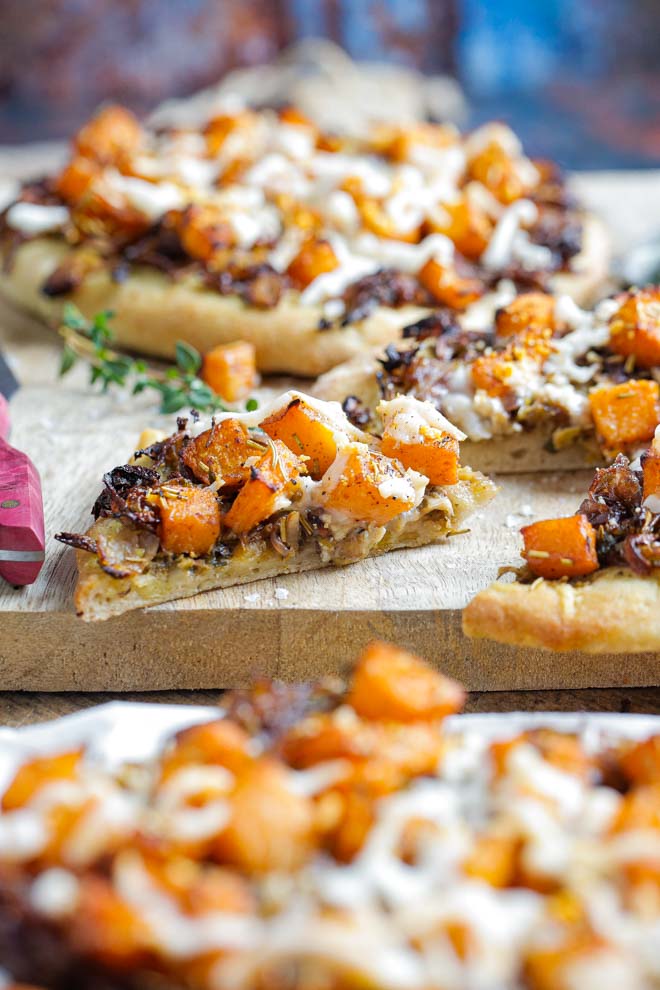 Hello and welcome to The Cook & Him.
We are Sam (The Cook), Phil (Him) and our little dog Nooch. What started with a plan to shed a few pounds back in 2016, soon became obvious that eating healthy doesn't have to be bland and boring.
So, combining Sam's 15 years of experience working within Michelin starred restaurants and our love for deliciously healthy food, we're creating recipes for you to make and enjoy. We've added our own unique spin on traditional and contemporary vegetarian and vegan recipes that keep you (and your pets!) healthy and full.  And we make sure they just work.
All things autumn - warming soups, savoury bakes and delicious sweet treats!
and I would like to see...
Or search for a recipe or post by keyword