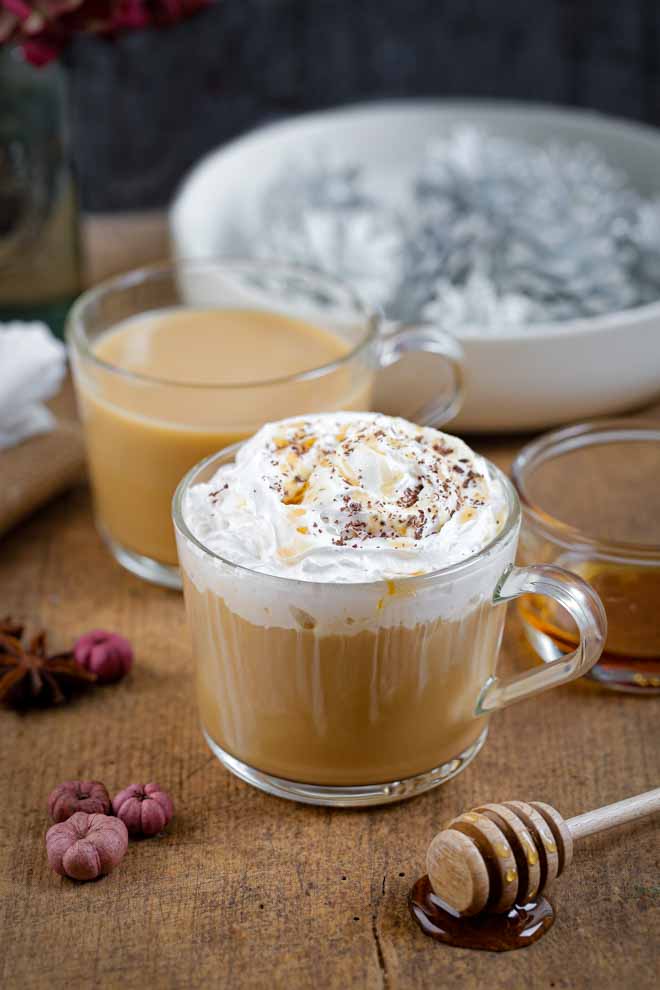 Posted in Recipes on 21.11.2020
Pumpkin Spice Latte | Easy, Healthy & Delicious!
prep: 5 mins / cook: 5 mins / inactive: 0 mins / total: 10 mins / quantity: 2 large mugs Print recipe?
Stay warm and cosy by making the Starbucks favourite pumpkin spice latte at home! It's so easy, just as delicious and needs only a few simple ingredients. The perfect healthy drink for cold days!
If you love autumn as much as me, you'll probably also love all the food that comes with it.  It's not just about darker evenings, chilly dog walks and candles everywhere.  There's also steaming bowls of hearty food and wrapping your hands round a rich hot chocolate or a decadently delicious pumpkin spice latte.  Unfortunately Starbucks PSL isn't vegan – they use dairy in the pumpkin spice sauce.  Wait … what?  Why?  It also has rather a lot of sugar and costs a pretty penny, making it much more of a treat than a regular indulgence.
But swapping out just a few ingredients and using one very particular one makes this pumpkin spice latte recipe so easy and a even a little bit healthier.  So you can enjoy your PSL even more often!
I've been all about autumn and Christmas recipes the last few weeks and all the wonderful warm and cosy feels that come from having my kitchen smell amazing!  And when Foodie Flavours asked if I could do anything with their brand new Pumpkin Spice flavour my head almost exploded with ideas!  Be prepared for many more pumpkin spice recipes coming your way!
How to make a really good vegan pumpkin spice latte:
Start with a good coffee base.  I've used a single shot of espresso but you can use any strongly brewed coffee.  If you're looking for a really good and relatively compact coffee machine this one from Krups is fantastic.  It's on the pricey side but makes the BEST coffee bar none.  Including Starbucks 😉
Warm your milk.  A lot of this might be about preference but I recommend oat milk – maybe even something like Oatly Barista milk.  It's a tad thicker and creamier than regular oat milk and if you'd prefer to foam your latte than squirt cream on top (no judgement) it's perfect for that.
Add your pumpkin puree, pumpkin spice and vanilla.  If you can't be fussed with cutting, scraping and de-seeding your own pumpkin you can find really good pumpkin puree in a can.  If you have any leftover it's very healthy for dogs too!  Nooch loves it!  You need just 10 drops of Foodie Flavours pumpkin spice – no mixing of various spices to get the perfect combination, just drip and go!  These little bottles are literally jam packed with flavour and make it even easier to make really delicious food.
Whisk in the coffee and sweetener.  I've used maple syrup for even more autumnal flavour.  Though I've absolutely NO idea why I associate maple syrup with autumn!  I use 1 tsp per cup of latte but add more or less depending on taste.
Pour into your favourite mug, squirt on the cream, sit back, sip and enjoy!  Yep you can get squirty vegan cream in a can now.  Elmlea also make a perfectly whippable vegan double cream too.  Welcome to the 21st century folks 😉
Completely optional but highly recommended is a little sprinkle of grated chocolate and a drizzle of even more maple syrup mixed with even more pumpkin spice flavour.  Sometimes you have to go that extra mile for no reason than just because.
This post contains compensated affiliate links which help support The Cook & Him so we can keep bringing you brand new vegan delights at no extra cost to you!
Don't forget to follow us on YouTube, Facebook or Pinterest for even more recipe inspiration and chat, competitions, behind the scenes and so much more!
Pumpkin Spice Latte | Easy, Healthy & Delicious!
prep: 5 mins / cook: 5 mins / inactive: 0 mins / total: 10 mins / quantity: 2 large mugs
Ingredients
Instructions
Warm the milk to hot but not boiling in a medium saucepan
Over a low heat add the pumpkin puree, pumpkin spice drops and vanilla and whisk to dissolve the pumpkin puree
Whisk in the coffee and maple syrup to taste
Pour into your favourite mug, add your toppings, sip and enjoy!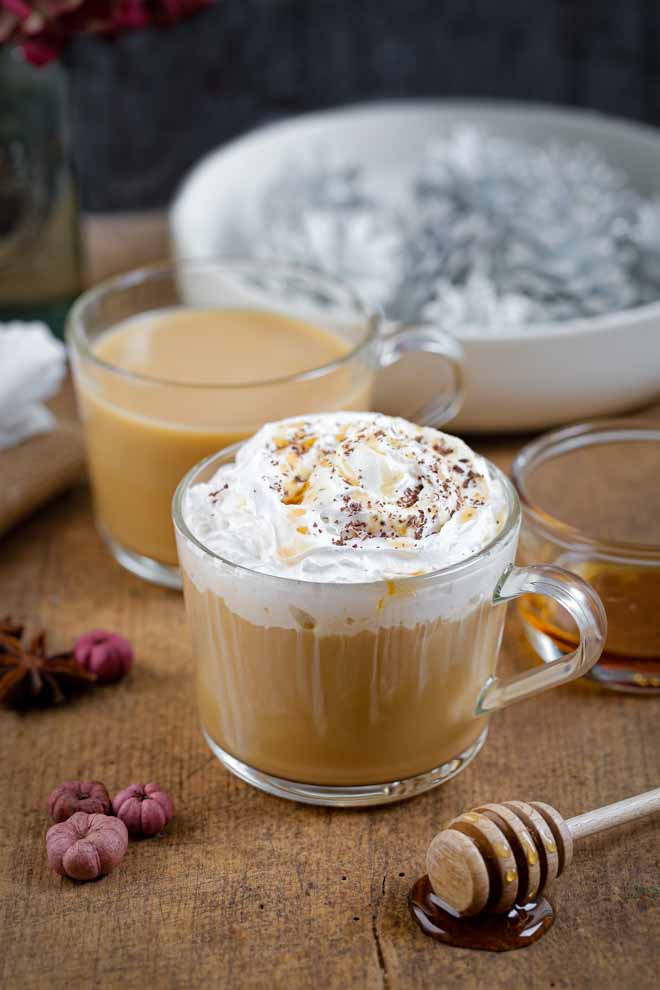 Hello and welcome to The Cook & Him.
We are Sam (The Cook), Phil (Him) and our little dog Nooch. What started with a plan to shed a few pounds back in 2016, soon became obvious that eating healthy doesn't have to be bland and boring.
So, combining Sam's 15 years of experience working within Michelin starred restaurants and our love for deliciously healthy food, we're creating recipes for you to make and enjoy. We've added our own unique spin on traditional and contemporary vegetarian and vegan recipes that keep you (and your pets!) healthy and full.  And we make sure they just work.
All things autumn - warming soups, savoury bakes and delicious sweet treats!
and I would like to see...
Or search for a recipe or post by keyword