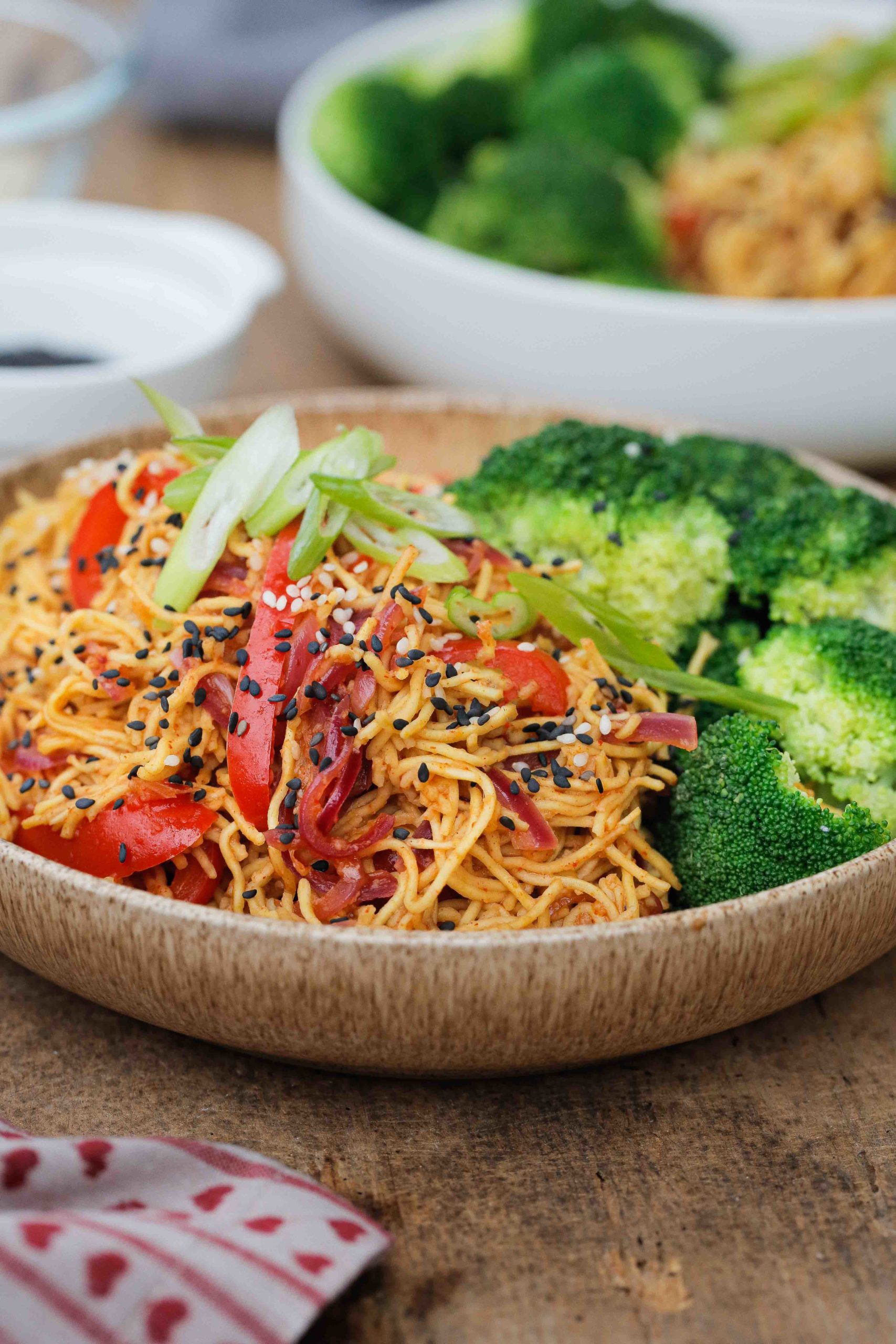 Posted in Recipes on 18.01.2023
Garlic Sesame Noodles
prep: 10 mins / cook: 15 mins / inactive: 0 mins / total: 25 mins / quantity: 2 servings Print recipe?
These garlic sesame noodles are healthy, vegan and take just 15 minutes to make! And with just a few store cupboard ingredients they're perfect for busy days!
Noodles are a complete saviour when you're hungry and tired.  Or just generally can't be bothered to cook but don't want to resort to tapping that app and having someone deliver your (largely) unhealthy and expensive meal.  These sesame garlic noodles are perfect for just such types of occasion.
They also don't need anything in the way of fancy ingredients and can very easily be adapted to include extra veggies or served as a side to some kind of vegan protein – like tofu.  I love them as a quick and warming lunch for these chilly January days as they can be made in advance and given a quick zap in a microwave.  They're also just as delicious cold if you're eating these during the warmer months but want something filling and tasty!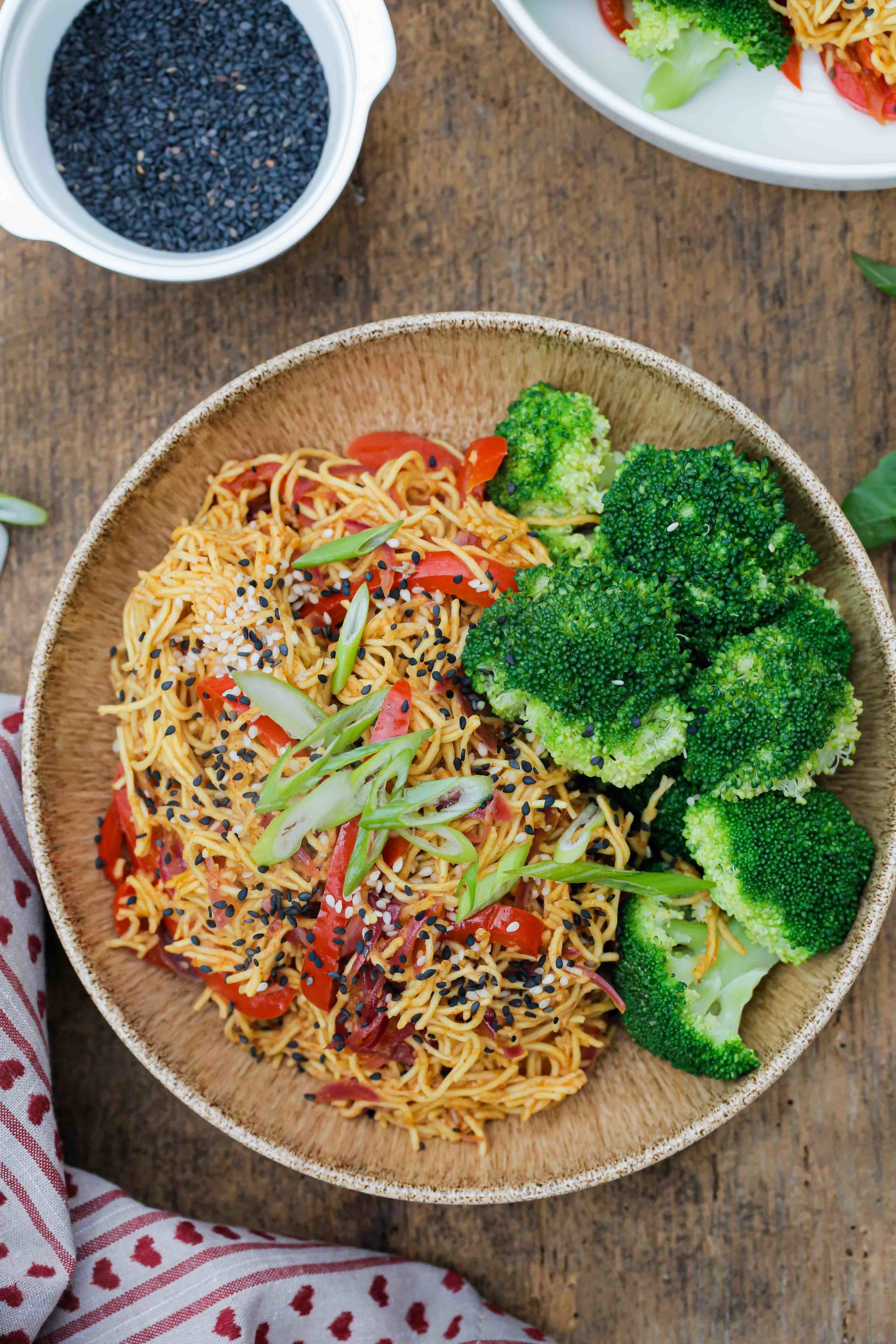 The key ingredients:
Are all likely to be in your cupboard already!
Sesame oil – I love toasted sesame oil for that extra sesame flavour.  That smell of it warming in the wok before you add the veggies .. oh my.
Garlic – six cloves of garlic might seem a lot but the rawness is cooked out of them in just a short time, leaving a lovely mellow garlic flavour that's not overpowering.
Rice vinegar – if you're not familiar with rice vinegar it doesn't have quite such a pungent smell or flavour like normal white vinegar.  It's here to round out the flavours of the sauce, balancing out the sweetness from the agave and salty from the soy sauce or liquid aminos.
Tahini – even more sesame flavour being crammed in!  Helps to make the sauce for these sesame noodles really creamy and rich too.
Brandy – sort of optional but recommended.  If you don't have it, you can use whiskey, rum, sherry, a splash of wine, even apple juice or simply water instead.
Chili powder or flakes – these are again optional but recommended.  Use to whatever spice level you prefer.  Alternatively use fresh chillis when sautéing the onion and peppers.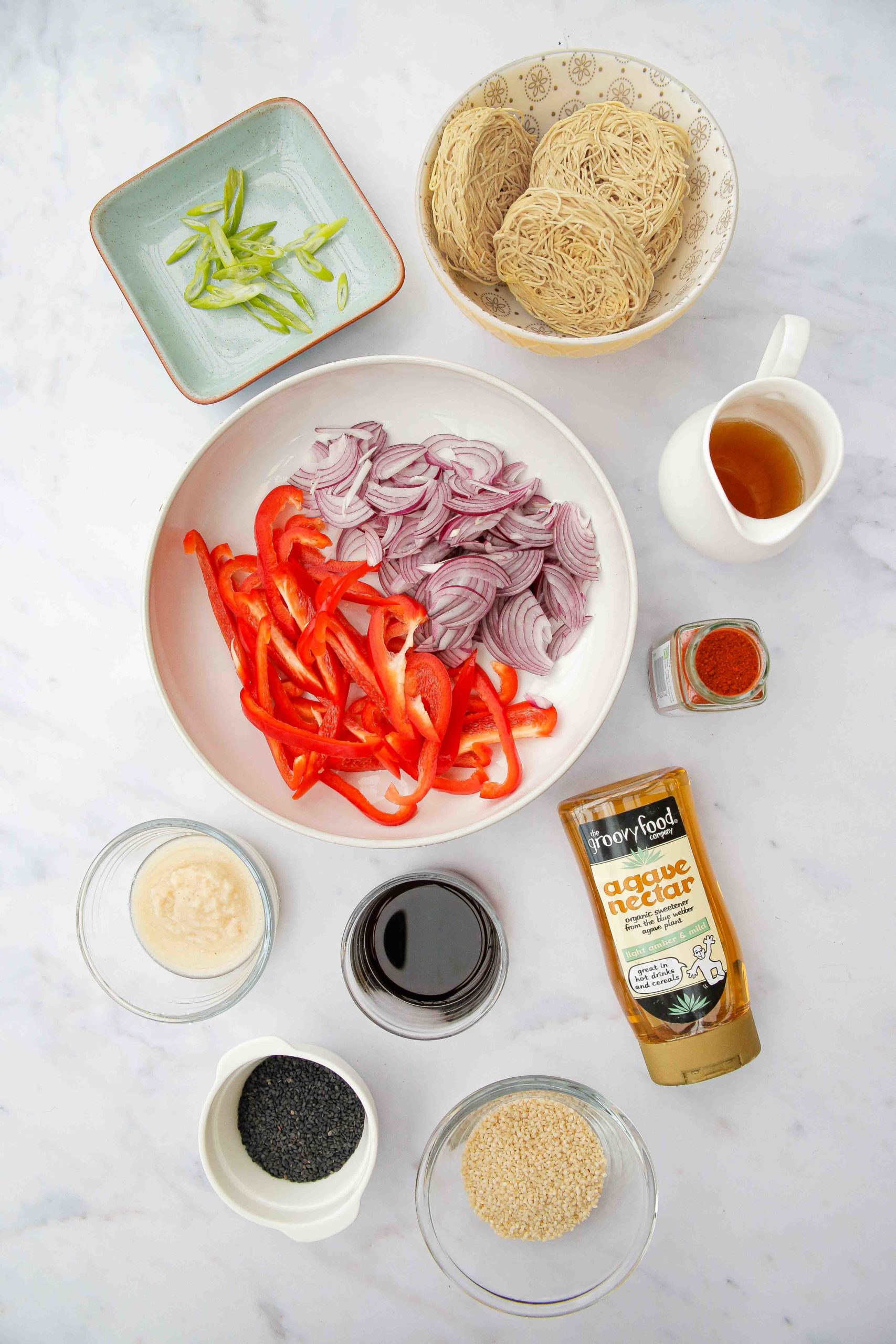 How to make this simple sesame noodles stir fry:
Prep the veggies.  Peel and slice the onion and deseed and slice the pepper.  Peel and crush the garlic. Slice the fresh chilli if using.
Heat the sesame oil in a wok then stir fry the onion and pepper for 3-4 minutes until softened and just starting to caramelise.
Stir in the crushed garlic and tahini and cook for 1 minute.
Add all the liquid ingredients – soy sauce, brandy, rice vinegar and agave or maple syrup – as well as the smoked paprika and bubble for a minute or two over a gentle heat to bring all the flavours together.
Add the noodles and stir well, making sure the noodles are well coated in the sauce.  If the sauce is too thick simply add a splash of water to the desired consistency.  You want the sauce to coat and cling to the noodles.
Taste and add chilli flakes, salt and pepper as needed.  It's likely you won't need any salt as the soy sauce or liquid aminos usually does the job!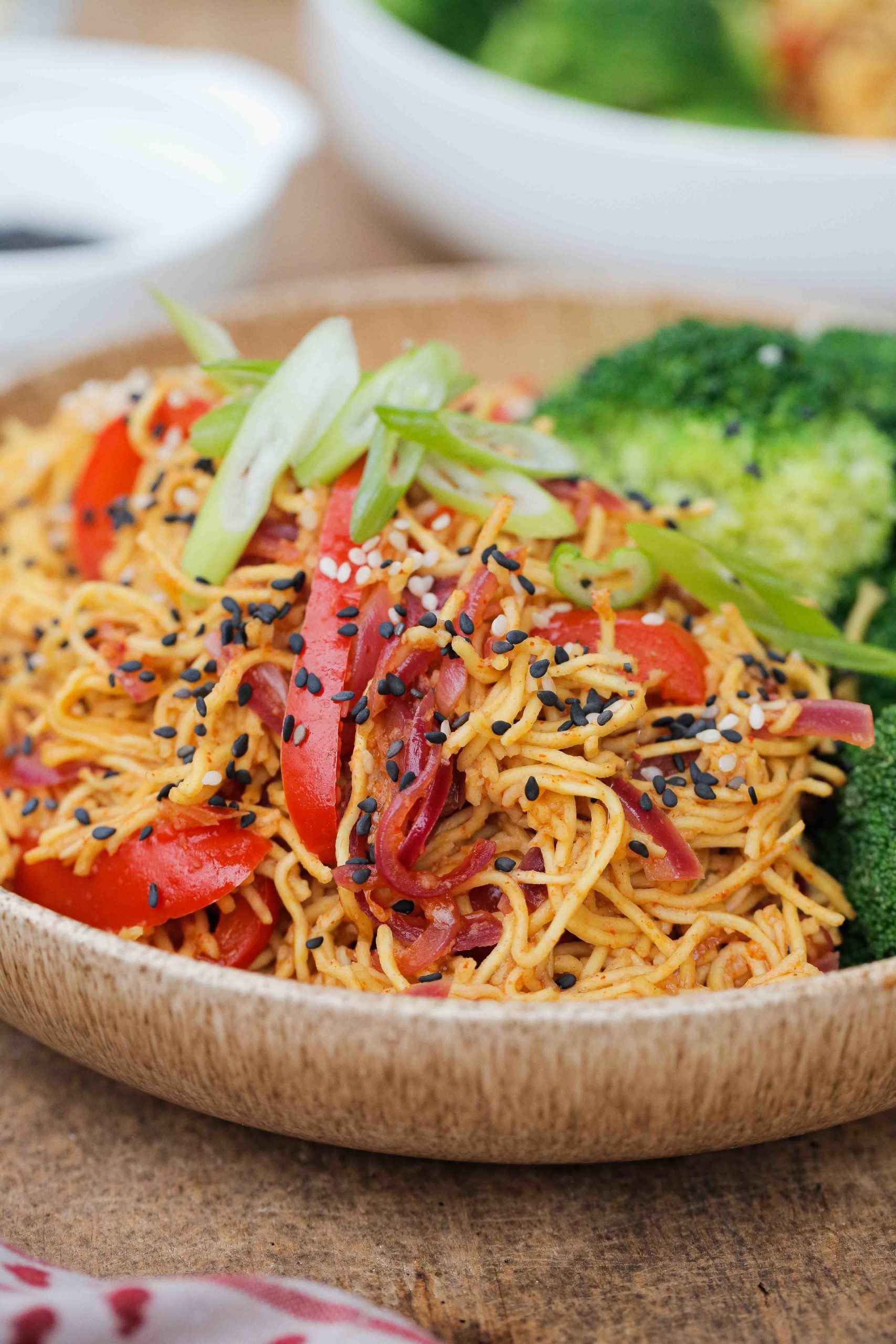 Looking for even more quick, easy and healthy vegan meal ideas?  Try these:
Smoky Bean and Cheese Toasties
Sausage Casserole with Pearl Barley
Creamy Tomato and Black Garlic Tagliatelle
If you make these Sesame Garlic Noodles or any of the recipes from The Cook & Him I'd LOVE to see! Just snap a picture and share it on Instagram using #thecookandhim and tagging @thecookandhim in the photo itself (as this guarantees I'll see your picture!
)
Don't forget to follow me on Facebook or Pinterest for even more recipe inspiration and chat, competitions, behind the scenes and so much more!
Garlic Sesame Noodles
prep: 10 mins / cook: 15 mins / inactive: 0 mins / total: 25 mins / quantity: 2 servings
Ingredients
1 tablespoon toasted sesame oil
1 large red onion – peeled and thinly sliced
1 bell pepper – thinly sliced
1/2 fresh chilli – finely sliced (optional)
6 cloves garlic – peeled and crushed
1 tsp grated fresh ginger (optional)
1 tablespoon tahini
2 tablespoons liquid aminos or soy sauce
1/4 cup (60ml) brandy (see note)
1 tablespoon rice vinegar
1 tablespoon agave syrup or maple syrup
1 teaspoon smoked paprika
300g cooked noodles or use straight to wok noodles
1/4 teaspoon chilli flakes (optional)
Optional to serve:
Sesame seeds
Sliced spring onions
Instructions
Heat the sesame oil in a wok over a medium heat then add the sliced onions, pepper and chilli if using
Stir fry for 3-4 minutes until the veggies are softened and just starting to caramelise
Add the garlic and tahini and cook for a further minute
Stir in the in the soy sauce/aminos, syrup, vinegar, brandy and smoked paprika and bubble gently for another minute
Add the cooked noodles and stir well to coat them. If the sauce is a little thick add a splash of water
Taste and add chilli flakes, salt and pepper as needed
Serve immediately with an optional sprinkle of sesame seeds and sliced spring onion
Notes
Substitute the brandy with sherry, rum, whiskey, vodka, wine, apple juice or even just water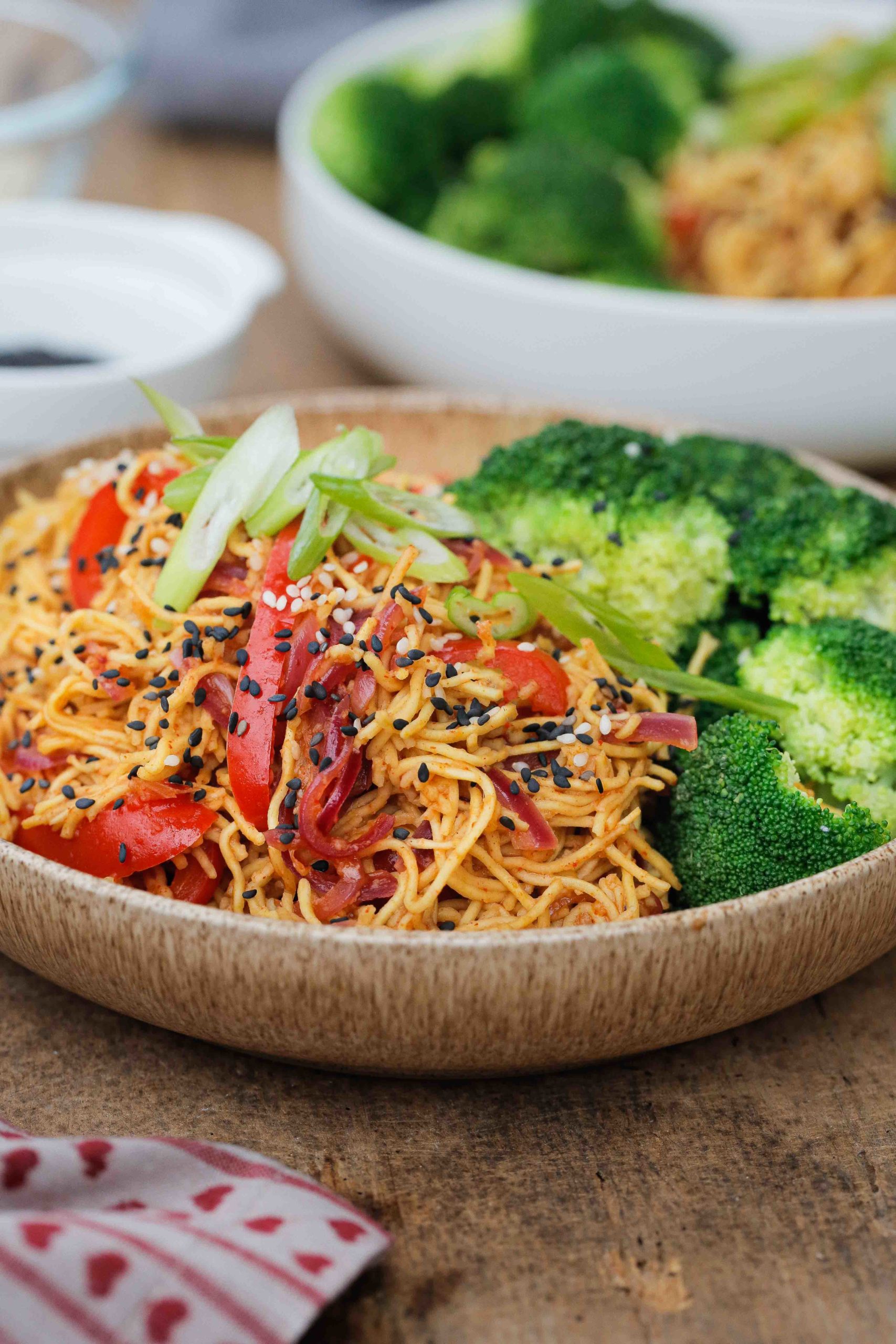 Hello and welcome to The Cook & Him.
We are Sam (The Cook), Phil (Him) and our little dog Nooch. What started with a plan to shed a few pounds back in 2016, soon became obvious that eating healthy doesn't have to be bland and boring.
So, combining Sam's 15 years of experience working within Michelin starred restaurants and our love for deliciously healthy food, we're creating recipes for you to make and enjoy. We've added our own unique spin on traditional and contemporary vegetarian and vegan recipes that keep you (and your pets!) healthy and full.  And we make sure they just work.
All things autumn - warming soups, savoury bakes and delicious sweet treats!
and I would like to see...
Or search for a recipe or post by keyword