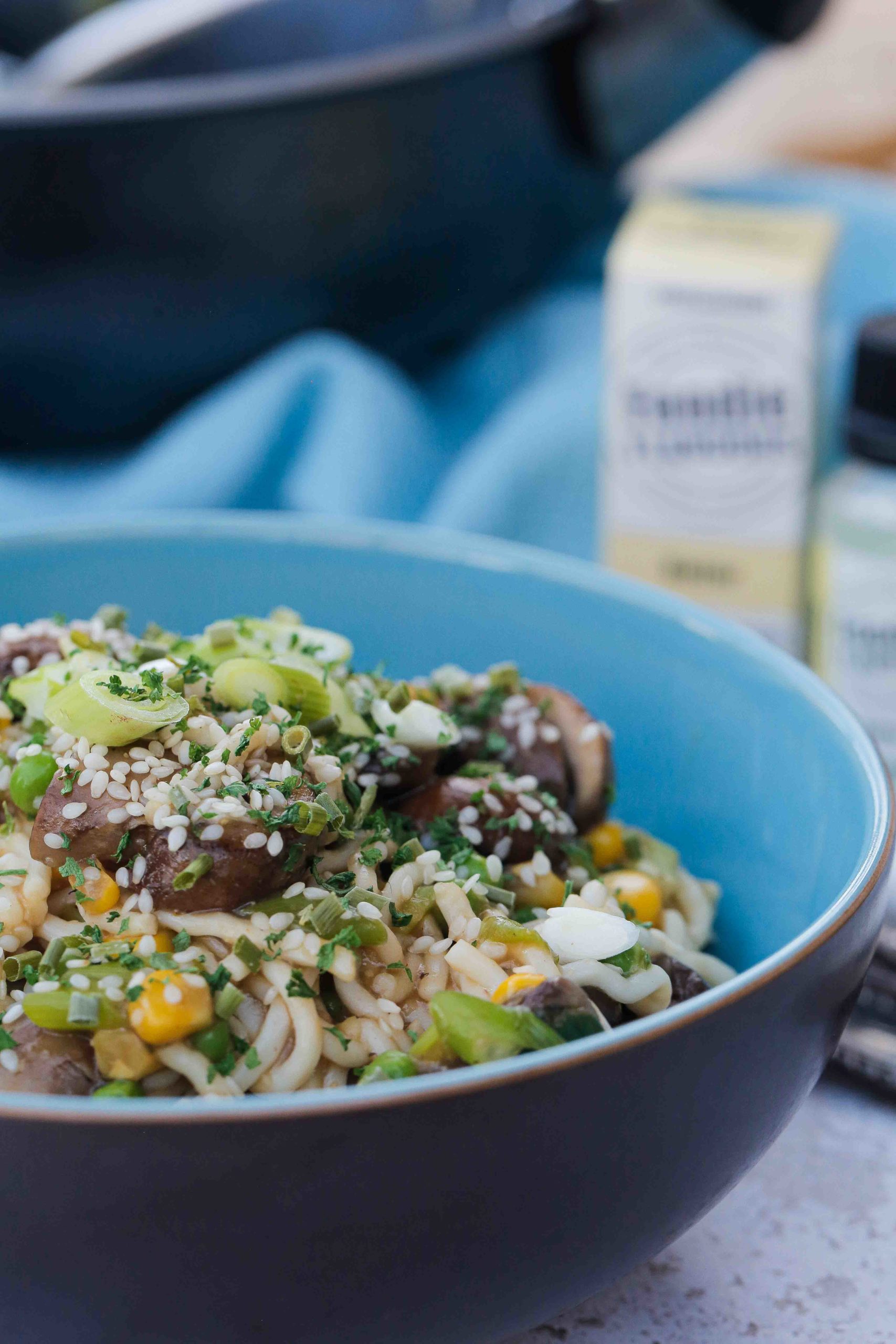 Posted in Recipes on 23.11.2022
Garlic Butter Miso Noodles
prep: 15 mins / cook: 15 mins / inactive: 0 mins / total: 30 mins / quantity: 2 servings Print recipe?
Rich, garlicky and full of buttery flavour these super simple miso noodles are a delicious, quick and much cheaper takeout alternative! This recipe is easily customisable so you can add more veggies, even protein (like tofu) of your choice.
This Miso Noodles blog post and recipe are sponsored but all opinions, as always, are completely my own.
Moving to a beautiful village with pretty much one street has so many advantages.  The peace and quiet, the community – turns out the less people there are the friendlier and more welcoming they get!  There are no street lamps here so the night sky is a vista of lights and people grow their own produce … and are VERY happy to share.
However, you might view the fact that there are no shops within walking distance and almost no takeaways that deliver (or at least none without a hefty delivery fee) to be a disadvantage.  Now I don't miss pizza (I so prefer my own!) but I do miss a good Chinese takeaway from time to time.  I think it's something they put in the sauce.  And so to curb the cravings these garlic butter miso noodles were born.
I was also a recent recipient of a new to me little bottle of joy from Foodie Flavours.  Namely their Butter flavouring.  Which smelt so good I even called my neighbour over to come and have a sniff.  Small communities I tell you.
As with all Foodie Flavours extracts, essences and flavourings a little goes a long way and it's so easy to adjust the amount you add to your own preference or taste.
Vegan butter in itself isn't bad flavour wise but it lacks that, well, butteryness of actual butter.  And I wanted to keep this recipe really simple, but build in the flavours from minimal ingredients.  Because if you decide you're going to cook rather than pick up the phone/tap that app you don't want a lot of faff and a million ingredients.
How to make these easy vegan noodles:
Put all the sauce ingredients into a wok and stir together.  This is the foundation of your dish but simple ingredients, combined well, can work wonders.
Bubble gently – this takes the rawness out of the garlic and infuses everything together.
Whisk a little water into the cornflour to make a runny paste then add to the wok, stirring until it thickens and makes a glossy sauce.  Pour into a bowl.
Give the wok a quick wipe out then saute the mushrooms in a little sesame oil, stirring from time to time until they soften and start to colour.  Once golden brown add some more butter drops and the spring onions, peas and sweetcorn.
Return the sauce to the pan along with the noodles and stir well to heat thoroughly heat the noodles.
Dish up and tuck in!  How easy was that?! 😉
Looking for even more easy vegan takeout ideas?  Try these:
Udon noodles with black garlic and king oyster mushrooms
Thai coconut red curry with noodles
Instant Pot vegetable chow mein
I'd also love to hear from you if you make these Garlic Butter Miso Noodles! Just leave a comment as it's so helpful and I love to hear how the recipe worked out for you! Thank you so much!
Don't forget to follow along on Instagram, Facebook or Pinterest for even more recipe inspiration and chat, competitions, behind the scenes and so much more!
Garlic Butter Miso Noodles
prep: 15 mins / cook: 15 mins / inactive: 0 mins / total: 30 mins / quantity: 2 servings
Ingredients
Sauce:
1/2 cup (125ml) water
4-5 cloves garlic – crushed
3 teaspoons soy sauce or liquid aminos
1 tablespoon miso paste
1 heaped teaspoon vegetable bouillon or 1 veggie stock cube
25 drops Foodie Flavours Butter flavouring
1 tablespoon cornflour
Stir fry:
1 tablespoon sesame oil
300g chestnut mushrooms – thickly sliced
20-25 drops Foodie Flavours Butter flavouring
3/4 cup (60g / 1 regular bunch) spring onions – trimmed and finely sliced
1/2 cup (75g) sweetcorn
1/2 cup (75g) petit pois peas
300g pack straight to wok noodles
1 teaspoon sesame seeds
Instructions
Start with the sauce - into a wok put the water, crushed garlic, soy sauce, miso paste and butter flavouring. In a small bowl whisk the cornflour with a little extra water to make a runny paste
Bring to the boil then stir in the cornflour slurry, stirring to make a thick, glossy sauce. Pour into a bowl or jug and set aside
Give the wok a quick clean then heat the sesame oil
Add the sliced mushrooms and stir fry for a few minutes until starting to soften and caramelise
Stir in the butter flavouring, spring onions, sweetcorn and peas and cook for 1-2 minutes
Return the sauce to the pan followed by the noodles and stir well, cooking for a couple of minutes to thoroughly heat the noodles and veggies
Serve in bowls with a sprinkle of sesame seeds
Notes
Chill any leftovers and store in the fridge. Reheat thoroughly in a microwave until piping hot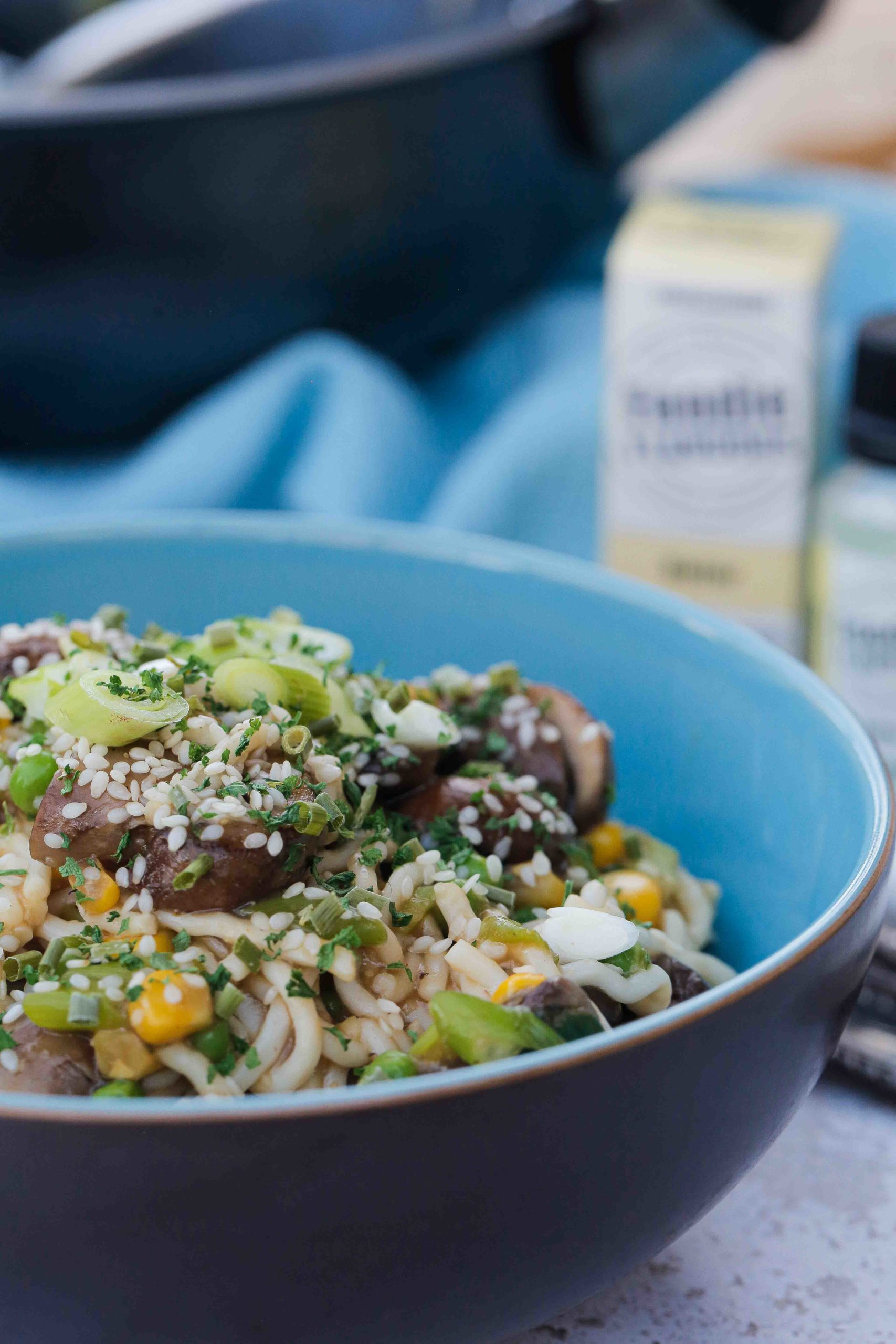 Hello and welcome to The Cook & Him.
We are Sam (The Cook), Phil (Him) and our little dog Nooch. What started with a plan to shed a few pounds back in 2016, soon became obvious that eating healthy doesn't have to be bland and boring.
So, combining Sam's 15 years of experience working within Michelin starred restaurants and our love for deliciously healthy food, we're creating recipes for you to make and enjoy. We've added our own unique spin on traditional and contemporary vegetarian and vegan recipes that keep you (and your pets!) healthy and full.  And we make sure they just work.
All things autumn - warming soups, savoury bakes and delicious sweet treats!
and I would like to see...
Or search for a recipe or post by keyword