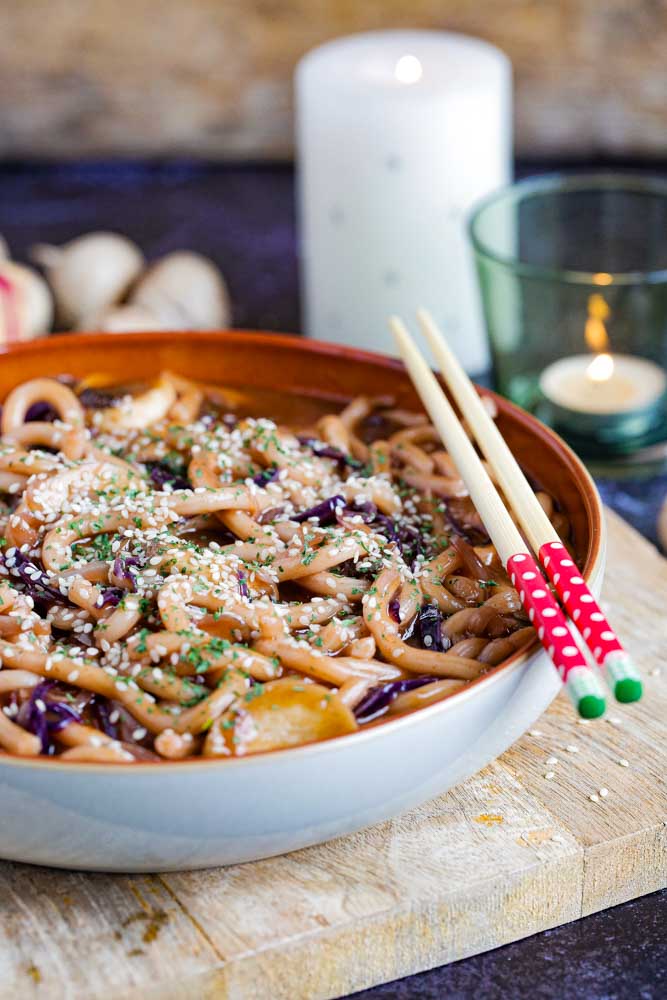 Posted in Recipes on 21.06.2021
Udon Noodles with Black Garlic and King Oyster Mushrooms
prep: 15 mins / cook: 20 mins / inactive: 0 mins / total: 35 mins / quantity: serves 2 Print recipe?
This easy and quick to put together vegan stir fry combines Japanese udon noodles and delicious veggies in a rich, sticky and spicy sauce!
So summer has finally arrived here in the UK!  It may not be anywhere near as hot as a lot of countries but I'm finding myself growing less and less tolerant of the heat the older I get.  It's maybe a menopause thing but when the sun is out, I don't really want the oven on!  I also don't just want salad every day.  So a quick stir fry with udon noodles is the perfect meal to satisfy those savoury cravings.  It's also easy enough to rustle up in just a few minutes but totally deliver on taste.
What are udon noodles?
Most cuisines have some kind of noodle dish they call their own – everything from ramen noodles to spaghetti.  Udon noodles are traditionally Japanese and are made from just three ingredients – wheat flour, water and salt.  They're thicker and chewier than a lot of noodles and can be both flat and rounded in shape.  These days they're much more readily available in general supermarkets rather than having to seek out an Asian market.
They can be served in a simple broth or hot soup, topped with crispy deep fried tofu or even cooked in a Japanese hot pot to make a curry.
Quite simply it is whole bulbs of garlic that are aged under special heat and humidity conditions until they become a rich, deep black colour.  During its ageing, the enzymes that give fresh garlic its pungent smell and flavour are broken down and its this chemical process that produces new flavour compounds.  The result is the cloves turn black, develop a sticky date-like texture and have a deeper, sweeter flavour.
Because it's mild and sweet it can even be eaten on its own, spread on bread, crushed into mayonnaise or whisked into a vinaigrette without it being an overpowering flavour.
I am in LOVE with this stuff.  The smell alone had me sold before I'd ever even tasted it!
How to make this quick and easy udon noodle stir fry:
Start by making the sauce.  Because this dish is all cooked in one pan it makes it even easier to have the sauce ingredients ready to just add to the pan and thicken before stirring in the noodles and mushrooms.  Simply whisk all the ingredients together in a jug and set aside.
Thickly slice the mushrooms.  Heat a glug of sesame oil in a large frying pan then melt in a knob of vegan butter.  The mushrooms will soak up the butter and really help to bring out their flavour.  Add the mushrooms to the pan and sizzle for a couple of minutes each side until they're just soft and a lovely caramelised golden colour. Lift out of the pan onto a plate.
Using the same pan, add the sliced onion and shredded cabbage.  Stir into any juices left from cooking the mushrooms.  Cook for a few minutes until softened.
Add the chopped black garlic to the pan and stir in.  Then add the sauce mix and the noodles and stir well, breaking up the noodles into separate strands as you stir.
Bubble for a few minutes to heat the noodles through.  In a small mug, jug or bowl whisk the cornflour with a splash of water to make a runny paste then stir into the noodles until the sauce bubbles and thickens.
Return the mushrooms to the pan to heat through.  Taste for seasoning before spooning into serving bowls.  Sprinkle with some sesame seeds and chopped parsley (optional).
This dish is actually just as good cold too so don't be afraid to make extra and pack it into a lunchbox for the next day!
Looking for more easy vegan meals?  Try these:
Thai Coconut Red Curry with Noodles
Instant Pot Vegetable Chow Mein with Crispy Onions
Enchiladas with Spinach and Lentils
I'd also love to hear from you if you make these Udon Noodles with Black Garlic and Oyster Mushrooms! Just leave a comment as it's so helpful and I love to hear how the recipe worked out for you! Thank you so much!
Don't forget to follow us on YouTube, Facebook or Pinterest for even more recipe inspiration and chat, competitions, behind the scenes and so much more!
Udon Noodles with Black Garlic and King Oyster Mushrooms
prep: 15 mins / cook: 20 mins / inactive: 0 mins / total: 35 mins / quantity: serves 2
Ingredients
Sauce:
2 tblsp liquid aminos or soy sauce
1 heaped tsp miso paste
1 tblsp hoisin sauce
1 tblsp agave or maple syrup
1 tblsp rice vinegar
1 tsp smoked paprika
2 cups (500ml) vegetable stock *
Stir Fry:
2 king oyster mushroom – thickly sliced
1 tblsp sesame oil
2 tblsp vegan butter
1 white onion – peeled and thinly sliced
1/4 red cabbage – thinly shredded
1 whole bulb of black garlic
2 'nests' of udon noodles
1-2 tblsp cornflour
salt and pepper
Optional:
Sesame seeds and fresh parsley to garnish
Instructions
Start with the sauce - simply whisk all the ingredients together in a jug and set aside till needed
In a large frying pan heat the sesame oil then add the sliced mushrooms. Add dots of butter all over the pan and sizzle until melted, turning the mushrooms once or twice during cooking
When the mushrooms are softened and a lovely golden caramel colour remove from the pan to a plate or bowl
To the same pan add the cabbage and onion and stir fry in any of the cooking liquid left from the mushrooms. Cook the veggies, stirring frequently until softened
Stir in the black garlic and the sauce and bubble for a couple of minutes
Stir in the noodles, gently breaking them apart into their strands
In a small jug, mug or bowl whisk the cornflour with a splash of water to a runny paste
Stir the cornflour mixture into the sauce and bubble for a few moments until the sauce is thicker and sticky
Return the mushrooms to the pan and heat through. Taste and add salt and pepper as required
Serve in warmed bowls and sprinkle the noodles with sesame seeds and chopped parsley if using
Notes
* I used a vegan beef stock cube for a darker, richer flavour
If you can't get hold of king oyster mushrooms you can use a couple of handfuls of oyster or chestnut mushrooms instead. Keep them chunky when tearing or slicing!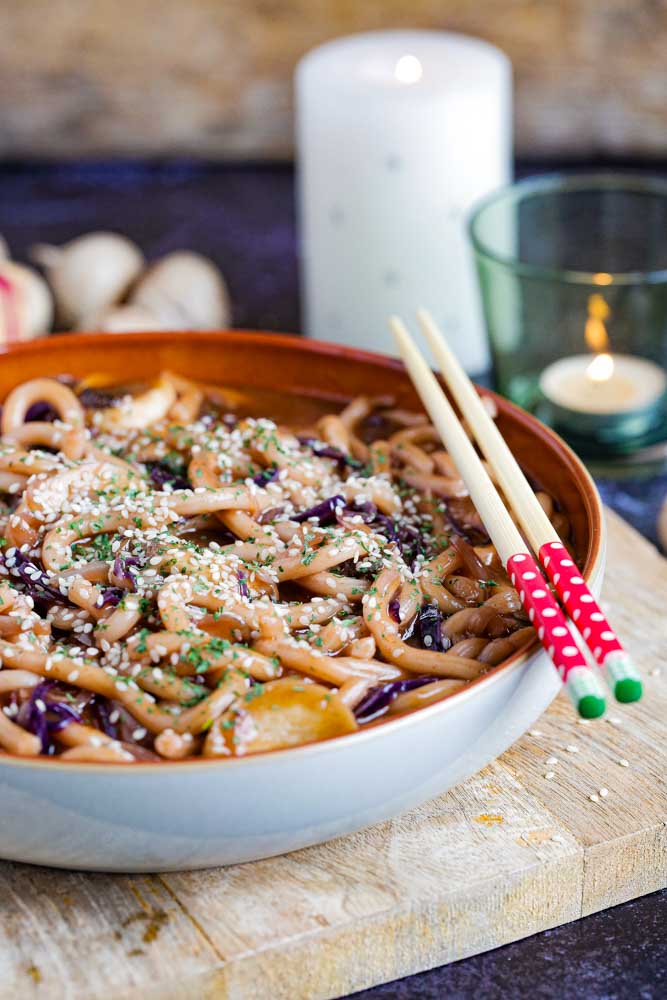 Hello and welcome to The Cook & Him.
We are Sam (The Cook), Phil (Him) and our little dog Nooch. What started with a plan to shed a few pounds back in 2016, soon became obvious that eating healthy doesn't have to be bland and boring.
So, combining Sam's 15 years of experience working within Michelin starred restaurants and our love for deliciously healthy food, we're creating recipes for you to make and enjoy. We've added our own unique spin on traditional and contemporary vegetarian and vegan recipes that keep you (and your pets!) healthy and full.  And we make sure they just work.
All things autumn - warming soups, savoury bakes and delicious sweet treats!
and I would like to see...
Or search for a recipe or post by keyword