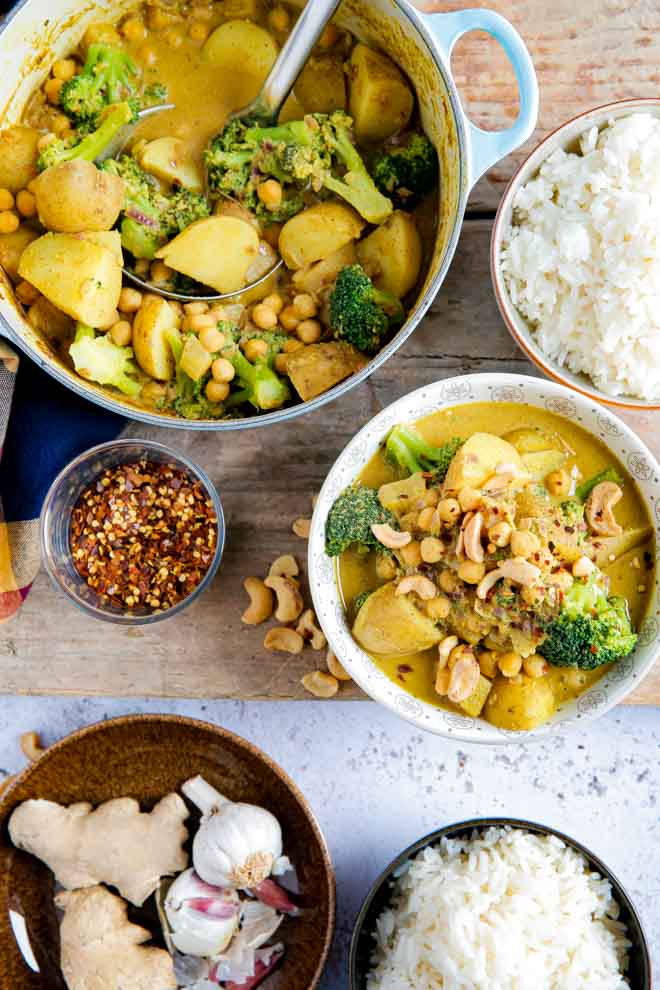 Posted in Recipes on 29.03.2021
Chickpea and Potato Curry
prep: 20 mins / cook: 20 mins / inactive: 0 mins / total: 40 mins / quantity: 4 servings Print recipe?
Try this hearty, spicy, easy chickpea and potato curry full of warm, rich flavours for a wholesome midweek meal for the family! Much cheaper and just as quick as takeout!
Whenever I think about what recipe I want to try next – and I try plan a little in advance so that what I bring you is as seasonal as possible (even if I could eat mince pies all year round) – I tend to default to something sweet.  But even in this blogging world of ever changing food, I also tend to default on what we have for our weeknight meals.  Every time I make something savoury it becomes our new favourite thing.  And we kind of wring all the newness out of it till we get bored.  So in the spirit of keeping up with healthier eating this year, still making sweet things but not being the default, and trying to inject even more variety into our new favourite things I bring you chickpea and potato curry.
Does the world really need another curry recipe?
I tend to look at a recipe as a guideline.  If you lack confidence or experience when it comes to cooking (trust me, I married a complete noob) a recipe is a helping hand to build confidence.  And one of the reasons I tend to test my recipes and test again so that if someone new to cooking arrives at our site they won't feel intimidated or worse, let down, when they decide to try something.  I HATE wasting ingredients.  And long-fangled, non-sensical, I know that's not going to work before I even try it recipes were one of the reasons we started this blog.  Over 300 recipes down the line I guess you could say we've eaten a LOT of different food!
It's seen us evolve from vegetarian to vegan.  It's provided a little bit of income and a lot of stress.  It's found me some wonderful new people I now call friends.  And I get to share my passions.  Vegan food and dogs 😀
How to make a quick weeknight curry:
One of the best things about making your own food is YOU can control the flavour. For a LONG time I didn't like curry.  It always felt like they were trying to mask the lack of flavour with as much spice as possible.  Do you love spice?  Phil LOVES spice.  So this chickpea and potato curry is a compromise between spicy and FULL of flavour.  Real hearty, rich, creamy flavour.
Cook the new potatoes in a large pan of boiling water for around 10-15 minutes.  You want them just underdone so they don't over cook when you add the broccoli.  Add the broccoli florets and cook for a further 5 minutes.  Drain and refresh in cold water.
Saute the onion, ginger and garlic.  Just until starting to soften.
Add the spices and cook another 1-2 minutes.  This is what really brings out the flavour of the spice – garam masala, turmeric, red pepper flakes and chili powder.
Add the coconut milk and creamed coconut.  This is all the liquid you'll be adding and makes the creamy sauce for the curry.  Then stir in the sugar and pineapple and simmer the whole lot for 5 minutes.  The pineapple is like little jewels of sweet flavour in contrast to the rich, creamy curry.
Add the cooked potatoes, broccoli and chickpeas.  Bubble for just a couple more minutes then season to taste.  Spoon into your bowls and scatter with toasted cashews.
Serve with garlic and herb butter naan bread or perfectly cooked fluffy rice!
Love spicy food that's full of flavour?
These are our tried and tested favourites (and all vegan too!) …
Spinach and Mushroom Quesadillas
Rainbow Vegetable Spring Rolls with Spiced Plum Sauce
I'd also love to hear from you if you make this Vegan Chickpea and Potato Curry recipe! Just leave a comment as it's so helpful and I love to hear how the recipe worked out for you! Thank you so much!
Don't forget to follow us on YouTube, Facebook or Pinterest for even more recipe inspiration and chat, competitions, behind the scenes and so much more!
Chickpea and Potato Curry
prep: 20 mins / cook: 20 mins / inactive: 0 mins / total: 40 mins / quantity: 4 servings
Ingredients
3 cups (500g) new potatoes
1 head of broccoli – broken into florets
drizzle of oil
2 medium onions – peeled and finely chopped
4-5 cloves garlic – peeled and crushed
thumb of ginger – peeled and grated
3 tblsp garam masala
1 tsp turmeric
1/2 tsp chili powder
1/2 tsp red pepper flakes
1 + 1/4 cups (325ml) coconut milk
1/2 cup (100g) creamed coconut
1 tablespoon light brown sugar
1/4 of a fresh pineapple – peeled and diced into bitesize pieces
1 can of cooked chickpeas
salt and pepper to taste
toasted cashew nuts
Instructions
Cut the new potatoes into bitesize pieces then put into a large pan of boiling water. Boil for 10-15 minutes until just underdone. Add the broccoli and cook for a further 5 minutes then drain and refresh in cold water
In a large pan heat the oil on a medium heat then add the onion, garlic and ginger and sauté for 1-2 minutes, stirring, until just softened
Add the garam masala, turmeric, chili powder, red pepper flakes and stir for another 1-2 minutes
Stir in the coconut milk, creamed coconut, sugar and pineapple and simmer for 5 minutes until the creamed coconut has melted
Add the chickpeas, potatoes and broccoli and simmer for 2 minutes until the potatoes are warmed through
Season to taste with salt and pepper then spoon into bowls to serve
Sprinkle each serving with the toasted cashews
Notes
Increase the chili powder and/or red pepper flakes if you want your curry super spicy hot!
Serve with warmed naan bread or fluffy cooked rice!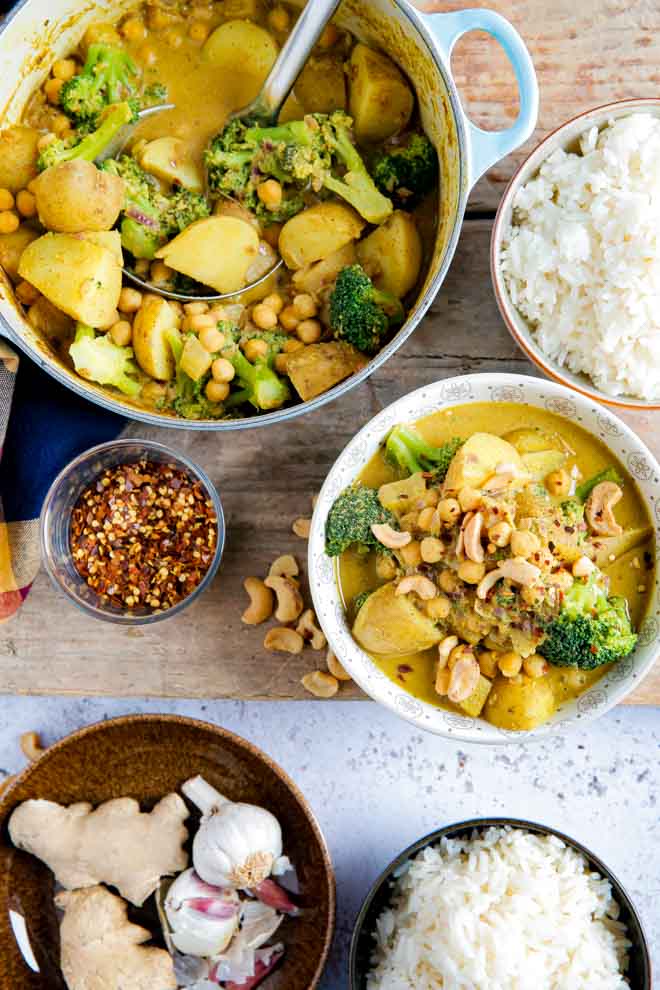 Hello and welcome to The Cook & Him.
We are Sam (The Cook), Phil (Him) and our little dog Nooch. What started with a plan to shed a few pounds back in 2016, soon became obvious that eating healthy doesn't have to be bland and boring.
So, combining Sam's 15 years of experience working within Michelin starred restaurants and our love for deliciously healthy food, we're creating recipes for you to make and enjoy. We've added our own unique spin on traditional and contemporary vegetarian and vegan recipes that keep you (and your pets!) healthy and full.  And we make sure they just work.
All things autumn - warming soups, savoury bakes and delicious sweet treats!
and I would like to see...
Or search for a recipe or post by keyword