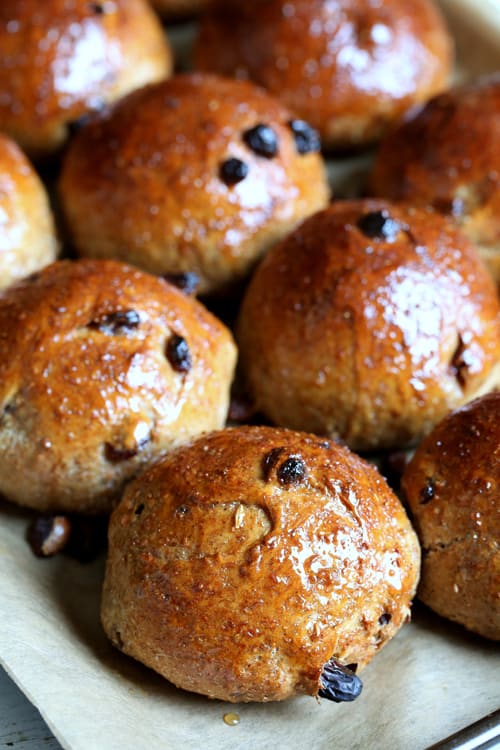 Posted in Recipes on 13.08.2017
Teacakes
prep: 3 hours 0 mins / cook: 25 mins / inactive: 0 mins / total: 3 hours 25 mins / quantity: 12 buns Print recipe?
I know a lot of people are nervous when it comes to making bread – maybe it's the (sometimes) temperamental nature of yeast or the time it takes for dough to prove or even all the physical activity that's involved in kneading – but personally, making bread is one of my most favourite things.
In my pastry chef days making bread was the first job of the day.  Every day.  And it's one of those jobs that, after a little interaction from you, kinda takes care of itself.  Pottering around doing other stuff while the yeast does its wonderful thing .. and the smell … there are very few things that equal the smell of fresh baked bread.
And when you add spices to the dough you get the amazing smell x 1 million!  These teacakes are also made with wholemeal flour, which gives them a gorgeously chewy texture – not dense, not dry, just chewy in all the right ways.
I've also used Organic Baobab Powder in these warm doughy buns of heaven.  What that does is give them a wonderful fruity kick.  Of course it's not an essential ingredient but it's one of the things Him and I have been using regularly – it has high levels of Vitamin C, calcium, magnesium, potassium and fibre as well as being rich in those wonderful antioxidants, helping protect cells from damage which in turn help your immune system.
You can read all about it right here.
The secret with all bread recipes is the kneading and proving.  Knead.  Prove.  Knead.  Prove.  In that order.  It's as simple and complicated as that.
Kneading dough IS hard work – but think of all those extra calories you're burning to justify maybe an extra teacake ?
However, if you're feeling super virtuous, these teacakes freeze REALLY well so don't feel obligated to eat all 12 at once!
And be prepared to have to fight off anyone who gets even a whiff of these – I promise mouths WILL be watering!
If you make this recipe or any of the recipes from The Cook & Him we'd LOVE to see! Just snap a picture and share it on Instagram using #thecookandhim and tagging @thecookandhim in the photo itself (as this guarantees we'll see your picture!
)
And don't forget to follow us on Instagram , Facebook or Twitter for even more recipe inspiration and chat, competitions, behind the scenes and so much more!
Teacakes
prep: 3 hours 0 mins / cook: 25 mins / inactive: 0 mins / total: 3 hours 25 mins / quantity: 12 buns
Ingredients
50g coconut oil
225ml almond milk
2 eggs – beaten
500g wholemeal flour
2 tblsp Organic Baobab powder
50g coconut sugar
7g sachet fast action dried yeast
1 tsp mixed spice
1 tsp all spice
200g sultanas
A little beaten egg for glazing
2-3 tblsp maple syrup
Instructions
In a small pan or the microwave, very gently warm the coconut oil and almond milk until just tepid - if it's too hot it will kill the yeast and your dough won't rise – you want it just warm enough so that when you test it with your finger you can't feel if it's warm or cold!)
In a large bowl add the wholemeal flour, Organic Baobab Powder, coconut sugar, yeast and spices and give a good mix together
Add in the beaten eggs and tepid milk mixture and stir till it starts to form a dough
Tip out onto a lightly floured surface and knead for 5-10 minutes then return the dough to a clean bowl, cover with a t-towel and leave to prove somewhere warm for about an hour until it's doubled in size.
Tip the proven dough onto a floured work surface and knead gently to knock the air out then knead in the sultanas till they're evenly spread throughout the dough
Divide the dough into 12 equal portions, roll into bun shapes and put onto a baking tray lined with greaseproof or a silicone mat
Loosely cover with cling film or a clean t-towel and leave to prove in a warm place for another hour or until doubled in size
Preheat the oven to 180 Fan / 200 C / 400 F / Gas 6 and gently brush the tops and sides of each bun with beaten egg
Cook the teacakes for 20-25 minutes till golden and as soon as you take them out of the oven brush the tops with maple syrup and leave to cool
Notes
Pro tip: Be generous with the beaten egg to give that amazing golden glaze - make sure you get the sides not just the tops
Make ahead: These teacakes freeze exceptionally well.  When needed, simply defrost for several hours or overnight and toast as normal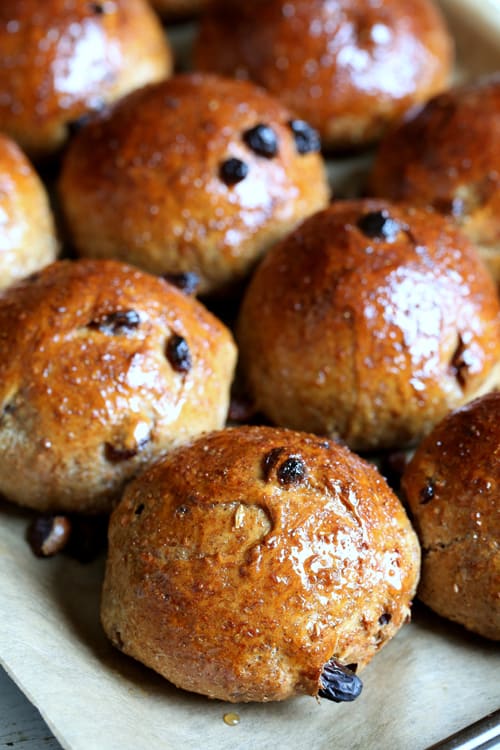 Hello and welcome to The Cook & Him.
We are Sam (The Cook), Phil (Him) and our little dog Nooch. What started with a plan to shed a few pounds back in 2016, soon became obvious that eating healthy doesn't have to be bland and boring.
So, combining Sam's 15 years of experience working within Michelin starred restaurants and our love for deliciously healthy food, we're creating recipes for you to make and enjoy. We've added our own unique spin on traditional and contemporary vegetarian and vegan recipes that keep you (and your pets!) healthy and full.  And we make sure they just work.
All things autumn - warming soups, savoury bakes and delicious sweet treats!
and I would like to see...
Or search for a recipe or post by keyword