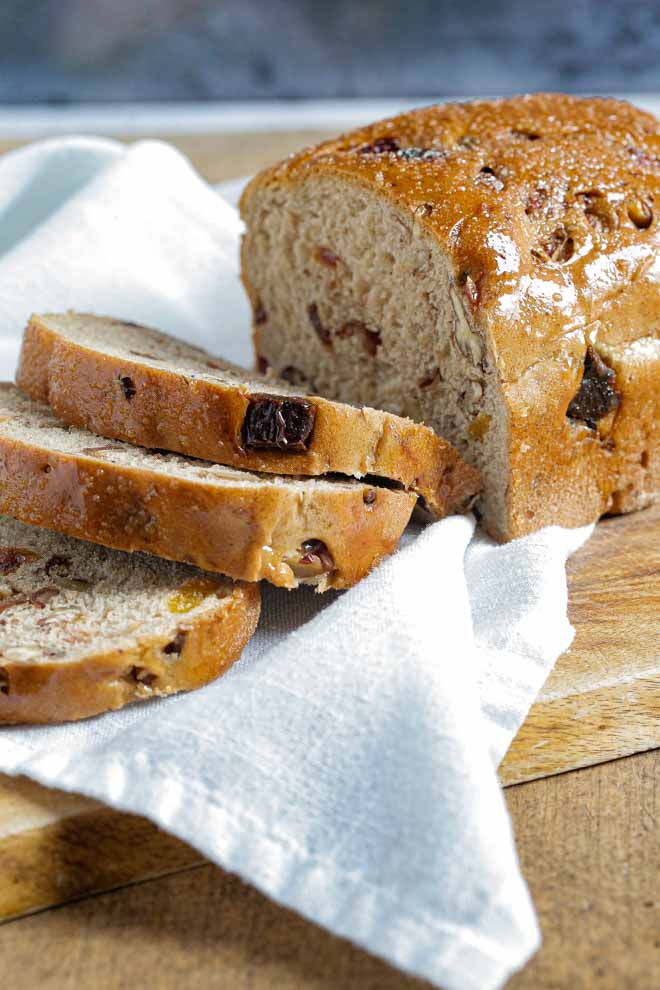 Posted in Recipes on 26.10.2020
Date and Nut Spiced Fruit Loaf
prep: 30 mins / cook: 35 mins / inactive: 1 hour 30 mins / total: 2 hours 35 mins / quantity: 2 smaller loaves or 1 large loaf Print recipe?
Get the kettle on and the tea cosies out because this spiced fruit loaf makes a wonderful breakfast or afternoon treat, slathered in butter and enjoyed fresh and warm or toasted the next day!
This isn't every day bread.  This is special bread.  Reserved for relaxed, lazy days when you can truly savour all the delicious layers of flavour crammed into every single bite of this spiced fruit loaf.  I've been making this on a Friday for breakfast over the weekend.  Friday is one of my two recipe development days but the beauty about bread is apart from a few minutes of frantic activity, bread largely takes care of itself.  So I can leave it to prove and potter about my kitchen doing other things.  I've got so many Christmas treats coming up for you in the next few weeks and I can't wait to share them.  Savoury, sweet and the downright indulgent.
I think this fruit and nut bread though will be our Christmas breakfast.  It's just perfect warm and fresh from the oven but it's also bloody gorgeous toasted the next day too.
This bread recipe was one of those (many) that I developed that took a few attempts to get to the photography stage because we were too busy eating it.  Now that Phil's working from home and our office is upstairs the smell of whatever I'm cooking gently wafts up to him and it's not long before he's making excuses as to why he should be in the kitchen.  So now I have a Nooch AND a Phil fussing at my elbow.
And honestly the smell of this as it bakes is intoxicating.  Spicy, fruity, sweet and sticky.
It's also going to feel like there's too much 'filling' going into this homemade bread when you come to add the fruit and nuts.  But I truly believe that if an ingredient has been listed in the recipe title it really should taste of that thing.  My sister-in-law recently got some cupcakes from a local market – £5 for 3!!  And was so disappointed that even though they were all supposed to be different flavours she couldn't taste the difference!  That is not this bread – we've got sticky fruit (I've used apricots as well as dates), nuts and wonderful warming spices.
Cinnamon and nutmeg are probably my favourite spices and they can be just as wonderful in savoury dishes as well as in sweet.  Those flavours are all there in all their autumnal glory in this easy homemade bread recipe.  There's something I find very special about this time of year and I love the food that accompanies it.
How to made this fruited bread:
Warm your milk.  You want it 'blood temperature' meaning it should neither be too hot nor too cold and when you put your finger in it you can't even feel it!  Whisk in the yeast and sugar and leave to sit, covered, for 5-10 minutes until the top is frothy.  The sugar 'feeds' the yeast and helps it do its thing that makes the dough prove.  I've got a complete guide for how to make bread if you're interested in the science behind handmade bread.  I've also used light brown sugar for a richer, more caramel flavour to the finished bread.
Mix together the flour and salt and rub in the butter.  To do this just rub the butter between your fingertips, incorporating the flour, until you only have tiny pieces of butter.  The butter helps enrich the dough, ultimately leading to a much more flavourful bread.
Stir in the spices.  This is where it really starts to smell like Christmas.
Add the yeast liquid to the bowl of dry ingredients and mix together to form a dough. Now the real work begins.
Knead your dough for at least 5 minutes.  You want to stretch and tear the dough, this develops the gluten in the flour and gives bread it's crumb or holey texture.
Prove your dough in a warm place for at least 30 minutes.  If you're one of those lucky enough to have a bread dough setting on your oven (how very GBBO 😉 ) it should take around 40 minutes.  Otherwise a warm windowsill, warm room or even the airing cupboard will do!  The cooler it is, the longer it will take to rise.  You want the dough doubled in size before you move on to the next stage.
While it's proving chop the nuts and fruit.  You don't want too small pieces or too large.  I've used a variety of different nuts each time I've made this bread – including macadamia, pistachios, walnuts and pecans.  If you have a favourite nut include it or any combination of those I've used all work.
Tip the dough out onto your work surface.  Use a little flour underneath if it's a bit sticky, then roll or stretch out to a large rectangle.  Scatter over the fruit and nuts and roll up like a large Swiss roll.  Give it a few kneads and turns to incorporate the 'filling' as evenly throughout the dough as you can.
Make one large or two smaller loaves.  In all honesty the only difference is it feels like you're eating less when you make two loaves.  Because eat this you will.  We actually had one loaf each for dinner instead of actual food with vegetables.
Give the dough a second (and final) prove.  Again, you want it roughly doubled in size.  Just before it's ready to be cooked preheat your oven.  If you're using the dough setting on your oven don't forget to take the dough out before you turn it up!
Bake until golden and lovely.  It takes around 35 minutes for the smaller loaves and 40-45 for the larger one.  Optional but recommended is brushing the baked loaves with maple or agave syrup and sprinkling over demerara sugar.  It's totally gilding the lily but gives the bread a lovely sticky, crunchy crust.
Then try and give it at least a couple of minutes to cool before carving off giant chunks, slathering in butter and not being able to stop until it's all gone.
Do you love bread as much as we do?  We have loads of great recipes, including a back to basics and foolproof guide to how to make bread:
Don't forget to follow us on YouTube, Facebook or Pinterest for even more recipe inspiration and chat, competitions, behind the scenes and so much more!
Date and Nut Spiced Fruit Loaf
prep: 30 mins / cook: 35 mins / inactive: 1 hour 30 mins / total: 2 hours 35 mins / quantity: 2 smaller loaves or 1 large loaf
Ingredients
1 + 1/3 cups (300ml) non-dairy milk
3 tblsp (20g) light brown sugar
7g sachet active dried yeast
3 cups (500g) strong white bread flour
1 tsp salt
1/4 cup (50g) vegan butter or margarine
2 tsp ground cinnamon
2 tsp ground nutmeg
1 cup (150g) dates
1/3 cup (60g) dried apricots
1 cup (130g) nuts – one type or a mixture of your favourite nuts!
Optional glaze:
2 tblsp maple or agave syrup
1 tblsp demerara sugar
Instructions
Put the milk into a saucepan and warm to blood temperature or barely tepid. When you put your finger in the liquid you shouldn't be able to feel if it's hot or cold!
Remove from the heat and whisk in the sugar and yeast. Cover with a tea towel and set aside for 5-10 minutes until the top is frothy
While the yeast is starting to ferment, put the flour, salt and butter into a large bowl and use your fingertips to rub the butter into the flour until no lumps of butter remain
Stir in the nutmeg and cinnamon
Pour the milk mixture into your bowl of flour and stir until it starts to form a dough, then tip out onto your work surface and knead for at least 5 minutes until the dough is stretchy, smooth and elastic
Put the dough into a lightly oiled bowl, cover and put somewhere warm until doubled in size - this can take anywhere from 30 minutes to over an hour dependent on temperature
While it's proving, roughly chop the nuts, dates and apricots into smallish pieces
Once the dough has proved tip it out again and roll or stretch into a large rectangle
Scatter over the chopped dried fruits and nuts and roll up tightly into a Swiss roll shape, kneading and folding to incorporate the fruit as evenly through the dough as you can
Shape into a couple of round or oval loaves or one large oval loaf. You can also use a bread tin to get a more traditional loaf shape
Once again leave in a warm place until roughly doubled in size
Just before they're ready, heat your oven to 180 fan / 200 C / 400 F / Gas 6
Bake for 30-35 minutes for the smaller loaves and 40-45 minutes for a larger one. To test, carefully tap the bottom of the loaf, if it's ready it should sound hollow
Leave to cool for 10 minutes then, if using, brush with the syrup and sprinkle over the sugar
Whilst most homemade bread is eaten fresh the same day this loaf is actually still pretty good the next day too! And after that it makes great toast!
Notes
For the nuts I've used various combinations of macadamia, pistachio, pecans and walnuts and they all tasted lovely!
I've not tried freezing the bread (it never lasts that long!) but I'm sure it will be freeze ok and be perfect for toast another day!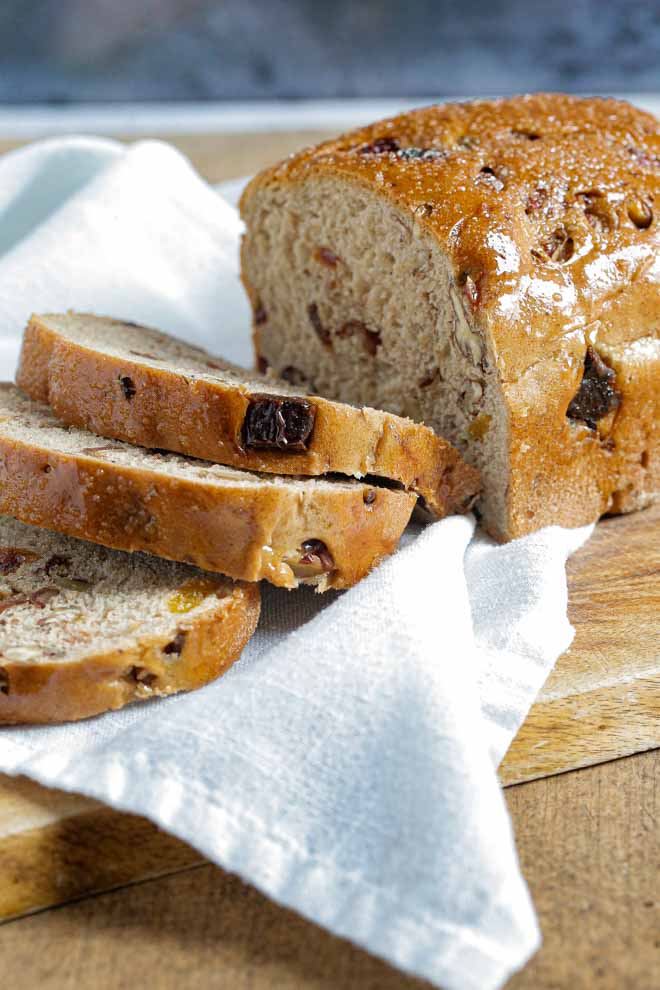 Hello and welcome to The Cook & Him.
We are Sam (The Cook), Phil (Him) and our little dog Nooch. What started with a plan to shed a few pounds back in 2016, soon became obvious that eating healthy doesn't have to be bland and boring.
So, combining Sam's 15 years of experience working within Michelin starred restaurants and our love for deliciously healthy food, we're creating recipes for you to make and enjoy. We've added our own unique spin on traditional and contemporary vegetarian and vegan recipes that keep you (and your pets!) healthy and full.  And we make sure they just work.
All things autumn - warming soups, savoury bakes and delicious sweet treats!
and I would like to see...
Or search for a recipe or post by keyword