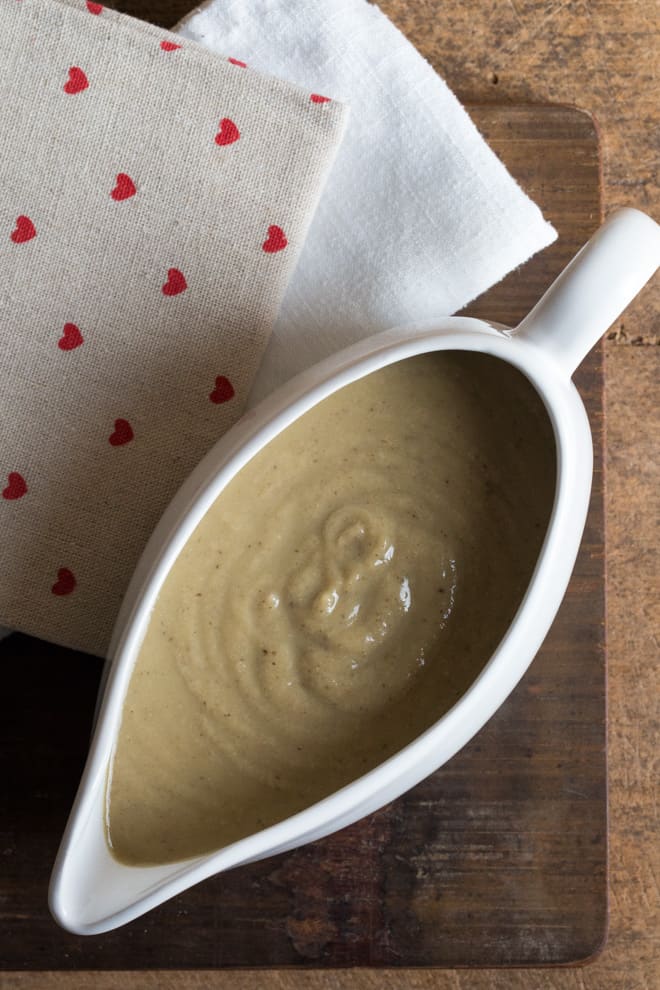 Posted in Recipes on 21.12.2017
Wild Mushroom and Lentil Gravy
prep: 10 mins / cook: 20 mins / inactive: 30 mins / total: 60 mins / quantity: 4 - 6 servings Print recipe?
Normally I have a story behind every recipe.  A reason why it came to be.  But in all honesty I was putting my ideas together of the things that I'd like to develop for a tasty, vegetarian (and often vegan) Christmas meal and thought this lot really needs something a bit more involved than a jug of Bisto.  Don't get me wrong, Bisto has it's place.  And, thanks to a family visit, we recently learnt that gravy and chips is a very northern thing apparently.  Even though we live in the Midlands.
I've also called this gravy even though it doesn't look like what you'd traditionally call gravy.  Sauce sounded too involved and I don't want people to be put off making this because they think it's too involved.  Because the flavour is SO worth it!
The lentils give it an incredibly rich creamyness as well as being great for the heart and digestion.  Perfect for all that rich Christmas food right?  Yeah, I'm sneaking in some healthy stuff even at Christmas ? The onions and garlic give this Wild Mushroom and Lentil Gravy a full and rounded flavour .  And the wild mushrooms give it an earthy base that goes particularly well with either this Hummus and Roasted Veg Pie or this Chestnut and Mushroom Wellington.
If you've not used dried wild mushrooms before don't be put off.  They last FOREVER (ish) and just need a bit of a soak in some warm water before adding to all kinds of stocks, soups, sauces and gravies.  They add a real depth of flavour without making it over-mushroomy.
This is also something you can make ahead – it will last a few days in the fridge or can be frozen.  The freezer can really be your friend around Christmas – because we all want to enjoy ourselves not be slaving in the kitchen all day right?
If you make this recipe or any of the recipes from The Cook & Him we'd LOVE to see! Just snap a picture and share it on Instagram using #thecookandhim and tagging @thecookandhim in the photo itself (as this guarantees we'll see your picture!
)
And don't forget to follow us on Instagram , Facebook or Twitter for even more recipe inspiration and chat, competitions, behind the scenes and so much more!
Wild Mushroom and Lentil Gravy
prep: 10 mins / cook: 20 mins / inactive: 30 mins / total: 60 mins / quantity: 4 - 6 servings
Ingredients
Small handful dried porcini mushrooms
Drizzle of olive oil
1 red onion – peeled and finely diced
3 cloves garlic – peeled and thinly sliced
3 sprigs thyme – leaves only
1 cup split red lentils
3 large closed cup mushrooms – thinly sliced
Salt and pepper
Instructions
In a small bowl put the dried mushrooms and just enough boiling water to cover them.  Leave to soak for 30 minutes
In a medium saucepan heat a drizzle of olive oil then add the onion, garlic and thyme leaves and gently saute for a couple of minutes over a medium heat till they start to soften
Add the lentils and 3 cups of cold water.  Bring to the boil, then lower the heat and simmer until the lentils are soft - around 10-15 minutes
Add the sliced mushrooms, the soaked mushrooms and the mushroom liquid and simmer for another 10 minutes
Blend using a hand held stick blender or in a blender jug, taste and season with salt and pepper
Serve immediately or chill and store in the fridge for up to 5 days or freeze.  To reheat simply warm through in a saucepan, stirring from time to time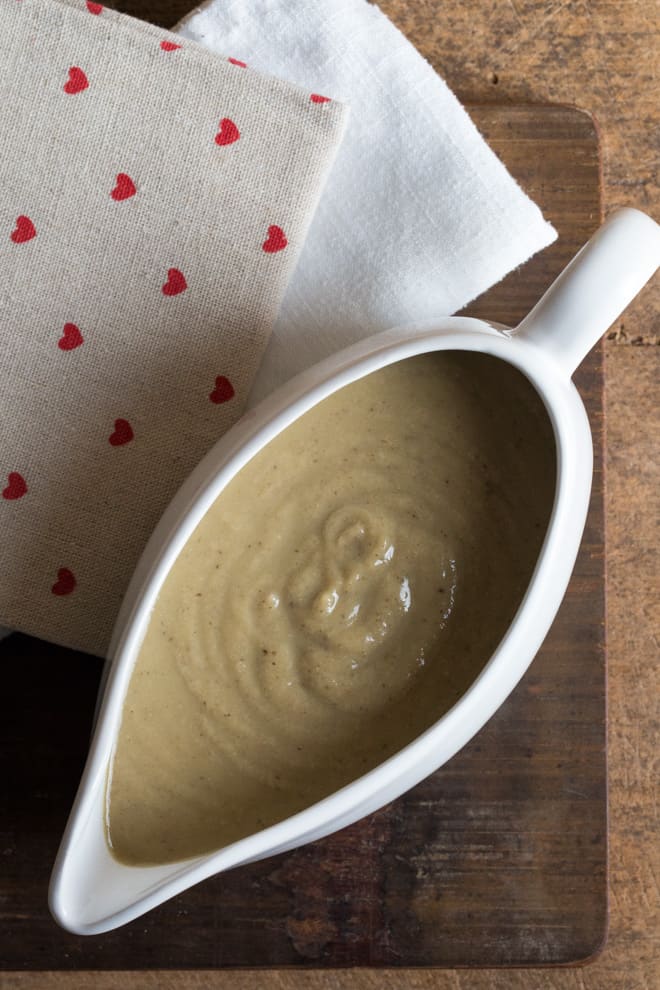 Hello and welcome to The Cook & Him.
We are Sam (The Cook), Phil (Him) and our little dog Nooch. What started with a plan to shed a few pounds back in 2016, soon became obvious that eating healthy doesn't have to be bland and boring.
So, combining Sam's 15 years of experience working within Michelin starred restaurants and our love for deliciously healthy food, we're creating recipes for you to make and enjoy. We've added our own unique spin on traditional and contemporary vegetarian and vegan recipes that keep you (and your pets!) healthy and full.  And we make sure they just work.
All things autumn - warming soups, savoury bakes and delicious sweet treats!
and I would like to see...
Or search for a recipe or post by keyword