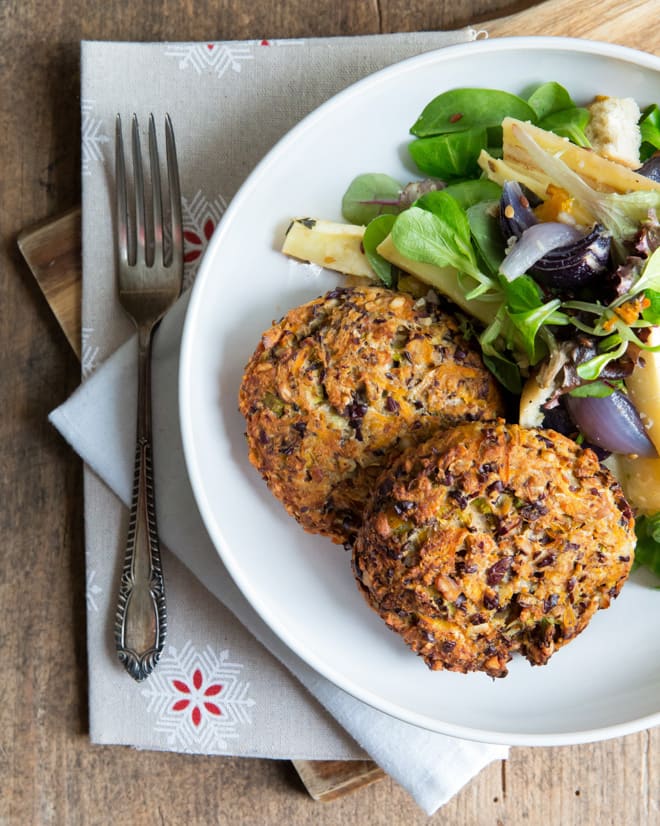 Posted in Recipes on 14.12.2017
Baked Haricot Bean and Vegetable Fritters
prep: 15 mins / cook: 1 hour 30 mins / inactive: 0 mins / total: 1 hour 45 mins / quantity: 4 fritters Print recipe?
Do you get food cravings?  Are they always the same thing or does it vary?  Just lately I can't get enough savoury flavours.  And things with crunch.  Don't get me wrong, there are still those dark DARK times I could sit with a whole apple tart tatin, a tub of ice cream, a spoon and no-one to help me eat it.  Tart tatin has, and always will be, one of my very favourite desserts.
But I think because we juice quite a bit (at least once a day) I more often now crave texture and something not sweet.  And these fritters are all that and more.  Packed full of protein thanks to the Haricot Beans from Hodmedod's and bursting at the seams  with veggie flavours – well almost anyway, these fritters hold their shape SO well!
Carrots, spring onions and fresh basil combine wonderfully with the natural bean flavour and texture and then everything is given a lift with a hint of garlic and fresh basil
All encased in a wonderfully crisp 'shell'.  I can attest that these are just as good cold the next day as hot out of the oven.  I made 4, ate 2 of them almost immediately and didn't even give Phil the chance to try the 2 leftover as I scoffed them the next day too.
It's currently the mad Christmas rush here – when did Christmas become such hard work? – and I've not had the chance to make them again but it's definitely going to happen soon!  I've actually been thinking about them in those wistful hungry moments when I've been SO busy I didn't get chance to eat lunch yet and the thing I'm probably developing that day is sweet/still too hot/meant for breakfast.  Though I do often eat breakfast things for lunch too.  And dinner.  You too huh?
If you make this recipe or any of the recipes from The Cook & Him we'd LOVE to see! Just snap a picture and share it on Instagram using #thecookandhim and tagging @thecookandhim in the photo itself (as this guarantees we'll see your picture!
)
And don't forget to follow us on Instagram , Facebook or Twitter for even more recipe inspiration and chat, competitions, behind the scenes and so much more!
Baked Haricot Bean and Vegetable Fritters
prep: 15 mins / cook: 1 hour 30 mins / inactive: 0 mins / total: 1 hour 45 mins / quantity: 4 fritters
Ingredients
1 carrot
4 spring onions
handful fresh basil leaves
1/2 tsp garlic powder
salt and pepper
2 slices wholemeal bread
3 eggs
Instructions
Put the haricot beans in a small saucepan, cover with cold water, bring to the boil then simmer for 50 minutes.  Keep an eye on the water level and top up if they're starting to boil dry.  Give a quick stir occasionally too
While they're cooking, peel and grate the carrot, slice the spring onions and shred the basil, putting everything into a large bowl.  Add the garlic powder, a few good grinds of black pepper and a good pinch or two of salt
Blitz the slices of bread in a food processor to breadcrumbs.  Add to the bowl with the carrot etc.  Don't wash the processor bowl up yet!
When the haricot beans are cooked, drain then rinse under cold water to halt further cooking.  Then tip them into your food processor and give a few quick pulses till they're chopped - not too finely, you still want some chunky bits!
Tip these into your bowl with the other ingredients and give everything a really good stir till it's all well combined
You'll want to put your oven on now - 180 Fan / 200 C / 400 F / Gas 6 and put a piece of parchment or a silicon mat onto a medium sized baking tray
In a small bowl or jug crack the eggs, give a quick whisk and these to your bowl, mixing well one last time
Divide the mixture roughly into four, then using your hands shape each quarter into a round patty.  Put them on your baking tray
Bake for 40-45 minutes till the outside is firm and crispy
Enjoy hot or cold!
Notes
I keep a sliced wholemeal loaf in the freezer just in case I need breadcrumbs!  A couple of slices defrost in just a few minutes ?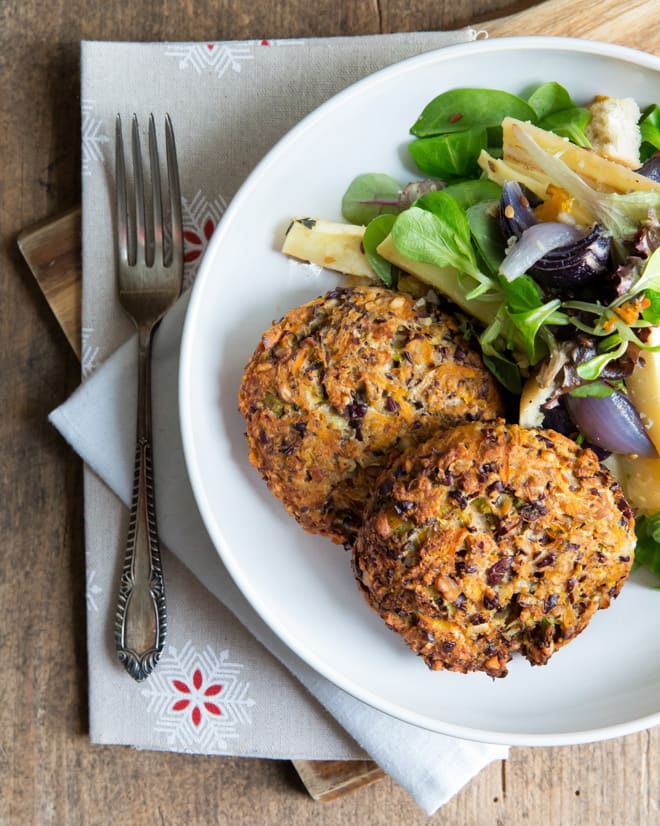 Hello and welcome to The Cook & Him.
We are Sam (The Cook), Phil (Him) and our little dog Nooch. What started with a plan to shed a few pounds back in 2016, soon became obvious that eating healthy doesn't have to be bland and boring.
So, combining Sam's 15 years of experience working within Michelin starred restaurants and our love for deliciously healthy food, we're creating recipes for you to make and enjoy. We've added our own unique spin on traditional and contemporary vegetarian and vegan recipes that keep you (and your pets!) healthy and full.  And we make sure they just work.
All things autumn - warming soups, savoury bakes and delicious sweet treats!
and I would like to see...
Or search for a recipe or post by keyword