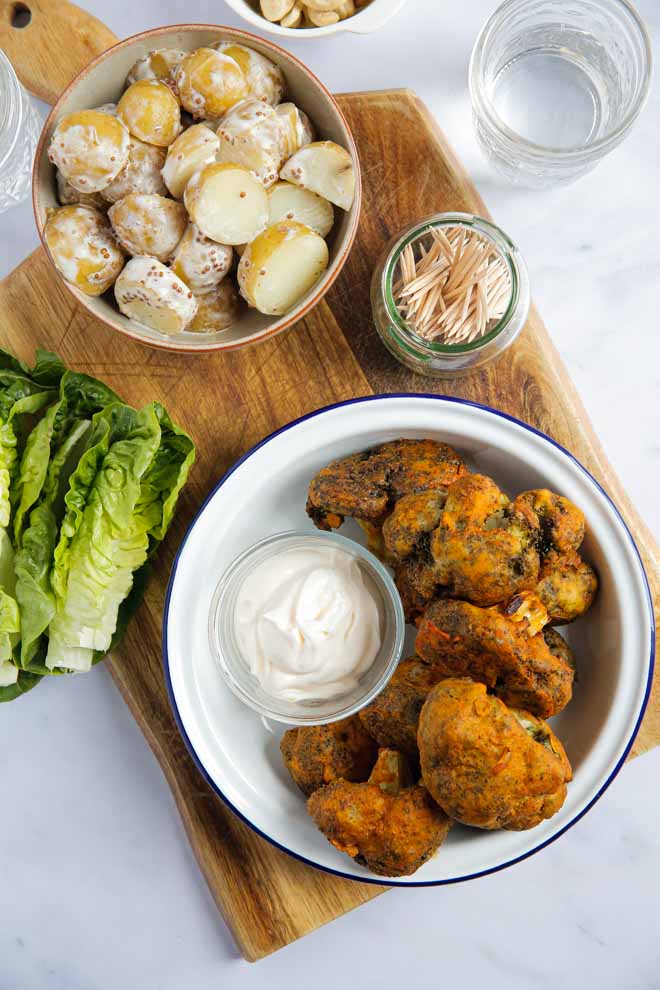 Posted in Recipes on 27.08.2020
Buffalo Broccoli Bites
prep: 15 mins / cook: 30 mins / inactive: 0 mins / total: 45 mins / quantity: 2-4 servings Print recipe?
A healthier snack, main dish or side these buffalo broccoli bites are full of bold, spicy flavour. Crisp outside and tender inside, serve with a cooling dip for a spice lovers favourite!
I think this is probably the first ever recipe I've made that I've not even tried.  I made these buffalo broccoli bites exclusively for Phil to indulge his love of all things hot and spicy.  I am a bone fide spicy food wimp.  Don't get me wrong, I love the warming spices like cinnamon and nutmeg and the flavoursome ones like cumin and smoked paprika.  But if it's hot spice I tend to avoid, I never enjoyed that burnt throat sensation or overly tingling lips.
Phil on the other hand LOVES hot spices.   And apparently this is H.O.T.
Really simple to make too.
Normally vegan buffalo 'wings' are made with cauliflower rather than broccoli.  But as Phil doesn't like cauliflower it was broccoli or sprouts.  And as he's only just decided he likes sprouts so I thought I'd go with a tried, tested and now loved veg – the humble broccoli floret.
I also wanted these to be crispy and have an almost batter like coating so they're baked twice.
How to make vegan wings:
Break the broccoli into florets.  How much stalk you leave is up to you.  Fussy fusserson Phil doesn't like the stalks.  I blame his rubber teeth.
Toss with seasoning and flour.  The onion salt, garlic powder, fresh herbs and salt and pepper give a greater depth of flavour than just using the hot sauce alone.  The flour, cornflour and milk give the broccoli florets crisp, almost batter like, little jackets.  This makes them crunchy on the outside while remaining tender on the inside.
These would also be really easy to make gluten free.  I love this fava bean flour from Hodmedods.  Such a wonderfully mild flavour.  Cornflour is naturally gluten free.
Bake in a hot oven.  This is the first part of the roasted broccoli and allows the flour and cornflour to crisp up before coating in the hot sauce.
Hot sauce time!  Carefully tip into a bowl with the hot sauce and stir well to coat.  Tip back onto your tray and bake the broccoli for a second and final time.
These buffalo broccoli bites make a quick and healthy snack.  And I'm assured a cooling tzatziki works wonders for toning down the spice.  Hummus would probably be equally as good.  Apparently they also go really well with homemade vegan mayonnaise potato salad and crisp lettuce leaves for a flavoursome and healthy meal 🙂
Love healthy snacks as much as we do?  Here's some of our tried and tested favourites (all vegan too!):
Savoury scones – also gluten free!
Herb roasted cashews – so SO moreish!  Make extra.  You'll thank me later.
Pina Colada Ice Lollies – kid friendly version!
Healthy Cookies – so much goodness crammed into a cookie.
I'd love to hear from you if you make these Buffalo Broccoli Bites.  Just leave a comment as it's so helpful and I love to hear how the recipe worked out for you!  Thank you so much
Don't forget to follow us on YouTube, Facebook or Pinterest for even more recipe inspiration and chat, competitions, behind the scenes and so much more!
Buffalo Broccoli Bites
prep: 15 mins / cook: 30 mins / inactive: 0 mins / total: 45 mins / quantity: 2-4 servings
Ingredients
1/2 cup (80g) plain flour
1 tblsp cornflour
1/2 cup (120ml) unsweetened dairy free milk
1 tblsp oil
1 tsp garlic powder
1 tsp onion salt
1/2 tsp sea salt
1 tsp dried parsley
1 head of broccoli
1/2 cup (125ml) hot sauce
Instructions
Preheat your oven to 200 Fan / 220 C / 425 F / Gas 7 and line a large tray with parchment or a silicon mat
Put the flour and cornflour into a large bowl and whisk in the milk and oil to make a thinish batter
Whisk in the garlic powder, onion salt, sea salt and parsley
Break the broccoli into florets and stir into the batter, coating well
Tip onto your prepared tray and bake for 15 minutes
While it's cooking clean your bowl and tip in the hot sauce
After 15 minutes carefully tip the broccoli into the hot sauce and again stir well to completely coat the broccoli florets
Tip back onto the tray and bake for another 15 minutes
Serve immediately though you can reheat any leftovers in the oven to crisp them up again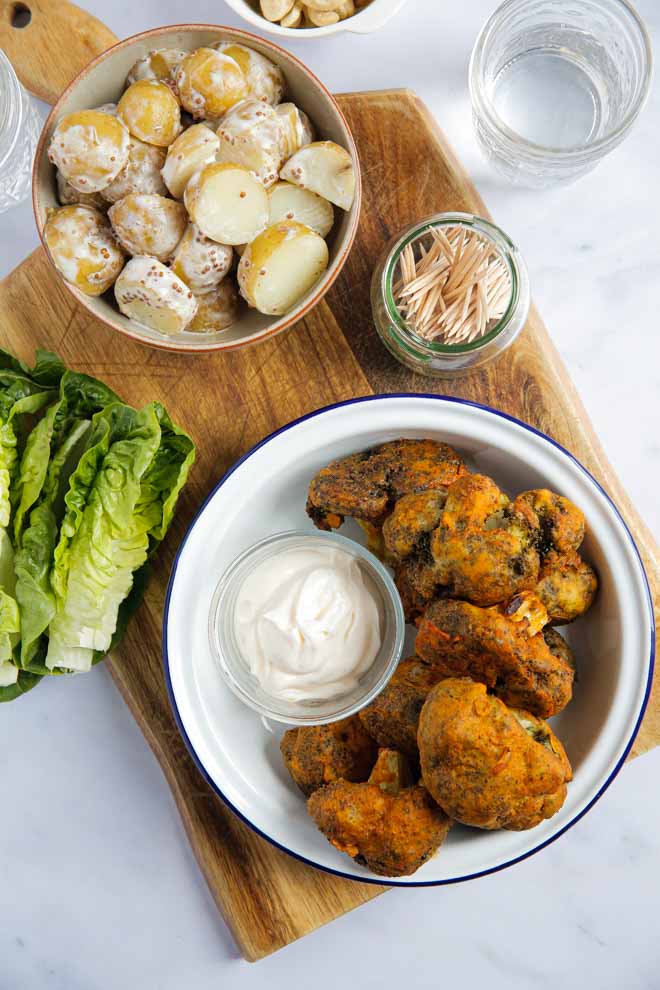 Hello and welcome to The Cook & Him.
We are Sam (The Cook), Phil (Him) and our little dog Nooch. What started with a plan to shed a few pounds back in 2016, soon became obvious that eating healthy doesn't have to be bland and boring.
So, combining Sam's 15 years of experience working within Michelin starred restaurants and our love for deliciously healthy food, we're creating recipes for you to make and enjoy. We've added our own unique spin on traditional and contemporary vegetarian and vegan recipes that keep you (and your pets!) healthy and full.  And we make sure they just work.
All things autumn - warming soups, savoury bakes and delicious sweet treats!
and I would like to see...
Or search for a recipe or post by keyword