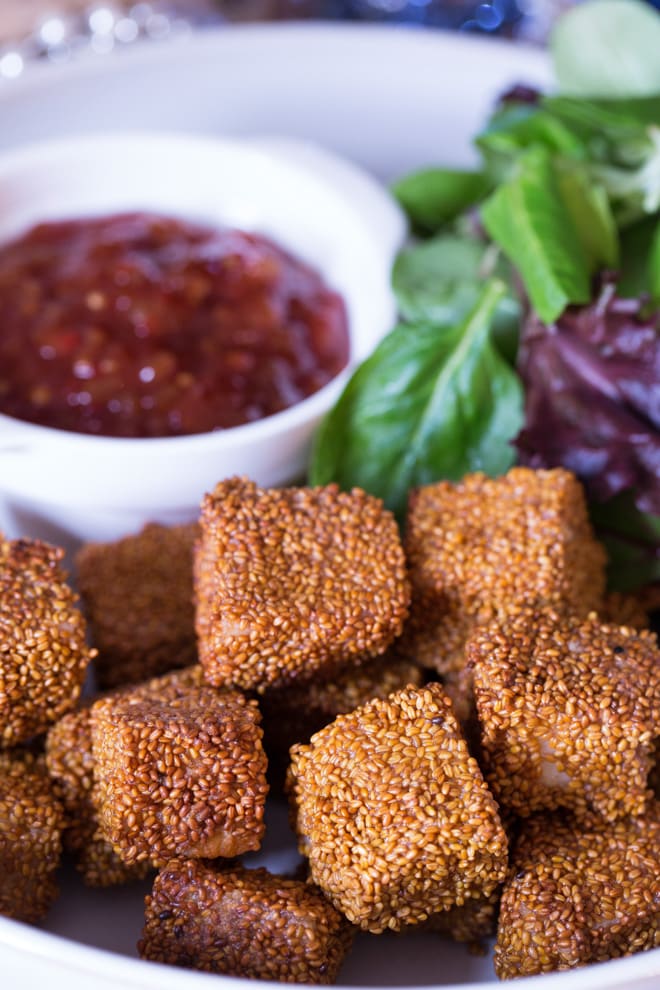 Posted in Recipes on 29.12.2017
Halloumi Bites
prep: 10 mins / cook: 20 mins / inactive: 0 mins / total: 30 mins / quantity: 4 servings Print recipe?
Whats so special about these Halloumi Bites?
Soft Halloumi Cheese, coated in nutty Camelina Seeds and gently fried until golden brown to give a perfect combination of Salty, Nutty and Chewy – seriously – you HAVE to try these!
The halloumi is warm, salty and chewy and the camelina seeds from Hodmedods are crunchy and nutty.  THE perfect combination.  Kinda like chocolate and orange.
I tried baking these because, you know, healthier.  But they just didn't taste the same.  They weren't inedible, they just didn't have that certain 'something' that comes from gently frying in just a drizzle of oil.  I'm not talking deep frying here.  What you can do is fry them then keep warm in the oven for that ever so slightly ooey gooeyness.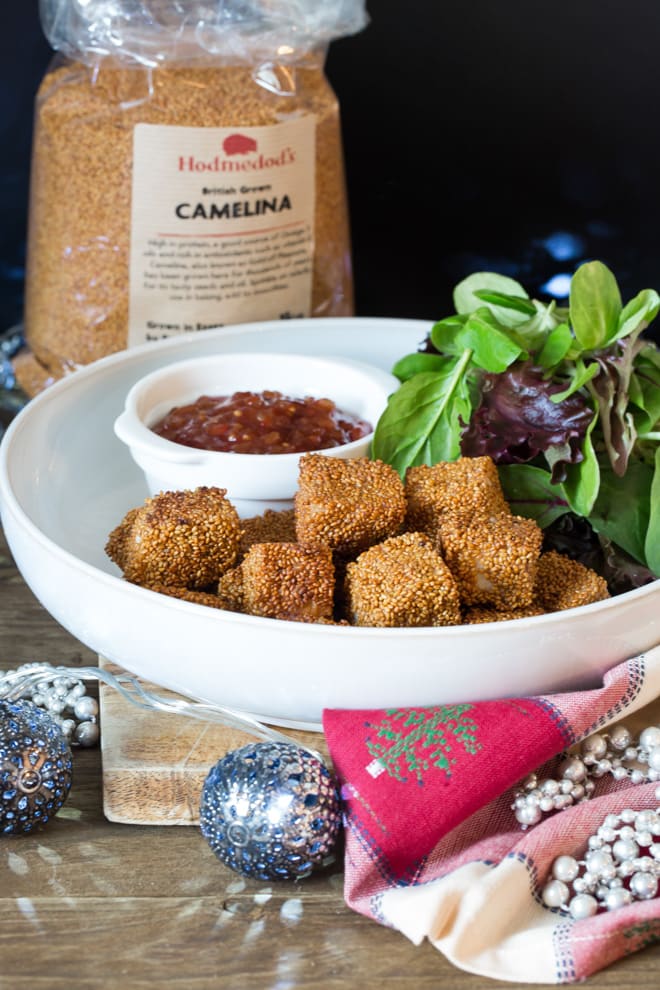 But what IS halloumi cheese?
Traditionally from the island of Cyprus, its a semi-hard cheese made from a mixture of goat's and sheep's milk, and sometimes also cow's milk, a very mild cheese, similar to mozzarella in taste and consistency, just a little bit saltier, kind of perfect for a salty snack Netflix kinda evening!
Whats in these Halloumi Bites?
Well, to be honest, I'm not sure this counts as a recipe! Just five simple ingredients and a few minutes and you will be munching on these little morsels of scrumptious:-   Halloumi (obviously), an egg for dipping, a little flour for binding, Camelina Seeds for coating and a drizzle of oil for frying, and thats it!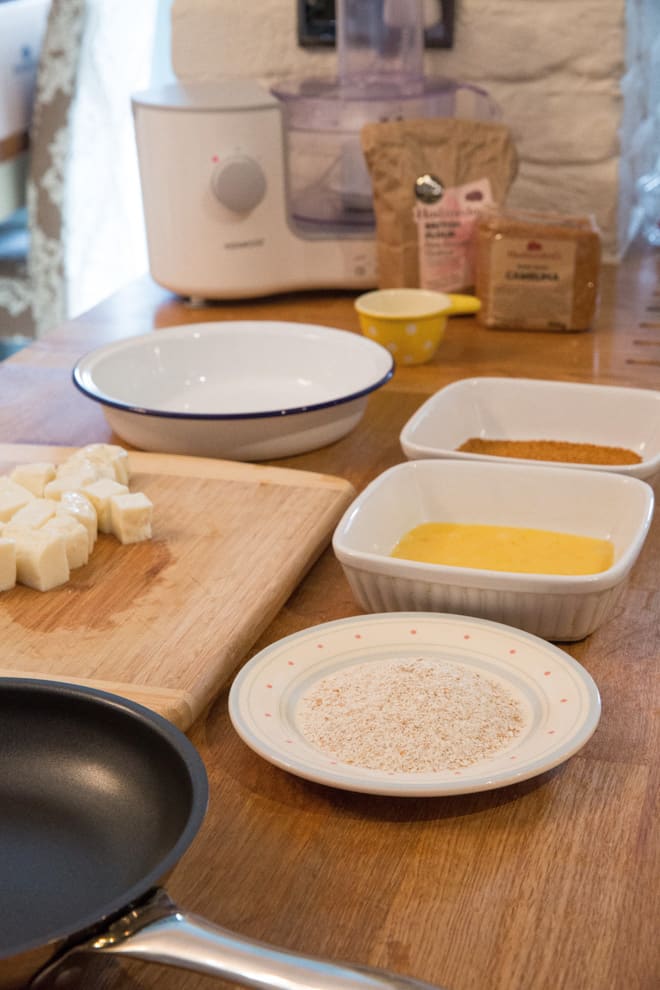 How do you make Halloumi Bites?
These are so simple even "Him" can do it! Simply drain and cut the halloumi into bite size pieces, lightly coat in the flour, dip in the egg, roll in the seeds and fry, honestly, so simple and so flippin' tasty, you can thank me later.
What to serve with these Halloumi Bites
I've served these with a very simple, store bought tomato relish but you could also go with:-
BBQ Sauce
Plain old Ketchup
Sweet Chili Dip
Your favorite burger relish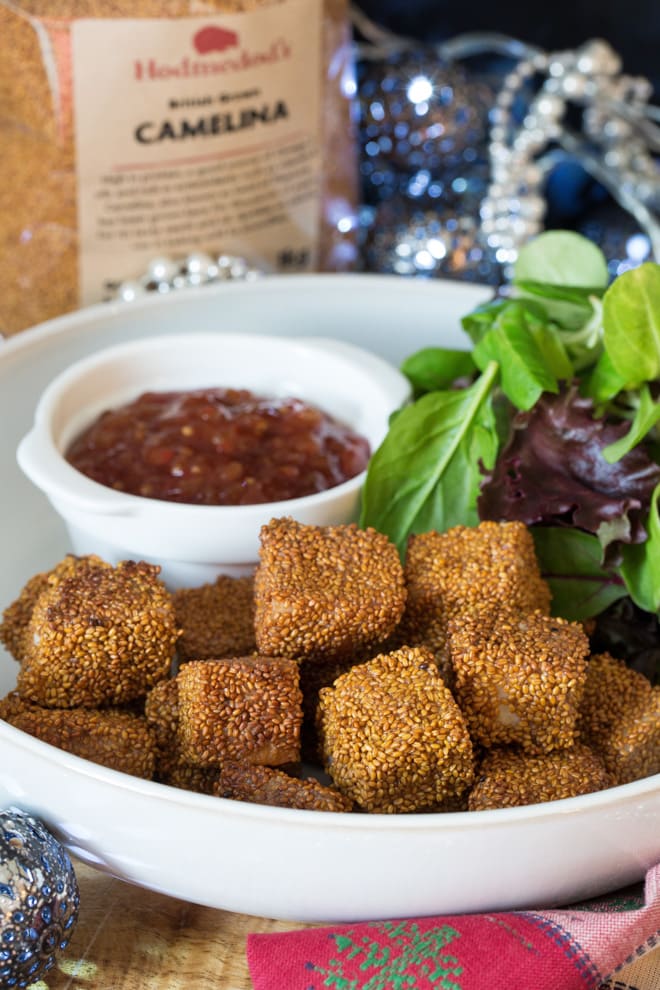 If you make this recipe or any of the recipes from The Cook & Him we'd LOVE to see! Just snap a picture and share it on Instagram using #thecookandhim and tagging @thecookandhim in the photo itself (as this guarantees we'll see your picture!
)
And don't forget to follow us on Instagram , Facebook or Twitter for even more recipe inspiration and chat, competitions, behind the scenes and so much more!
Halloumi Bites
prep: 10 mins / cook: 20 mins / inactive: 0 mins / total: 30 mins / quantity: 4 servings
Ingredients
200g pack halloumi
2 tblsp wholemeal flour
1 egg
1/3 – 1/2 cup Hodmedod's Camelina Seeds
Few drizzles of olive oil
Optional
tomato relish for dipping
Instructions
Drain any water in the pack off the halloumi then cut the cheese into roughly 3/4 inch cubes - think bite sized!
To coat these pieces of cheese you need a bit of a process
Start with putting the flour on a small dish or plate.  
Then crack the egg into a shallow dish and give a quick beat
Tip your camelina seeds into another shallow dish
Have an empty dish or plate for putting the coated cheese in before frying
Start by rolling the cheese pieces in the flour, coating on all sides
Then dip in the beaten egg, making sure each side is covered before transferring to the plate with the seeds
I try and do this process with my left hand (I'm right handed) and roll the cheese in the seeds with my right hand.  Your left hand is going to get muckier than your right so it helps to keep one hand a little cleaner for coating!
I also do a few at a time before rolling them in the seeds, transferring the coated cheese to the empty plate then repeat the process till I've used up all the cheese
When all your little bits of cheese are coated gently heat a drizzle of oil in a frying pan before adding the cheese.  You might want to do this in a couple of batches if you use the whole pack of cheese as you need to keep constantly turning the cheese round to colour each side
Just sizzle for a few moments (takes less than a minute) each side before turning.  Once they're cooked, transfer to a plate with a piece of kitchen towel 
If you're not eating straight away you can put them in the oven while you sizzle the next batch - try a low oven around 120 Fan / 140 C / 275 F / Gas 1
I've also eaten these cold out of the fridge and they're just as yummy!
Hello and welcome to The Cook & Him.
We are Sam (The Cook), Phil (Him) and our little dog Nooch. What started with a plan to shed a few pounds back in 2016, soon became obvious that eating healthy doesn't have to be bland and boring.
So, combining Sam's 15 years of experience working within Michelin starred restaurants and our love for deliciously healthy food, we're creating recipes for you to make and enjoy. We've added our own unique spin on traditional and contemporary vegetarian and vegan recipes that keep you (and your pets!) healthy and full.  And we make sure they just work.
All things autumn - warming soups, savoury bakes and delicious sweet treats!
and I would like to see...
Or search for a recipe or post by keyword